Petition for Writ Of Certiorari Denied by Supreme Court to Black Internet Inventor
admin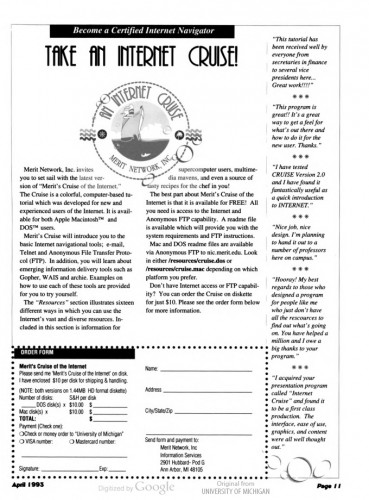 Today's Internet made its debut around 1993, Hartman who claims to be its inventor has not yet been recognized. The Supreme Court has denied Petition to the Black Inventor to reopen decision by Federal Circuit Court of Appeals.
Philadelphia, PA, United States / ACCESSWIRE / January 27th, 2014 / See instructions in the image of Merit Networks teaching users 'how to surf the Internet, publication dated April 1993 . The Internet was restructured and revolutionized as a result of COMMERCIALIZATION – melding Commerce with Technology. Dorothy M. Hartman who is the CEO of ABFY SELLERS group and a retired Science Teacher says that she presented proposals to the federal government in 1990 advocating building businesses online therefore creating more accessibility of consumers and businesses to each other. By creating a network of computers and websites – transactions for information, services, and goods could be done online. In essence creating an alternate marketplace in Cyberspace. Ms. Hartman recognized the value in that and began submitting her proposals to the Small Business Innovation Research Program and other government funding opportunities in the hopes of starting her own telecom services company.
After becoming disabled Ms. Hartman retired from a career of almost 30 years of working as a Science Instructor and devised methodology from which she could telecommute. Her business method Accessing Accessibility she alleges led to the development of ecommerce and created the waves of cyberspace now used successfully by the tech industry. Lucky for the government and the waning telecommunications industry based on the Arpanet which phased out in 1989, that the integrated structure now called by one name the INTERNET emerged jump starting the entire economy. The industry has grown tremendously over the past 23 years but the woman who alleges that she is at least partially responsible for its success has remained unrecognized.
As quietly and anonymously as the government took her ideas in 1990 and made them the property of the government – so the Supreme Court as quietly and almost as anonymously disposed of her rights to have her case heard in Court in its Order published November 18, to Deny Petition for Writ of Certiorari.
Hartman petitioned the Supreme Court for a Writ of Certiorari to reopen the Decision by the Federal Circuit Court of Appeals , the decision entered in March 2013. Everyone can read a copy of that decision 13-1070.opinion.3-6-2013.1 on her Blog [See Link Below ]. Hartman filed a Brief to the Supreme Court asking for a reopening of that decision as she alleges that there was malfeasance in the Patent and Trademark Office and that her Constitutional Rights were violated in the refusal to grant a patent and/or compensation. The taking of Intellectual Property is the same as the taking of any other kind. Hartman alleges that using "indefiniteness" as an excuse not to award the patent is simply a code term for the fact that the Internet has grown and continues to grow. Hartman says "Why should it not grow? It has been 23 years."
This way by achieving a regulatory taking of her property through the Patent Office – the government does not have to acknowledge her, pay her, or declare Eminent Domain. She states without equivocation that for her contributions as there is hard evidence of the transfer of her intellectual property to the government but not one mention of the government reciprocating except by denying her funding. She has received no credit for her ideas or contributions to the Internet. If size is a deterrent to a patent, that is a legal question for the Courts. How then should she be compensated or acknowledge. She never claimed to have invented the telecom networks. That was done by those who have already been hailed by technology. However her ideas changed the structure and made the telecom networks successful . Certainly her case should be heard in Court. Her contributions to the industry and to the economy have been too great to be ignored.
She is still waiting for the government to deal with her in a positive way as it should have 23 years ago and not use the color of her skin, gender, or health status to use and exploit her. From the power that the government has gained from the Internet, and the trillions of dollars gained by corporations – certainly the government can and should do better than that. There have been quite a number of African- American inventors who have contributed and not been compensated or recognized so she knows that she is in good company and not the first to be treated in such a manner. However, she says "We have come a long way since, I would like to break the mold of not being dealt with fairly.
Visit http://www.smartphoneselectronicsaccessories.com/ for more information.
Contact Info
Name: Minerva
Organization: ABFY SELLERS GROUP
Email: diana4500@comcast.net
Posted: January 27th, 2014 under ACCESSWIRE.