Simio Partner Finalist in Franz Edelman Award
ACCESSWIRE
By Simio LLC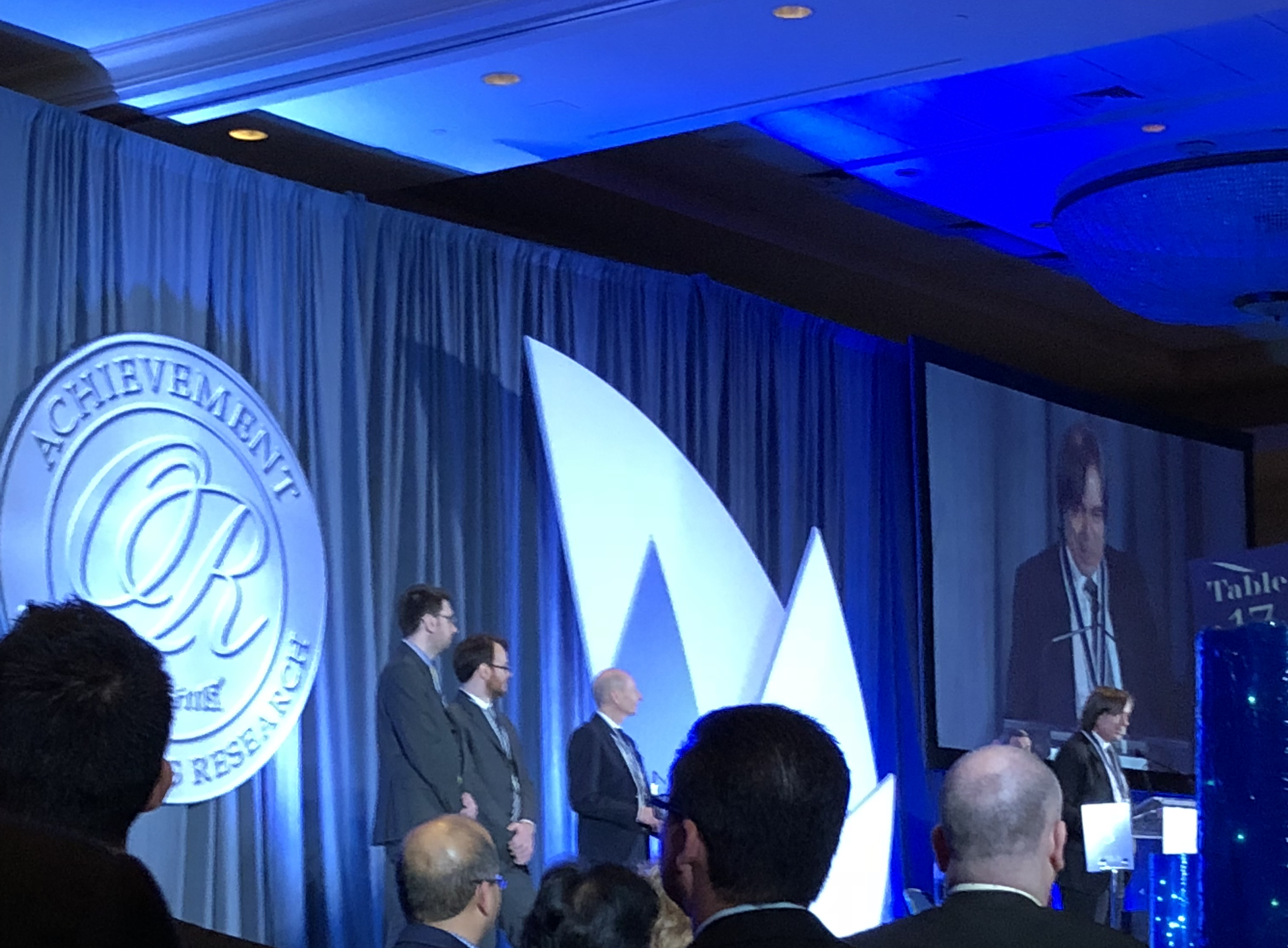 ACT Operations Research (ACTOR), a Simio partner, was a finalist at the 2018 Franz Edelman Award
PITTSBURGH, PA / ACCESSWIRE / June 11, 2018 / ACT Operations Research (ACTOR), a Simio partner, was a finalist at the 2018 Franz Edelman Award for their achievement in the development of Opticar for the leading European car rental company, Europcar.
Celebrating the most outstanding and inspiring real-world applications of Operations Research (OR) and analytics, the Franz Edelman award was given at the Edelman Gala on April 16, 2018 in Baltimore, Maryland. For more information about the Franz Edelman Award, please visit https://www.informs.org/Recognizing-Excellence/INFORMS-Prizes/Franz-Edelman-Award.
ACTOR at the 2018 Franz Edelman Award Ceremony
"Simio's object-based modeling software provides the simulation for ACTOR which, together with their forecasting platforms and optimization engines, enabled Europcar to achieve finalist status in the 2018 Edelman Awards program," said Renee Thiesing, Vice President of Strategic Alliances at Simio.
Europcar and ACTOR were able to demonstrate international excellence in OR practice to the judges through their development of Opticar which brings significant verifiable and quantifiable impact to its industry. ACTOR's Managing Director Ted Matwijec noted, "The combination of EuropCar's vision for adapting ACTOR's simulation, optimization and statistical techniques technology – was the cultural change necessary to drive improved corporate customer satisfaction and cut operating costs significantly on an annual basis."
A Winning Partnership in the Development of Opticar
Opticar was developed by the leading European car rental company, Europcar, in conjunction with ACTOR, to provide forecasting, simulation and optimization for the vehicle rental industry. Already in use in nine corporate Europcar countries, Opticar allows standardization of processes across the different work cultures, promotes a higher level of corporate cooperation and, most importantly, improves the quality of decision-making to raise financial and service performances.
Opticar lends decision support to the car rental industry in the form of forecasting, discrete event simulation and optimization. In a complex, highly dynamic environment, decisions need to be made regarding the fleet assets, their usage, location, and pricing. Simulation helps financial and capacity managers of the company reduce their risks by planning for optimal fleet saturation and maximization of business opportunity.
Using AI and statistical modeling, demand is forecast and simulation is then imposed to evaluate potential scenarios and their outcomes with respect to fleet composition, allocation, and pricing.
Delivering leading-edge solutions for the design, emulation, and scheduling of complex systems, Simio's involvement in the Opticar solution through ACTOR is typical of the scale of success achieved through the application of simulation in an international business context.
About Simio LLC
Simio LLC was founded in 2005 by a highly experienced team. Founder and CEO of Simio LLC, C. Dennis Pegden, Ph.D., has over three decades of experience in simulation and scheduling and has been widely recognized as an industry leader. He led in the development of SLAM (marketed by Pritsker and Associates) and then founded Systems Modeling Corporation. Dennis led the creation of the market-leading simulation products SIMAN® and Arena®, as well as, the finite capacity scheduling product Tempo. Now Simio is a market leading, 4th generation simulation product with patents for flexible object design and scheduling risk analysis. Simio object design eliminates text-based coding for building models and planners can predict the risk in their detailed production schedules. Simio's unified model works for both facility design and managing daily operations. To learn more, visit Simio.com.
Media Contact:
Eric Howard
+1-412-265-5295
ehoward@simio.com
SOURCE: Simio LLC
ReleaseID: 502334
Posted: June 11th, 2018 under ACCESSWIRE.