How was the program keeping rates low? Canada Mortgage Bonds help keep banks and other lenders flush with cash so they can keep issuing more mortgages.
Basically, lenders can sell the mortgages they issue in exchange for quick cash. Mortgage bonds let investors (or in this case, the central bank) buy in to that deal, walking away with a guarantee of steady income in the future.
"The Bank of Canada was very aggressive in purchasing Canada Mortgage Bonds since early in the year," says Abrams, which gave financial institutions access to lending cash for credit-worthy consumers and businesses. "This led to lower rates and met their goal of stimulating the housing market."
As the economy has improved, Abrams explains, the BoC no longer considers the purchasing program essential.
"Theoretically, the bank's decision could lead to an increase in rates," he adds. "This is because the banks would have potentially less to lend, which could lead them to increase their rates to slow demand."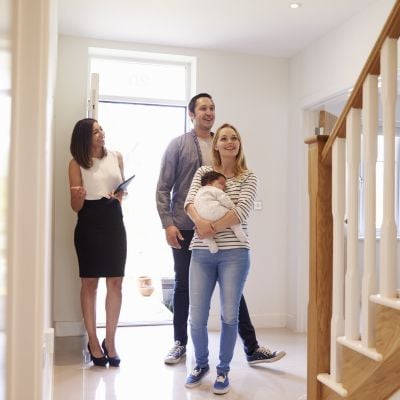 What's the most likely outcome? Abrams says that, instead of mortgage rate hikes, Canadians can expect to see fewer rate drops in the near future.
"There could also be further decreases if there is another negative hit to the economy with a potential second wave of COVID-19," he says. "This means that for those sitting on the sidelines, now is a great time to jump into the market."
Sean Cooper, mortgage broker and author of bestselling finance guide Burn Your Mortgage, agrees that both fixed and variable mortgage rates are likely to solidify at their current level. However, he says, it's possible rates could fluctuate if the real estate market looks unstable.
"If that were to happen, this could lead to liquidity concerns for lenders similar to what we saw in the spring when mortgage rates jumped," says Cooper. "This, plus a higher cost of borrowing, would mean mortgage rates could head higher. So far there are no signs of this, but this is certainly something to monitor."
So what should Canadians do to save? With this uncertainty in mind, and with Canada's all-time-low mortgage rates still in effect, Cooper urges those planning to shop for a mortgage in the next three or four months to reach out to a mortgage broker now.
"A broker could secure you a mortgage at today's low rates, usually for up to 120 days," says Cooper.
"Lenders often have rate-drop policies. If rates were to continue to decline between now and when your mortgage comes up for renewal, your broker could secure you the lower rate. However, if rates were to head higher, you'd be protected since your broker already secured you a rate at today's low rates."
Abrams agrees that an unbiased adviser can be a great ally to homebuyers or homeowners looking to save by refinancing their mortgage.
"While nobody has a crystal ball, mortgage advisers can let you know what has been happening in the market as well as point you towards key features and types of mortgage options from various lenders," he says.
For example, mortgage shoppers shouldn't fixate on getting the absolute lowest rate possible.
"Many borrowers only focus on rate and leave out the key features that could actually save them the most money," he says, such as pre-payment privileges and low penalties. "Make sure that when you are looking at options, mortgage features are given equal priority."
The advisers at Abrams' brokerage, Homewise, promise to negotiate on your behalf with more than 30 big banks and other lenders to find you the best mortgage available.
The service is completely free, and you can apply online within a few minutes:
Sponsored
You're 5 minutes away from the best mortgage
Searching for your perfect mortgage shouldn't be hard. Homewise is an online brokerage that will negotiate on your behalf with more than 30 big banks and other lenders, completely free, and it only takes five minutes to apply.
If you're in the market for a new mortgage, or if you're looking to refinance before interest rates rise again, go to Homewise now and answer a few simple questions to get started.