Breezeful / Breezeful
We adhere to strict standards of editorial integrity to help you make decisions with confidence. Please be aware that some (or all) products and services linked in this article are from our sponsors.
We adhere to strict standards of editorial integrity to help you make decisions with confidence. Please be aware this post may contain links to products from our partners. We may receive a commission for products or services you sign up for through partner links.
Best for:
Comparing multiple mortgage rates at once
Seeing your mortgage options quickly
Free service and advice
Buying real estate online
Alternative paths to homeownership
About Breezeful
Breezeful is an online mortgage broker that lets you compare multiple lenders to find the right rate for your personalized path to homeownership. Currently, Breezeful partners with more than 30 lenders ranging from big financial institutions like TD and Manulife to smaller lesser-known banks and credit unions. You only have to fill out a single application before you can see your rates, which saves you a lot of time, energy, and running around. Additionally, Breezeful will only do one credit check, which prevents you from getting your credit score checked multiple times by each individual lender. (Each additional credit check negatively impacts your credit score.)
You can use Breezeful to get pre-approved for a mortgage before you even start house hunting, to find the best rates on Home Equity Lines of Credit (HELOCs), or to finance your new home. As mentioned previously, you'll work with an online mortgage expert who will negotiate on your behalf with the financial institutions. They can help you as you decide what is best suited to your financial situation, whether it be rent-to-own, a private mortgage, or a mortgage with a big bank. This range of options is especially useful for newcomers to Canada or people who are self-employed and who may have trouble accessing financing through traditional means.
Since Breezeful is an online mortgage broker, you won't meet with anyone in person; everything is done over email, phone, and the Breezeful website. This is a real advantage during a global pandemic where you may not necessarily want to be taking extra trips to the bank to meet with mortgage advisors.
While the company has its headquarters in Toronto, Ontario, they provide mortgage services to all of Canada and within the U.S. as well.
What does Breezeful offer?
Mortgage pre-approval. Get approved for a mortgage term and rate based on your financials with a quick online application. Finishing this up ahead of time ensures that you can move quickly when you find the right place. This process can take up to three days once you've uploaded all of your documents through the online portal.
Mortgage refinancing. Not happy with your existing mortgage? Breezeful can help you negotiate changes to your mortgage term and rate, and even help with extra cash flow by helping you leverage your existing home equity.
Mortgage renewal. Working with Breezeful a few months before your current mortgage term is up can make sure that you get the best rates for the next term.
Rent-to-own. This alternative homeownership program lets you rent for a set amount of time with the option to buy your home at the end. Depending on the property, a percentage of your rent may go towards the eventual purchase.
Home equity line of credit. Find out if you qualify for a Home Equity Line of Credit (HELOC), which lets you borrow using your home as collateral, and how much you qualify for.
Second mortgage. If you need extra cash flow to consolidate debt, add to your investments, do home repairs, or for myriad other reasons, you can consider taking out a second mortgage on your home.
Private mortgage. Another alternative path to homeownership is a private mortgage. Instead of a bank, this loan is offered by a group of individuals or a mortgage corporation. These mortgages typically have terms of 1-3 years and the payments are interest-only.
Closing costs calculator. Use the calculator to estimate what you'll spend on the closing of your home. The calculator includes typical costs such as realtor fees, legal fees, and land transfer tax, among others.
Why use Breezeful?
The biggest advantages of using the Breezeful platform are speed and simplicity. You'll get to see rates from multiple lenders based on one single application. There's no shopping around, getting quotes from various banks and making phone calls—Breezeful gathers all of the information for you in minutes.
One of the potential downsides is that while Breezeful has more than 30 lenders to choose from, your lender of choice may not be among them. In this case, you're better off contacting that lender directly to negotiate your mortgage. Also, if you're not totally comfortable going digital with the whole process, you may prefer the guidance of an in-person agent who can help you navigate the technological side of things.
Furthermore, if you're someone who really wants that in-person experience of going to the bank and meeting with a mortgage specialist, Breezeful may not be for you. With Breezeful, everything is online and over the phone. You also won't negotiate directly with the lender: your mortgage specialist will do that for you.
Pros and cons of Breezeful
Pros
Quick info — See rates from multiple lenders within minutes.
100% online — No need to go into a bank or meet with anyone in person.
No need to shop around — The online platform has all the info in one place.
Multiple paths to home ownership — There's more than one way to get a mortgage, and your mortgage expert can help.
Your mortgage broker works for you, not the bank — Your mortgage expert does all the negotiating for you and gives you unbiased advice on the best rate.
One credit check for multiple applications
Cons
Everything is online — If you're not great with computers or if you prefer in-person conversations, this may not be the platform for you.
Your preferred lender may not be on the list — While Breezeful has more than 30 lenders, your bank may not be among them.
How does Breezeful work?
Signing up for Breezeful is super easy and only takes about five minutes.
The application starts with some very simple questions, such as whether you're looking to buy a new home or refinance a current property.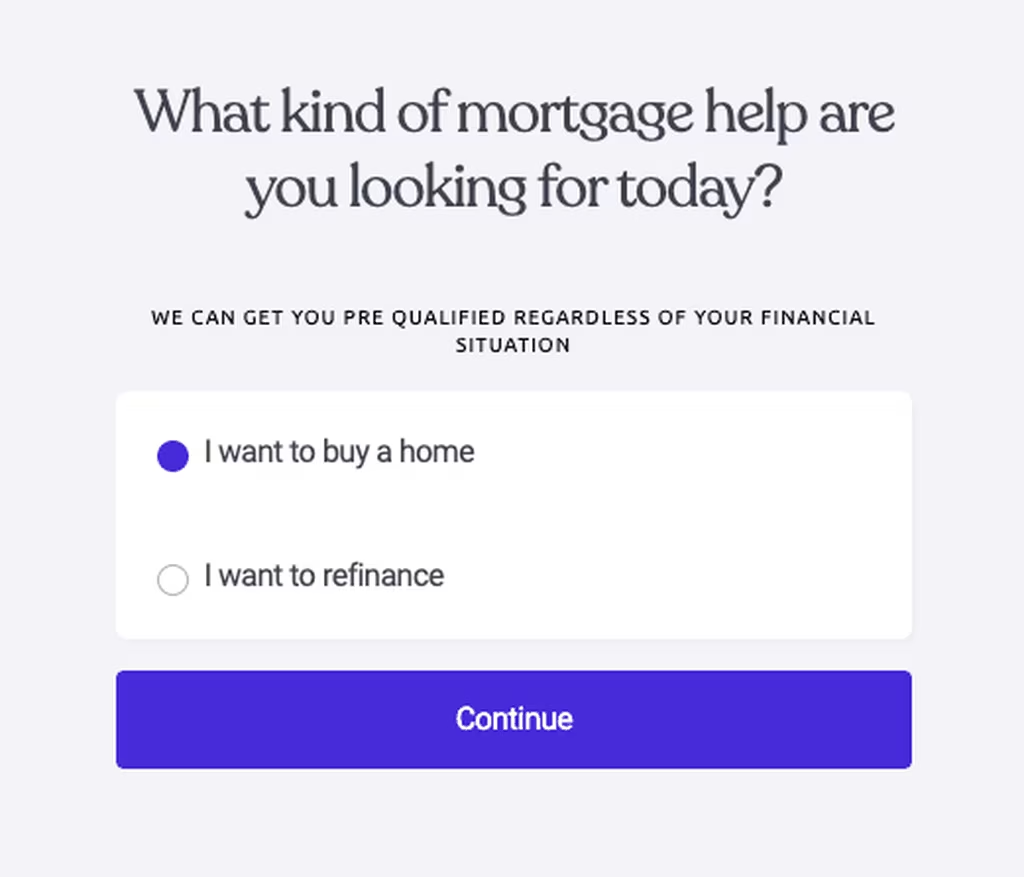 From there, you'll answer a series of quick questions about your income, down payment funds, citizenship status and credit score, etc., so that they can get an idea of your full financial picture to help determine what kind of loan is best for you.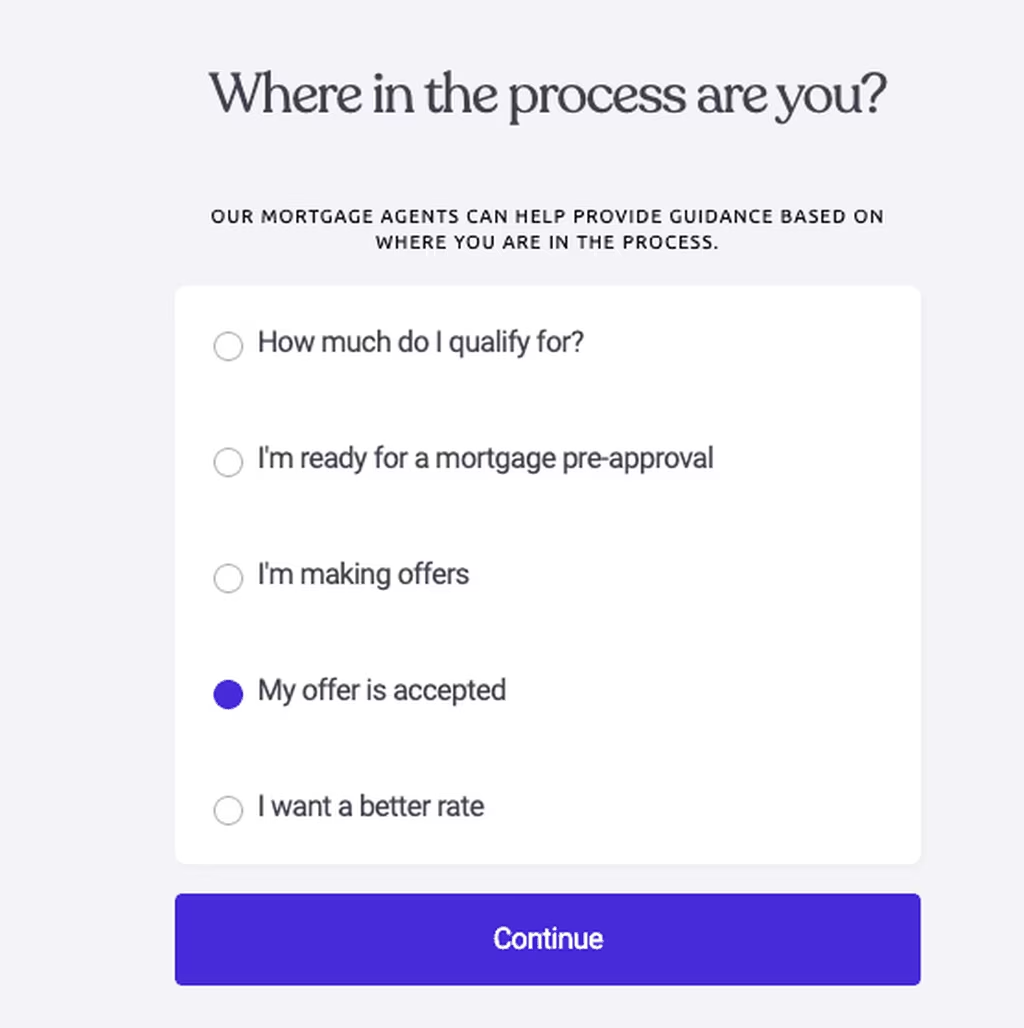 Next, you'll have to provide an email and a phone number so that they can contact you, and give permission for them to do a simple credit check. And all of the supporting documents can be sent online via the platform.
Once you've input all of your information you'll be offered a few different rates from multiple lenders. Breezeful will have a recommended choice, but, of course, you are free to explore and compare your options. You can also select whether you'd like a fixed or variable rate mortgage. Then, you're ready to compare and contrast the rates and pick the lender that works for you.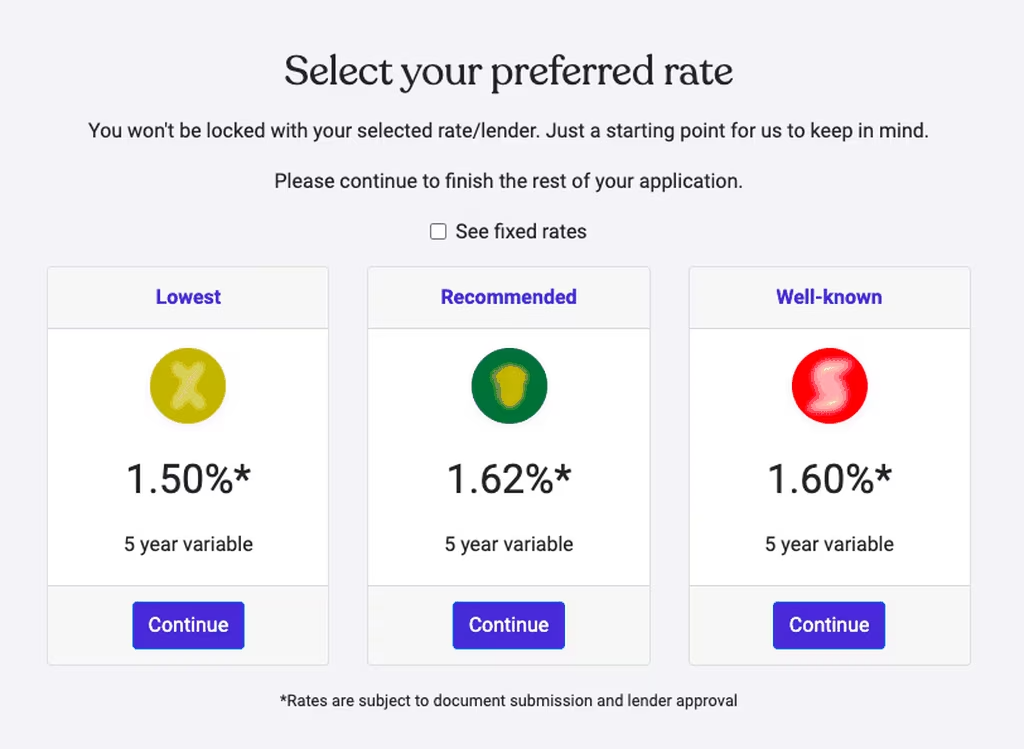 How does it compare?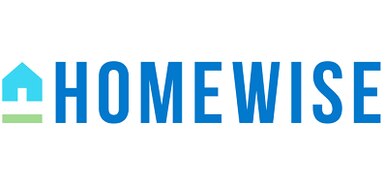 There are only a handful of online mortgage brokers operating in Canada at the moment. Breezeful stands out because of the number of partners (more than 30) and because you can use it from anywhere in Canada and in parts of the United States. Homewise, another online mortgage broker, offers a competitive service but it is currently only available in Ontario (they co-broker for other regions). There are several other online mortgage brokers, but many do not offer access to as many partners as Breezeful does, and not all of them have such a user-friendly platform. If you're doing research to find the best rate, it may be in your interest to compare rates on multiple platforms that support different vendors—just be sure to keep your credit checks to a minimum.
Breezeful FAQs
The verdict: is Breezeful worth it?
If you want to quickly compare rates online to make sure you're getting the best deal, then Breezeful might be for you. Without Breezeful, you'll have to do the legwork and fill out multiple applications with multiple financial institutions to find the right fit. On the flip side, if you already know which lender you'd like to go with, and they're not on Breezeful's list, you're better off just contacting them directly.
Whatever you choose, make sure that you research your options carefully. Signing up for a mortgage is a huge life event and it's definitely worth investing some time into investigating your options.
Search 30+ mortgage lenders and get great rates with Breezeful