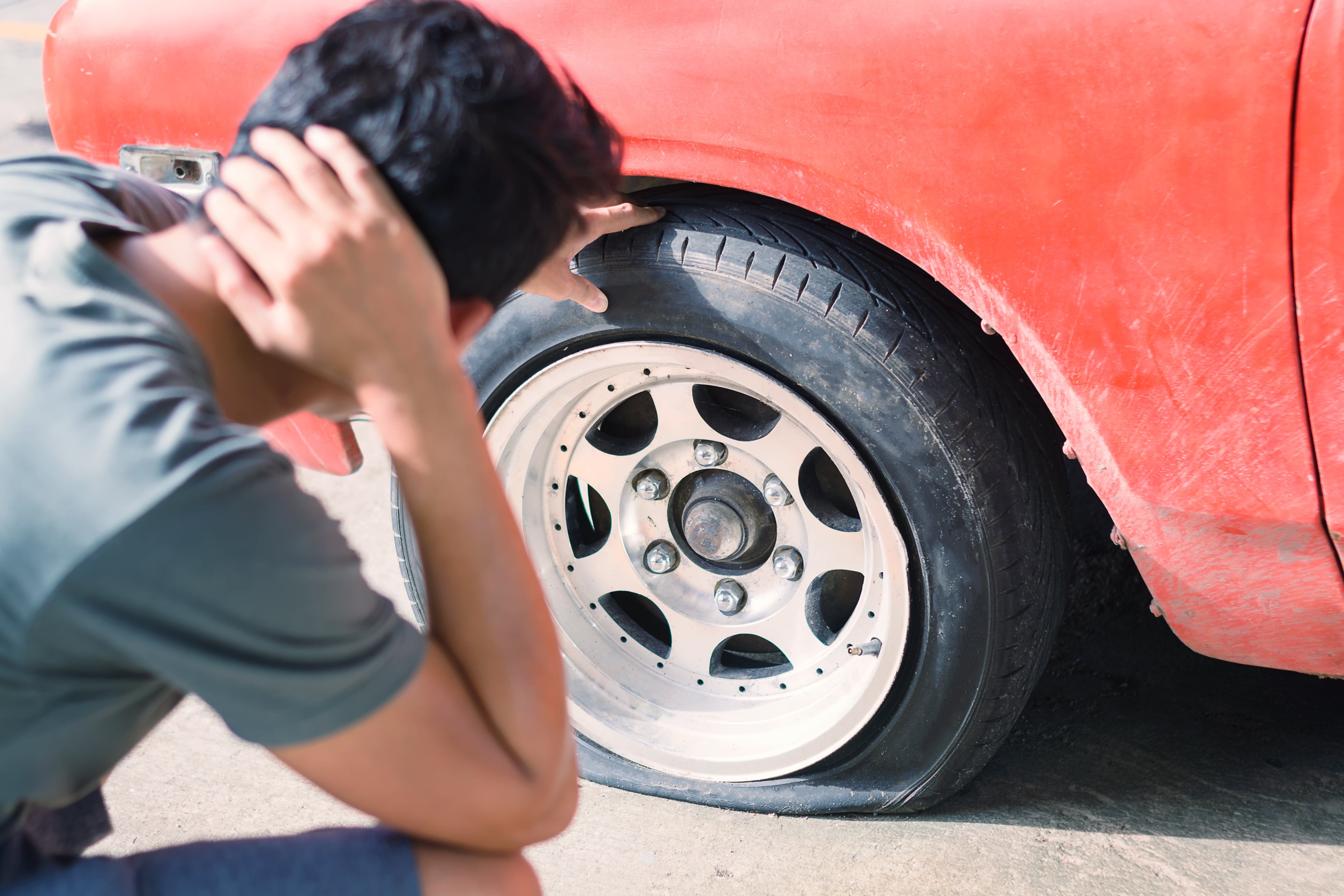 The difference between free vs. paid roadside assistance in Canada
Wc.Intaraprasat / Shutterstock
We adhere to strict standards of editorial integrity to help you make decisions with confidence. Please be aware that some (or all) products and services linked in this article are from our sponsors.
We adhere to strict standards of editorial integrity to help you make decisions with confidence. Please be aware this post may contain links to products from our partners. We may receive a commission for products or services you sign up for through partner links.
Earlier this year, my car died in a parking lot. You may know the dreaded feeling: you turn the key over and over, you hear the engine rev but it doesn't start, and you hope that your car will come back to life, but – nothing. To make matters worse, I wasn't covered by any roadside assistance plan.
Flash forward to now, and I know that roadside assistance is a must for any driver. You might think that CAA is the go-to roadside assistance provider, but it's not the only game in town. Canadian Tire and even your credit card can provide workable roadside assistance alternatives.
What is roadside assistance?
Roadside assistance is added coverage aside from insurance that can help you in the event that something goes wrong with your car while you're on the road. Companies that provide roadside assistance can help with anything ranging from helping you get back into your vehicle if you're locked out or towing you to a mechanic in the event of a total breakdown.
Free roadside assistance
While not everyone loves getting stuck by the side of the road in a dead car, the situation becomes less dire when you remember that your credit card comes with 24/7 roadside assistance and that you don't even have to pay a cent.
To take advantage of this free roadside assistance, all you have to do is call the phone number on the back of the card or in your benefit agreement and wait for a tow truck to come to the rescue.
Below you'll find the credit cards with the best roadside assistance options in the country.
Recommended credit cards for free roadside assistance in Canada
Card Name
BMO CashBack World Elite Mastercard
TD Cash Back Visa Infinite Cash
$80,000 (personal), $150,000 (household)
$60,000 (personal), $100,00 (household)
BMO CashBack® World Elite®* Mastercard®*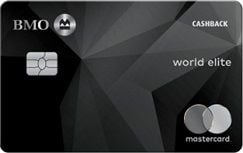 When you sign up for a BMO credit card eligible for roadside assistance, you'll get a free membership for basic coverage with Dominion Automobile Association (DAA)*. The membership is worth $69/year, but comes free with this credit card. The coverage with DAA covers you in any passenger vehicle, be it your own or a rented car. It includes four calls a year anywhere in Canada or the US, and covers emergency fuel delivery, flat tire change, lockout service, winching, and battery boost. There is, however, a short 10 km towing radius to the nearest garage so it's not recommended for long-distance trips.
Key features:
Rewards: 1% base cash back on all purchases with higher rates for specific categories*
Additional Perks: Collision damage waiver on rental cards*, Purchase Protection Plus* and Extended Warranty Plus*, Travel and emergency medical protection up to $2 million*
Annual Fee: $120
Click here to apply or learn more by reading our complete BMO CashBack World Elite Mastercard review.
*Terms and conditions apply
TD Cash Back Visa Infinite* Card
TD Cash Back Visa Infinite Card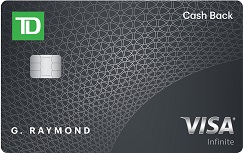 Apply Now ►
Quick Facts
Standard purchase APR: 20.99%
Balance transfer APR: 22.99%
Cash advance APR: 22.99%
Credit score required: Good-excellent
Minimum personal income required: $60,000
Annual fees: $139 (first year Annual Free Rebate)
This offer is not available for residents of Quebec. For Quebec residents, please click here.
The TD Cash Back Visa Infinite* Card offers one of the best roadside assistance package available on a credit card. With this card, you'll get access to the Deluxe TD Auto Club Membership†. This plan includes all the standard services like emergency service calls, lockout services, winching, traffic accident emergency services, and more†.
Of the rest of the cards, it's 200 km towing radius is only beaten by the Triangle World Elite Mastercard and you can call for service six times throughout the year. Additionally, if you're unable to contact the TD Auto Club for assistance and you use another service provider, you'll get reimbursed up to a set amount for services like lockout assistance or emergency service calls†. Not only does this card provide excellent roadside assistance, but it's also one of the best credit cards to use for gas rewards in Canada.
It also comes with a Welcome Bonus:
Earn 10% in Cash Back Dollars on all Purchases for the first 3 months† up to a total spend of $2,000. Plus, no Annual Fee for the first year†. Conditions Apply. Must apply online by September 5, 2023.
After your first $2,000 in Purchases, Gas Purchases, Grocery Purchases and Pre-Authorized Payments will continue to earn 6% up to a total spend of $3,500 for the first 3 months.
Get an Annual Fee Rebate for the first year†.
Key features:
Rewards: 3% cash back on eligible grocery, gas and recurring bill payments†, 1% cash back all other purchases†
Additional Perks: Travel medical insurance†, Visa Infinite concierge service†
Annual Fee: $139 (annual fee rebate)†
Learn more by reading our complete TD Cash Back Visa Infinite* Card review.
†Terms and conditions apply.
Paid roadside assistance
Roadside Assistance Provider
Canadian Tire Gold Plan
CAA Plus Plan
Choose either driver or vehicle
Roadside Assistance Annual Fee
$119.90 (Southern Ontario pricing)
Paid roadside assistance plans offer the same services as the credit card plans, but for an annual or monthly membership fee. Paid plans still limit the towing radius and number of service calls available per year. There are second-tier plans available that expand the towing radius, number of calls and level of service, but they cost more. In Canada, the best paid roadside plans are available from Canadian Tire and the Canadian Automobile Association (CAA).
Canadian Tire
For $99.95, the Canadian Tire Gold Plan gives you all the regular services plus free emergency fuel deliveries and a towing radius of 200 km and one extra service call than you'd get with CAA. With roadside assistance from Canadian Tire, you'll also get member perks like discounts on Canadian Tire Garage services and on partnered car rentals. The Canadian Tire Gold Plan is also available free with The Canadian Tire Triangle World Elite Mastercard.
CAA
Of course, you can always rely on a CAA membership to help you out with car troubles in a pinch. The available plans and prices vary depending on your location and whether you opt for an annual or monthly payment, but the Plus plan offers the best value. With it, you'll get four service calls a year and a towing distance of 200km, free emergency fuel delivery, battery services, and more. Since CAA is such a wide network, members will also get other perks like free passport photos, special pricing on merchandise, bicycle assistance, and road trip accident assistance.
Paid or free: what roadside assistance is better?
You may want to invest in paid roadside assistance if you often drive long distances or you drive an older vehicle that's prone to breakdowns. Otherwise, the service provided by one of the roadside assistance credit card plans mentioned here may be sufficient coverage, particularly if you only drive locally.
FAQs
Can I get roadside assistance for any car I'm driving?

+

Most roadside assistance plans are tied to the membership card or credit card holder. Only Canadian Tire plans allow you to register vehicles where only that vehicle is eligible for service and only if you choose that option.

When does my roadside assistance coverage start?

+

Roadside assistance coverage starts the moment your membership card or credit card is activated and lasts for as long as you hold an account.

Can I share roadside assistance benefits with friends or family?

+

Yes, but only if you happen to be in the car that breaks down and have your credit card or membership card on you. Friends or family do not have access if you're not in the car unless they are listed on a family plan paid membership.
BMO is not responsible for maintaining the content on this site. Please click on the Apply now link for the most up to date information.