Your Aeroplan points guide
Natee Meepian / Shutterstock
We adhere to strict standards of editorial integrity to help you make decisions with confidence. Please be aware that some (or all) products and services linked in this article are from our sponsors.
We adhere to strict standards of editorial integrity to help you make decisions with confidence. Please be aware this post may contain links to products from our partners. We may receive a commission for products or services you sign up for through partner links.
Do you collect Aeroplan points? If not, you may want to start. Aeroplan points are easy to amass and simple to redeem. As long as you stay active, your points will never expire. Of course, Aeroplan isn't perfect (nor is any loyalty ecosystem), but if you take the time to learn the program's basics, you can make your points work for you.
And there's really never been a better time to be part of Aeroplan! That's because Air Canada announced that the long-awaited revamp of Aeroplan (which Canadians eagerly awaited since the carrier took over the loyalty program in 2018) has arrived! To keep you informed, we've put together this updated Aeroplan Bible as your guide for everything you need to know about the Aeroplan Points program.
Note that this article deals mainly with how to earn and redeem Aeroplan Points, as well as how to determine the value of an Aeroplan Point. To read more about new Aeroplan changes unrelated to the aforementioned topics — like the new family sharing option, no more surcharges, and the new stopover policy — check out our comprehensive article on Aeroplan Changes.
How to get Aeroplan points
How to collect Aeroplan points hasn't changed much (though Air Canada is continually adding new retail partners and has said it will add more travel partners in the next year). It's quite easy to collect Aeroplan points, partly because it's such a popular program for Canadians. You can earn Aeroplan Points in the following primary ways:
Earn points when you fly Air Canada flights, and you can also earn points on extras like food and beverages and duty-free purchases.
Earn Aeroplan points on partner airlines (note that there is a new charge of $39 per ticket when you book a flight reward on another airline—you can use points to pay the new fee).
Get points with other travel partners like hotels and rental car agencies, select airport parking lots, and more partners were added in 2021.
Shop with Aeroplan partner merchants in person or online.
Use an Aeroplan credit card.
Pool points with family members (read more about this new feature here).
Aeroplan partner merchants
Aeroplan has no shortage of partner merchants, many of which you probably use and shop with on a regular basis. Remember that you can 'double dip' the points you earn when shopping with Aeroplan Partners or travelling with a Star Alliance member by showing your loyalty card and then paying with an Aeroplan credit card. Some of the most popular partners include the following:
Travel:
Air Canada
Star Alliance Members
Budget Car Rental
Courtyard by Marriott
Fairmont Hotel and Resorts
Retail
Costco
The Apple Store Canada
Sephora
Hudson's Bay Company
The UPS Store
Keep in mind that some of these merchants only allow you to earn Aeroplan points when shopping online. For example, you can earn Aeroplan points when making online purchases at Costco, but you won't earn any Aeroplan points for anything bought in-store.
The Aeroplan eStore is a great resource if you shop a lot online, as it showcases more than 170 retailers who partner with Aeroplan. Each retailer has its own earning rate and some merchants may occasionally have extra mile promotions. Popular brands you can find on the Aeroplan eStore include amazon.ca, chapters.indigo.ca, Bed Bath & Beyond, Etsy, Dyson, and more. More retailers are expected to be added throughout 2021.
Earning Aeroplan points with credit cards
TD® Aeroplan® Visa Infinite* Card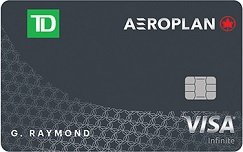 Apply now ►
Quick Facts
Minimum credit score: Good-excellent
Minimum income: $60,000 personal or $100,000 household
Standard purchase APR: 20.99%
Balance transfer APR: 22.99%
Cash advance APR: 22.99%
As mentioned above, one way to get extra Aeroplan points is by using Aeroplan credit cards, and one of our favorite cards on the market right now is the TD® Aeroplan® Visa Infinite* Card.
TD® Aeroplan® Visa Infinite* Card's best offer yet. Earn up to $1,400 in value†, including up to 50,000 Aeroplan points† and additional travel benefits. Must apply by January 3, 2024.
Earn a welcome bonus of 10,000 Aeroplan points when you make your first purchase with your new card†
Earn 25,000 Aeroplan points when you spend $5,000 within 180 days of Account opening†
Plus, earn an anniversary bonus of 15,000 Aeroplan points when you spend $7,500 within 12 months of Account opening†
Enroll for NEXUS and once every 48 months get an application fee rebate†
Plus, share free first checked bags with up to eight travel companions†
The card earns 1.5 points† for every $1 spent on eligible gas, grocery, and direct through Air Canada® purchases (including Air Canada Vacations®) made with your card. Earn one point† for every $1 spent on all other eligible purchases.†
TD® Aeroplan® Visa Infinite* Card members will also be able to take advantage of other travel benefits. When booking an award flight via Aeroplan, cardholders and travel companions (up to eight) traveling on the same reservation get their first bag checked free when travel originates on an Air Canada flight†. You'll enjoy a comprehensive suite of travel insurance, including trip cancellation†, flight delay†, and motel burglary insurance†. Also, remember that you can essentially earn points twice when you pay with your Card and provide your Aeroplan number at over 150 Aeroplan partner brands and 170+ online retailers via the Aeroplan eStore†.
Click here to apply or learn more by reading our complete TD® Aeroplan® Visa Infinite* Card review.
This offer is not available for residents of Quebec.
†Terms and conditions apply
American Express® Aeroplan®* Card
American Express® Aeroplan®* Card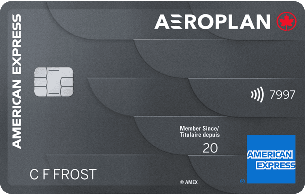 Apply now ►
Quick Facts
Credit score required: Good-excellent
Min personal income required: N/A
Annual fees: $120
Another of our favourite Aeroplan cards, the American Express® Aeroplan® credit card, features one of the best Aeroplan welcome bonus offers in the country. New American Express® Aeroplan®* Cardmembers can earn up to 40,000 Aeroplan points:
Earn 3,000 Aeroplan points for each monthly billing period in which you spend $1,000 in purchases on your Card for the first 10 months of Cardmembership. That could add up to 30,000 Aeroplan points
Plus, you can also earn 10,000 Aeroplan points when you make a purchase between 14 and 17 months of Cardmembership
The card also comes with some premium perks like a free first checked bag on Air Canada®* flights for up to nine people on the same reservation. Cardholders can reach Aeroplan EliteTM* status faster because they will get 1,000 status qualifying miles and 1 status qualifying segment for every $10,000 they spend in eligible purchases. Additionally, the American Express® Aeroplan®* card comes with a solid spectrum of travel insurance, including flight/baggage delay, lost/stolen baggage, hotel burglary, and more.
Click here to apply or learn more by reading our complete American Express® Aeroplan® Card review.
What is the Aeroplan points chart?
Aeroplan has completely overhauled its chart system. Previously, you had two options when booking flights with your Aeroplan points. You could book with the fixed mileage option or with market fare rewards. Now the new Aeroplan chart is based on a dynamic pricing model and is divided into four different zones:
North America
Atlantic
Pacific
South America
How many points you need to redeem for a specific flight will now depend on the market value of the flight, the travel distance between where you take off and where you land, and whether or not the flight is in high demand. Fixed point redemption values remain only for partner airlines. For Air Canada flights, Aeroplan members will see a range of possible points needed for redemption, and you won't actually know how many points you specifically need until you go to select your flight.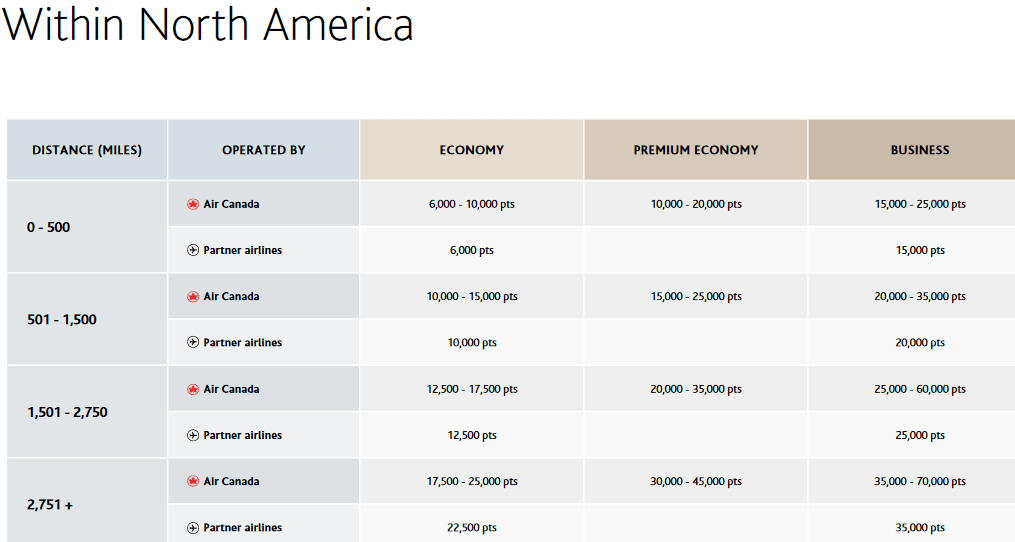 So, for example, note in the chart above that for each class of ticket for an Air Canada flight, there is a given range of possible points needed for redemption. Whereas for the partner airlines, there is a clearly allotted fixed number of points needed. Obviously, to get the best value for your points, you want to aim for the lower range of points needed for a flight. Keep in mind that while the simplicity of the partner airline redemption fixed point system is attractive, this often means you'll have to take longer routes because of stopovers. There's also limited seat selection.
When you look at the new Aeroplan Chart, you may also notice that there have been some increases in the points needed for many routes (especially in the Atlantic and Pacific zones). However, there are now no more carrier surcharges, and you will have much better availability of flights because blackout dates and seat availability limitations have been eliminated under the new Aeroplan Points program.
How many Aeroplan points does it take to fly?
Unless you are using a partner airline with fixed points, there's no real way to know how many points it will take to fly somewhere because all Air Canada flights are now based on a variable points model. Luckily Air Canada has provided a Points Predictor Tool so you can get at least an idea of how many points you'll need to redeem for your flight.
Below is a chart showing the range of points needed for flights from North America to the Atlantic zones. So, for example, a flight (of a distance of approximately 3700 miles) from Toronto to somewhere in Europe, like Paris, could cost you anywhere from 35,000 to 60,000 points in economy each way. And a partner airline seat on a similar flight will cost a fixed amount of points of 35,000. Of course, as mentioned above, you will likely get much more selection, and fewer stopovers with the Air Canada flight since flight reward redemptions no longer have any restrictions. That means you'll have plenty more options than you would via booking a flight with the partner airline.
How do travellers redeem Aeroplan points?
How you redeem Aeroplan Points has also been simplified. You no longer need to go to a separate website (aeroplan.com) to redeem your points. Now you can search and redeem your flight rewards just like you would any other booking at aircanada.com or on the Air Canada app. The aircanada.com address is also where you can redeem your points for other items like merchandise, rental cars, hotel stays, gift cards, and more.
Travel redemptions include flights with any Star Alliance member (including Air Canada) and other travel-related purchases such as hotels, car rentals, or vacation packages. As for merchandise options, there's a large selection of items to choose from, ranging from fashion accessories to cookware. Alternatively, you can use your Points for gift cards rather than actual products.
Also, it's important to note that under the new Aeroplan Points program, you can book with a combination of points and cash, giving you more booking flexibility.
What is an Aeroplan point's value?
With the new chart update, an Aeroplan point's value is not concrete when it comes to flights and varies depending on what the points are redeemed for, and the time of year they're redeemed. Generally speaking, when it comes to travel, you'll receive the highest value for your Aeroplan Points if you use them for flights and the lowest value if you use them for car rentals.
Outside that broad rule of thumb, there are several other redemption factors that affect the value of points. Under the old Aeroplan program, we could confidently state that you'll get better value for your points if you use them for a domestic flight in Canada or the US rather than an international one. Now, however, given the wide range between possible points needed for every flight (aside from partner airlines), the value you get for a point doesn't just depend on distance. It depends on miles travelled, how popular the flight is, and the time of year (i.e., whether it's high or low season).
When redeeming your Aeroplan Points, you'll want to make sure you get the best CPM (cost per mile), which means aiming for the lowest possible end of the points range for Air Canada flights.
Generally speaking, under the old Aeroplan Miles program, we valued 1 average Aeroplan point at 1.4 cents. If you can get an equal or greater value than that when making a redemption, you're getting a good return. Without the fixed pricing model of redemption, it becomes much harder to calculate a reliable set value for a new Aeroplan Point. The best way to calculate and be absolutely certain whether or not a rewards flight is good value is to follow this example.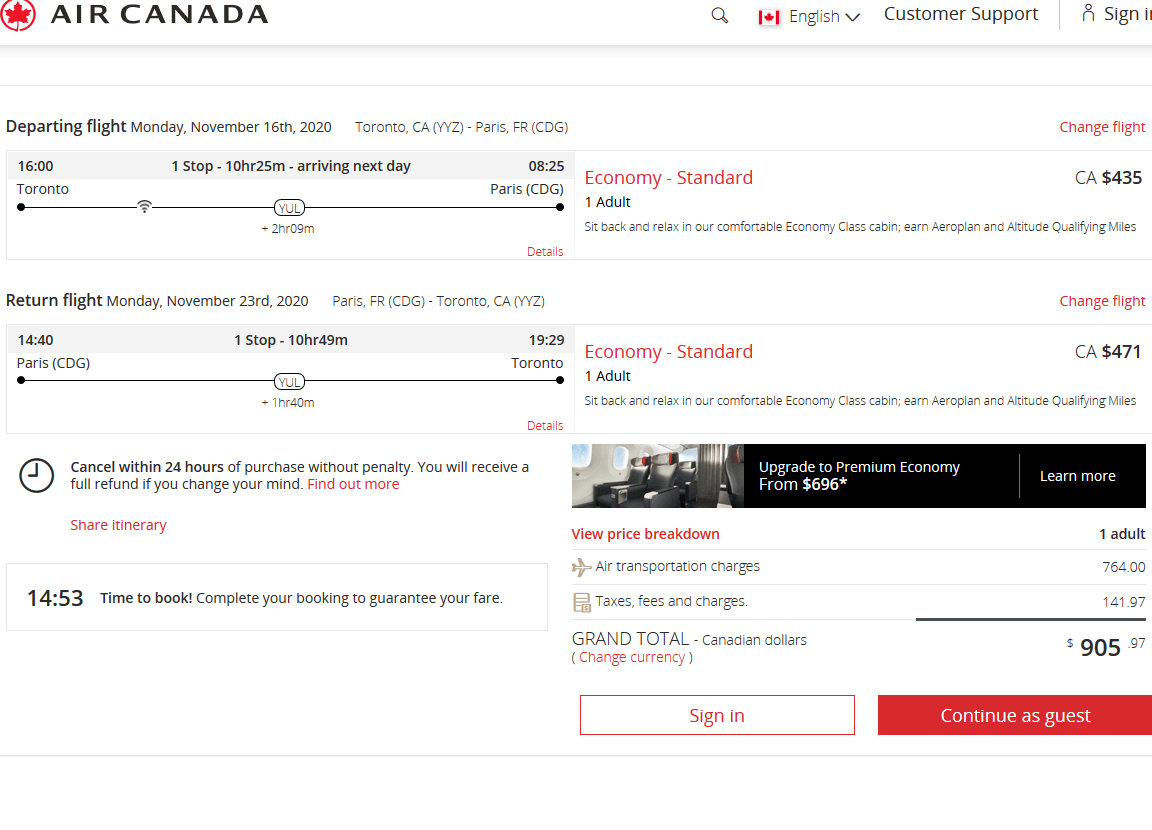 If I booked a flight from Toronto to Paris in November 2020 with Air Canada, the ticket, according to the website, would be approximately $905.97. To figure out the net value of my flight, I would first subtract $141.97 (the amount for taxes and third-party charges like airport fees, which aren't included under the "no more surcharges" exception. I subtract that amount because I would have to pay with cash or points when redeeming a flight reward, and I want to know the overall net value of a point).
The total price I will use to calculate the value of my rewards is now $764. Now we compare that price to what it would cost me to get to Paris using my Aeroplan points. If I can get a rewards economy ticket on the low range of the scale for 70,000 (35,000 each way) Aeroplan Points, that means that the value of one Aeroplan Point is approx. .0109 or 1.09 cents (764 ÷ 70,000=.0109), which is somewhat below what the average Aeroplan Point was worth under the old plan (.014). If I had to redeem in the higher range of points to get a flight, such as high as 60,000 each way, the value of each point would be even lower.
Can Aeroplan points be transferred?
Luckily, Aeroplan has made it very easy to pool points by introducing the new Aeroplan Family Sharing (and don't let the name fool you; you don't have to be family members). This sharing plan allows you to create a group of up to 8 members. All points earned by the members are combined into a shared balance. Any group member can redeem a flight reward using points from your shared balance. Better yet, if there is an Elite Status Member or a primary Aeroplan Credit Cardholder in your group, everyone benefits from the associated preferred pricing, so you can often redeem for fewer points.
Preventing expiration
One of the most common Aeroplan-related questions we get on GreedyRates is, "What happens when Aeroplan points expire?"
Before 2013, Aeroplan members had seven years to use their points before they expired. This is no longer the case today; your points will not expire so long as you actively collect them. But your points will expire if your Aeroplan account goes unused for a period of 18 months (note that until recently, it used to be 12 months but was updated). It's worth noting that this is a relatively short expiry period compared to competing travel rewards programs like Air Miles.
The best way to avoid losing points to expiration is to ensure that you keep collecting them. With so many Aeroplan credit cards and partners across Canada, it should be relatively easy to do.
American Express is not responsible for maintaining or monitoring the accuracy of information on this website. For full details and current product information click the Apply now link. Conditions apply.