What is a mortgage preapproval?
A mortgage preapproval is a document from your lender stating the estimated amount you'll be able to borrow. The letter also specifies the type of loan, interest rate and other terms associated with the mortgage.
The most important thing to remember about a preapproval is that it does not guarantee approval for a mortgage at the amount you've been quoted. It's more of a guideline.
To estimate the amount of your preapproval, lenders take a bird's eye view of your financial situation. They look over your credit history, credit score, income, assets, debts and employment history to determine just how much mortgage you can afford.
Once your offer on a home is accepted by the seller, your lender will appraise the home and take a deeper look into your finances to determine final approval. You are not required to get preapproved in order to buy a house, but it's almost always a good idea.
More: Current mortgage rates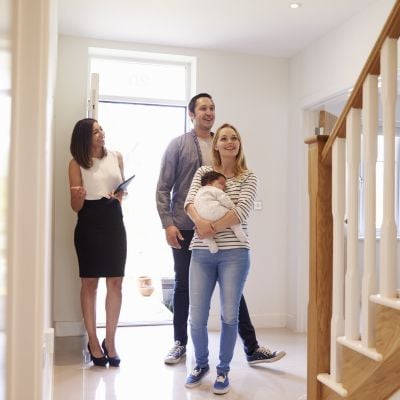 Whether you're hunting for a new home or looking to refinance your mortgage, knowing how much your new loan might cost you is critical. Use our handy mortgage calculator to help you understand what your payments could look like.
Get Started
Why a mortgage preapproval is necessary While a preapproval isn't required, it's a necessary step for any serious homebuyer to take. Without a preapproval, you will not have a clear idea of your homebuying budget.
You might think you'll be approved for an $800,000 mortgage based on what a friend with similar finances was able to borrow, but that's not how it works. Every application is different.
You don't want to go running around town looking at homes in the $800,000 range only to have a lender look at your financial situation and tell you you've been preapproved for $700,000, or even $650,000. You will have wasted your time investigating unattainable properties while other buyers swooped in to purchase homes you could actually afford.
Many sellers won't take your offer seriously unless you have a preapproval. If a home attracts multiple offers backed by preapprovals, why would the owner risk selling to someone without one?
Moving forward without a preapproval can also be risky.
If your offer is accepted by a seller, but no lender is willing to lend you enough to complete the purchase, you could wind up losing whatever deposit you fronted the seller to show you're serious and trustworthy. And if there's no financing condition included in your offer, you could be legally required to go through with the purchase — even if you don't have the funds available.
The only times it might be safe to not get preapproved is when you're a low-risk borrower buying a home well below your means in a slow market or if you're buying with cash.
How do you get a mortgage preapproval? To start the preapproval process, you'll need to submit a mortgage application to a lender.
This involves gathering documentation to prove your identity, employment, income, assets and debts. You'll need:
Multiple pieces of identification
T4s, pay stubs, tax returns and other documents showing proof of income
Anything else your lender requests, which may include bank data and information regarding your property holdings
Digging for information and collecting these documents can be tedious. But because the preapproval process can take several days, if not weeks, it's something you'll want to take care of sooner than later.
To get the best interest rates, you'll want to be preapproved by a mortgage specialist who works with multiple lenders. They'll be able to compare lenders and shop around for the loan terms that best fit your budget. If the broker you connect with isn't able to get you the mortgage you need, there are plenty of others out there. And now that you have all your documentation handy, applying with a different one will take less time.
And if you're worried about harming your credit score with an onslaught of hard inquiries, don't be. In Canada, the credit checks required for preapprovals are soft checks that won't ding your credit score.
More: Best mortgage lenders in Canada
How long does a mortgage preapproval last?
Now that you've received your preapproval, how long is it good for?
That depends on who is providing your mortgage, but most borrowers will be approved for between 90 and 120 days. That provides a three- to four-month window where the preapproval will be valid. In some cases, you can ask to extend your preapproval period, but you'll have to resubmit your financial documents to do so.
Three or four months may sound like a long time, but with the housing market as tight as it is, expect it to fly by.
What if my mortgage preapproval expires?
If your preapproval does expire, it's not the end of the world. You'll just have to apply for a new one. And since you already tracked down your documents (and organized them neatly in a folder) the reapplication process should be a breeze.
One last thing to note about mortgage preapprovals is that they can be used as a diagnostic tool to help get your finances in order.
Once a mortgage specialist has assessed your financial situation, they should schedule a call with you to explain the reasons behind your preapproval amount. During this discussion, they may suggest ideas for improving your credit-worthiness, like paying off a large credit card balance or cutting back on discretionary spending.
Completing a mortgage application six to 12 months before you're ready to buy lets you uncover — and fix — issues that might be preventing you from being offered the ideal home loan.
Sponsored
You're 5 minutes away from the best mortgage
Searching for your perfect mortgage shouldn't be hard. Homewise is an online brokerage that will negotiate on your behalf with more than 30 big banks and other lenders, completely free, and it only takes five minutes to apply.
If you're in the market for a new mortgage, or if you're looking to refinance before interest rates rise again, go to Homewise now and answer a few simple questions to get started.