Which provinces allow credit checks?
If you live in Ontario or Newfoundland and Labrador, you can breathe easy. It's against the law for auto insurance companies to use your credit score.
That's already the situation in Nova Scotia, though you can't be denied insurance if you refuse. And recently, in March 2021, the province's insurance regulator approved a request from RSA Canada to offer discounts to auto policy applicants on the basis of their credit scores.
In Alberta, insurers have to ask for consent before taking a peek at your credit score, and they're prohibited from using it if you only want the most basic plan.
In Manitoba and British Columbia, the provincial government regulates the business. Neither Manitoba Public Insurance (MPI) nor the Insurance Corporation of British Columbia (ICBC) list credit scores among their criteria.
It's the same for Saskatchewan and its Saskatchewan Government Insurance (SGI). However, while drivers are required to get basic coverage through SGI, you may face a credit check if you want additional coverage through a private company.
In September of 2021, the largest auto insurer in New Brunswick, Wawanesa, successfully convinced the province's Insurance Board that drivers with bad credit do pose a higher risk to make a future claim.
Quebec and Prince Edward Island don't have rules forbidding the practice, but it's not common in the Maritime provinces.
No matter were you call home, the best way to save on car insurance is to shop around before you settle on the right policy for your needs and budget. A site like Rates.ca will do all the price comparisons for you and present you with the highest-quality auto insurance at the best rate available to you.
Unexpected vet bills don't have to break the bank
Life with pets is unpredictable, but there are ways to prepare for the unexpected.
Fetch Insurance offers coverage for treatment of accidents, illnesses, prescriptions drugs, emergency care and more.
Plus, their optional wellness plan covers things like routine vet trips, grooming and training costs, if you want to give your pet the all-star treatment while you protect your bank account.
Get A Quote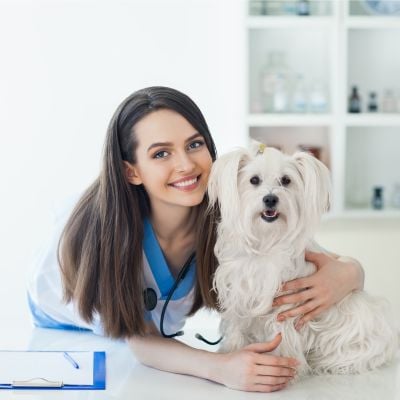 How much do I need to worry?
Since drivers with an A-plus score can get behind the wheel with the best deal, they're probably pretty happy to hand over their credit rating and save a few bucks on their premiums. If you don't know your score, you can check it for free.
But what if you're a young adult, a newcomer to Canada, unemployed or barely getting by? If you haven't been able to build or preserve a solid score, insurers could hit you with a higher premium, making it more expensive to get to work, school or a doctor's appointment.
That said, insurance companies look at many other factors when they size you up, including your area, driving experience, accident history and the type of car you drive. (Unfortunately, many insurers also judge you on your age and gender.)
We also have a consumer watchdog called the Insurance Bureau of Canada. It's published a voluntary code of conduct for credit checks and says 85% of Canada's personal property and auto insurance companies have signed on. Some of the friendly ground rules include:
Asking for your consent before checking your credit score.
Not cancelling or denying insurance when you don't consent.
Using other relevant info to calculate your premiums if you don't have much credit history.
If you work with a money-saving site like Rates.ca to find a lower car insurance rate, you can also request to be matched with insurers that do not take credit scores into account or weight them heavily.
Sponsored
Trade Smarter, Today
With a wide variety of investment chocies, CIBC Edge makes it easy for you to trade how you want, when you want.