What are mortgage-backed securities?
Canada imported the idea of mortgage-backed securities from the U.S., where lending entities Fannie Mae, Freddie Mac and Ginnie Mae have been using them as a way to keep financing costs manageable since the 1960s.
Lenders don't typically maintain possession of the mortgages they originate. They bundle them together and sell them to financial institutions.
To squeeze further revenue out of their mortgage purchases, these institutions package them up and sell them to their customers as investments. These are mortgage-backed securities. As homeowners pay back their mortgages, investors get a share of that money.
The benefit to lenders is that their liquidity improves, while buyers of MBS typically have a source of predictable, steady returns.
The vast majority of borrowers pay their mortgages, so purchasing mortgage debt is considered a low-risk investment. It's only when a high number of homeowners stop paying their mortgages that the value of MBS erodes.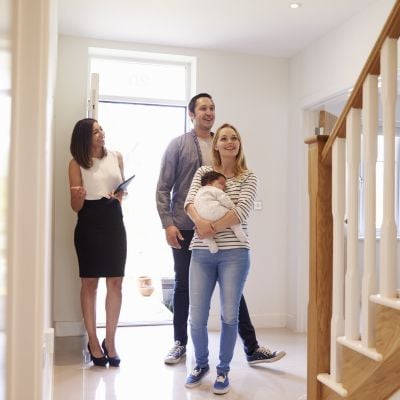 Whether you're hunting for a new home or looking to refinance your mortgage, knowing how much your new loan might cost you is critical. Use our handy mortgage calculator to help you understand what your payments could look like.
Get Started
MBS in Canada
Mortgage-backed securities have been an option for Canadian investors since 1987, when the Canada Mortgage and Housing Corporation first launched the National Housing Act Mortgage-Backed Securities (NHA MBS) Program.
Since then, mortgage lenders have been able to lend out CMHC-insured mortgages, pool them and sell the pool to the Canadian government in the form of mortgage-backed securities, which are then sold to investors in various ways.
The MBS market in Canada is very different from the one that toppled the U.S. housing market. The mortgages that make up Canadian MBS are all insured, meaning that even in the event of a default, lenders will be paid back. That certainty gives NHA MBS much of their value.
Many of the mortgages that went into American MBS pre-2007 were, to put it mildly, trash — subprime loans hastily doled out by lenders to borrowers with no income, no job and no assets, also known as "NINJA loans."
The villain, in the case of the U.S. housing crash, wasn't MBS. It was lenders going out of their way to originate as many mortgages as possible so they could bundle them and sell those bundles off to investors before the mortgages underpinning them inevitably turned sour.
When used properly, mortgage-backed securities are a way to invest in the mortgage market that gives lenders a steady stream of cash for new mortgages, helping to keep mortgage rates in check.
MBS as an investment
Canadian investors can get into the MBS market in two ways.
You can purchase NHA MBS in $5,000 denominations from a select list of Canadian financial institutions — banks, insurance companies, trust companies and credit unions — with terms ranging up to ten years. Every month, investors receive a proportional share of the interest and principal payments associated with the mortgages they've purchased a stake in.
You can also gain exposure by purchasing Canada Mortgage Bonds, which are issued by the Canada Housing Trust, an arm of the CMHC.
Each form of MBS investing provides an enticing amount of security, as the mortgages involved are fully guaranteed by CMHC. That kind of guarantee means you likely won't achieve the kind of growth associated with more volatile assets, but it's a trade-off many fixed-income investors are comfortable with.
With real estate being such a critical component of the country's overall economic stability, mortgage-backed securities are a little-noticed cog in the machine that Canada must feed to keep its economy running.
Sponsored
You're 5 minutes away from the best mortgage
Searching for your perfect mortgage shouldn't be hard. Homewise is an online brokerage that will negotiate on your behalf with more than 30 big banks and other lenders, completely free, and it only takes five minutes to apply.
If you're in the market for a new mortgage, or if you're looking to refinance before interest rates rise again, go to Homewise now and answer a few simple questions to get started.