You can definitely do it, and we'll show you how — in four easy steps.
1. Get your credit in shape The first step in getting any financial product is making sure your credit is in shape. The best mortgage rates will, obviously, go to the borrowers with the best credit.
Your credit score is based on a host of factors. Think about your finances:
Do you carry a lot of debt? (usually not great)
Have you had a credit card for a while? (the longer the better)
Do you always pay your bills on time? (hopefully yes)
You can get a free credit score from a number of services to find out where you stand. Borrowell offers Canadians free credit scores and personalized report monitoring. Credit scores range from 300 to 900; if yours is above 680, you're in good shape.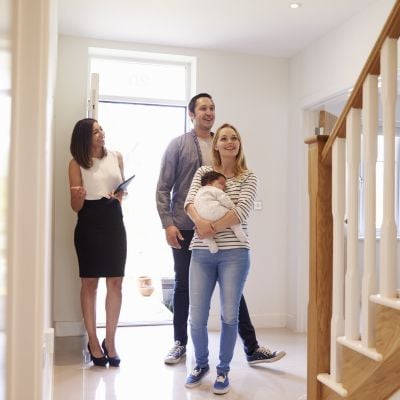 Whether you're hunting for a new home or looking to refinance your mortgage, knowing how much your new loan might cost you is critical. Use our handy mortgage calculator to help you understand what your payments could look like.
Get Started
2. Get preapproved for a mortgage Before you head out with a realtor to check out homes, get preapproved for a mortgage.
Choose a potential lender, such as a major bank. It will assess your finances and let you know the maximum amount it is willing to lend you and the interest rate it would charge you.
It's straight forward, but you'll need to provide the lender with some information, including proof of employment and information about your other assets.
Once it's done, you'll know the biggest mortgage you can feasibly get, so you can stick to looking at homes in that price range.
3. Know your mortgage types You have all kinds of options, so make sure you choose the mortgage that's right for you.
First you'll want to pick between a fixed or variable interest rate. A fixed rate is locked in for the term of your loan with that particular lender — a few years, most likely — so it's a good choice if you're averse to risk or expect rates to rise. A variable rate will shift with changes to the prime rate — it will read something like prime -0.5% — but you're rewarded for that uncertainty with a better initial rate.
The next major knobs you can tweak are the term and amortization lengths. The term is the length of your agreement with one particular lender, ranging from as little as six months all the way to 10 years. (Five-year terms are particularly popular.) Your mortgage will need to be renewed once your term ends, so you'll have the chance to switch lenders and change the details of your agreements multiple times over the long life of your mortgage. The amortization is the total length of time you're using to pay off your home. A longer amortization, say 25 years, means smaller payments, but you'll pay more interest over the longer span of time.
Oh, and if you don't expect to put down roots for the full length of your term, you may want to ensure the mortgage is portable and can be easily transferred to a new home whenever you want to move.
4. Plan your payments For your payment schedule, you can choose to pay monthly, biweekly or weekly. The more often you fork over cash, the faster you'll get rid of your mortgage and the less interest you'll have to pay in the long run.
Depending on how much money you have for a down payment, you'll end up with a high- or low-ratio mortgage. If you put down less than 20%, it's a high-ratio mortgage and you'll have to pay up for pricey mortgage insurance.
Lastly, you'll want to decide whether you need an open mortgage or are OK with a closed one. An open mortgage will allow you to pay down your mortgage much faster if you have extra cash, while a closed mortgage will only allow you to pay limited amounts without penalty.
5. Choose a great mortgage lender If you got preapproved in Step 2 like you were supposed to, you could skip this step — but it pays to shop around with a purchase this big.
Thankfully, choosing a mortgage lender is super easy in the modern era. You're already on the Internet, which means you can sit back and let Homewise bring the best mortgage right to you. This online brokerage will negotiate on your behalf with more than 30 big banks and other lenders, completely free, and it only takes five minutes to apply.
Bonus tips: Find a house Ask your friends and family for referrals for real-estate agents in your area — and make sure you check the agent's credentials.
Since you know how much you can afford (you did get preapproved, right?), you'll know the price range to start your search. Also, make sure to discuss school ratings, house size and other important factors with your agent before you go check out homes.
Happy hunting!
Sponsored
You're 5 minutes away from the best mortgage
Searching for your perfect mortgage shouldn't be hard. Homewise is an online brokerage that will negotiate on your behalf with more than 30 big banks and other lenders, completely free, and it only takes five minutes to apply.
If you're in the market for a new mortgage, or if you're looking to refinance before interest rates rise again, go to Homewise now and answer a few simple questions to get started.