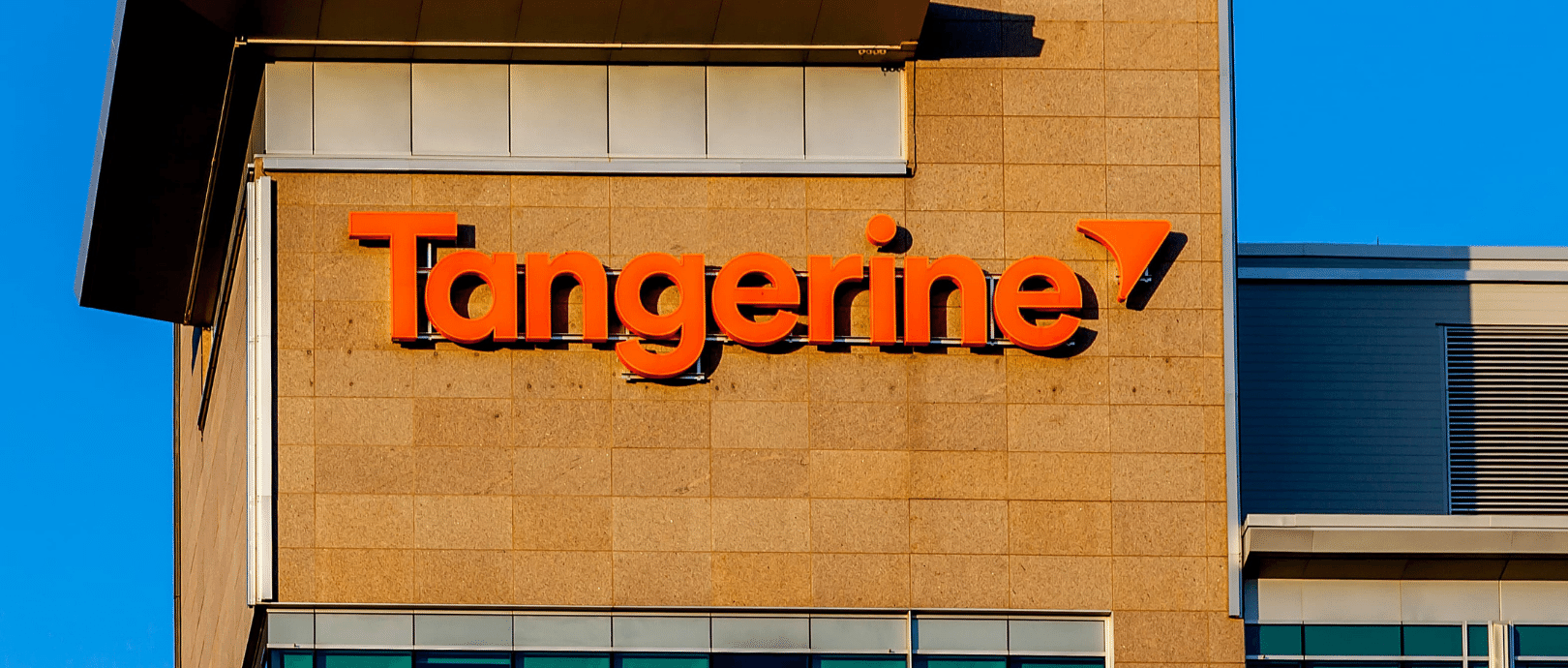 Tangerine bank / Tangerine bank
We adhere to strict standards of editorial integrity to help you make decisions with confidence. Please be aware that some (or all) products and services linked in this article are from our sponsors.
We adhere to strict standards of editorial integrity to help you make decisions with confidence. Please be aware this post may contain links to products from our partners. We may receive a commission for products or services you sign up for through partner links.
If you've been direct banking for awhile, you may remember ING DIRECT, which was Tangerine's original moniker when it launched back in 1997. ING was one of the first to bring the direct banking trend to Canada, giving Canadians an introduction to what virtual, branchless banking meant as an alternative to the Big Five. The concept caught on, as not having the overhead costs of branch management allowed for accounts with lower fees and better interest rates than Canadians were accustomed to.
Scotiabank acquired ING and in 2012 launched Tangerine as we know it today. Tangerine bank not only introduced Canadians to huge savings by going digital, reducing fees and lowering interest rates, but their financial products are geared towards helping their card/account holders maximize savings and rewards.
Tangerine product breakdown
Up to three purchase categories that earn 2% cash back
Low cashback rate (0.5%) for all other purchases
Earn interest; no fees on daily transactions; free global Scotia ATM access
Interac e-Transfers cost $1.00
Earn interest with a regular savings, RSP, TFSA, US dollar, or RIF account
No in-person teller transactions
No minimum deposits or fees; move money seamlessly between investments
RSP Savings account is half the interest of the RSP GIC account
No tax on interest earned or on withdrawals; same no-fee and no-minimum benefits as Tangerine Savings account
$45.00 fee for transferring funds to another bank or institution
Interest rates up to 4.85%; no fees or service charges
Rate differences between the GICs above 1 year
Invest in many ways with the help of a Tangerine investment expert
Unique flexible repayment lets you pay up to 25.00% of the principal annually with no penalty
Longest term for fixed-rate mortgage is 10 years
Borrow against your home equity at rates as low as 7.20%
Requires at least 35% equity in your home
Borrow to top up your RSP at rates as low as 7.29%
Rate increases if you invest in an RSP outside Tangerine
Tangerine credit cards
Tangerine currently offers two credit cards. Neither card has an annual fee, but they are aimed at Canadians of different income levels, and accordingly have slightly different features.
Tangerine Money-Back Credit Card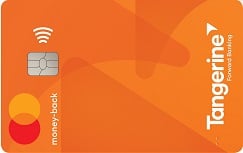 The Tangerine Money-Back Credit Card is available to anyone with a personal annual income of $12,000 or more. It offers 2% in Money-Back Rewards in two purchase categories of your choice, including grocery, furniture, home improvement, gas, restaurants, and others. Those who open a savings account with Tangerine get a third 2% money-back category, provided their Money-Back Rewards are sent to the Tangerine Savings Account directly.
Additional benefits include purchase assurance and extended warranties for items charged to the card, as well as a balance transfer opportunity at 1.95% interest for 6 months available to new cardholders (1% transfer fee applies)*. The card has an interest rate of 19.95% on purchases and a Cash Advance APR of 19.95%.
◦ $0 annual fee
◦ Earn 2% Money-Back Rewards in up to 3 selected categories
◦ Earn 0.5% everywhere else
◦ Switch Money-Back categories whenever you like
◦ Special 10% extra cash back rate on the first $1,000 spent with the card on everyday purchases (max. $100 cash back) in the first two months if you're approved, apply by July 5, 2023.*
◦ *Terms and Conditions apply
Tangerine World Mastercard®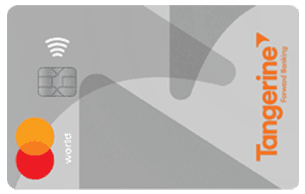 The Tangerine World Mastercard® is available to those with a personal annual income of at least $60,000 or combined household income of at least $100,000. It earns unlimited money-back rewards at a standard rate of 2% on purchases in two chosen categories. Like the Money-Back Credit Card, cardholders can open a savings account with Tangerine and get a third chosen category. All other eligible transactions earn 0.5% in money-back rewards.
Unlike the Tangerine Money-Back Credit Card, the Tangerine World Mastercard® offers a number of extra features on top of its cash back. Cardholders can make the most of their travel with Mastercard® Travel Pass Provided by DragonPass. The complimentary membership gives you exclusive dining, retail and spa offers in over 650 airports worldwide, along with access to over 1,300 airport lounges at $32 USD per visit. Additional features include up to $1000 worth of insurance for new mobile devices purchased with the card, as well as purchase protection, extended warranty, and rental car collision and loss damage insurance.
◦ No annual fee
◦ Unlimited money-back rewards
◦ 2% earn rate in up to 3 purchase categories, 0.5% on all other purchases
◦ Exclusive Mastercard experiences and travel opportunities
◦ Complimentary Mastercard® Travel Pass Provided by DragonPass
◦ Special 10% extra cash back rate on the first $1,000 spent with the card on everyday purchases (max. $100 cash back) in the first two months if you're approved, apply by July 5, 2023.*
◦ *Terms and Conditions apply
Tangerine chequing accounts
The Tangerine No-Fee Daily Chequing Account offers unlimited daily transactions, no fees, and interest up to 0.10%. The unlimited transactions perk applies to debit purchases, bill payments, preauthorized payments, Interac e-Transfers, and email payments via a Tangerine Email Money Transfer.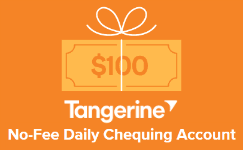 Accountholders will get one free chequebook when they sign up, but another great bonus is that since Scotia owns Tangerine, transactions at any Scotia ATM in Canada are free.
Tangerine's online agility makes the account very easy to manage and use from a mobile device, no matter what you're trying to accomplish.
No chequing fees
Interest in tiers: 0.01% ($0 – $49,999); 0.05% ($50,000 – $99,999.99); 0.10% ($100k+)
One free chequebook
Tangerine savings accounts
Regular Interest Rate
Notable Feature
Savings account
No min. balance or fees; automatic contributions
Tax-free savings account
Move money whenever, with no locked-in terms
RSP savings account
Spousal RSP offered for retirement income splitting
US$ savings account
Exchange rates are live on the website and app
RIF savings account
Tax-sheltered interest at a higher rate
Savings account
The standard Tangerine Savings offers an interest rate of 1.00% on every dollar, with no minimum balance required. There are no fees, and account holders can utilize Tangerine's Automated Savings Plan (ASP) to make automatic contributions and reach savings goals faster.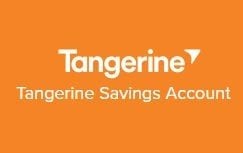 Tax-free savings account
The Tangerine TFSA is basically the standard Tangerine Savings account with the same benefits—no fees, no minimums—but with a tax-free component.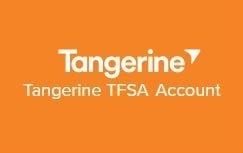 RSP savings account
The Tangerine RSP is the same as the regular Savings Account, with a 1.00% interest rate, but contributions are tax deductible. Tangerine also helps with Spousal RSPs for couples who want to split their retirement income.
US Dollar savings account
The US Dollar Savings Account is designed for those who want to hold on to their USD in order to take advantage of a favourable exchange rate or for purchases across the border. The account has a lower-end interest rate of 0.10%, but the same limited-time bonus as the other Tangerine savings accounts. Exchange rates are always live on the Tangerine site.
RIF savings accounts
For those who are seeking to stash money away for retirement, Tangerine offers a 1.05% rate, which is higher than its other savings accounts.
Tangerine RSP accounts
Tangerine's RSP accounts offer the benefits of an RSP—tax-deductible contributions and retirement savings—in three formats, including the standard Savings Account described above.
Interest Rate
Notable Feature
RSP savings account
Spousal RSP offered for retirement income splitting
RSP guaranteed investment
RSP investment fund account
Invest money for retirement with a low management fee
Hold your Guaranteed investment certificate (GIC) inside the Tangerine Retirement Savings Plan and you'll enjoy guaranteed high interest up to 4.85% while saving for retirement and avoiding taxes.
Tangerine RSP investment fund account
There's a nice selection of Investment Funds offered by Tangerine, which can be held in their RSP account for extra tax avoidance and retirement strategizing. With a fee for account management, it's easy to expose your money to globally diversified investments.
Tangerine TFSA accounts
Accountholders with any of the following Tax-Free Saving Accounts pay no tax on their collected interest or withdrawals, and there are two options besides the standard Tax-Free Savings Account (see previous entry).
Interest Rate
Notable Feature
Tax-free savings account (TFSA)
Move money whenever, no lock-in
Tax-free guaranteed investment (GIC)
Up to 4.85% Capture your rate and keep it, with tax-free earning
Tax-free investment fund account
Tax-free investment choices with global diversification
Tax-free guaranteed investment (GIC)
A rate up to 4.85% requires you to hold the GIC for at least 1.5 years, and the rate doesn't go up from there even if the GIC term is 5 years (4.10%). The starting rate is 1.50% (90 days), and there are no extra fees or charges (a Tangerine staple).
Tax-free investment fund account
Shelter whichever Tangerine Investment Funds you put your money into inside its TFSA and enjoy a low management fee. This is ideal for those who wish to take a long-term strategy and want to control their risk exposure.
Tangerine GIC accounts
Besides the Tangerine RSP Guaranteed Investment and the Tax-Free Guaranteed Investment accounts already covered, customers can also pursue the regular Guaranteed Investment Account or go with two others for USD or RIF accountholders.
Interest Rate
Notable Feature
RSP guaranteed investment account
Tax-free guaranteed investment account
Capture your rate and keep it, with tax-free earning
Guaranteed investment account
No-frills GIC with the ability to optimize rate for time
US$ guaranteed investment account
Put your USD to work for a guaranteed rate
RIF guaranteed investment account
Earn a guaranteed rate and use it as retirement income
Guaranteed investment accounts
The standard GIC account lets you lock in your money for a minimum period of time and at a guaranteed rate, capped up to 4.85%. Most GIC accounts (including the standard, RIF, TFSA, and RSP) have the same rate schedule, with the outlier being Tangerine's US Dollar GIC account which has lower rates.
Tangerine GIC rate schedule
Rate for standard, RIF, TFSA, and RSP GIC accounts
Rate for US$ GIC account
Tangerine investment accounts
Choose from various index-based Tangerine Investment Funds to invest your money in, and you can hold them inside different Tangerine accounts for benefits concerning taxes, retirement, and more.
Investment fund account
Low fee, several portfolio-like funds with various bond and stock weights
Tax-free investment fund account
Tax-free benefits and investment choices with global diversification
RSP investment fund account
Invest money for retirement with a low management fee
RIF investment fund account
Choose your investment horizon and use your earnings as income after retirement
Investment fund portfolios
Canadian bonds
Canadian stocks
US stocks
Intl. stocks
Canadian dividend equity
US dividend equity
Intl. dividend equity
Balanced income portfolio
Balanced growth portfolio
Tangerine loans
Included in the lending category, Tangerine offers mortgages, home equity lines of credit, and RSP loans.
Mortgages
Tangerine offers mostly fixed terms on mortgages that range from 1 to 10 years in length, as well as a 5-year variable mortgage. A great feature of Tangerine Mortgage is that when you get a quote, the bank will guarantee that rate for 120 days. You're also free to prepay up to 25.00% of your principal each year without penalties, and also to boost your regular payments by 25.00% of the original payment to accelerate your progress further.
Learn more about getting a mortgage with Tangerine.
HELOC
Homeowners can borrow money at a low rate with Tangerine's Home Equity Line of Credit. Using the equity they've built up in the home, if it's at least 35.00%, HELOC borrowers will pay low monthly interest payments. It's easy to set up a fixed payment plan with a Tangerine representative to make the line of credit manageable.
RSP loan
Tangerine clients who want to maximize their annual RSP contributions, but who don't have the cash to do so, can borrow from Tangerine for this purpose on repayment term between 1 and 5 years. Higher rates apply to loans for RSPs from other banks, but prepayment is possible with no fees or extra charges.
How to open a Tangerine account
Using the Tangerine website
Go to tangerine.ca and click on the Sign Me Up button on the top right-hand side of the page.
You'll need your Social Insurance Number and employment information handy. Tangerine will take you through four quick pages where you'll do the following:
Enter your email address
Create a PIN
Enter personal information including your address and employment details
Confirm your identity
Do a quick review
Submit
You can confirm your identity by bringing your ID and proof of address to a Canada Post office near you. Tangerine will show you on a map where the nearest location of either is, plus details on what types of documents you can bring to prove your identity and address. If you're going to Canada Post, then you'll also need the barcode provided on the same page.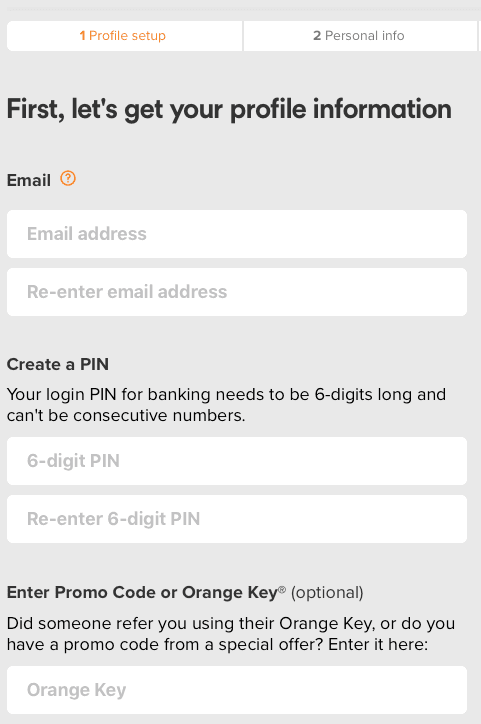 Using the Tangerine mobile application
There's a way to sign up for Tangerine using a smartphone. Just go to your device's app store and find the Tangerine Mobile Banking app. Download the application and open it. You'll then be presented with a box to sign in or a button below where you can press Sign Me Up.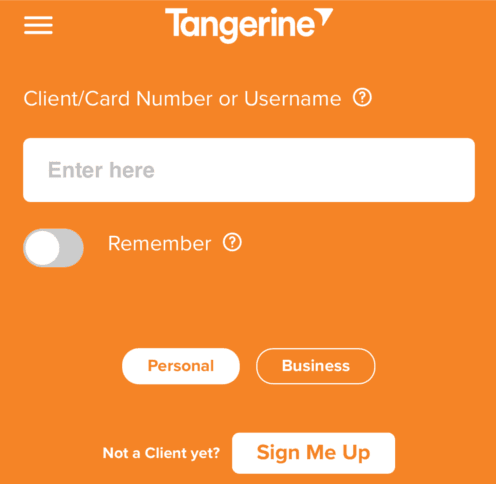 The next screen will prompt you to prepare your SIN and employment information before proceeding, like the website does.
Enter your email address, choose a PIN, and then proceed to the next page.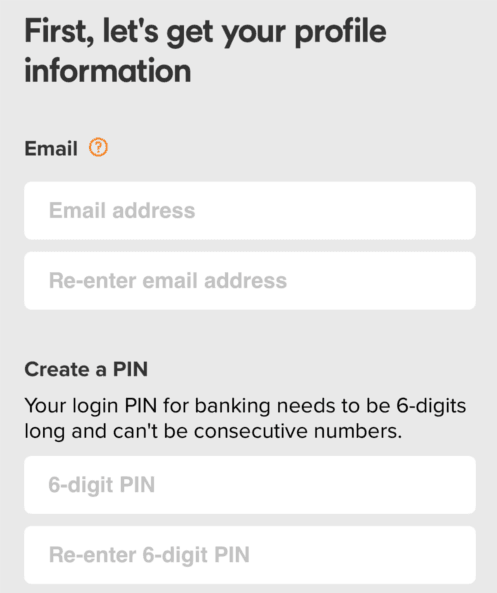 Here, you'll enter your name, SIN, date of birth, and then some basic information about your employer.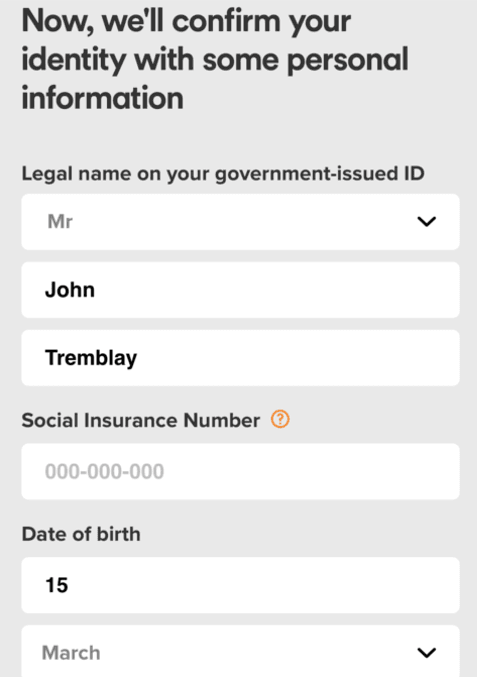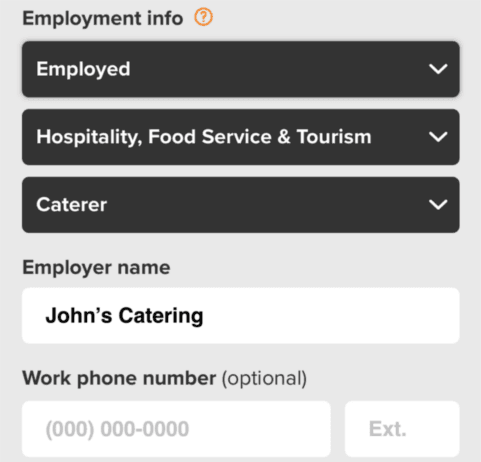 Then confirm your identity using the three methods described and review the information you input before you can use your new Tangerine account.
By calling Tangerine
Tangerine can be reached at 888-826-4374. You'll be greeted by an automatic voice messaging system and will be prompted to enter your account number, or if you don't have an account yet, to press #.
Afterward, the menu will prompt you to press 2 to open a new account, and then run through options including credit (press 1), savings (press 2), chequing (press 3) and more. After selecting the relevant option and pressing the number, you'll be connected with a Tangerine agent who will essentially guide you through the steps described above. You'll provide him or her with your personal and employment information as well as the information required to complete a bank transfer for proof of identity.
Pros and cons of Tangerine
Pros
Quality financial products with favourable rates and few fees
Comprehensive account management online and via mobile
Larger selection of financial products relative to other online banks
Cons
Absence of brick-and-mortar branches can frustrate
No personal or vehicle loans
More basic selection of financial products relative to major banks
Security
Tangerine adheres to the same privacy standards as other major Canadian financial institutions and implements extra precautions such as secure online PIN reset, 128-bit encryption, and Secure Socket Layer (SSL) protection.
Tangerine also utilizes a technology called DoubleSafe, which prompts you to choose a custom picture and phrase that you'll input when logging in, providing another layer of identification that potential fraudsters can't get through. Finally, Tangerine's credit cards all have SecureChip technology and have moved away from magnetic strips, which are more susceptible to theft.
Customer service
Customer service is one area where Tangerine could improve a bit. They do have customer service by phone (1-888-826-4374), but there's no way to reach them via email. Live chat is available sometimes on the website but it's somewhat hard to find. You'll need to scroll all the way down on any Tangerine page to the footer menu and click on Contact Us. If chat is available the button will show in the following pop up. The hours that chat are available are also shown, and even during live hours there may be a queue that limits availability.
Who should bank with Tangerine?
Those who are comfortable handling their finances online
Those who are willing to sacrifice brick-and-mortar bank branch service for better interest rates and lower fees
Who shouldn't bank with Tangerine?
Those who enjoy in-person, face-to-face banking service
Those looking for a personal loan or to borrow against equity in their vehicle
Those who want a fixed-rate mortgage longer than 10 years
Alternatives to Tangerine
Choose 2-3 2.00% cash back categories
4.00% cash back at restaurants, bars and cafes
* Interest is calculated daily on the total closing balance and paid monthly. Rates are per annum and subject to change without notice.
Tangerine is one of the top online-only banks in Canada because it offers nearly the full range of financial products that traditional banks do, combined with rates that are as good (or better) than its competition. Simplii Financial is similar to Tangerine in terms of the number of products it offers, and customers will need to look closely at terms and rates to determine which is ultimately the best. Another online contender, EQ Bank, has a more limited variety of products compared to Tangerine, and may therefore be able to cut administrative costs to produce its higher HISA rate. We breakdown the differences between Tangerine and EQ Bank in our in-depth comparison.
Please visit Tangerine for the most up-to-date information on current rates and offers.