What is Bitcoin and how does it work? Before throwing your hard-earned money at Bitcoin, let's make sure you understand what you're investing in.
Bitcoin (BTC) was created in 2009 and is considered the original cryptocurrency.
Think of it as virtual cash that you store in digital wallets.
Bitcoin is powered by blockchain, which is essentially a database spread across many computers requiring no centralized oversight. In other words, it's a technology that can operate independently of banks and governments.
The main benefits to Bitcoin are:
Low fees. When you take banks and governments out of the picture, you pay fewer fees.
Discretion. Unlike credit cards and bank transfers, Bitcoin transactions are not directly linked to your personal identity (although they can be traced back to you).
Accessibility. All you need to use Bitcoin is a smartphone and an internet connection. This opens up possibilities for millions of people without access to traditional banking systems.
Many people purchase Bitcoin strictly as an investment, while others use it to buy and sell goods.
For a deeper look at what Bitcoin is and how it works, check out our beginner's guide to cryptocurrency.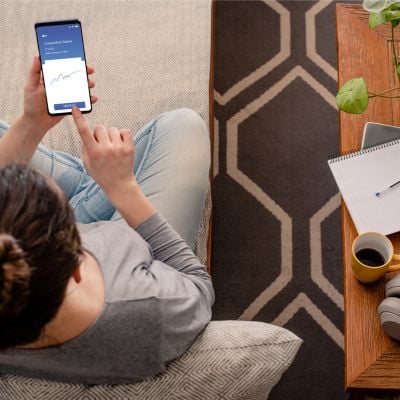 What are the risks of buying Bitcoin? All investments have some element of risk, but there are a few unique Bitcoin risks you'll want to be aware of before buying.
The most obvious is Bitcoin's inherent volatility.
For example, on Feb. 21, 2021, one Bitcoin was worth $57,128.64. One week later, it plummeted to $45,092.81. Two weeks after that, it was over $60,000.
These giant swings are not for the faint of heart, and there's no telling if (or when) the bubble will burst.
Bitcoin investing also comes with fewer protections than other types of investments and is not insured by the government.
Apart from volatility, there are also security risks.
If you don't take proper precautions (which we'll cover shortly), hackers will be looking for ways to sneak in and drain your accounts.
Lastly, as Bitcoin exploded, so did Bitcoin-related fraud. Before investing, make sure to familiarize yourself with the most common Bitcoin risks and scams.
How to buy Bitcoin safely, step-by-step Now that you're aware of the risks, here's how to safely buy Bitcoin in four easy steps.
1. Do your research
Your first step is to decide where you'd like to purchase Bitcoin. You have several options:
Cryptocurrency exchanges. These online exchanges allow you to trade your assets (such as fiat money) for digital currencies.
Traditional brokers. Some investment brokers like Robinhood allow you to purchase cryptocurrencies through their platform.
Bitcoin ATMs. Similar to a traditional ATM, Bitcoin ATMs are machines that let you insert cash to buy Bitcoins, which are then sent to a secure digital wallet.
Peer-to-peer exchanges. P2P exchanges allow you to buy Bitcoin directly with other Bitcoin holders who set their own prices.
Since cryptocurrency exchanges are one of the easiest places to buy Bitcoin for beginners, that's the method we'll use.
There are hundreds of different exchanges to choose from, and they are not all created equal.
As a beginner, your safest bet is to stick with well-known exchanges such as Coinbase, Kraken and Gemini.
Each exchange is unique, so dig around to determine which one is best for you.
Here are some factors to consider:
Do they offer insurance?
Is it available in your state?
What are the fees and minimum requirements?
Does your bank allow deposits to the exchange?
What types of cryptocurrencies are offered on the exchange?
What security measures are in place to protect your investments?
Once you decide on an exchange, it's time to open up an account.
2. Set up and fund your account
Each of the three recommended exchanges has a simple sign-up process: Just visit the exchange's homepage and click "Get Started."
From there, you will have to set up your account and verify your identity.
This process varies based on where you live and the exchange you choose. Be prepared to provide copies of your driver's licence, social security card, employer information and documentation confirming your address.
After passing the verification process, it's time to connect your payment method and fund your account.
This can be done via ACH bank transfers, debit cards, credit cards, wire transfers and sometimes even PayPal.
Different exchanges charge varying fees based on the payment method you choose, so do your research.
3. Decide where to store your Bitcoin While you can technically store your Bitcoins on the exchange itself, this is not recommended. If the exchange were to be hacked, you can say goodbye to your money.
For safekeeping, you need a digital wallet.
You can store your cryptocurrency in two different types of wallets: a hot wallet or a cold wallet.
A hot wallet runs directly on your smartphone, tablet or computer. Your private keys — used to access your cryptocurrency — are generated on your internet-connected device.
This easy access makes it convenient for active trading, but also convenient for hackers.
A cold wallet, also known as a hardware wallet, is a physical device that stores your private keys offline. Think of it as a glorified USB drive. Whenever you want to buy or sell Bitcoin, you'll need to connect your wallet.
This protects you from hackers but is slightly less convenient for regular trading.
If you plan to trade cryptocurrency frequently, you can use a hot wallet for the funds you're actively trading and a cold wallet to securely store the rest.
If you plan to buy and hold, a cold wallet is all you need.
4. Buy your Bitcoins
Now for the fun part.
The purchase process for each exchange is slightly different, but most include the following steps:
Log in.
Choose which type of cryptocurrency you'd like to buy (in this case, BTC).
Enter how much you'd like to purchase.
Select your payment method.
Preview and confirm your order.
And there you have it — you are now a proud Bitcoin investor!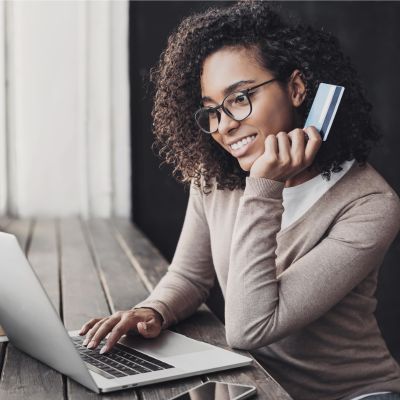 How to avoid Bitcoin nightmares It's one thing to know how to buy Bitcoin. It's another to know how to buy Bitcoin safely.
Let's go over some safety ground rules.
Rule #1: Don't invest money you can't afford to lose
Whether you believe in Bitcoin or not, the truth is nobody knows what its future holds. Expect the worst, hope for the best, and don't invest money that you depend on.
Rule #2: Understand the process
When investing in cryptocurrency, don't buy a cryptocurrency just because everyone else is doing it. Do your own research. Verify it with multiple sources, and don't invest in anything you don't understand.
Rule #3: Keep everything secure
Protect your funds with a complicated password, two-factor authentication, and a hard wallet. Print out multiple copies of your private keys and store them in different secure locations. That way if you ever lose your hard wallet, you can recover your funds.
Rule #4: Track everything you do
Just like traditional investments, you must pay taxes on cryptocurrency-related income. You must report all capital gains and losses on your crypto investments.
This includes the gains and losses that are realized when you purchase a product or service directly with Bitcoin, so make sure to keep a detailed record for tax time.
Sponsored
Trade Smarter, Today
With a wide variety of investment chocies, CIBC Edge makes it easy for you to trade how you want, when you want.