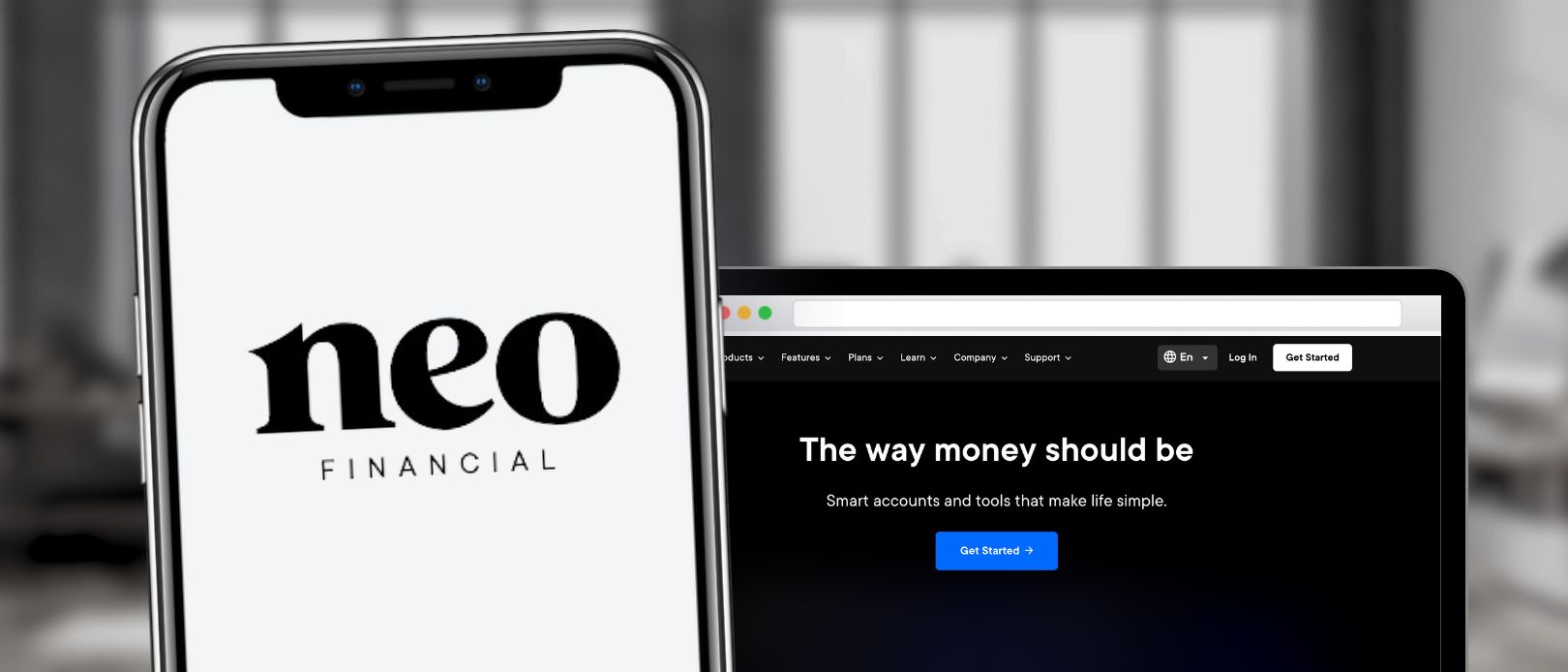 Neo Financial review | Credit Cards & High Interest
🗓️
Updated: November 15, 2023
We adhere to strict standards of editorial integrity to help you make decisions with confidence. Please be aware that some (or all) products and services linked in this article are from our sponsors.
We adhere to strict standards of editorial integrity to help you make decisions with confidence. Please be aware this post may contain links to products from our partners. We may receive a commission for products or services you sign up for through partner links.
Neo Financial is a completely digital fintech company that began in 2019. Despite being a new company, Neo already offers a range of products including a rewards credit card and high-interest savings account.
If you're looking for zero annual fee rewards cards with lucrative cash-back rates, Neo could be for you. Its high-interest savings account also has some of the most competitive interest rates on the market, making it a compelling account for parking your emergency fund or extra cash in.
Neo Financial product breakdown
As a relatively new player in the Canadian space, Neo only has three products on offer at the moment: a high-interest savings account and two cash back credit cards.
Variety of partners where can earn an average 5% cashback
Shopping at non-Neo partners pays a lower cash back
Neo Hudson's Bay Mastercard®
Earn bonus cash back at The Bay and free shipping on thebay.com orders over $45
Points are only redeemable at Hudson's Bay stores and thebay.com
Neo MoneyTM (High-Interest Savings Account)
Earn a very competitive interest rate of 2.25% and unlimited free transactions
Can't deposit mobile cheques
Neo Credit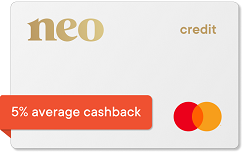 Apply now ►
Quick Facts
Neo Credit is a flexible cash-back rewards card that pays an average of 5% cash back at Neo partners. That average is based on current offers at select partners and varies per offer and partner. This card doesn't charge annual or account inactivity fees, and you're eligible with a credit score of only 600+ (the fair to good range).
Neo Financial has a variety of local and national partners for categories like dining, groceries, gas, entertainment, and general shopping. Some examples of popular national Neo partners include:
Earls Kitchen + Bar
Kit & Ace
Frank And Oak
Best Western
Oxygen Yoga & Fitness
Second Cup
Neo's local partners are much more diverse. For example, in Toronto, some current partners include various gas stations like Esso and Shell, grocery stores like Metro, and dozens of local cafes and restaurants. Overall, there's a nice mix of retailers and essentials like grocery and gas rewards you can enjoy.
Related: Best credit cards for groceries
Additionally, Neo Financial partners pay up to 15% cash back as a welcome bonus for your first-time purchases. When you tap on an offer in the Neo app, it displays the partner's welcome bonus cash back rate and the normal rate. For example, at a Second Cup in Toronto, the welcome bonus is 10% cash back on the first purchase, up to $5, while the normal rate is 4% back every three purchases, up to $4.25.
However, note that partner cash back is an average and that partners may pay less than the advertised amount. So even though Neo states you earn an average of 5% partner cash back, this is just an average.
Neo offers a lower everyday cash back rewards rate at non-partners, so you still earn for everyday spending. Cash back accumulates in your Rewards Balance tab, and you can cash out once transactions post to your credit account. There's no minimum cash out requirement and rewards apply against your next statement payment.
As for interest rates, Neo Credit has a 19.99% - 26.99% (19.99% – 24.99% for Quebec Residents) purchase credit rate and a 22.99% - 28.99% (22.99% – 25.99% for Quebec residents) cash advance credit rate.
Apply for Neo Credit
One nice aspect of Neo is that you can also sign up for its Neo Secured Credit instead of the regular Neo Credit. This is a secured credit card that helps you improve your credit score with responsible use and doesn't require a credit check. It has all of the perks of regular Neo Credit, but you deposit money in your Neo account to create an equal credit limit. If you pay off your balance on time and in-full each month, you can gradually build your credit. Live secured card transactions are reported to Transunion with some exclusions currently (for those with limits under $50 and users with hyphenated names).
Related: Best credit cards for bad credit
Considering Neo Credit's welcome bonus and cash back potential, it's an impressive no-fee rewards card. The partner rate is much higher than cards like the Tangerine Money-Back Credit Card, which pays 2% cash back in two categories of your choice. However, Neo Credit rewards can be more variable and less lucrative if they pay under the advertised rate.
Hudson's Bay Mastercard®
The Hudson's Bay Mastercard® is another no-fee rewards card that's an incredible choice for avid Hudson's Bay and thebay.com shoppers.
Here are the main perks of this card:
Earn up to 4 points on every dollar you spend in-store at the Hudson's Bay and online at thebay.com
Earn 2 points on every $1 you spend elsewhere
Earn 2% cash back at Neo partners
Get free shipping on thebay.com orders of $45 or more ($29+ on beauty orders)
Points are redeemable at Hudson's Bay stores and thebay.com. Earning up to 4 points at Hudson's Bay and thebay.com requires spending $1,200 annually, and there are different reward tiers that influence rewards. But the bottom line is you're earning at least 2 points for every dollar you spend in-store and online at Hudson's Bay.
New cardholders also get a 15% first-day purchase bonus for Hudson's Bay and thebay.com purchases. There are many exclusions like certain types of appliances, so this isn't as flexible as it seems. But for a first-time bonus, 15% is very generous.
Overall, it's one of the best ways to save money at Hudson's Bay and pays more cash back than cards like the RBC Rewards Visa+, which lets you redeem savings at Hudson's Bay and numerous other brands.
Neo Financial high-interest savings account
Another benefit of using Neo is gaining access to Neo MoneyTM. This flexible high-interest savings account lets you earn up to 2.25% in interest; much higher than you get with any ordinary savings account. Plus, with no annual or monthly fees and no minimum balance requirements, it's very beginner-friendly. You also get unlimited free transactions so you're not getting dinged with fees just for moving money around.
Related: Best high-interest savings accounts
Neo also lets you pay bills, make deposits, and send or receive Interac e-Transfers® from this account, so it can cover daily spending needs. Neo Money has CDIC-deposit protection through Concentra. Essentially, Neo combines funds deposits at Concentra Bank, providing up to $100,000 of deposit protection, per category and per depositor.
Neo-to-Neo deposits are still in the works, and you can't deposit mobile cheques. This savings account doesn't have paper cheques either. But earning 2.25% with this flexible account is the main perk. It even beats interest rates from other leading Canadian high-interest savings accounts like KOHO's ability to Earn Interest, which allows you to earn saving interests on your entire KOHO account balance (up to 2.00%), and is competitive with EQ Bank's Savings Plus Account 2.50%* in interest.
For those interested in a card that functions like a prepaid card but goes beyond the typical 0.5%-1% you may expect, new and active Neo Money account users can take advantage with the Neo MoneyTM card. Funds used here come directly from your Neo Money account so you don't have to manually load to spend. First-time purchases at Neo partners get up to 15% cash back and following that you'll earn an advertised 5% cash back on average (varies depending on partner and current offers) at thousands of partners. There's no limit to the instant cash back you can earn and it's yours to spend however you like. There is no credit check since you're spending the money in your Neo Money account or monthly/annual fees with this card so you can grow your savings with the high 2.25% interest earned daily while also earning cashback when you do decide to spend at 10,000+ Neo partners.
Sign up for Neo Money
* Interest is calculated daily on the total closing balance and paid monthly. Rates are per annum and subject to change without notice.
Pros & cons of Neo Financial
Pros
High cash back rate at Neo partners
Diverse range of partners
No annual fees, monthly fees, or account minimums
Competitive high-interest savings account
Cons
You have to shop at Neo partners to earn the most cash back
How secure is Neo Financial?
Security is an important factor to consider when picking a solution for your money. This is especially true if you're considering an online-only solution like Neo Financial since this isn't the same as using an established traditional bank.
Thankfully, Neo Financial is secure due to its partnership with Concentra. Your savings account funds have deposit protection, which is the main protection to look for with an online-only solution from a Financial Institution. You also verify your identity by taking a photo of a valid Canadian driver's license, passport, or permanent resident card. Neo states it uses the latest technology to keep you safe and only stores pictures for 90 days before deleting them. Furthermore, you create security questions when signing up for Neo to improve account security.
Neo Financial customer service
There are several options to contact Neo Financial customer service. Live support is available seven days a week from 7:00am to 8:00pm MST. You contact support by emailing [email protected] or by calling 1-855-636-2265. Neo also has a financial help desk with answers to common questions users have.
Who should (and shouldn't) consider Neo Financial?
There are plenty of online-only solutions from Financial Institutions out there, and Neo Financial is certainly one of the top contenders. If you want a flexible savings account with a competitive rate, Neo Money is definitely worth it. Additionally, Neo Credit is a worthwhile addition to your wallet if you regularly spend money at various Neo partners since you can get up to an average of 4% cash back.
Where Neo Financial falls short is with the offerings you get with a traditional bank. For example, you can't take out personal loans at this time. A lack of mobile cheque depositing and paper cheques are also two small downsides. Neo Financial has, however, added investing and mortgages, with Neo InvestTM and Neo MortgageTM respectively.
Related: Best personal loans in Canada
Overall, Neo Financial is worth it if you want to avoid fees and prioritize rewards. But for traditional banking needs, other options may be worth considering.
Final word on Neo Financial
Neo Financial is a newer player in the financial services space, so it's still constantly developing new features. When you compare Neo to other online options like Tangerine and EQ, Neo may not be as comprehensive.
That said, Neo excels at the offers it has and has recently added. The high-interest savings account rate is one of the highest you can find, and you don't have to worry about account fees. When you add in impressive cash back rates from Neo partners, you get a lucrative rewards card and flexible savings account.
You need to put in the effort to spend at Neo partners to maximize rewards. But if you want a zero-fee online solution from a Financial Tech company with competitive cash back and interest rates, Neo Financial is for you.
Sign up for Neo Money today and get a $5 bonus