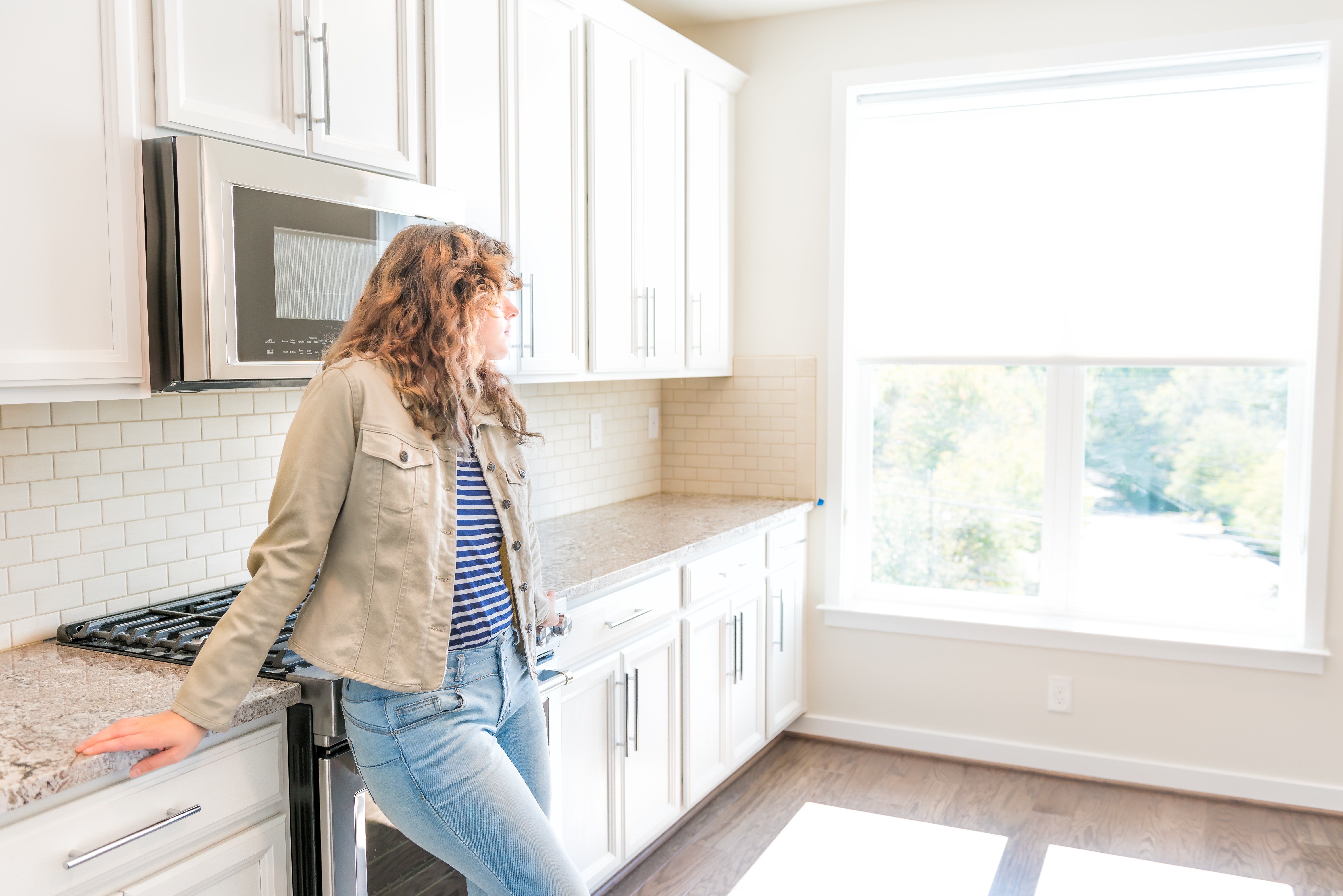 Square One Insurance Services review
Andriy Blokhin / Shutterstock
We adhere to strict standards of editorial integrity to help you make decisions with confidence. Please be aware that some (or all) products and services linked in this article are from our sponsors.
We adhere to strict standards of editorial integrity to help you make decisions with confidence. Please be aware this post may contain links to products from our partners. We may receive a commission for products or services you sign up for through partner links.
Signing up for home insurance can be a real drag. Insurance companies force you to answer a ton of questions you might not know the answers to. Thankfully, there is a better way.
If your eyes glaze over when you hear about home insurance, you're not alone. Square One Insurance has aimed to get rid of all the unneeded complexities of standard home insurance policies. Its goal is to make it easy and convenient for you to personalize your home insurance policy.
Who is Square One Insurance
Square One Insurance Services is a licensed insurance brokerage. It offers its services to British Columbia, Alberta, Saskatchewan, Manitoba, and Ontario, and has licenses in each of the provinces where it operates. Although they aren't a member of any insurance associations, they have the authority to issue, bill and service policies for their underwriters.
Square One Insurance opened for business back in 2011 with a team of experienced professionals in the insurance industry who started the company after recognizing that the status quo just wasn't working.
Most industries had evolved over the years, but the home insurance industry just wasn't keeping with the times. Many home insurance processes were still stuck in the 1970s and failing to meet the needs of most consumers. With this in mind, the Square One Insurance Services' founders set out to come up with an all-new home insurance system to address those shortcomings.
Unlike most other home insurance companies, Square One Insurance doesn't spend a ton of money on office space. It serves its customers exclusively by phone and online from its head office in Vancouver, B.C. By saving on its overhead expenses, they're able to pass on the cost savings to its customers.
What do they offer
Detached house insurance
Detached house insurance is probably the most common insurance policy in Canada. It protects your house and personal property. You're able to personalize your house insurance policy to meet your own needs. You can personalize how much coverage you have, your limits, and deductible amounts (how much you pay out of pocket). All policies protect you from major losses, such as break and enters, fires, and windstorms.
Townhouse or rowhouse insurance
The majority of home insurance providers offer the same home insurance policy for townhouse owners as they do for house owners. Besides protecting your property, you'll also want to be protected for aspects unique to townhouses. This includes insurance assessments by your condo corporation against you and improvements made by you and any previous unit owners.
Condo insurance
Condo owners have unique home insurance needs as well. Beyond protecting your personal property, this company also offers protection against a shortcoming in your condo corporation's insurance and upgrades made to your unit.
Semi-detached or duplex insurance
The type of home insurance that you need depends on how your semi-detached house or duplex is registered. Usually, it will be registered as a freehold or condo/strata. Square One Insurance has policies to suit your needs whether it's registered one way or the other.
Rental property insurance
It can be more difficult to get home insurance on a rental property as opposed to a principal residence. That's not true here. Not only do they make it easy to insure your rental property, they offer comprehensive protection as well.
Vacation property insurance
Similar to a rental property, a vacation property or second home can be more tricky to insure than your principal residence. Square One Insurance makes it easy to insure your home away from home. In fact, they don't even force you to insure your primary residence with them when you insure your vacation property (something that a lot of other insurance companies do).
Tenant or renters insurance
If you're a tenant or renter, it's crucial to have tenant insurance. You could be left with nothing without adequate tenant insurance if your belongings were to be damaged or destroyed. Square One Insurance offers a flexible policy for tenants to protect their clothes, electronics, furniture, and more.
Other insurance
Looking for another type of home insurance? No problem. Depending on the type of home insurance you need, you can most likely get a policy from Square One Insurance that's got exactly what you want.
Don't see a home insurance policy that's right for you? There are dozens of other home insurance policies. Whether you're looking for content insurance as a student or log home insurance, they've got you covered.
Shop for home insurance with Square One
What are the rates?
Unlike most other home insurance companies, Square One Insurance Services offers interest-free monthly payments and no fixed-term contracts. See below for a summary of the rates for the different types of insurance policies.
Insurance
Rates starting at
Townhouse or rowhouse insurance
Semi-detached or duplex insurance
Rental property insurance
$40/month for rental condos$75/month for rental houses
Vacation property insurance
$40/month for rental condos$75/month for rental houses
Tenant or renters insurance
Airbnb home insurance for about $40 per month; fire insurance from $12 per month
Shop for home insurance with Square One
How to apply
Getting a home insurance quote with Square One Insurance Services is super easy. You can get a personalized quote for home insurance in just five minutes. That's less time than it takes to wait in line at the drive thru for coffee. Here's how you'd apply:
1. From their website, enter your property's address in the search bar and click on the "Get a Quote" button to start the process.

2. Provide initial information, such as whether you own the home, rent it or live in a co-op, what type of home it is and how many mortgages you have registered against your home. The questionnaire is easy to complete, and does an excellent job of covering all different scenarios.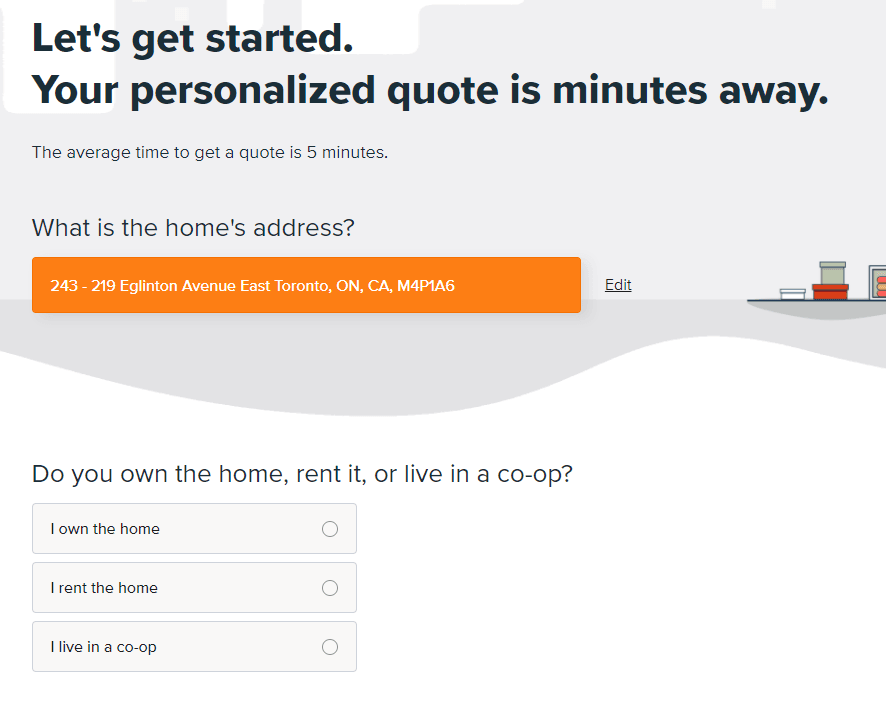 3. Next you'll describe your home itself. You're asked basic questions, like if your home a designated heritage property, if it has a full or partial basement, the construction type and when the roof was last replaced. Based on this you're provided with a list of options. If you're unsure about any questions, you can select "don't know."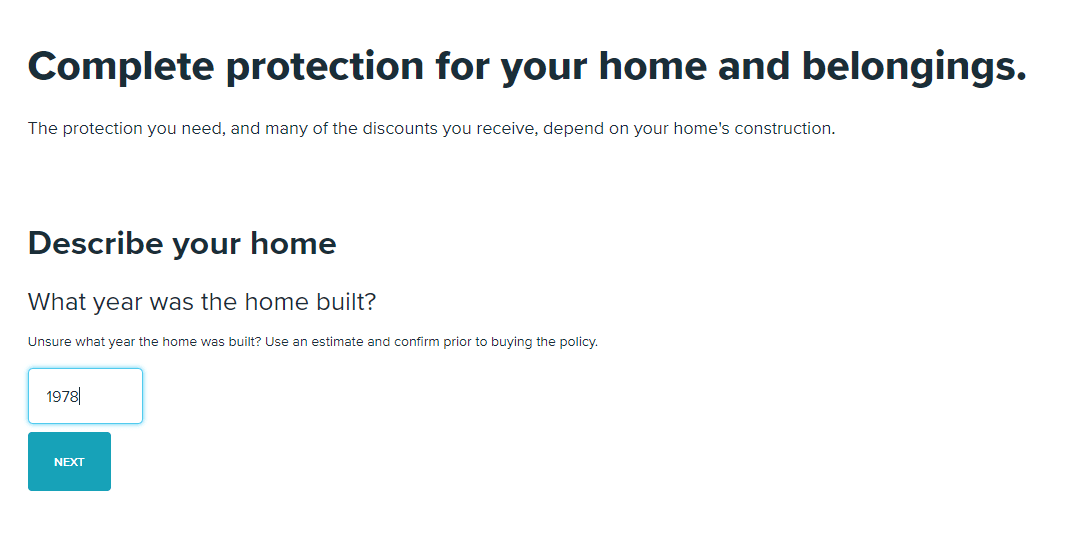 4. Create your personalized profile. Enter details like your email address, date of birth and email address to have the home insurance quote personalized for you.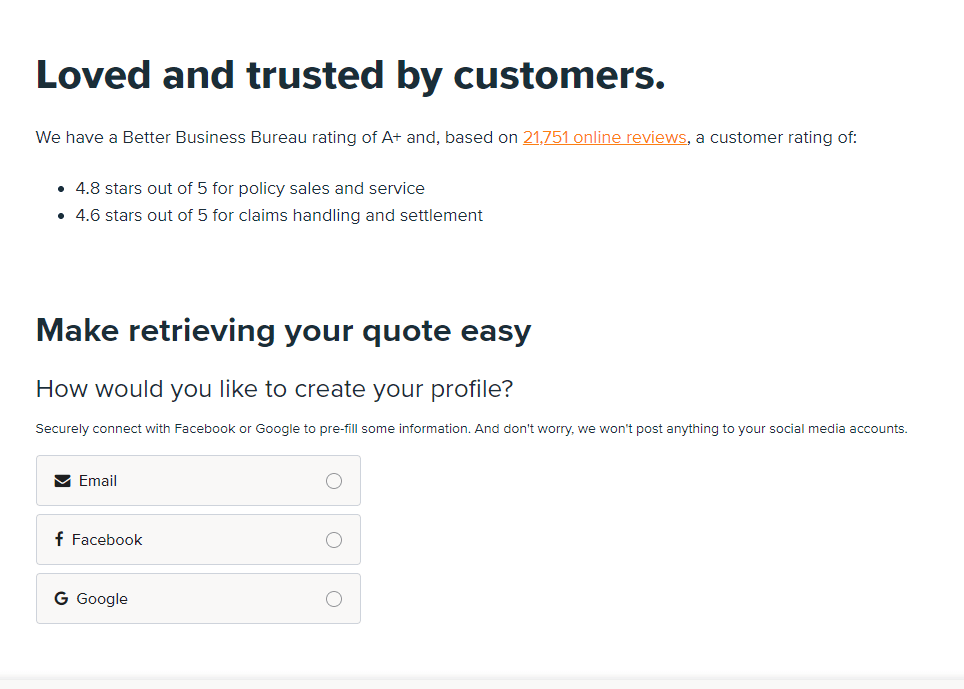 5. Next, personalize your coverage. They'll list commonly covered losses and commonly excluded losses. You can then customize the level of coverage you want. You can choose the amount of building coverage you want, whether you want fences and landscaping covered and whether you want bicycles and sporting equipment protected.6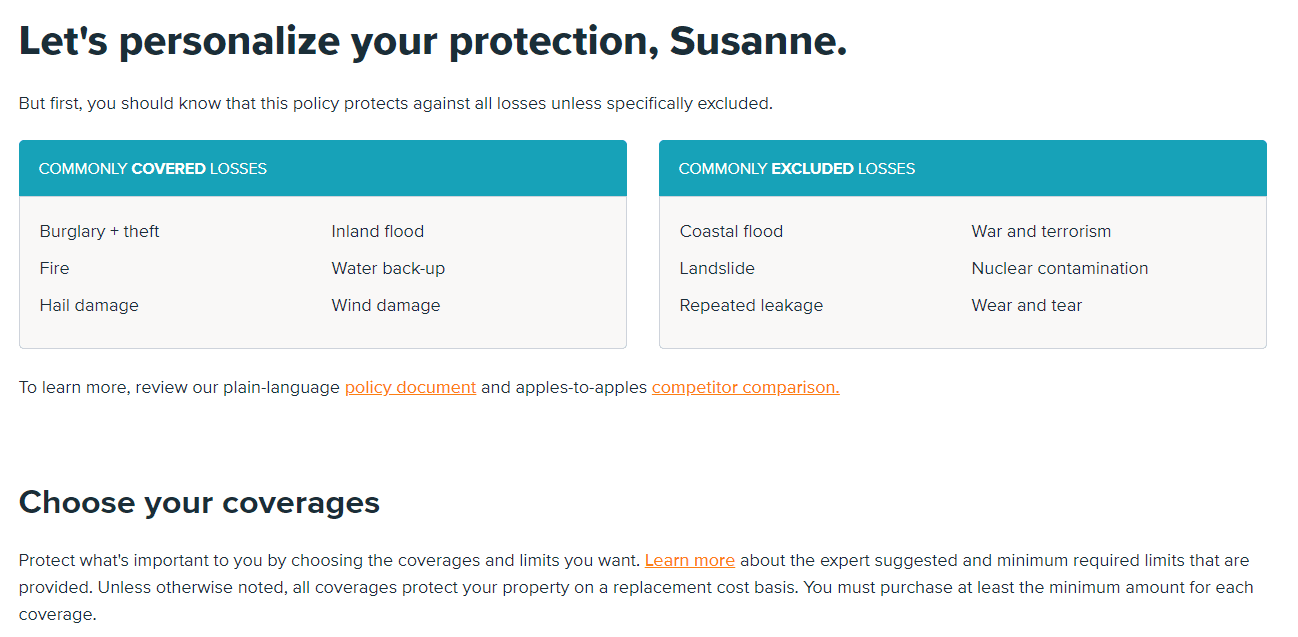 6. After answering all the questions, you'll be provided with a personalized quote. You can then choose whether you want to purchase home insurance now, purchase it later or not purchase it at all. You'll enter a few final details to finalize your home insurance policy, including when you'd like your home insurance policy to start.
7. If you need to stop for any reason you can click "save for later." There are also options to go to a previous step or request a call.
8. Once you complete this last step your simple-to-understand home insurance policy is sent to you by email.
Pros
Flexible coverage means you only pay for what you need
You can up your deductible to lower your home insurance premiums as well
You don't have to step inside an office. Everything is done completely over the phone and online.
Get one insurance adjuster to deal with throughout the process of claim filing instead of being bounced around
The policies are easy to understand and devoid of complex jargon
Easy to use client dashboard lets you keep track of all your claims online
Get a copy of your home insurance policy right away via email
Cons
Must be tech savvy and okay with no in-person meetings
The questionnaire goes into more specifics than other insurance brokers.
Even if you ask for a refund, $50 of your premiums is always non-refundable
Is it worth it?
Full disclosure: I've been a happy Square One Insurance customer for over five years. Originally I was with TD Insurance. I went with TD Insurance as a first-time homebuyer because the quote I received was reasonable and because I received a discount as a university alumnus.
That being said I still take the time to shop around for my home insurance every year when it comes up for renewal. Whenever I do shop around, I find that Square One Insurance still offers me the best rates for the coverage that I need.
The part that I really like is that you can fully customize your home insurance policy. You don't end up paying for a bunch of coverage that you don't need.
I'm paying about $75 per month or $900 a year for home insurance. When my policy came up for renewal a couple of months ago, quotes for similar coverage came in at $100 a month or $1,200 a year. I'm happy with the rates and coverage so I decided to stick them again for another year.
Whether Square One Insurance comes out ahead depends on the level of coverage you're looking for. Generally speaking, if you're looking for basic home insurance coverage with higher deductibles, then they tend to come out ahead. However, if you're looking for premium coverage, you might be able to find better rates with another insurance company.
Rates aren't everything though. Other factors matter as well. Square One Insurance has great customer service. With TD I would have to wait on hold for almost an hour whenever I would call in. With Square One Insurance, my calls are almost always answered immediately, which is nice whenever I have a question. You can also chat with an agent online during regular business hours. It doesn't get any more convenient than that!
Final word
If you're frustrated by the whole process of shopping for home insurance, try giving Square One Insurance Services a shot. They'll make shopping for home insurance easy and help save you money. You won't regret it.
Shop for home insurance with Square One
Related articles: