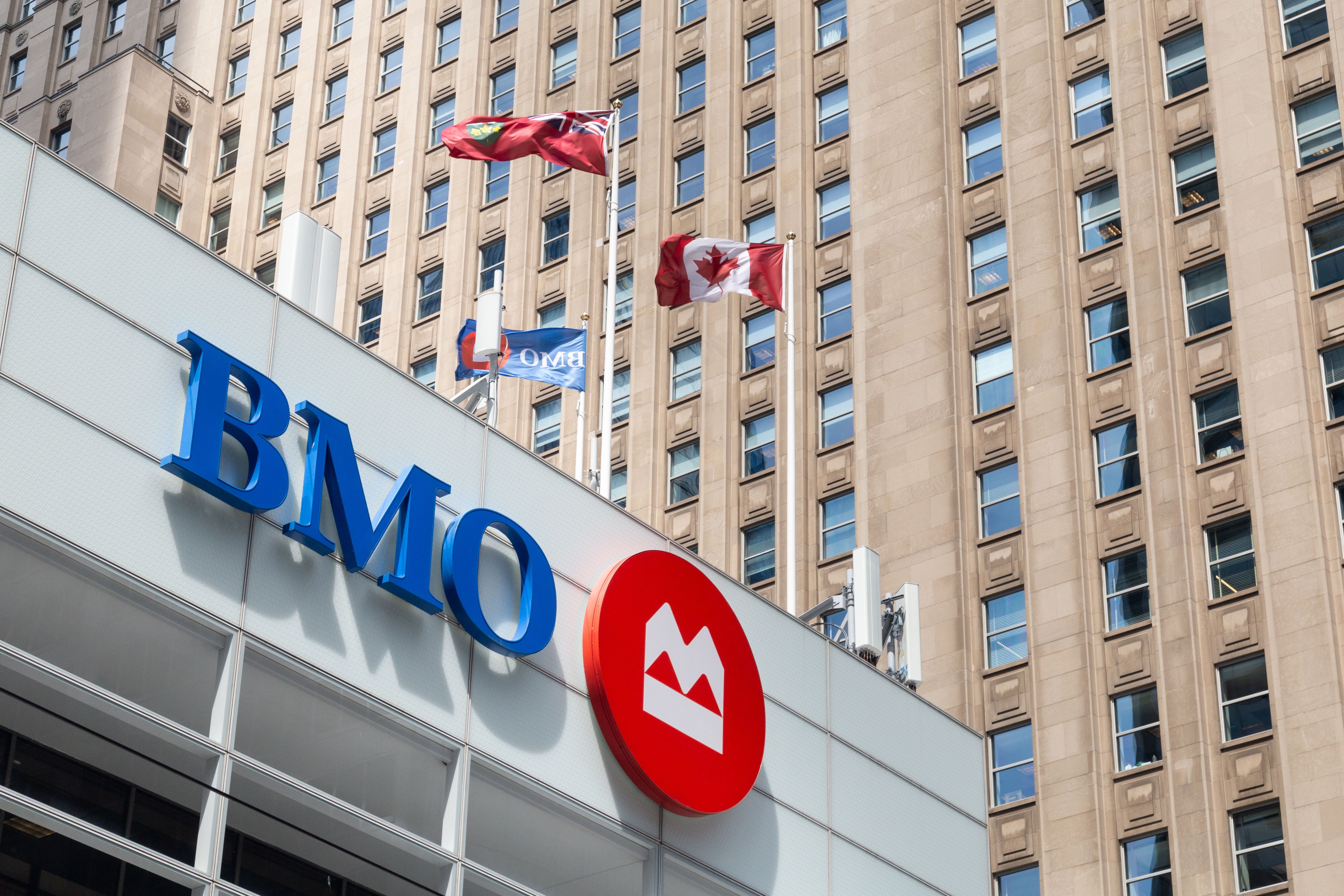 Cut For Good Photo / Shutterstock
🗓️
Updated: July 24, 2023
We adhere to strict standards of editorial integrity to help you make decisions with confidence. Please be aware that some (or all) products and services linked in this article are from our sponsors.
We adhere to strict standards of editorial integrity to help you make decisions with confidence. Please be aware this post may contain links to products from our partners. We may receive a commission for products or services you sign up for through partner links.
Are you looking to buy your first home, a second property, or perhaps refinance your mortgage? Then you might want to consider a BMO mortgage. BMO is Canada's oldest bank and one of the most trusted banks in Canada. With a range of mortgage options, competitive rates, market-leading offers, online pre-approval, and the longest mortgage rate guarantee on the market, BMO mortgages are worth your consideration. Read on and learn more about taking out a mortgage with BMO to see if it's right for you.
Get a 130-day Mortgage Rate Guarantee with BMO
What does BMO offer?
When it comes to mortgages from BMO, you have four different options:
Fixed-Rate Closed Mortgage
Variable Rate Mortgage
Convertible Fixed Rate Mortgage
Open Fixed Rate Mortgage
On top of these options, you can also switch your mortgage, renew, or refinance your existing mortgage.
Rates and fees
When shopping around for a mortgage, one of the first things people look at are the rates and fees. Rates differ from lender to lender and will also depend on the terms of your agreement. Plus, rates change and fluctuate regularly.
| Term | Rate (Amortization under 25 years) | Rate (Amortization over 25 years) |
| --- | --- | --- |
| 3 year fixed (closed) | 5.59% | 5.69% |
| 5 year smart fixed (closed) | 5.54% | N/A |
| 5 year smart fixed (default insured) | 4.89% | N/A |
| 5 year variable (closed) | 6.50% | 6.60% |
Special rates above are as of April 17, 2023. Please refer here for more BMO mortgage rates.
While these rates are what BMO has provided, they may not necessarily be firm. Sometimes, you're able to negotiate your mortgage rates, especially with larger banks. If you shop around and find better rates somewhere else, bring them in and have that conversation.
It's also worth noting that BMO mortgages offer no-charge accelerated payment options depending on your mortgage. These options include:
Increasing your mortgage payments once each calendar year by up to 20% (or 10% for a Smart Fixed Mortgage)
Making a lump sum payment (minimum $100) without any prepayment charge, up to a maximum of 20% (and 10% for a Smart Fixed mortgage)
Increasing your payment frequency to accelerated weekly or bi-weekly schedules.
Features
What makes BMO worth choosing or switching over to? Well, there are a few stand-out features to be aware of.
Mortgage specialist
Another perk is that BMO has Mortgage Specialists who can reach out to you at your convenience in order to discuss your best options. They are readily available to speak with you when you need assistance.
If you visit the BMO mortgage website, you'll notice many 'talk to an expert' buttons across the webpages. When you click the button, you'll be asked a couple of quick questions including when the best time is to contact you. Once you enter your information, you can expect to get a call from a Specialist within your preferred time frame.
You can also make an in-person appointment at your closest branch. As BMO is one of Canada's biggest banks, they have more than 900 branches across the country, making it easy to find one close by.
First-time home buyer incentive
If you are a first-time home buyer, then you can also take advantage of Canada's First Time Home Buyer Incentive. The goal of the program is to make buying a home more affordable. Essentially, the government of Canada will help you finance your first home purchase by allowing you to borrow either 5 or 10% of your home purchase price (rate depends on the type of property you purchase). The payments will help first-time homeowners reduce monthly payments without having to increase their down payments. Plus, there is no interest. When it comes time to repay this incentive, you'll need to pay back the percentage you borrowed based on the market price of your home at the time that you're seeking repayment. Overall, the amount that you received from the First Time Home Buyer Incentive will need to be paid back either within 25 years or when you sell your home.
In addition to Canada's First Time Home Buyer Incentive, BMO occasionally has a couple of its own perks for first-time home buyers. Previous offers have included interest rate savings when you sign up for a specific mortgage and rate discounts if your new mortgage application is closed within 30 days. Again, these promos, like the welcome bonuses, do change regularly so pay attention to dates and always keep an eye out for them.
130-day mortgage rate guarantee
BMO offers the longest period in which you can lock in your rate: 130 days. This means the selected fixed-rate mortgage type and term you have been offered will be on hold for you for 130 days from the rate guarantee start rate. The benefit here is that it gives you time to shop around and see if you can find better rates and allow you more time to line up your finances and save money to buy a house.
If the mortgage is not funded within this time, the rate guarantee will expire.
Get a 130-day Mortgage Rate Guarantee with BMO
Mortgage pre-approval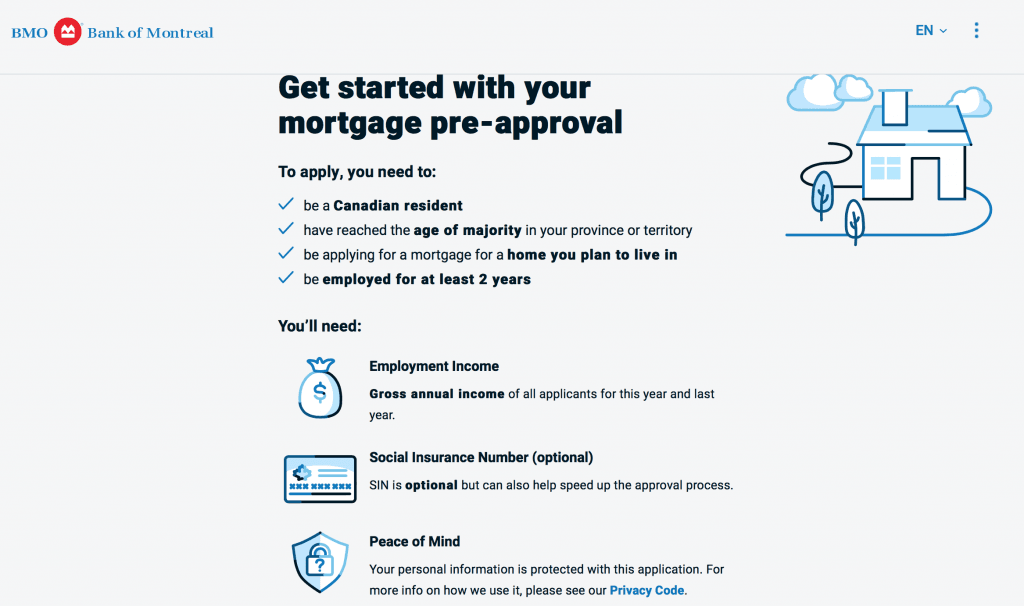 BMO offers mortgage pre-approval and it's pretty easy to apply. You'll need a few things to get started:
Information about your liabilities (debt, credit cards, loans, etc.)
Your assets (bank accounts, investments, properties, etc.)
A valid Canadian ID
Proof of employment
Once you've collected all the necessary information, you'll submit it to BMO who will determine how much you can borrow and at what rate. Usually, it takes a day or two for a mortgage specialist to get back to you. Once approved, your terms will be locked in for 130 days.
Do you qualify?
Qualifications for BMO mortgages depend on a number of factors. There are two main ways to figure out if you do qualify.
The first is to book an appointment with a mortgage specialist and visit a branch in person. Your specialist will go over everything with you and tell you if you qualify and what your options are.
The second option is to go through the pre-approval process as described above. While it will take a couple of days for a specialist to get back to you with rates, BMO states that you will find out if you qualify within 10 minutes after submitting your application.
In order to be considered for pre-approval you need to meet the following criteria:
You must be a Canadian resident
You must have reached the age of majority in your province
You must be applying for a mortgage for a home you plan to live in
You must be employed for at least 2 years
How to apply
To apply in person, you will need to call your preferred BMO branch and schedule an appointment with a BMO Mortgage specialist. Here, we'll break down the online application process for the pre-approval route.
1.

If you choose to go the pre-approval route, you can do so online via the pre-approval tab. Click the blue "Get Pre-approved" button to get started.

2.

You will then be taken to a new screen that will remind you of the requirements and what you need for this process. You will also be asked if this is an individual or joint application.

3.

The next screen will ask for information about your home-buying plans. This includes purchase price, down payment, and the fixed mortgage term. There will be additional questions if you are choosing to buy a condo or if you are a first-time home buyer.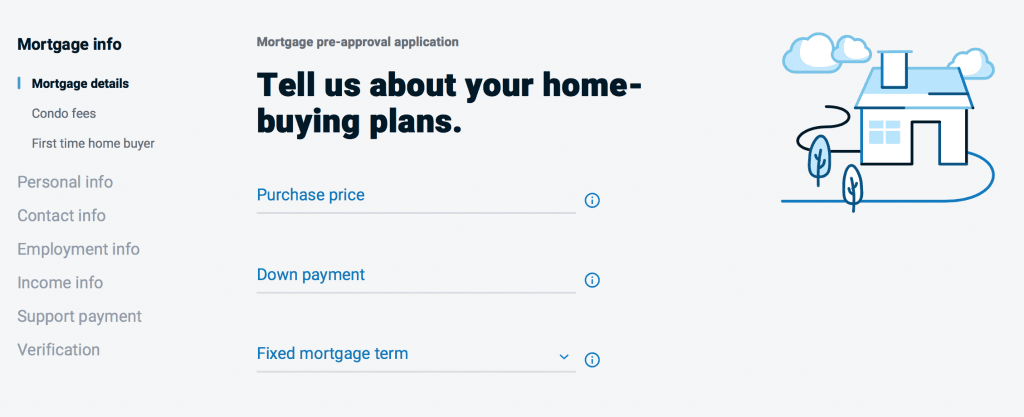 Next, you'll be asked for some personal information including if you are a client with BMO as well as your birthdate and full name. Further personal information required includes your phone number, e-mail address, home address, and what time of day is best for a BMO specialist to reach you.
After entering your details, you'll be asked about your employment and income. You'll need your SIN at this stage as well as BMO will need to run a credit check on you.
Once you have completed the forms, you will be notified in less than 10 minutes as to whether or not you have been pre-approved.
Pros and cons
While there are definitely some perks to BMO mortgages, it's not perfect. There are some downsides too. Here's a breakdown of the main pros and cons to be aware of with BMO mortgages.
Pros
Online pre-approval with 130-day mortgage rate guarantee: the longest one currently offered in Canada
Pre-payment flexibility: 20% (10% for smart fixed) prepayment privileges on mortgages
Reputation: BMO is one of Canada's most trusted banks
Convenience: As one of the biggest banks in Canada, it's easy to find a branch to visit to speak to an expert and get some help
Full service: BMO offers all types of products. Adding your mortgage to your existing BMO accounts and products makes taking care of all your finances an easy one-stop process
Cons
Advice is limited to BMO products: The Mortgage Specialists work for BMO, so of course, their advice is going to be solely about BMO products. They likely won't compare or highlight any potentially better competitors.
Rates can be higher: Canada's big banks are known to have higher rates than other brokers in the market. Even the specials and welcome bonuses may still not be as good of a deal as you can find elsewhere.
Final word
BMO is a safe option to go with if you're looking for a mortgage. The bank is a tried and trusted Canadian institution with some enticing features and varied options suitable for almost anyone. As mentioned above, since BMO is one of Canada's big banks they don't always offer the best rates. However, that doesn't mean you can't negotiate. Either way, BMO mortgages are worth looking into for comparison purposes in your search for a mortgage.
Get a 130-day Mortgage Rate Guarantee with BMO
FAQs
Is there a way to figure out how much I can afford for my mortgage?

+

Yes! BMO has 4 different mortgage calculators including an affordability one. The other three are payment, pre-payment, and insurance. You can find them on the BMO website.

Is being pre-approved for a mortgage a good thing?

+

Being pre-approved for a mortgage can bring a huge sense of relief. However, being pre-approved does not always guarantee you the best rates. So keep that in mind.

When should I apply for pre-approval?

+

The best time to apply for a mortgage pre-approval is before you start house shopping. That way you know exactly what you can afford before you start looking.
Recommended reads:
This article has been sponsored by Bank of Montreal. All opinions belong to the author and do not necessarily reflect the opinions of the Bank. For current information on BMO mortgage products, please visit bmo.com.