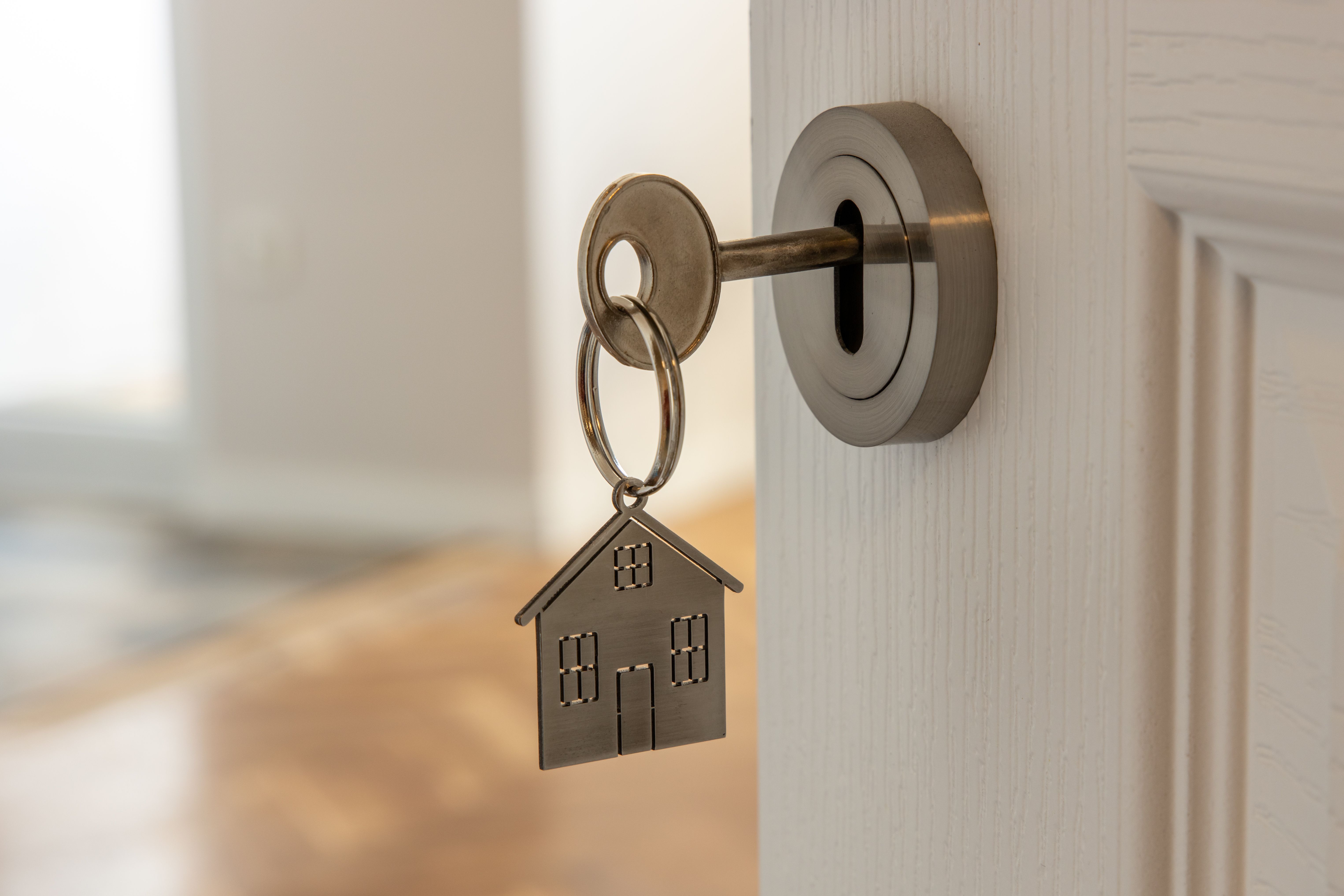 Breezeful Mortgage review: Get a mortgage in your PJs
Michael Dechev / Shutterstock
We adhere to strict standards of editorial integrity to help you make decisions with confidence. Please be aware that some (or all) products and services linked in this article are from our sponsors.
We adhere to strict standards of editorial integrity to help you make decisions with confidence. Please be aware this post may contain links to products from our partners. We may receive a commission for products or services you sign up for through partner links.
Most of us will start shopping for a mortgage at our local bank branch. While there's nothing wrong with that, you might not get the best deal on your mortgage if you only make one stop. That's where Breezeful comes in.
If you're looking to simplify the way you look for a mortgage while still getting some expert tips and finding a mortgage that suits your needs, all online, then you'll want to keep reading.
What is Breezeful?
Breezeful is an online mortgage broker. You can search over 30 different lenders to help find the best mortgage options at the most competitive rates, with a few simple clicks of the mouse.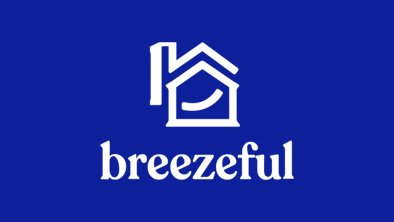 If you're not keen on visiting a bank branch in person, due to the pandemic, you can search for mortgage options anytime from the comfort of your home. You don't have to visit a bank branch during limited "banker's hours" and risk your health and safety.
Breezeful has access to a wide network of lenders, saving you time and money so you don't have to spend the time visiting all five of the big banks in person to complete different mortgage applications.
Compare mortgage rates with Breezeful
Pros and cons
Pros
Simple, secure and fully digital
Get approved anywhere, anytime
Flexible qualifications and multiple mortgage solutions
One credit check for multiple applications
Receive unbiased advice from professional mortgage brokers
Accessible through most parts of Canada
Search multiple mortgage lenders without hurting your credit score
Cons
Must have a minimal understanding of computer use
The company doesn't have access to all lenders
What do they offer?
Breezeful offers both fixed and variable rate mortgages from some of Canada's best known lenders, as well as some "wholesale" lenders if you're looking for the absolute lowest rate.
Mortgage pre-approval
Get pre-approved for a mortgage amount under a specific term and interest rate so that you know exactly how much you can afford when you look for your new place.
Mortgage refinance
Breezeful will help negotiate the terms of your existing mortgage for a new one. Whether you need to shorten the term of your mortgage, switch between variable and fixed rate or a cash-out refinance, they can help you through the process.
Recommended read: Should you refinance your mortgage?
Mortgage renewal
Start working with Breezeful on your mortgage renewal a few months before the end of your current mortgage term and get help in ending your current mortgage term for a new one.
Rent to own
You even have the option to slowly transition into homeownership. The company's "rent to own" program allows you to rent the home for a certain period with the option to eventually buy it.
Home equity line of credit (HELOC)
A HELOC can be used with a mortgage or to finance another home without breaking your existing mortgage. By applying with Breezeful, you can find out home much HELOC you are eligible for.
Second mortgages
Get an additional loan on top of your first mortgage. You can use this to consolidate debt, invest the money or use it towards home improvements or renovations.
Private mortgages
Breezful help connect you to private mortgage lenders that have shorter terms and charge interest only. This is a good option for the self-employed or those with credit, income or debt requirements that don't meet the banks' expectations.
Closing cost calculations
Using their closing costs calculator, you can find out how much actual closing costs you'll have and then be matched with competitive mortgage rates on the market.
How to apply for breezeful
Using their site is easy. By filling in a few simple questions, you can be pre-qualified for a mortgage in less than two minutes.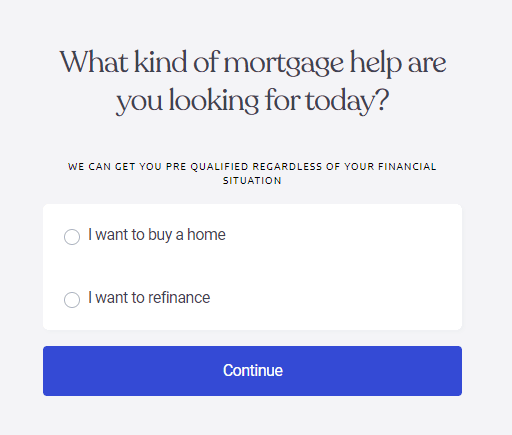 The questionnaire starts by asking you if you're buying a home or if you want to refinance. Let's say you're buying a home, to help deliver exactly what you're looking for, the website asks you what stage of the home buying process you're in. Are you in the early stage? Do you just want to know how much you qualify for? Do you have an accepted offer or are you just looking for a better rate?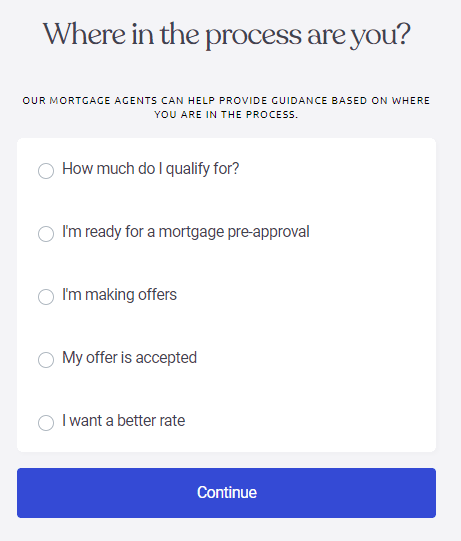 Let's say that your offer has just been accepted. To make sure it displays the right rates for you, the website asks you several follow up questions, including whether you'll be living there yourself or if it will be a rental property and how soon you need the mortgage.
After entering the property's address and the property's value, you're asked some simple questions about your credit score and income. Then, you're able to select your preferred mortgage rate. You can choose from the lowest rates to the most well-known lenders.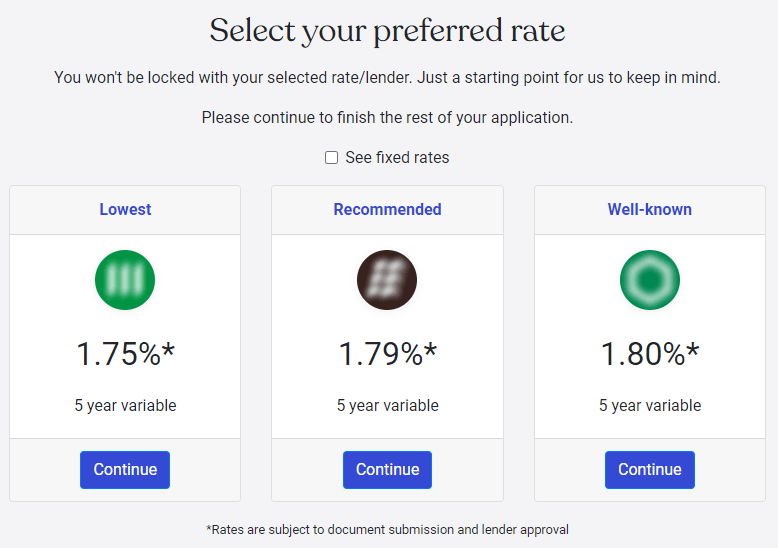 Overall, I found the sign up process quite user friendly. At no point did I feel overwhelmed and the questions were easy to answer.
Who does Breezeful work with?
Breezeful works with over 30 mortgage lenders in Canada, including some of the most well-known lenders like Scotiabank, Manulife, Duca, EQ Bank and TD Bank.
Breezeful also works with a special category of lender known as "Monoline Lenders", available exclusively through Breezeful and other mortgage brokers. Monoline lenders tend to offer more competitive rates than the big banks, better prepayment privileges and fairer penalties with no additional risk.
Do I qualify for Breezeful?
Unlike some mortgage brokers and lenders who may only offer their services in the select provinces, Breezeful offers its services to all 10 provinces and three territories across Canada.
The company also helps those who might have a tougher time qualifying for mortgages through traditional lenders. If you're self-employed, or you're new to Canada, an Uber driver or you've been denied by the banks, Breezeful might be the solution you need.
Keep in mind that you may have to have a Government-issued ID, proof of income, lists of debts and assets as well as give Breezeful access to your credit report.
Compare Mortgage Rates with Breezeful
Fees and costs
There are no fees or costs to using Breezeful. Their mortgage brokers offer their invaluable services free of charge. They're paid a finder's fee by the lender when you sign up for a mortgage.
Why use Breezeful?
If you're looking to get the best mortgage rates from the comfort of home, you'll be hard-pressed to find a better mortgage solution. With a few clicks, you can search from over 30 lenders, shop around and make sure you're getting the best deal possible on your mortgage.
Did I mention that Breezeful is completely free?
Final word
As a homeowner I think this service is great. I wish it was around when I had a mortgage. The ability to search for a mortgage with multiple lenders without hurting your credit score it a big plus, and the fact that it's all online makes it easy for those of us who know how to navigate a computer or phone. It might not present all the options on the market, but I'd say it's a good place to start if you're looking for a simple way to get a mortgage.
Compare Mortgage Rates with Breezeful
Related articles: