More preparation will be needed
According to Trevor Bumstead, a Hamilton-based mortgage agent at Dominion Lending Centres TLC Mortgage Group, it just takes a little more preparation and paperwork to get a favourable mortgage rate and terms. There's no need for an employer's letter, but there is a need to plan ahead.
"The key piece is that general lenders need two years of [tax] history and your articles of incorporation if you're incorporated," he says. "So you need to start planning two years out."
"If [influencers] are filing taxes, that's what we're able to use," he says. That means looking at the stated income, which is your gross income, less the expenses.
"So if you gross $100,000 and you're a writer and you claim $20,000 in deductions, [your income] would be $80,000."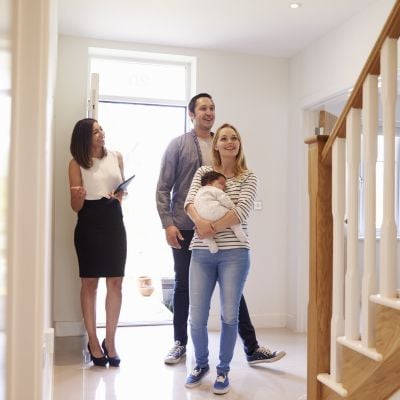 Whether you're hunting for a new home or looking to refinance your mortgage, knowing how much your new loan might cost you is critical. Use our handy mortgage calculator to help you understand what your payments could look like.
Get Started
Stress test
Bumstead says that since most self-employed people can claim deductions related to their business, that could pose a challenge as the deductions could reduce the level of income, which could affect the ability to get a mortgage.
That's because part of getting a mortgage is passing the stress test, which decides if you can continue to pay your mortgage when interest rates rise. The test is the rate offered by your mortgage provider plus 2%. So if the fixed rate is 5.57%, plus 2% added by the stress test, a mortgage holder will have to show that they can pay the mortgage at 7.57%.
That's fixable, says Bumstead. It's just a matter of balancing the number of deductions versus needing to pass the stress test.
Options for lenders
Ideally, the type of mortgage to get would be from an A lender, which are the traditional lenders such as the big banks and credit unions. They offer better rates, terms and require borrowers to pass the stress test.
B lenders such as Equitable Bank and Home Capital offer mortgages at a higher interest rate compared to A lenders due to the lower barrier to entry. That means B lenders are open to buyers with a credit score of less than 680 and fluctuating incomes. B lenders may also require the full 20% down payment and charge more in fees compared to A lender mortgages. This doesn't mean B lenders are worse than A lenders, it just means that borrowers have alternatives to financing.
There is hope
But having an irregular income doesn't mean getting a less favourable mortgage.
"Overall, it really is the full picture, so good credit, good cash management," says Bumstead. "Those all play a factor in what type of rate you get. It really comes down to your income for whether you're going to be on the A or the B side [of mortgages.]"
He says these days influencers, freelancers, content creators and even seasonal workers can get a mortgage. Lenders are still very meticulous about anti-fraud incidents and the legitimacy of documents, so make sure you're getting and providing accurate financial and personal information from your banks. This includes information like if you received a financial gift towards your down payment. But Bumstead says they've eased off on certain requirements such as requiring much larger down payments.
"Now, they're a little bit more lenient with that as long as we're able to show the history."
Sponsored
You're 5 minutes away from the best mortgage
Searching for your perfect mortgage shouldn't be hard. Homewise is an online brokerage that will negotiate on your behalf with more than 30 big banks and other lenders, completely free, and it only takes five minutes to apply.
If you're in the market for a new mortgage, or if you're looking to refinance before interest rates rise again, go to Homewise now and answer a few simple questions to get started.