Why fixed mortgage rates are rising
While the Bank of Canada's overnight rate dictates the direction variable mortgage rates move, the country's fixed mortgage rates are determined by activity in the government bond market.
That's because banks are major purchasers of bonds, and use the projected returns from their bond investments to cover the costs and potential losses associated with their riskier mortgage businesses.
As the yield (or return) on those bonds fluctuates, so does a bank's ability to cover its fixed mortgage costs.
In the six months ending March 4, 2022, the yield on five-year Government of Canada bonds jumped from 0.78% to 1.46%, according to Bank of Canada data.
So banks have been raising their fixed rates to hedge against the relative instability facing their bond purchases.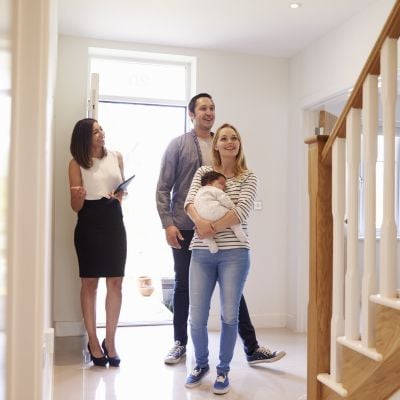 Whether you're hunting for a new home or looking to refinance your mortgage, knowing how much your new loan might cost you is critical. Use our handy mortgage calculator to help you understand what your payments could look like.
Get Started
What do higher fixed rates mean for your next mortgage?
According to mortgage analyst Robert McLister, every 0.1 percentage point increase in a five-year fixed interest rate results in monthly mortgage payments rising by about five dollars for every $100,000 in mortgage debt.
With fixed rates having increased about 0.8 percentage points over the last six months, a $700,000 mortgage costs approximately $280 more a month now than it would have in September.
It's hard to imagine the increase affecting too many current homeowners. Anyone nearing the end of a three- or five-year term will still find fixed rates lower than those they originally signed up for, and that's if they didn't refinance while rates were at record lows during the pandemic.
"I actually don't think most people that are in fixed rates are going to have any real pain or any problems renewing at all, unless they have had employment situations or such things that would affect a normal qualification," says Paul Taylor, CEO of Mortgage Professionals Canada.
If a borrower was able to refinance into a five-year fixed last year, there's no need to even think about rates until it's time to renew in 2026.
Less buying power
Anyone in the market for a new fixed-rate mortgage, however, will have less buying power to work with. If that's the situation you find yourself in, you have a few options.
First, if the rate you're being offered by your lender strikes you as sub-optimal, you can always ask for a better deal. The mortgage market is brutally competitive; most lenders will be flexible on the rate if it means completing a transaction with a responsible borrower.
When negotiating, Taylor says it's important to keep in mind that the margins lenders are earning on their loans are quite thin.
"I wouldn't get too aggressive," he says. "But there's never any harm in taking your renewal out to the market."
And if you do get offered a rate you're happy with, locking it in with a pre-approval can guarantee it'll still be available three or four months from now, even if fixed rates keep rising.
More: Best mortgage lenders in Canada
Deep discount on variable rates
If you come from a long line of fixed-rate fanatics, it may be time to consider a variable-rate mortgage — if your budget has the room for it.
If the Bank of Canada keeps increasing the overnight rate to tamp down inflation, you would see your monthly payment rise as well. But there are plenty of lenders offering variable rates in the 1.5% range — about half the rate of the average five-year fixed.
Another four 25-basis point increases to the overnight rate would still have you paying less than 3% interest on your mortgage. You'd also have the option of breaking your variable mortgage at any point and paying a few months' interest in pre-payment penalties.
Higher fixed rates are by no means a positive development for Canadian homebuyers. But on their own, they shouldn't be enough to crash your dreams of home ownership.
Sponsored
You're 5 minutes away from the best mortgage
Searching for your perfect mortgage shouldn't be hard. Homewise is an online brokerage that will negotiate on your behalf with more than 30 big banks and other lenders, completely free, and it only takes five minutes to apply.
If you're in the market for a new mortgage, or if you're looking to refinance before interest rates rise again, go to Homewise now and answer a few simple questions to get started.