How do negative interest rates work? When an economy is healthy, banks pay interest to clients who deposit money, use those deposits to make loans and other investments, and collect the interest they charge borrowers.
Negative interest rates are usually implemented only when economies are completely derailed and prices for key goods start plummeting. Investors see their returns drop off, so they begin pulling money out of the economy en masse and hoarding it until better, more profitable days arrive.
Banks need that money to circulate, so they make saving it less attractive by rolling out negative interest rates.
Let's say you were earning 1.5% interest on your savings, but then your bank began charging you a 0.6% annual fee to keep your money there. That would be considered an interest rate of -0.6%. You'd actually lose money by "saving" it.
But negative interest benefits borrowers. To encourage businesses and investors to borrow money and inject it into the economy, banks offer loans at negative rates. When that happens, a borrower's interest is subtracted from the principal rather than added to it.
You might, for example, be offered a mortgage with an annual interest rate of -0.5%. By the time you finish repaying the loan, you'll have paid less than the amount you originally borrowed.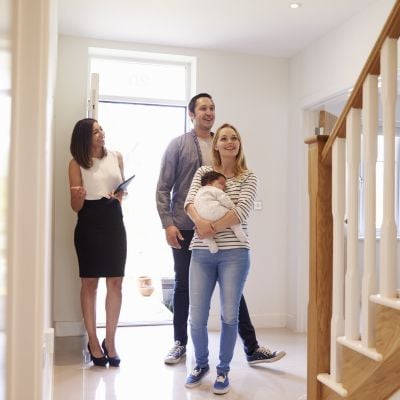 Whether you're hunting for a new home or looking to refinance your mortgage, knowing how much your new loan might cost you is critical. Use our handy mortgage calculator to help you understand what your payments could look like.
Get Started
Recent cases of negative interest rates During the peak of the Great Recession, Europe's central banks followed a path similar to one the Bank of Canada has been treading during COVID-19. They lowered interest rates as far as they could to encourage borrowing.
That wasn't enough to pull their economies out of the mud, so a number of central banks had to resort to some out-of-the-box thinking — including implementing negative interest rates.
In 2009, Sweden's central bank went first when it lowered the rate on some deposits it holds overnight for commercial banks to -0.25%.
Denmark's central bank introduced negative rates in 2012 and — except for a brief period in 2014 — has rolled with them ever since. The Bank of Japan took its rate below zero two years later.
Those central bank strategies haven't impacted consumers directly, but commercial banks will sometimes pass the negative interest they're charged along to their customers in the form of fees.
Why negative rates are not a good thing
As in the examples above, negative interest rates don't come into play until a nation's economy has completely run out of steam. When banks are discouraging people from depositing money, you know something is disastrously wrong.
So if the Bank of Canada suddenly gets on board with negative interest, it's because it's frightened, not because officials want you to score a good deal on a mortgage.
Negative interest rates would be terrible news for the average Canadian. With wage growth largely stagnant and banks paying so little in annual interest already, being charged to deposit your money in a bank makes saving for major purchases that much harder.
Negative interest rates, because they make investing in currency less attractive, also could lower the value of the Canadian dollar. (The euro took it on the chin after the European Central bank implemented negative rates in 2014.)
A weaker loonie would mean higher prices for imported goods, particularly those paid for in U.S. dollars.
Would negative rates affect mortgages? Canadians have been feasting on low mortgage rates since they began falling last spring. But negative rates may not sweeten the deal any further for homebuyers.
Last year, Denmark's Jyske Bank became the first in the world to offer a mortgage with an annual interest rate of -0.5%.
It may look good on paper, but borrowers rarely come out ahead. The small interest they "earn" — 0.5% on a $600,000 mortgage is $3,000 — can easily be erased by relatively small loan fees or a slight increase in closing costs.
Even if the Bank of Canada does enter desperation mode and triggers negative rates, mortgage rates are unlikely to go negative. Historically, mortgage rates have usually been 2 points higher than the BoC's overnight rate, so negative mortgage rates would require the central bank to take a deep dive into subzero territory.
What does this mean for you? It's still a fine time to borrow money.
Canada's prime rate, used to set interest rates on variable mortgages, car loans, home equity lines of credit and even certain types of credit cards, is currently only 2.45%. That's the lowest it's been since the days of the 2008 financial crisis.
Canada has never entered negative interest territory, so if you're an investor with a solid credit score and stable income who is secretly hoping for a chance to play in a negative interest rate environment, waiting around may not be the wisest move.
Sure, mortgage rates have risen considerably this year, but they remain far below historical averages. If you're planning on buying a home or refinancing, you can still save yourself a boatload of money over the life of your mortgage.
If you do decide to get a mortgage this year, be sure to find a reputable broker to handle the details. Homewise will negotiate with more than 30 lenders on your behalf to find you the best mortgage available.
The service is completely free, and you can apply online in just minutes:
Sponsored
You're 5 minutes away from the best mortgage
Searching for your perfect mortgage shouldn't be hard. Homewise is an online brokerage that will negotiate on your behalf with more than 30 big banks and other lenders, completely free, and it only takes five minutes to apply.
If you're in the market for a new mortgage, or if you're looking to refinance before interest rates rise again, go to Homewise now and answer a few simple questions to get started.