'Life is variable and your mortgage should be too' Several of Canada's major banks have hiked their fixed mortgage rates, something they hadn't done since before the pandemic. Fixed rates have climbed by about 40 basis points since the start of the year. A basis point is one-hundredth of 1%.
Reza Sabour, a senior adviser and director with the Canadian Mortgage Brokers Association of British Columbia, says clients with variable-rate mortgages are calling to ask if they should lock in a new fixed rate.
"My advice to most of my clients right now is to just stay the course with their variable rates because they're getting more attractive," Sabour says.
In fact, variable rates are lower than they were a couple weeks ago. One lender sent Sabour details of a new rate special in which the rate for a five-year variable mortgage fell by 5 basis points to 1.55%.
Montreal-based mortgage broker Jason Zuckerman is advising clients that variable is the way to go.
"If you ever wanted to sell in a pinch, the penalties to break a fixed rate can be steep," he says. "There's an old saying: life is variable and your mortgage should be, too."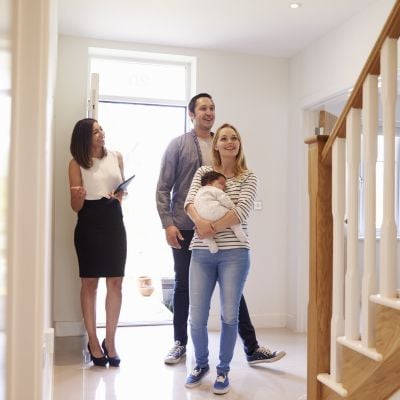 Whether you're hunting for a new home or looking to refinance your mortgage, knowing how much your new loan might cost you is critical. Use our handy mortgage calculator to help you understand what your payments could look like.
Get Started
One rate is up and another is down — what gives? Fixed mortgage rates typically follow in lockstep with Canadian bond yields, or interest rates. Growing optimism in the economy means investors are pulling out of safer bonds and investing more in stocks. That weakening demand for bonds has caused bond prices to fall and yields to go up.
Variable mortgage rates, however, follow the Bank of Canada's policy interest rate, or the target for the overnight rate — the rate at which financial institutions borrow and lend each other money. Changes in the policy interest rate lead to similar changes in the prime rate, which banks use as a basis for pricing variable-rate mortgages.
In a weak economy, the Bank of Canada may lower its policy rate. A few months ago, the bank even said it had no plans to raise its rate until 2023. On March 10, it maintained its record-low rate target at 0.25%.
"With the instability, I don't see the government increasing the Bank of Canada rates any time soon," Zuckerman says.
This bodes well for homebuyers looking into variable-rate mortgages. And while the loans can lead to savings in the long run, borrowers should always shop around for the best rate.
What are the risks of a variable mortgage? Since variable-rate mortgages can change several times a year, borrowers may have less peace of mind than they would with a fixed-rate mortgage, which "locks in" a predetermined rate for the term you've selected. Your term could be two, three or five years.
There are penalites if you need to get out of your variable loan. if you need to suddenly sell your house, the penalty is three months of interest. But fixed-rate loans come with higher penalties for breaking the mortgage: You may have to pay the "interest-rate differential" — a sum based on how much rates have dropped and how much time you have left in your term.
Those prepayment penalties can easily hit as much as 4% of your total loan.
Jesse Abrams, CEO of the online mortgage broker Homewise, says that Canadians shopping for their first home need to consider the long-term costs of a mortgage.
"First-time homebuyers more than any other populace are more likely to break their mortgage after four years," he says, "and it's really important to recognize that penalties do mean a lot."
When life plans change, you'll be grateful for the typically lower penalty to break a variable-rate mortgage.
Why aren't variable-rate mortgages more popular? Hisotrically, homebuyers flocked to the five-year fixed-rate home loan because it was the only product that didn't require the Bank of Canada's mortgage "stress test".
But that changed in in 2018 when every type of mortgage in Canada was required to undergo a stress test, Sabour says. In order to pass, a borrower needs to qualify at the mortgage interest rate plus 2%, or the Bank of Canada's current five-year benchmark rate, whichever of the two is greater. The test is meant to to prove a borrower's ability to make mortgage payments in case rates go up.
About 80% of homeowners with a mortgage have a fixed rate, according to banking giant CIBC.
Canadians value the cost certainty of a fixed rate, Abrams says. They enjoy knowing how much their monthly mortgage payment will be over the next half decade. And variable rates can sometimes be confusing to those accustomed to fixed-rate mortgages.
Risks and rewards of a variable-rate mortgage There's also the inherent risk associated with variable-rate mortgages. If North America's economic outlook continues to trend upward, rates on variable loans could begin to rise.
"I'd rather know that I'm at a 1.79% mortgage rate for the next five years instead of having a 1.2% mortgage right now that could potentially increase to 3.2%," Abrams says.
Fixed-rate mortgages are the most advertised product and are a highly profitable product for lenders, analysts say.
When you've decided what type of mortgage you want, compare rates and loan offers from multiple lenders.
And a good credit score will be key to getting a good rate. Anything above 760 is excellent. Today, it's easy to check your credit score for free online.
"Knowing what the best options are is key," Abrams says.
Sponsored
You're 5 minutes away from the best mortgage
Searching for your perfect mortgage shouldn't be hard. Homewise is an online brokerage that will negotiate on your behalf with more than 30 big banks and other lenders, completely free, and it only takes five minutes to apply.
If you're in the market for a new mortgage, or if you're looking to refinance before interest rates rise again, go to Homewise now and answer a few simple questions to get started.