American Express lounge guide
YAKOBCHUK VIACHESLAV / Shutterstock
🗓️
Updated: August 01, 2023
We adhere to strict standards of editorial integrity to help you make decisions with confidence. Please be aware that some (or all) products and services linked in this article are from our sponsors.
We adhere to strict standards of editorial integrity to help you make decisions with confidence. Please be aware this post may contain links to products from our partners. We may receive a commission for products or services you sign up for through partner links.
There is one respite from the grind of waiting for your flight to take off: the airport lounge. An oasis of calm amidst the chaos, airport lounges can offer a range of comforts like free Wi-Fi, plush chairs, complimentary snacks, hot meals and drinks, and possibly even showers or massages.
The American Express Global Lounge Collection™ is an extensive network of airport lounges that spans the globe and stands out among its peers. Rather than granting access to just one lounge program, the American Express airport lounge system grants Platinum® cardholders (yes, you have to have The Platinum Card® or higher for this perk) entry to a massive network of more than 1,300 airport lounges throughout the world. Lounges include the high-end Centurion® lounges and hundreds of other domestic and international lounges designed to enhance your travel experience.
While it's true that other credit card issuers offer lounge entry with some of their premium cards, if you want to have access to the top-tier American Express Centurion® lounges and be linked to over 1,000 other possible airport sanctuary spaces, an Amex card is likely your best bet.
The American Express Lounge
As mentioned, the American Express lounge collection is massive and includes Centurion® lounges, International American Express lounges, Priority Pass, Plaza Premium and Delta Sky Club, as well as much smaller, miscellaneous lounge programs like Airspace and Escape lounges. Platinum cardholders also have access to Executive Lounges by Swissport and Québec City's Jean Lesage International Airport VIP Lounge.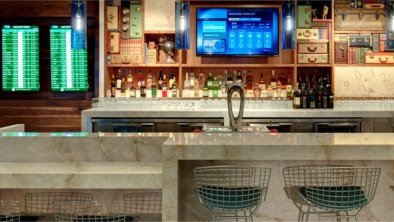 It's worth noting that while the International American Express lounge program forms part of the American Express Global Lounge Collection™, it's (confusingly) also its own unique network of 11 lounges. The network includes two American Express lounges in Australia and India and six Centurion® Clubs (which are a less lavish version of a Centurion® lounge) in Mexico. They are also only available to Amex platinum or higher cardholders.
The American Express Global Lounge Collection™ program gives any of its Centurion® and Platinum® consumer or platinum business cardholders complimentary use of all of the above networks. Many participating lounges also allow free entry for a spouse or one or two companions and/or accompanied children. Most also permit cardholders to buy a day pass for additional travel companions, with prices commonly ranging up to $50 USD. Consult the individual lounge in question for details.
Another unique feature of the American Express Platinum Lounge collection is its exclusivity. While other lounge networks like Priority Pass or Plaza Premium allow any traveller to buy memberships, Centurion lounges and International American Express lounges are exclusively available to Amex cardholders.
While the Amex airport collection is hugely varied and linked to numerous branded networks, there are some common amenities you can expect to enjoy throughout the American Express Airport lounge system, including:
A large selection of snacks
Hot meals or more elevated food service, like buffets with carefully curated selections of hot and cold dishes
A wide range of alcoholic and non-alcoholic beverages
Free Wi-Fi
Satellite TV
Personalized flight assistance
Private restrooms
Plus some lounges have more coveted amenities for weary world travellers, like showers and nap areas.
American Express lounges in Toronto
At Canada's busiest airport, Toronto's Pearson International, some of the most popular rest spots are the Air Canada Maple Leaf Lounge and Plaza Premium Lounges. If you have an Amex Platinum or Centurion card you can access the American Express Lounge network in Toronto, which includes six different Plaza Premium lounges (the spots you can access depend on what terminal your flight leaves from), as well as an Air France/KLM Lounge at Terminal 3. Amenities at these luxe hideaways range, but all include hot meals, alcoholic beverages and free Wi-Fi. Some, like the Plaza Premium lounge in Terminal 1, also provide showers.
As mentioned above, with Plaza Premium lounges, you are generally allowed to bring a spouse and two children under the age of 21 or one companion. At the Air France/KLM lounge, you're permitted only one complimentary guest.
American Express Centurion Lounge
Centurion lounges are most commonly associated with their namesake, an invitation-only card for those with a high net worth (generally over a million). The card comes with an initiation fee of US$5000-$7500 and an annual fee of US$2500.
But contrary to what you might assume, you don't need to have an actual Centurion card to gain entry to an American Express Centurion lounge. You can make full use of all the fancy facilities as long as you have at least an American Express The Platinum Card®.
Adding to the Centurion lounge's allure is its relative scarcity. Presently there are only nine official Centurion lounges worldwide, with only one outside of the United States (at the Hong Kong Airport). Each lounge's offerings vary, but common denominators include:
Regionally-inspired cuisine
Beer, wine and cocktail menus developed by well-known chefs and mixologists
"Quiet areas," as well as family rooms with special playrooms for children
A select number have luggage lockers and shower suites.
Some, like the Centurion lounge at the Miami airport, also feature a spa with complimentary massages, facial treatments and manicures.
Centurion® cardholders can be accompanied by two complimentary guests or their immediate family, including children under 18. Additional entries can be purchased at US$50 each.
American Express Platinum Lounge Access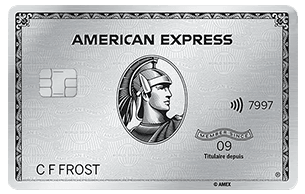 Of course, the most widely recognized form of access to the Amex airport lounge collection experience is via the The Platinum Card®. For a $699 annual fee, you'll have complimentary access to all the airport lounge benefits outlined above. Take full advantage of The American Express Global Lounge Collection™ which unlocks access to over 1,300 airport lounges worldwide. This includes The Centurion® Lounge network, Plaza Premium Lounges, and hundreds of other domestic and international lounges designed to enhance your travel experience. Other major benefits of The Platinum Card® are a $200 CAD yearly travel credit that can be put toward a travel booking; the ability to transfer Membership Rewards points to a number of other loyalty programs (like Aeroplan); and an array of insurance coverages.
To be eligible for The Platinum Card®, you will need:
- Credit score required: Good-Excellent
- Min personal income required: N/A
- Annual fees: $699
Click here to learn more about The Platinum Card®
An all-access pass
Clearly, if you fly frequently, paying the high annual fee for The Platinum Card® or other ultra-premium American Express card may be worthwhile. These cards give you access to the world's most comprehensive network of airport lounges, which can transform an airport from a nuisance that must be endured and exited posthaste into a place you actually look forward to visiting.
American Express is not responsible for maintaining or monitoring the accuracy of information on this website. For full details and current product information click the Apply now link. Conditions apply.