How American Express membership rewards work and how to get the most out of your points
RickDeacon / Shutterstock
🗓️
Updated: August 02, 2023
We adhere to strict standards of editorial integrity to help you make decisions with confidence. Please be aware that some (or all) products and services linked in this article are from our sponsors.
We adhere to strict standards of editorial integrity to help you make decisions with confidence. Please be aware this post may contain links to products from our partners. We may receive a commission for products or services you sign up for through partner links.
If you're looking to collect travel rewards on your credit card purchases, check out the American Express Membership Rewards program. This popular program has a lot to offer in terms of flexibility and value for your dollar, and since your points never expire, you're free to redeem whenever works for you.
When it comes to travel rewards programs in Canada, the American Express Membership Program is a leading favourite. American Express cards consistently top the charts of the best travel credit cards out there for good reason. The valuable points you earn are flexible; not just in terms of what you can redeem them for, but also because they can be transferred. Read on to learn more about how American Express Membership Rewards work and how to get the most out of your points.
About AMEX point values
How much is one Amex point worth? Well, it depends on the reward. As mentioned above, some categories have better value than others. Redeeming your points for travel gets you the best value while merchandise and gift cards typically get you the lowest value.
To figure out the value of your points based on your reward you can do some basic math. Take the value of what you are getting and divide it by the number of points needed.
Here are some breakdowns based on the examples used above:
Flights booked with Flexible Points Program
$0.01 (can be used to cover the cost of taxes and fees)
Flight booked with Fixed Points Program
60,000 points for a flight from Canada to Europe (base price only)
$0.012 (points can't be used for taxes and fees)
Ultimate Dining Card gift card
Points for Purchase (non-travel item)
When you're deciding to use your points, your benchmark for good value should be $0.01 or higher.
Keep in mind that your American Express Membership Rewards never expire so long as you hold an American Express credit card (and stay in good standing). So, there is no need to rush to redeem. You can continue to collect for as long as you like to save up for your dream trip if that is your goal. However, if you have no desire to travel then it's absolutely worth using your points on other categories. While the value may be lower, using your points still beats paying cash.
How to earn American Express membership rewards
The only way to earn American Express Membership Rewards is to use an American Express credit card.
There are tons of options out there so it's easy to find one to suit your lifestyle and needs. You can take a look at our picks for the best American Express credit cards to get an idea of what options are available to you. Our top pick right now is the American Express Cobalt® Card (read our full review), for its generous earn rate on everyday spending.
It is worth noting that American Express credit cards are not as widely accepted in stores and businesses in Canada (and worldwide) as other popular cards like Visa credit cards and Mastercard. However, it can be possible to get around this and still collect points for your purchases. For example, Loblaws grocery stores do not accept Amex cards, but Shoppers Drug Mart does. You can buy PC gift cards at Shoppers Drug Mart and use them to buy your groceries at Loblaws, which lets you rack up those points on grocery purchases.
Another workaround for online shopping is to hook up your American Express credit card to your Paypal account. That way if an online vendor doesn't accept Amex outright, you can pay via Paypal. Ultimately the funds will be provided via your American Express card, so you'll still be awarded points for your purchase.
American Express Cobalt® Card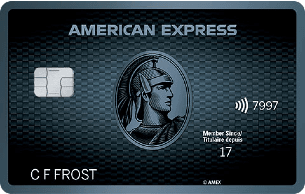 In your first year as a new Cobalt® Cardmember, you can earn 2,500 Membership Rewards® points for each monthly billing period in which you spend $500 in purchases on your Card. This could add up to 30,000 points in a year. That's up to $300 towards a weekend getaway or concert tickets. Terms and conditions apply.
Welcome Bonus: Earn up to 30,000 Membership Rewards® points in the first year (conditions apply)
Rewards earnings: Get 5 points per $1 spent on eligible food and drink in Canada, including groceries and food delivery, 3 points per $1 spent on streaming services, 2 points per $1 on spent gas and transit like buses or taxicabs, 1 point per $1 spent on everything else, and 1 additional Membership Rewards® point for every $1 spent as a charge on your Express Cobalt® Card on any eligible hotel or any car rental bookings made through American Express Travel.
Additional Perks: Includes comprehensive travel insurance for the cardholder.
Learn more about the American Express Cobalt® Card
How to redeem American Express membership rewards
American Express Membership Rewards work on a point system. So you collect points based on your purchases. To access and redeem those points you will log into your account via the American Express online portal.
Once you have logged in, you will be taken to a page that shows your current balance details, the amount due at this time, and your membership rewards. Under the membership rewards box, you will see the "View and Redeem Points" button. Click that button to visit the rewards page where you see your options. Those options are divided into four categories:
Shop
If you choose "Shop," you will see a dropdown menu with a dozen or so options including kitchen, electronics, kids, sports and leisure, and business. You can click through the different categories to see what is available and how many points each item will cost you. When you find something you like, you can add it to your cart and proceed from there.
Note: merchandise typically does not offer the best value for your points.
American Express travel points redemption
Under the "Travel" tab, you will be able to select from five different options: Points for travel, hotel or travel gift certificate options, travel accessories, and frequent traveller participants. Typically, travel is the best use of your American Express Membership Rewards as it offers the highest value for your points. There are two ways to use your points for travel:
Fixed Travel Points Program: Book an eligible flight for a fixed number of points that will cover the base cost of the flight. Canada/US Long haul flights are 40,000 points. Canada to Europe is 60,000 flights. Oftentimes, you can come out ahead by using the fixed points program as the points stay the same regardless of route popularity, availability, or time of year. However, remember the points will only cover the base cost of the flight. You still need to pay the taxes, which is where things can get pricey.
Flexible Points Program: Under this program, you can use your points to pay for taxes, fees, and surcharges associated with the travel booking. If you book travel via this method, every 1,000 points work out to $10 in travel credit.
When you go to the travel portal and search for your desired route, you will be presented with both options (Fixed Points or Flexible Points) and can choose whichever one you think is the better deal.
Gift cards
American Express Membership Rewards can also be used for gift cards. When you click through the gift card tab, you'll see a drop-down menu with popular categories such as dining, entertainment, leisure, travel and hotels, etc. There are many options, from Home Depot to Saks Fifth Avenue to Indigo Books and Music, to choose from, so you're sure to find something you want. When you browse through your options you will notice that the majority of gift cards offer two or more options in terms of value. For example, the Ultimate Dining Card comes in 3 different values: $25 (3,250 points), $50 (6,500 points), and $100 (13,000 points). Just add your selection to your cart and follow through from there.
Note: Like merchandise, gift cards often offer some of the lowest values for your points.
More ways
The final tab is "More Ways" which presents you with a few more opportunities to use your American Express Membership Rewards. The remaining options are as follows:
Amazon shop with points: Pretty straightforward, you can use your points to shop online at Amazon. To do this you will need to link your account. When you click on the tab for this option, you will be shown how to do this.
Points for Purchase: You can choose to allocate your points towards your credit statement. This can be done for any type of purchase (travel, fashion, even groceries if you choose). You do need a minimum of 1,000 points to do this. The evaluation is 1,000 points= $10 for travel (same as the flexible points program discussed above) or 1,000 points = $7 for all other purchases.
Charity: If you like, you can also choose to donate your points to charity. At this time, they only list one charity (Save the Children) and you need a minimum of 1,000 points to donate.
Points top-up: If you are a few points away from the required number of points needed to redeem for something, you can always call American Express to top up your points. Points can be purchased at a rate of $3 (plus tax) for 100 points. There is a minimum purchase of $1,000 points and you can purchase up to a maximum of 25% of the total points needed for the reward you want. Points must be paid for on your American Express credit card.
Tips for getting the most out of your points
As mentioned earlier, there are ways to earn points when dealing with vendors that don't accept American Express credit cards (gift cards and PayPal). Other tricks for maximizing your points include:
Make sure to earn the welcome bonus. Most American Express credit cards have pretty generous welcome bonuses when you hit the minimum required to spend. It's worth your while to make sure you reach them.
Utilize the transfer partners. I will discuss this in more detail below, but American Express Membership Rewards can be transferred to several partners which allows you more flexibility with your points and perhaps the chance to stretch your points further and find better deals.
Make sure to check the American Express booking website for travel. They often have good deals. Take the time to compare what you find on the portal to other websites.
How do American Express membership rewards compare to other rewards programs?
So, how do Amex points compare to other rewards programs in Canada? Well, Scotia Rewards are also valued at $0.01 per point which is the same as Amex; however, Scotia Rewards need to be redeemed in increments of 5,000 points whereas you only need 1,000 points to redeem American Express Membership Rewards. BMO Rewards, another popular travel rewards program, has a slightly lower value at $0.007 per point.
But what really makes them stand out compared to other rewards programs is that your points can be transferred to multiple different loyalty programs allowing your points to go further. You aren't just limited to the Amex rewards program; you can also benefit from Aeroplan and different hotel and airline loyalty programs. This flexibility factor is what truly makes American Express Membership Rewards a standout program.
Converting your Amex points to other loyalty programs
Aeroplan
This is considered by many to be the best conversion option when it comes to transferring your American Express Membership Rewards. You can convert Amex points to Aeroplan points at a 1:1 ratio.
Marriott Bonvoy Points
Marriott is the largest hotel chain in the world so if you are a traveller who enjoys staying in Mariott hotels, this could be a smart conversion. Especially since Mariott Bonvoy is considered to be one of the best hotel loyalty programs. You can convert 1,000 American Express points to 1,200 Marriott points.
Hilton Honors
Another popular hotel program for transferring points. You can convert 1,000 Amex points to 1,000 Hilton Honors points.
Other Airline Partners
While using American Express Membership Rewards or Aeroplan for travel offers the most flexible travel options, you can choose to convert your Amex points to specific airline loyalty programs as well. Your options include:
Alitalia MilleMiglia: 1000 Amex points = 750 MilleMiglia miles
Asia Miles: 1,000 Amex points= 750 Asia Miles
British Airways Executive Club: 1000 Amex points= 1000 Avios
Delta SkyMiles: 1,000 Amex points= 750 SkyMiles
Etihad Guest: 1,000 Amex points= 750 Eithad Guest Miles
Keep in mind that, except for Aeroplan and Delta, it usually takes about five business days to transfer these points (Aeroplan and Delta take about 30 minutes). Also, note that most of these programs have a minimum requirement of 1,000 points to transfer.
The Last Word
The American Express Membership Rewards is absolutely one of the best rewards programs on the market for Canadians. Especially when it comes to travel. The value of its points, the option to use points to cover taxes and fees (in some cases), and the flexibility make it a stand-out program. However, during these times it's understandable that travel may not be at the top of your list. Fortunately, you have several other options for redeeming points and they don't expire, American Express credit cards are a handy choice to have in your wallet.
Not sure if Amex is for you? Check out the best travel rewards credit cards in Canada and see if there's an option that better suits your spending.
American Express is not responsible for maintaining or monitoring the accuracy of information on this website. For full details and current product information click the Apply now link. Conditions apply.