We adhere to strict standards of editorial integrity to help you make decisions with confidence. Please be aware this post may contain links to products from our partners. We may receive a commission for products or services you sign up for through partner links.
In cars, it's the Rolls-Royce Phantom. In bespoke handbags, it's the Hermes Birkin. In wine, it's Chateau Margaux. And, in charge cards, it's The American Express Centurion® Card.
Launched in the United States 25 years ago and available in Canada since 2009, the invitation-only card has as much lore as the Hope Diamond. Except, unlike the maligned blue-tinted stone, the Centurion® Card bestows perks galore upon those who own it, such as limitless spending, free companion flight tickets, free hotel nights, superior lounge access, and more. It might even save your life, as it did in 2016 for Calgary real estate developer Riaz Mamdani. His titanium Black Card, in the pocket of his suit vest, slowed down an assassin's bullet.
As the tagline goes, "Don't leave home without it."
How can you get a Centurion® Card?
You can't. It gets you.
One fine day you may receive an invitation to become a Centurion® club member. According to a long-time Centurion® cardholder based in western Canada, "the invitation came in a beautiful black mahogany box with a prototype of the actual titanium card, engraved with my name, along with a catalogue of the range of benefits. It was very impressive looking."
In order to be considered for a Centurion® card in Canada, you have to meet the following criteria:
Own an American Express credit card for at least one year
Spend at least $100,000 to $450,000 a year on another American Express card, typically The Platinum Card®
Earn at least $1 million annually
Have a high net worth
Rumour also has it that if you have high deposits at a private bank, your banker could approach American Express on your behalf to request an invitation. The average cardholder's annual income is $1.8 million USD, and the average net worth of Centurion® cardholders is $11.4 million USD. Both business and personal versions of the card are available.
The Centurion® card is not a credit card but a charge card. Cardholders have used it to buy jets, a Bentley, a $170 million Modigliani painting at Christie's auction and pretty much anything else that money can buy—as long as the balance is paid in full at the end of the month. Extra-large charges are approved on a case-by-case basis, so don't forget to give Amex a call before you buy your Modigliani.
Fees
The illusive invitation is only the first hurdle. The adage, "if you have to ask the price, you can't afford it," comes to mind, because the card's fees are certainly steep. The initiation fee for the hand-forged, hand-engraved and embossed Centurion® card is $7,500, with an additional annual fee of $2,500.
Members and authorized users receive two cards: the black charge card and an access card for the airport lounges. You can have up to two additional cardholders for $2,500 per year. To keep the card, you must maintain a high annual level of spending (generally above $250,000). There are no foreign transaction fees, but there is a $38 late or returned payment penalty and an annual interest rate of 30% for unpaid balances.
Related: Best credit cards that waive foreign transaction fees
Key benefits
Are you sitting down? The Centurion® card comes with a cornucopia of tangible and intangible benefits. (Let's not underestimate what one cardholder calls "the plunk factor"— i.e. others' reactions when you use the card.)
Each benefits package is customized to the cardholder based on her/his lifestyle and region, with a big emphasis on airline and hotel upgrades and exclusive Members Only experiences. If I had to encapsulate the range of benefits in a word, it would be "service."
Personal concierge and travel services
All Centurion® cardholders receive personal concierge services for travel, restaurant bookings, or anything else. Basically, you get your own private travel agency with over 5,000 advisors globally.
"Once I wanted to treat an acquaintance to concert tickets for Eric Clapton. Unfortunately, none of Clapton's tour dates coincided with where we would be. I called up American Express to arrange a private event with Clapton. They came back to me with all the details and costs; they had worked it all out. It was incredible," says the Canadian Centurion® member.
And, they don't forget birthdays either. "I was at a Fairmont Hotel and got a free round of golf, a room upgrade to a beautiful suite, spa and food credits. Very impressive," he adds.
Related: Credit card concierge services—Which cards do it right?
Flight upgrades
Cardholders receive automatic upgrades on 15 of the world's top airlines, as well as automatic Platinum Status on Delta and American Airlines, free seat selection, priority check-in and baggage delivery, and excess baggage allowance and limousine services. Buying a full-fare ticket from one of the partner airlines yields a free companion ticket. First-class upgrades on international flights are very favourably priced for members.
Related: Best companion ticket credit cards in Canada
Hotel upgrades
Throughout the year, American Express sends out what it calls WOW Offers to Centurion® cardholders. These offers often take the form of a fully free night at a luxury hotel, with no need to book other nights to get the free night.
Centurion® cardholders are also eligible for luxe travel features, including Elite Status with certain rental car companies and hotel chains through the Fine Hotels and Resorts Program.
Lounges
The card opens up access to over a thousand lounges in over a hundred countries, plus nine dedicated Centurion® lounges, in addition to food and drink credit at more than 1,250 third-party lounges and "lounge alternatives" that come with the Priority Pass Select Membership.
Some long-time cardholders have recently had mixed experiences with Centurion® lounges and are underwhelmed by their overcrowding (Centurion® lounges are open to both Centurion and The Platinum Card® cardholders). "When it first opened, the Dallas Forth Worth lounge was very quiet and enjoyable and Centurion® cardholders had reserved seating," says one Canadian cardholder. "Each time I've visited, it's gotten more crowded even though they enlarged it; anyone can pay $50 to get in and I've found it frustrating. When I visited one in Mexico City, Centurion® members had their own lounge upstairs from the main one and could order any kind of food or beverage and the service was great," he adds.
On March 22, 2019, American Express implemented a new policy that restricts visits by The Platinum Card® cardholders to a maximum of three hours and for departing and transit passengers only, while Centurion® cardholders will continue to enjoy unrestricted access.
Related: Best credit cards for airport lounge access
Reward points
Big spenders can accrue massive benefits quickly. For example, when Chinese billionaire Liu Yiqian purchased "Reclining Nude" by Amedeo Modigliani at Christie's auction in 2015 with his Centurion® Card, he and his family earned approximately 170,400,000 American Express Membership Rewards® points, meaning they will fly free for life.
Invitation-only events
American Express creates over 100 invitation-only events annually for cardholders that love the best in food, fashion, travel, art, and entertainment. Think conversations with designers like Christian Louboutin and Giorgio Armani in Paris, London, and Milan; VIP party invites to the Monaco Grand Prix; Coachella; Wimbledon; access to the best restaurants in the world… you get the picture.
Other benefits
In 2011, American Express launched its own auto program where Centurion® Card members can negotiate and purchase a car through the Centurion® website without revealing any personal information. Members will also receive complimentary upgrades on Tesla, Jaguar, and other luxury cars. This is in addition to having access to luxury car rentals and Formula One racing courses.
Centurion Magazine, a luxury lifestyle publication, is created exclusively for Centurion cardholders.
Is the Centurion Card for you?
While some might be drawn to the mere prestige that comes with the Centurion® card, according to one cardholder, that's really not the main attraction for most.
The Centurion® is ultimately best suited to those who travel internationally on a frequent basis and need a card with limitless credit for major purchases. The airline, hotel, and rental car upgrades are also significant. Those benefits, along with the prospect of earning unlimited reward points (which transfer to a number of other programs, including Aeroplan), make the high annual and initiation fees worthwhile for those who are invited to apply.
If you aspire to carry the Centurion® Card but have not yet been invited to apply, you can take a first step by instead applying for The Platinum Card®, another premium American Express card that offers lucrative benefits (though certainly not equal to the Centurion®).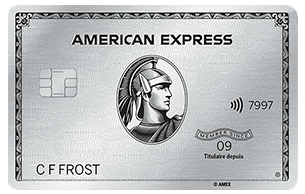 Eligibility criteria:
Credit score required: Good/Excellent
Min personal income required: N/A
Annual fees: $699
Earn 80,000 Membership Rewards® points – that's $800 towards a weekend away. New Platinum® Cardmembers, earn 80,000 Welcome Bonus points after you charge $7,500 in net purchases to your Card in your first 3 months of cardmembership. Conditions apply.
Other perks include: High reward earn rates on travel and restaurants; insurance coverage; an annual $200 CAD travel credit; as well as access to invitation-only experiences and airport lounges. Take full advantage of The American Express Global Lounge CollectionTM which unlocks access to over 1,300 airport lounges worldwide. This includes The Centurion® Lounge network, Plaza Premium Lounges and hundreds of other domestic and international lounges designed to enhance your travel experience.
American Express is not responsible for maintaining or monitoring the accuracy of information on this website. For full details and current product information click the Apply now link. Conditions apply.
Compare other American Express credit cards
Compare other concierge credit cards