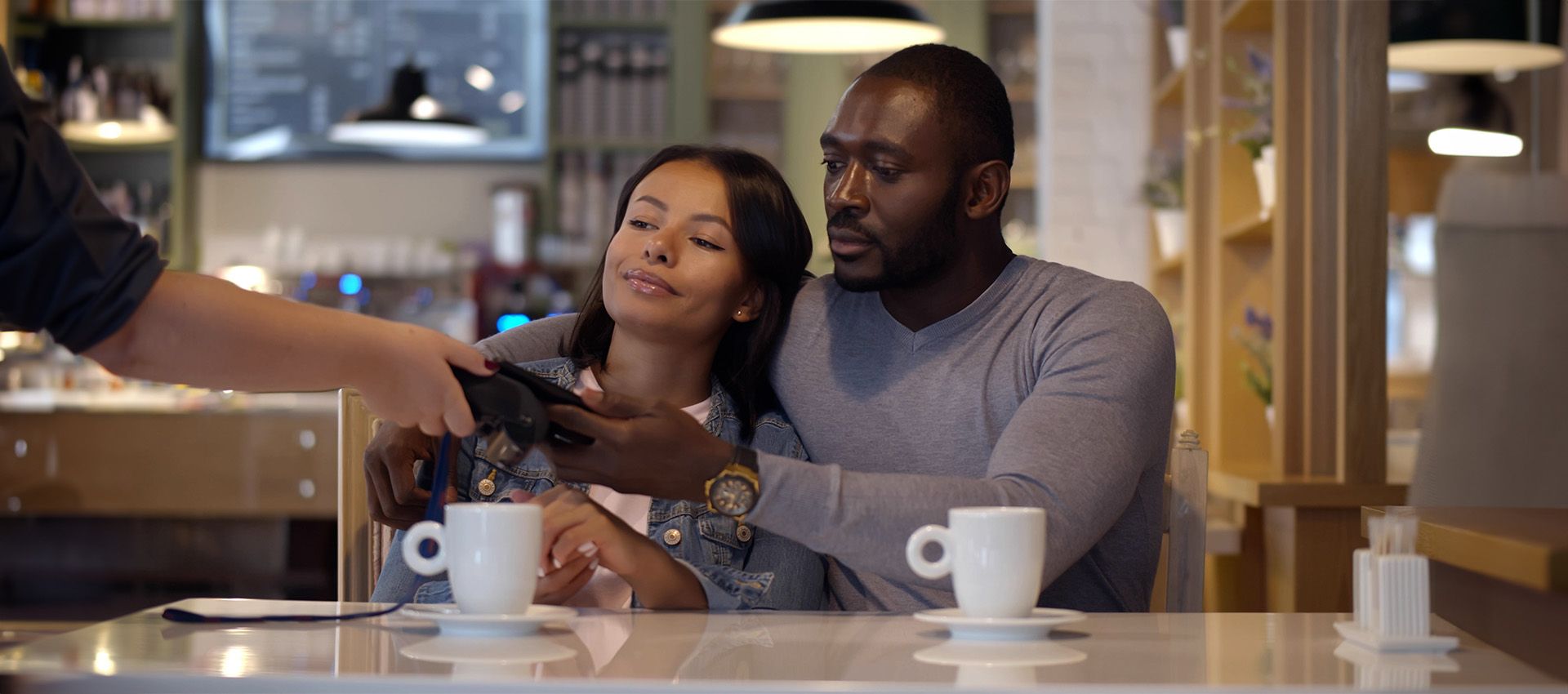 Visa Infinite vs. World Elite Mastercard: which offers the best perks?
Ground Picture / Shutterstock
🗓️
Updated: July 24, 2023
We adhere to strict standards of editorial integrity to help you make decisions with confidence. Please be aware that some (or all) products and services linked in this article are from our sponsors.
We adhere to strict standards of editorial integrity to help you make decisions with confidence. Please be aware this post may contain links to products from our partners. We may receive a commission for products or services you sign up for through partner links.
Experienced credit card users know that one of the ways to ensure you get top-tier benefits from a premium card in Canada is to be on the lookout for credit cards that have "Visa Infinite" or "World Elite Mastercard" in the name.
Both major processing networks, Mastercard and Visa, have unique premium benefit programs that give cardholders perks above and beyond the benefits offered by individual credit card issuers. Each program has a standard set of extras that range from airport lounge access to exclusive bucket list experiences. To help you select the perks program that best matches your needs, we'll compare the benefits offered by each of the two programs head-to-head.
It's important to note that each benefit program has two levels. For Visa, there's Visa Infinite and Visa Infinite Privilege. For Mastercard, there are the World and World Elite levels. For the purposes of this article, we'll only be comparing Visa Infinite and World Elite Mastercard as they are the most alike.
At a glance: Visa Infinite vs. World Elite Mastercard
Benefits
Visa Infinite
Mastercard World Elite
Airport lounge access
Priority Pass membership, up to 6 free passes
Membership to Mastercard experiences by Loungekey, up to 4 free passes
Hotel
Seven set perks at over 900 hotels
Hotel perks vary by property
Food and wine
Dedicated food and wine programs with variety of exclusive events
Perks vary; Fewer dedicated food and wine offerings for Canadian cardmembers
Experiences
No set program for non-food and wine experiences
Huge variety of unique experiences across the globe
Concierge service
24/7 concierge offering a variety of services
24/7 concierge offering a variety of services
Annual income requirement
$60,000 personal or $100,000 household
$80,000 personal or $150,000 household
Airport lounge access
For frequent fliers, a credit card with included airport lounge access can be a huge selling point. Some cards that are part of the Visa Infinite program offer Priority Pass Memberships, which gives the cardholder access to over 1,300 airport lounges worldwide. Note that a membership does not mean you actually get free lounge access, rather it saves you from buying a membership that retails at $99 USD. Unless your membership includes free passes, you'll still have to pay $32 USD per person per lounge visit. The best airport lounge access cards in Canada generally include anywhere from four to six lounge visits a year on top of free membership. For example, the Scotiabank Passport Visa Infinite card comes with a free Priority Pass membership and six complimentary visits per year, which is the highest amount of free lounge passes among any premium card in Canada with an annual fee of less than $200.
World Elite Mastercards have a similar airport lounge access perk. The Mastercard Travel Pass provided by DragonPass* gives members access to 1,300 airport lounges worldwide. Select World Elite cards offer a complimentary membership but may or may not also include any free passes. If not, you'll pay $32 USD per visit. Among World Elite Mastercards, the BMO Ascend™ World Elite®* Mastercard®* offers the most amount of free airport lounge visits with four free visits annually*.
Bottom line: If your credit card doesn't include complimentary passes, you pay an additional $32 USD per visit with either Visa Infinite's Priority Pass and World Elite Mastercard's LoungeKey, even with a free membership. Priority Pass gives you access to more airport lounges. Furthermore, among premium credit cards with annual fees under $200 per year, the Scotiabank Passport Visa Infinite card features the most free passes.
Winner: Visa Infinite
Hotel benefits
With Visa Infinite cards, you have access to the Visa Infinite Luxury Hotel Collection. This is a collection of over 900 hotels worldwide where you can take advantage of a total of seven impressive perks. Perks include:
Best available rate guarantee
Automatic room upgrade upon arrival, when available
Complimentary in-room Wi-Fi, when available
Complimentary breakfast for two
A $25 USD food or beverage credit
VIP Guest status
Late check-out upon request, when available
On top of these seven standard hotel perks, Visa Infinite also features a list of extra limited-time hotel benefits, including hotel discounts, one-off hotel dining credits, free stay deals, and special packages.
Unlike Visa Infinite, the World Elite Mastercard benefit program doesn't have a specific perk program related exclusively to hotels. While you can get some special offers for hotel stays that include things like complimentary breakfast and room upgrades, those benefits fall under the World Elite Mastercard Priceless Cities program (which is a program that offers a wide variety of extras related to hotels, city tours, and culinary experiences). With World Elite Mastercard credit cards, hotel benefits vary widely and there is no set of hotel perks that you can expect to receive every time you stay at an eligible property. Rather, you have to go to the Priceless Cities program homepage and do a specific search for hotel benefits.
Bottom Line: Visa Infinite has a special section of its benefits program that's completely dedicated to hotels and there's a reliable standard list of seven benefits that Visa Infinite cardholders are always eligible to receive. World Elite Mastercard does not have a clearly delineated hotel benefit program and cardholders have to spend time searching for potential benefits.
Winner: Visa Infinite
Food and wine benefits
Visa Infinite has a lot to offer foodies and oenophiles alike. Within the Visa Infinite benefit program, there are two separate programs dedicated to all things culinary and wine called the Visa Infinite Dining Series and the Visa Infinite Wine Country Program. Programs are updated with new events regularly each season. Each program is specifically designed for a Canadian audience (so you don't have to sift through a ton of international events to find ones in Canada, though some international dining and food events are also available). Each program features a carefully curated lineup of events in major Canadian cities and wine regions. Events include special chef-led meals at Canada's best restaurants, wine tastings and cocktail-making lessons.
I was impressed to find that currently due to COVID, both of Visa Infinite's food and wine programs have been updated so that many of the events can be done at home but still remain incredibly interactive. With Visa Infinite's new Dining Series @ Home experience, cardholders can actually get a gourmet four-course meal, along with canapés, cocktails and wine delivered to their door. They will then be able to access a private link that features a pre-recorded video about the meal, or they can connect to a live stream presentation with some of Canada's most acclaimed chefs, mixologists, and sommeliers.
The World Elite Mastercard program does not have a dedicated food and wine program but does offer special food and drink-related events under their Priceless Cities program. You have to search to find out what potential restaurant or winery offerings might be available in your location. The website is not designed just for a Canadian audience (unlike Visa Infinite, which has a dedicated Canadian site for food and wine event offerings). When I did a search for Canada, there were only two food events being currently offered by World Elite Mastercard and both were non-interactive cooking videos.
Bottom Line: The Visa Infinite food and wine experiences were plentiful and designed with a great deal of thought regarding how to make events interactive despite current COVID restrictions. It also has a website specially designed for a Canadian audience with an array of food and wine offerings in major wine regions and cities like Toronto, Vancouver, Calgary, Montreal, and more.
Winner: Visa Infinite
Experience benefits
Aside from a few entertainment-related experiences like private movie events , Visa Infinite doesn't appear to offer many other kinds of other experiences.
As discussed previously, Mastercard World Elite has an experience program called Priceless Cities. It gives cardholders access to an incredibly huge variety of all sorts of experiences (over 2000 different experiences are available). On top of food, wine and hotel experiences, the program features a little bit of everything, with experiences like:
An online magic lesson from experienced magicians
Watch a video on cheesemaking
An online weight class with a fitness influencer
Learn the art of printmaking
The Priceless Cities program also features a truly original and engaging series of city experiences that offer a unique way to tap into a destination without ever leaving your armchair. Some destination experiences include:
A virtual cable car experience of Table Mountain in Cape Town, South Africa
Take a tour of Paris street art with an artist
A virtual tour of Jaipur's vibrant markets and karkhana workshops
Bottom line: When it comes to unique adventures and experiences outside of food and wine-related events, World Elite Mastercard has a seemingly endless array to choose from that really cater to a wide spectrum of tastes and interests.
Winner: World Elite Mastercard
Additional perks
There are a number of other great perks offered by each card. Some perks are similar in both cards, such as the 24/7 concierge service that can help you with things like travel itineraries, getting tickets, and making restaurant reservations. However, there are a number of other perks that are unique to each card.
Visa Infinite offers several extra benefits:
Shopping offers: Limited time shopping offers, such as 30% off regular price items at adidas.ca or 35% off any photo print and gift products from Fujifilm.
Golf perks: Use your Visa Infinite card to sign up for Troon Rewards and get 10% off golf fees, merchandise and golf instruction at over 95 courses around the world.
Entertainment offers: As a cardholder, you periodically get access to private movie events, Toronto International Film offers and more as part of the Visa Infinite Screening Series.
World Elite Mastercard has many attractive additional perks:
Special Cirque du Soleil benefits: Cardholders can enjoy exclusive benefits like backstage access, preferred seating, invitations to special Cirque du Soleil events, 15% discount on shows in Canada, discounts at Las Vegas shows and more.
Free Wi-Fi Access: Free Boingo Wi-Fi at over 1 million hotspots worldwide and no added fees or roaming charges.
Mastercard Preferred Program: Earn a 2% rebate on purchases at select retailers given in the form of a statement credit.
Travel rewards: Pay with your registered Mastercard to get automatic cashback offers online and in-store from eligible merchants.
Entertainment offers: Via the Priceless Cities program, you can attend a Broadway show, take part in an exclusive live concert experience and more.
Bottom Line: While there are cardholders who would greatly covet Visa Infinite's golf benefit, overall, World Elite Mastercard has a wider variety of extra perks.
Winner: World Elite Mastercard
Insurance benefits
Insurance benefits between the two programs are hard to definitively quantify as insurance offerings depend much more on the particular credit card issuer than on what Mastercard or Visa benefit program they belong to.
While both programs offer various types of travel insurance, such as emergency medical, trip cancellation, and lost or stolen baggage, Mastercard World Elite has a slight edge by offering more car rental insurance options.
Both programs also offer purchase insurance in the form of a one-year extended warranty and 90-day purchase protection.
It's important to note that the specific insurance terms might depend on your card's provider, so coverage may differ from card to card.
Bottom Line: World Elite Mastercard appears to have more reliable standard insurance offers than Visa Infinite, though what insurance you get with your credit card depends almost entirely on the individual issuer.
Winner: World Elite Mastercard
Annual income needed
To successfully apply for a Visa Infinite card, you need a personal income of $60,000 or a household income of $100,000.
For a World Elite Mastercard, you need a personal income of $80,000 or a household income of $150,000.
Bottom Line: With lower income requirements, Visa Infinite cards are easier to successfully apply for.
Winner: Visa Infinite
Visa Infinite vs World Elite: Side-by-side comparison
In order to get a better picture of the value of each program and the differences between them, we've compared two cards offered by BMO.
Keep in mind that any features of every credit card are set by the provider, not the program. So things like annual fees, welcome bonuses, earn rates, insurance policies, and even some perks can differ from card to card, even if they're in the same program.
Annual fee
$150 (free in the first year)*
$120 (annual fee waived in first year)*
Welcome bonus
Get up to 60,000 points worth $400 in travel rewards, a $50 lifestyle credit and the $120 annual fee waived in your first year – that's a $570 value in your first year.*
Earn rate
5x the points for every $1 spent on eligible travel purchases,* 3x the points for every $1 spent on eligible dining and entertainment purchases and recurring bill payments,* 1 point for every $1 spent everywhere else.*
5 BMO Rewards point for dining, transit, gas and grocery purchases*; 1 point for all other purchases*
Airport lounge access
Complimentary membership in Mastercard Travel Pass provided by DragonPass,* with four annual complimentary passes.
Insurance
Travel and Medical Protection for a trip up to 21 days*
Travel Insurance*, Mobile Device Insurance*, Purchase Security* and Extended Warranty Insurance*
Special perks
- BMO Concierge Service*- Get valuable benefits and offers for digital everyday services from a variety of on-demand apps and subscription services- Access over 1 million Wi-Fi hotspots around the world - all at no added cost, and no added fees or roaming charges*
- 24/7 concierge service*- Access to Visa Infinite Luxury Hotel Collection*- Access to Visa Infinite Dining Series*- Exclusive golf benefits*
Annual income requirement
$80,000 personal or $150,000 household
$60,000 personal or $100,000 household
Final thoughts
Overall, Visa Infinite is the winner when it comes to credit card benefits programs. The company's perks for things like airport lounge access, food and wine exclusive events, and hotel benefits are second to none. Furthermore, the effort Visa Infinite seems to have put into creating a Canadian-centric website for their food and wine experiences, as well as developing interactive COVID-friendly food events (that aren't just pre-filmed videos) is pretty impressive and shows the company really puts thought into the program.
Above all, however, it's vital to keep in mind that by and large, specific details like exact types of insurance, how many free airport lounge visits you get a year (if any) come down to your specific credit card issuer and not Visa or Mastercard. Because of this, it's always best to select a credit card based on the overall package it offers and not just what premium benefits program it's affiliated with.
*Terms and conditions apply
BMO is not responsible for maintaining the content on this site. Please click on the Apply now link for the most up to date information.