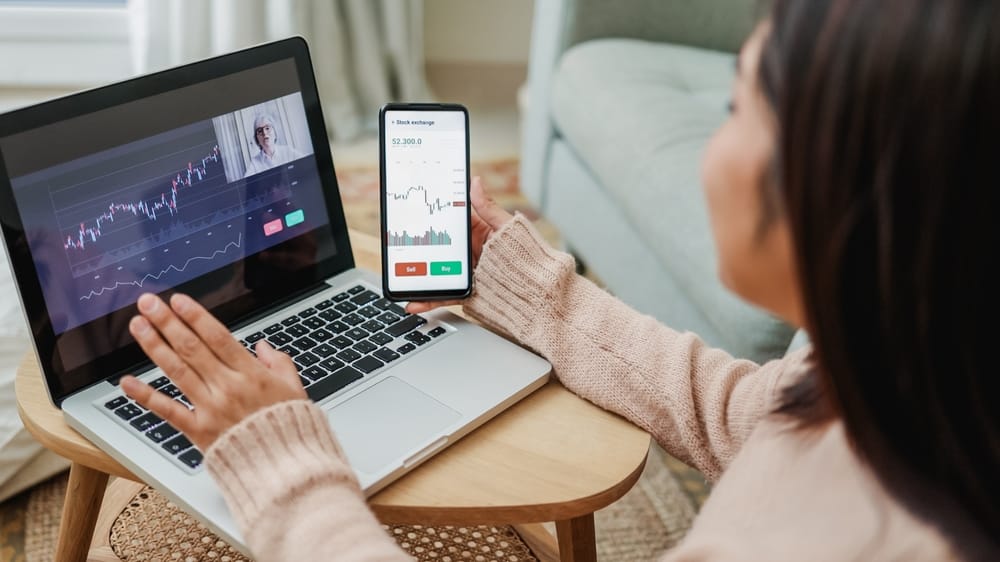 Cryptocurrency trading: Complete guide on how to trade crypto
Nuva Frames / Shutterstock
We adhere to strict standards of editorial integrity to help you make decisions with confidence. Please be aware that some (or all) products and services linked in this article are from our sponsors.
We adhere to strict standards of editorial integrity to help you make decisions with confidence. Please be aware this post may contain links to products from our partners. We may receive a commission for products or services you sign up for through partner links.
If you're crypto curious, check out this essential guide to cryptocurrency trading.
Cryptocurrency trading is growing in popularity again as investors and speculators look for alternatives to traditional assets like stocks, bonds, and gold. While interest in crypto hasn't quite reached the insanity of 2017 (when one Bitcoin went from $1,200 USD to nearly $20,000 USD), the price of many cryptocurrency coins has doubled since the COVID-19 pandemic took hold in March 2020. Furthermore, new and safer trading platforms such as Wealthsimple Trade have fuelled interest in bringing cryptocurrency trading to the mainstream.
Investors may trade cryptocurrency for a variety of reasons. Some see it as a store of value, like gold, whose returns may be uncorrelated to the stock market. Others see it as a currency, albeit one that is decentralized from any government or central bank. It's too early to tell exactly how cryptocurrency behaves as an asset class. What's clear is that its short history and volatile price movements make trading cryptocurrency a largely speculative endeavour. Keep reading for a practical step-by-step cryptocurrency trading guide.
Get started with Wealthsimple Crypto
What to know about cryptocurrency trading
Before we get into the specifics of how to trade crypto, it's important for investors to know that the world of cryptocurrency is largely unregulated. There are more than 6,000 cryptocurrencies available to trade today, with a total market cap of nearly $350 billion (as of August 2020). You can also trade cryptocurrency on nearly 400 exchanges around the world.
A dozen major cryptocurrency exchanges were hacked in 2019 resulting in more than $292 million in stolen coins. It should go without saying that crypto traders should stick with more mainstream coins like Bitcoin and Ethereum and purchase them on a widely used exchange such as Coinsquare, Coinbase, or Gemini.
For cryptocurrency trading in Canada, we recommend the new Wealthsimple Crypto trading platform, as it is without question the easiest and safest way for new investors to start trading 50+ cryptocurrencies, including Bitcoin and Ethereum.
An important difference between trading stocks and trading cryptocurrency is that while stock market exchanges are only open during normal business hours, investors can trade crypto 24 hours a day.
Investors should also know that they can purchase fractional shares of a coin. That's important because, with the price of one Bitcoin worth more than $15,000 CAD, it's unlikely that traders would be able to afford to trade one or more coins at a time. Wealthsimple Crypto allows you to buy as little as $1 of Bitcoin, Ethereum, and other select cryptocurrencies.
Where to trade cryptocurrency in Canada
There are a few options for trading cryptocurrency in Canada, but they vary widely.
Wealthsimple Crypto
Launched in August 2020 after becoming the first crypto asset platform to be registered with Canadian securities regulators, Wealthsimple Crypto allows users to trade Bitcoin, Ethereum, Dogecoin, and other select cryptocurrencies commission-free. Unlike other crypto exchanges, Wealthsimple Crypto does not allow its users to BYOC (bring your own crypto) but instead provides a safe platform for users to buy and sell.
Wealthsimple Crypto does not store crypto assets in its own hot or cold wallets but instead entrusts that to its custodian, Gemini Trust Company.
Trade your cryptocurrency with Wealthsimple Crypto!
Binance
Binance has millions of users and allows them to buy, sell, and store cryptocurrencies like Bitcoin, Ethereum, Litecoin, and many more (up to 150 supported cryptocurrencies) with some of the lowest fees in the market – just 0.1% for both market makers and takers. Headquartered in Malta, Binance has Lite and Pro versions and a slick mobile design that appeals to both beginners and active crypto traders.
Coinsquare
Coinsquare was founded in Canada and headquartered in Toronto. It has a 95% cold storage policy on all digital currency and continuously invests in security with SSL and two-factor authentication and running multiple encrypted backups every day. Coinsquare supports seven cryptocurrencies, including Bitcoin, Ethereum, Litecoin, Dogecoin, Dash, and Ripple. It charges 0.1% for market maker orders and 0.2% on market taker orders.
Coinbase
Coinbase is another popular exchange and is based out of San Francisco, California. Like Binance, Coinbase offers a standard service to buy, sell, and store crypto assets, and also a Pro version for more advanced traders. The downside of Coinbase is its fee schedule, which is more expensive than its competitors. It charges a flat fee of between $0.99 to $2.99 per transaction, plus the margin or spread of around 0.5%. Coinbase Pro users pay a maker-taker fee of between 0% and 0.5%.
How to trade crypto
How to trade on Wealthsimple Crypto:
Trading cryptocurrency on the Wealthsimple Crypto platform is as easy as opening an account, adding $CAD funds to your account, waiting for the funds to settle (5 business days), and then taking the following steps:
Choose the cryptocurrency asset you'd like to buy (BTC or ETH)
Tap the "Buy" button
Enter the dollar amount you wish to purchase
View the summary display with estimated quantity, price, and total cost
Tap "Confirm Order"
That's it! The "buy" order is only good for 10 seconds and then the price reverts to the live price. If you're not quick on the trigger then your order will be executed at the then-live price, which could be slightly different.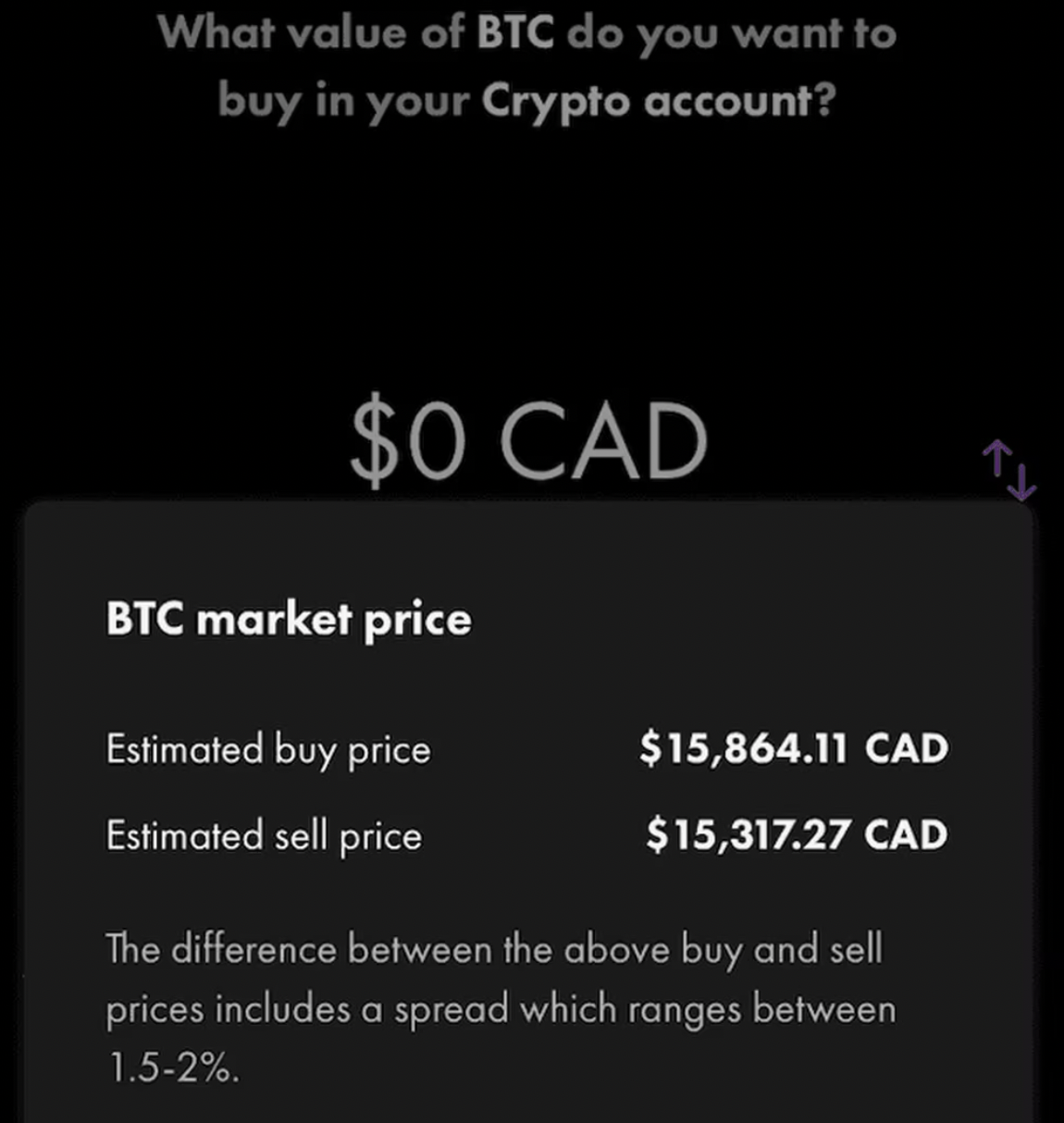 Trading Bitcoin and Ethereum at Wealthsimple Crypto actually occur within the Wealthsimple Trade mobile app. There are no fees associated with opening, funding, or trading within Wealthsimple Crypto. Wealthsimple makes money on the spread, or the difference between the buy price and sell price. The fee ranges from 1.5% to 2%.
Investors cannot move any existing crypto assets over to Wealthsimple Crypto as it is only set up to be funded with $CAD. Once purchased, your crypto assets are stored in cold wallets at Gemini, which is Wealthsimple's custodian that is fully backed by regulators. Gemini also has $200M in cold storage insurance coverage.
Crypto trading has attracted hundreds of thousands of users in Canada and Wealthsimple Trade gives them a safe and easy platform to buy and sell.
How to trade on Binance:
Binance is set up a bit differently in that it's a crypto-to-crypto exchange. That means you must bring your own crypto to the platform before you can start trading. With your own cryptocurrency, you can use Binance to trade with more than 150 supported coins and tokens.
Register for an account with an email address and password and agree to the terms and conditions. For basic trading, take the following steps:
Click 'Exchange' on the dashboard and select 'Basic'.
Choose a trading pair – select one that matches what your account is funded with (i.e. Bitcoin or Ethereum)
Select the type of trade you want to make (i.e. limit order, market order, or stop-limit order)
Choose the amount you want to buy or sell
Click the 'Buy' button
Basic trading is best for new crypto investors, but Binance does also offer advanced trading for sophisticated traders who are more likely to use limit and stop-limit orders.
How to trade on Coinsquare:
Coinsquare allows users to fund and withdraw from their accounts with fiat currency. Funding options include Interac e-Transfer (1.5% fee) and wire transfer (free). Once your account is funded, here's how to place a Quick Trade:
Sign into your Coinsquare account
Click the Quick Trade widget on your Dashboard
Select the currency for your trade
Enter the amount of currency for your trade trade
Click 'Get a Quote'
Review the quote and then click 'Make This Trade'
In addition to Quick Trade, Coinsquare offers Advanced Trade for experienced crypto traders. It's only available for trades involving Bitcoin and includes access to limit orders.
How to trade on Coinbase:
Coinbase is another fully functioning crypto exchange where you can trade cryptocurrency and fund your account with fiat currency. U.S. residents can link a bank account to fund their account, while other users need to use a debit or credit card. Once you've signed up and funded your account, you're ready to start trading.
From your web browser:
Go to the 'Buys' page
Select the type of digital currency you wish to purchase
Enter the amount you wish to buy, either in cryptocurrency or in fiat currency
Choose the wallet into which you'd like your funds deposited
Choose your desired method of payment.
Review the order and click 'Buy'.
Users can buy and sell for as little as $2 in their desired currency.
Comparing crypto trading platforms
The advantage of using one of these established cryptocurrency platforms is that clients of Binance, Coinsquare, or Coinbase have much wider flexibility to fund their account with existing crypto assets, store their crypto in a third-party wallet, withdraw CAD$ to a verified bank account, or withdraw coins to a personal wallet.
At Wealthsimple Crypto, all Bitcoin, Ethereum, and other coins have to be bought and sold within the Wealthsimple platform.
In my view, choosing a crypto trading platform comes down to trust. According to a settlement agreement between Coinsquare and the Ontario Securities Commission, Coinsquare admitted to engaging in market manipulation – reporting fake trades that represented over 90% of its reported trading volume. Binance suffered a security breach in 2019 when hackers stole 7000 Bitcoins worth $40 million.
Beginner crypto traders would be wise to stick with an established name they can trust. Wealthsimple fits the bill. That's not at all to say their platform or custodian is immune to hackers, but in a largely unregulated space, I'd feel more comfortable choosing a Canadian platform that actually wants to be regulated by the Ontario Securities Commission.
Trade your cryptocurrency with Wealthsimple Crypto!
The best ways to store crypto
Cryptocurrency traders need a wallet to protect their coins. A wallet stores your private "key" which allows you to access and send your coins. A wallet also stores your public address which is needed for others to send you cryptocurrency. Remember the private key should never be given out to anyone, no matter what (like your bank PIN), while your public address can be given freely so others can send you coins.
Crypto wallets are either hot or cold. Hot wallets are connected to the internet and give you easy access to your cryptocurrency. The downside is the connectivity leaves you more vulnerable to a hack. Coinsquare and Coinbase give you mobile or exchange wallets for storage, and these are 'hot' wallets.
Conversely, cold wallets are completely offline and removed from the internet. This keeps your coins safe from hackers but also makes it more difficult to access and trade coins. Wealthsimple Crypto stores your Bitcoin, Ethereum, and other coins in cold storage at its custodian (Gemini). The difference is that Wealthsimple Crypto also provides a marketplace to easily buy and sell cryptocurrencies, giving you the best of both worlds.
One final note is that cryptocurrency purchased through Wealthsimple Crypto (or any cryptocurrency exchange) is not covered by the Canadian Deposit Insurance Corporate (CDIC) or Canadian Investor Protection Fund (CIPF). Crypto is a highly volatile asset and should be traded with caution.
The bottom line
Cryptocurrency is still in its infancy as a medium of exchange, store of value, and alternative investment. Traders are attracted to the volatile price swings that can literally double overnight. Speculative investments cut both ways, though, so traders should be cautious when buying and selling cryptocurrency as their investment can lose value just as fast.
There are also plenty of security risks in what is still a largely unregulated space. Hackers steal millions of dollars worth of cryptocurrencies every year as exchanges get breached and individual investors get hacked or duped into sharing their private keys.
Wealthsimple Crypto aims to capitalize on the interest in trading cryptocurrencies like Bitcoin and Ethereum. They've made it available in a safe and easy-to-use platform via the mobile app Wealthsimple Trade. If you're looking to start trading cryptocurrency then Wealthsimple Crypto is definitely worth a closer look.