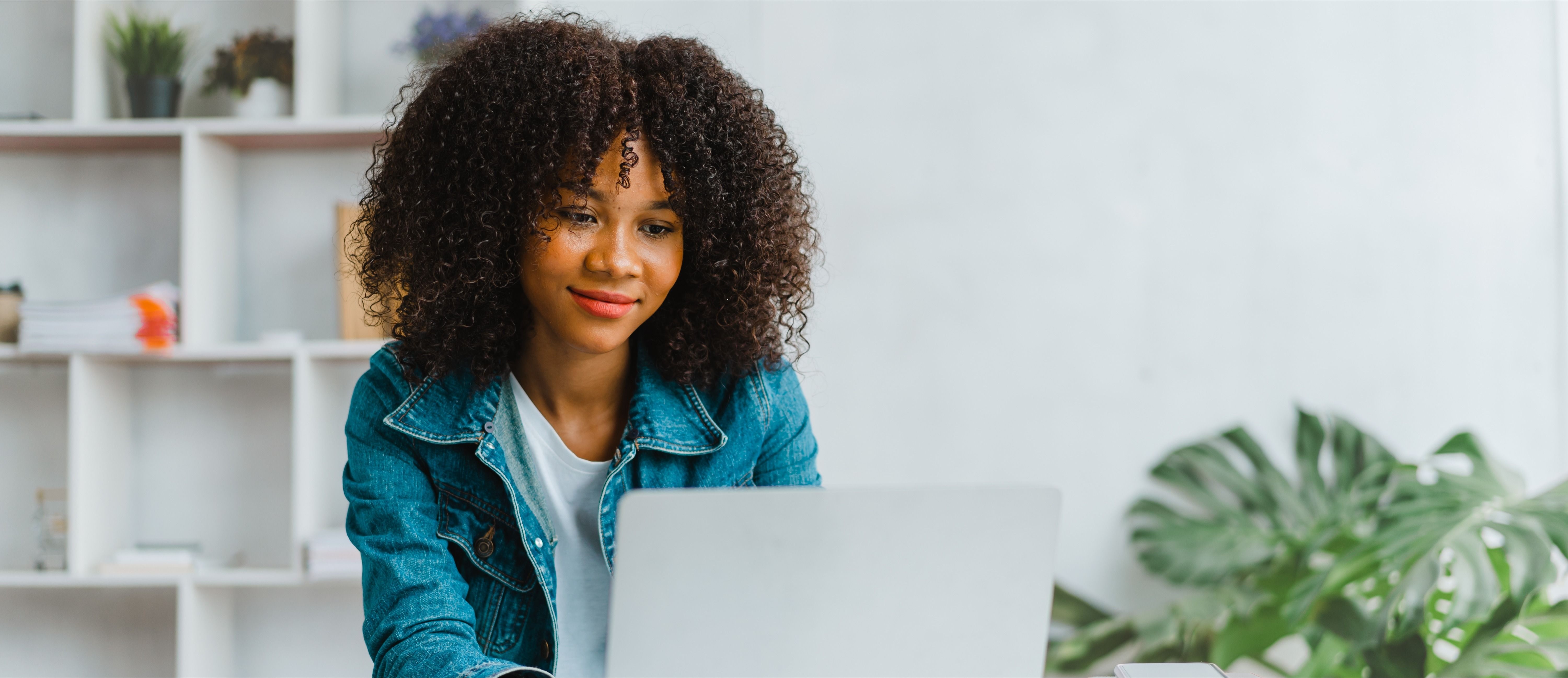 🗓️
Updated: August 12, 2023
We adhere to strict standards of editorial integrity to help you make decisions with confidence. Please be aware that some (or all) products and services linked in this article are from our sponsors.
We adhere to strict standards of editorial integrity to help you make decisions with confidence. Please be aware this post may contain links to products from our partners. We may receive a commission for products or services you sign up for through partner links.
Check out our ModernAdvisor review
To add on to the Complete guide to Canada's robo advisors, we would like to take a closer look at the big robo advisor companies in Canada.
To start, we're checking out ModernAdvisor, which is one of the new kids on the block. There are a few things that make ModernAdvisor unique. First and foremost, ModernAdvisor offers the most competitive fees for people who don't have $500,000 to invest. They have a Springboard program where they allow you to demo the account with $1000 of 'play' money which can become "real" when you fund the account. They also have responsible (aka ethical) investing that has the same competitive fees as 'regular' non-socially responsible investing. It's like getting the free range organic groceries for the same price as regular.
Who's behind ModernAdvisor?
ModernAdvisor was cofounded by Navid Boostani and Adrian Brouwers.
Navid Boostani is the CEO of ModernAdvisor. He has a background in electromechanical engineering and got his credentials as a CFA (Certified Financial Analyst) a few years later.
ModernAdvisor is based out of Vancouver.
Credential Securities Inc. ("Credential") holds your assets and accounts and ModernAdvisor acts as a broker-dealer. Credential is Canadian-owned; the Provincial Credit Union Centrals own 50%.
Many investment dealers and credit unions use Credential to hold their clients' investment accounts, execute trades, provide tax reporting and other back-office account administration.
How is ModernAdvisor regulated?
ModernAdvisor is registered as a Restricted Portfolio Manager with the securities commissions of all provinces in Canada and the Northwest Territories. You can check the registration of investment managers here. As a Portfolio Manager ModernAdvisor is held to a fiduciary standard. This is a pretty big deal in Canada because it means that legally the company must put your best interests first – a legal standard that someone who gives themselves the title "Money Coach" or "Financial Advisor" does not have to meet.
ModernAdvisor review: How it looks and ease of use
ModernAdvisor has clean graphics and a minimalist look. It's aesthetically pleasing because it is in white and different shades of blue. It's also very easy to use and navigate. There's a pop-up that frequently asks you if you need any help via a handy chat box. This makes it seem like someone is there 24/7. You can also schedule a call with the ModernAdvisor team for more financial advice if needed. I like this idea of scheduling a call because nothing is worse than waiting on the phone for 2 hours+ for someone to talk to you. As with most of the robos, ModernAdvisor is eager to engage with you in any manner that does not require them to meet face-to-face.
As stated on their website, you can access your account on your desktop or mobile device, and get help by phone, email, or online chat.
How it works
Every company has a different type way of automatically re-balancing your investment dollars. For ModernAdvisor, they automatically re-balance your asset allocation if there is more than a 5% difference from the original investment.
So there isn't a scheduled time when you are supposed to see that your Robo Advisor is re-balancing your portfolio, but it will happen automatically whenever there is an absolute difference of 5% (high or lower) from the original investment. Basically, the robo is there to keep your risk profile the same as the one you first decided on. You don't want stocks or bonds to become too large a percentage of your portfolio, so they automatically sell a bit of one asset class (usually a class that is doing well) to purchase more of another asset class (usually one that is doing relatively poorly).
What ModernAdvisor costs:
ModernAdvisor charges a fixed percentage on your total invested assets, which is 0.50%. The minimum contribution is $1,500 per year.
To summarize, ModernAdvisor charges you a:
0.5% robo advisor fee on the total value of your account if your account value is >$10,000 and <$100,000 (I'm going to call this a robo advisor fee and it includes trades that are within the account)
If your account is <$10,000 then it is $49 per year
If your investment value is >$100,000 but <$500,000 the fee is 0.4%
If it is >$500,000 the fee becomes 0.35%
On top of this amount, there is a 0.27% Exchange Traded Fund Fee (depending on how much the ETF portfolio cost)… so the total cost can be around 0.77%, which is much less than the 2.5% that an average Canadian mutual fund would charge you for a single Canadian equity fund.
The management fee is tax deductible if you have your investments in a non-registered account.
ModernAdvisor review: Type of accounts offered
The types of accounts offered through ModernAdvisor include:
Individual RRSP
TFSA
Non-registered accounts
Joint- Right of Survivorship
Individual and Spousal RRIF
Individual and Family RESP
Locked in Retirement Account (LIRA)
Responsible investing
Since ModernAdvisor is cofounded by a millennial, he knows what millennials want – and that's an option for responsible investing. This means looking for companies that have environmental and social governance factors that are responsible and transparent.
Responsible (aka social or ethical) investing is an umbrella term that encompasses several investment strategies, including ESG (environment, social, governance) investing, green investing, impact investing and values-based investing. ModernAdvisor offers responsible investment options via ESG portfolios, as well as Canadian and emerging market government bond ETFs and real estate investment trusts.
Free trial for 30 Days (and you can keep the gains)
Another thing unique with ModernAdvisor is that you can start a free trial account funded with $1000 of ModernAdvisor's money called Springboard, and then keep the gains earned during the free trial (provided that you open up a real account) once the trial finishes. If you don't make any gains, you can still open up the account for free. It seems like a great way to get comfortable with investing in the stock market and see what investing with a Robo Advisor is like before fully committing.
Mutual fund fee analyzer
This looks almost like a fun party trick, but if you put in your mutual funds, the mutual fund fee analyzer will spit out the amount of mutual fund fees that you pay (and that are usually not disclosed to you or that you are unaware about). You can input it manually or they will scan your documents for you and spit out your summary report.
This helps to show you the amount of fees that you are not realizing that you are paying, and helps you see what a difference lower fees makes for the bottom line of your retirement dollars. The difference can be astounding. I'm definitely going to use this feature to show some of my friends what they are sacrificing by going with the path of least resistance in using bank mutual funds.
A peek inside ModernAdvisor
We opened up a trial ModernAdvisor account and had a look at what the platform looks like and how this Robo Advisor goes about advising on the trial investments.
First off, ModernAdvisor started by understanding my risk tolerance, my age, the amount I wanted to invest, and what my goals were.
A few pictures below show screenshots of the assessment of my investing personality and my risk level. They deemed my risk level to be moderate and created an ETF portfolio to match my level of risk.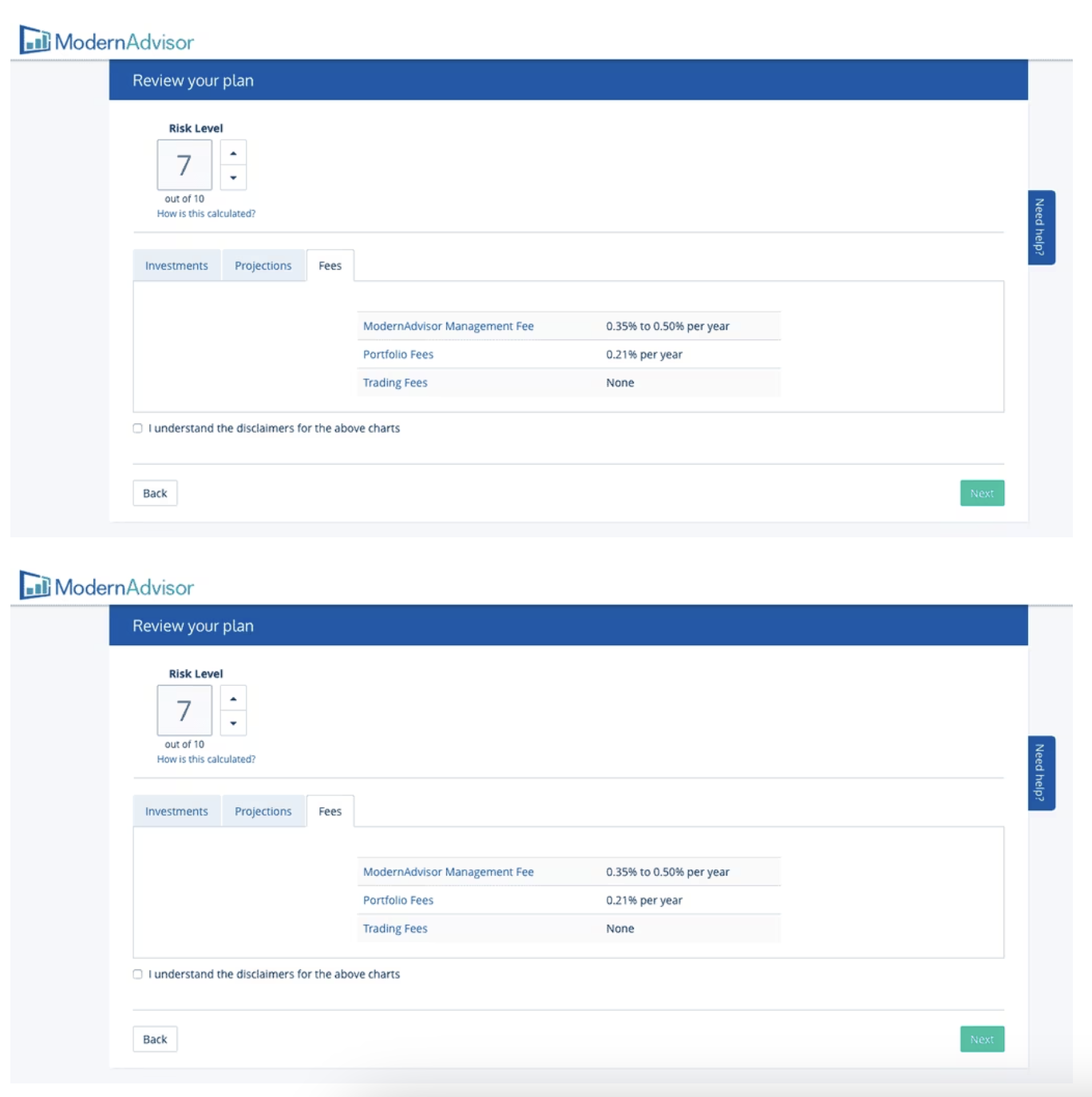 Then it summarizes my investment style, I am deemed "moderate".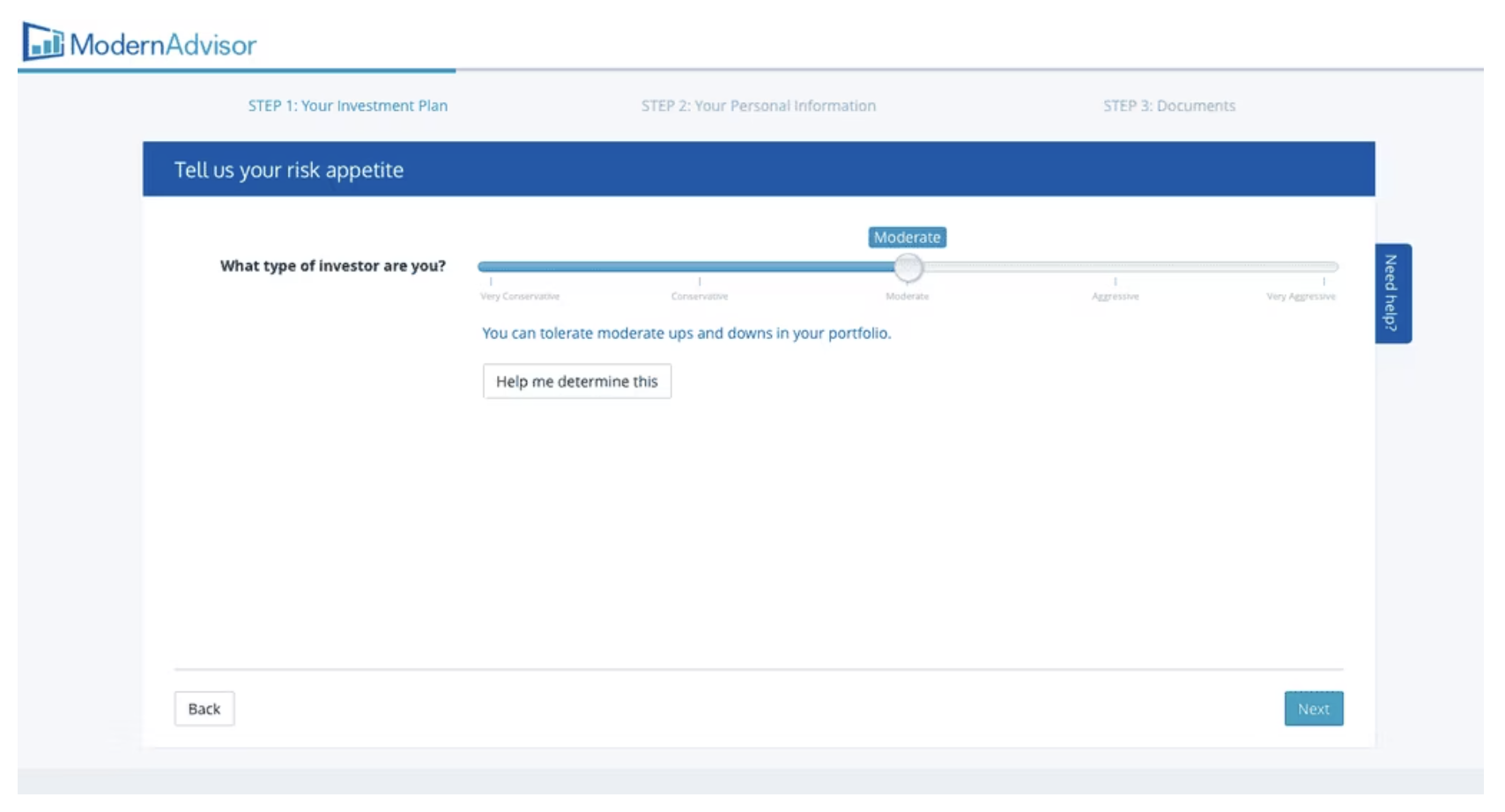 After understanding the risk tolerance, inputting my free $1,000, and answering a few more questions (it didn't take very long, I think under 15 minutes or so). Afterwards, the money I invested in the trial account is allocated to the varying ETFs in the portfolio created based on my risk level. The low-fee Exchange-Traded Funds that ModernAdvisor uses are a select few and have a mirror image of the socially responsible Exchange-Traded Fund they use for those who want to invest via socially responsible means.
The Exchange-Traded Funds that ModernAdvisor uses are:
XIC- iShares Core S&P/TSX Capped Composite Index ETF
XEN- iShares Jantzi Social Index ETF
VUS- Vanguard US Total Market ETF (Canadian dollar hedged)
DSI- iShares MSCI KLD 400 Social ETF
VEF- Non-North American Developed Market ETF (Canadian dollar hedged)
VEE- Vanguard Emerging Markets ETF
VSB- Vanguard Canadian Short-Term Bond
CLF- iShares 1-5 Year Laddered Government Bond Index ETF (no corporate bonds, only government bonds, the socially responsible alternative to VSB)
ZEF- BMO Emerging Markets Bond (Canadian Index hedged), invests in bonds from countries such as South Korea, Russia, Mexico and Indonesia
VRE- Vanguard Canadian Capped REITs Index ETF (Real Estate Investment Trusts)- the interesting thing here is that they have very low assets under management, only $94 million. ModernAdvisor states that they use this particular ETF because it is the least costly one available.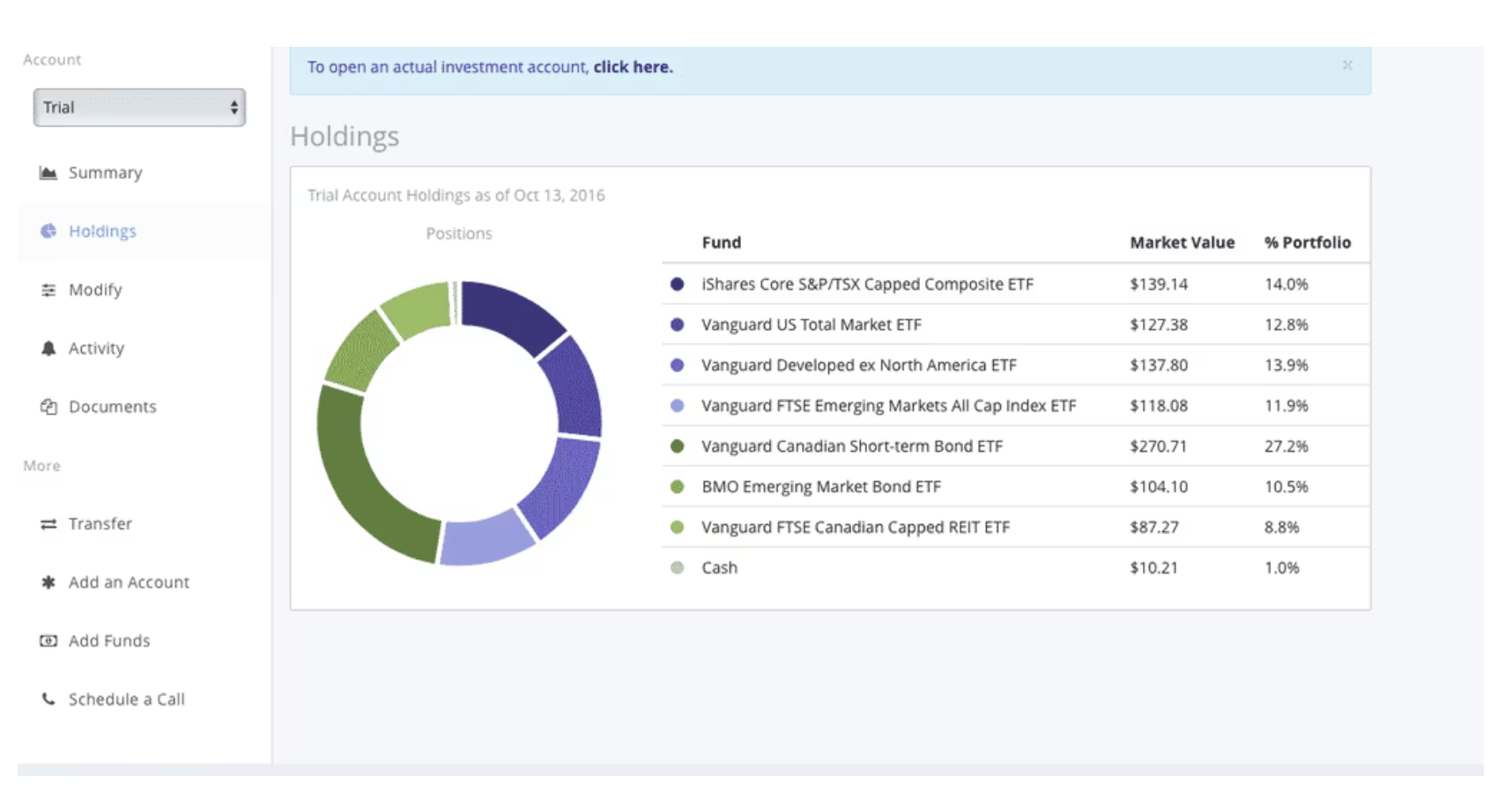 There you have, a comprehensive summary on the low down of ModernAdvisor and a glimpse of what ModernAdvisor looks like when you start to you use it.
Act now! How to open a ModernAdvisor account
Just make sure you have the following information:
Your social insurance number (SIN)
Your beneficiary's SIN (if applicable
Images of the front and back of a piece of government-issued photo ID
An image of a recent bank account statement or screenshot from your online banking
Your bank account information (a cheque is the easiest method)
If you've recently tried their services, please feel free to add to our ModernAdvisor review below. The more first-hand experience the better!