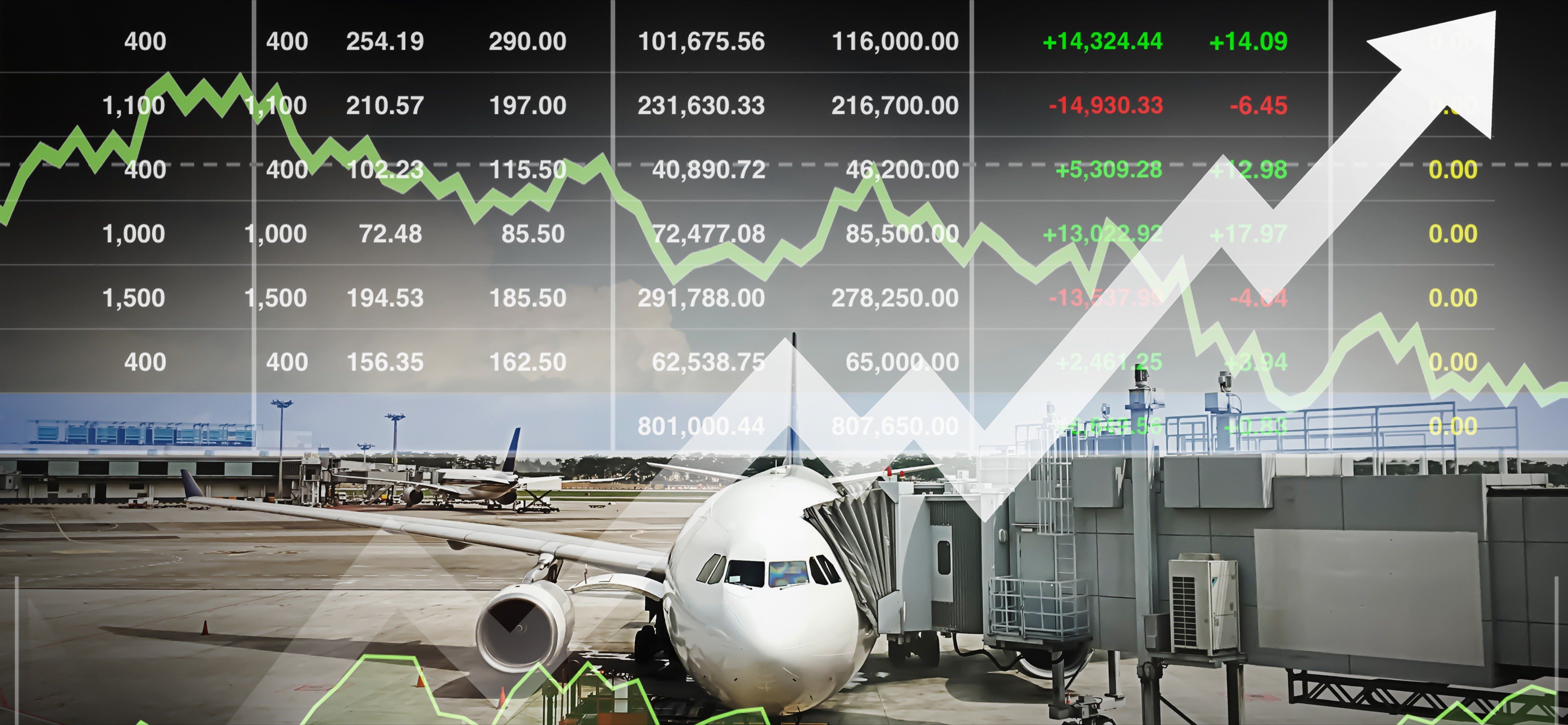 Should you buy airline stock right now?
ekapol sirachainan / Shutterstock
We adhere to strict standards of editorial integrity to help you make decisions with confidence. Please be aware that some (or all) products and services linked in this article are from our sponsors.
We adhere to strict standards of editorial integrity to help you make decisions with confidence. Please be aware this post may contain links to products from our partners. We may receive a commission for products or services you sign up for through partner links.
Airline stocks had their wings clipped during the COVID-19 pandemic, but that hasn't stopped active traders from flying in to make a quick buck. This article looks at the best airline stocks and best airline ETFs to buy right now.
As investors cope with the fallout from the coronavirus pandemic, many traders are looking to capitalize on stocks they expect to thrive in our "new normal". The aviation industry was hit particularly hard by COVID-19, but in the past few months, we've seen airlines become some of the most traded and profitable stocks on the market. If you're interested in investing in airline stocks, keep reading to learn about the best airline stocks to buy and how to invest in the best airline ETFs and stocks.
Is investing in airline stocks a good idea?
Historically, airlines have been some of the worst businesses to own. Indeed, the list of major airlines that have ceased operations or reorganized under bankruptcy protection is long. How bad has it been for airline investors? As billionaire investor Warren Buffett famously said, "If a far-sighted capitalist had been present at Kitty Hawk, he would have done his successors a huge favour by shooting Orville down."
A global pandemic further highlighted the many challenges facing the aviation industry. While global markets collapsed due to COVID-19, individual airline stocks were nearly wiped out. Canada's TSX stock market bottomed out on March 23, 2020, with a 32% drop. At the same time, Canada's top airline, Air Canada (TSX: AC), had fallen nearly 75% on the year.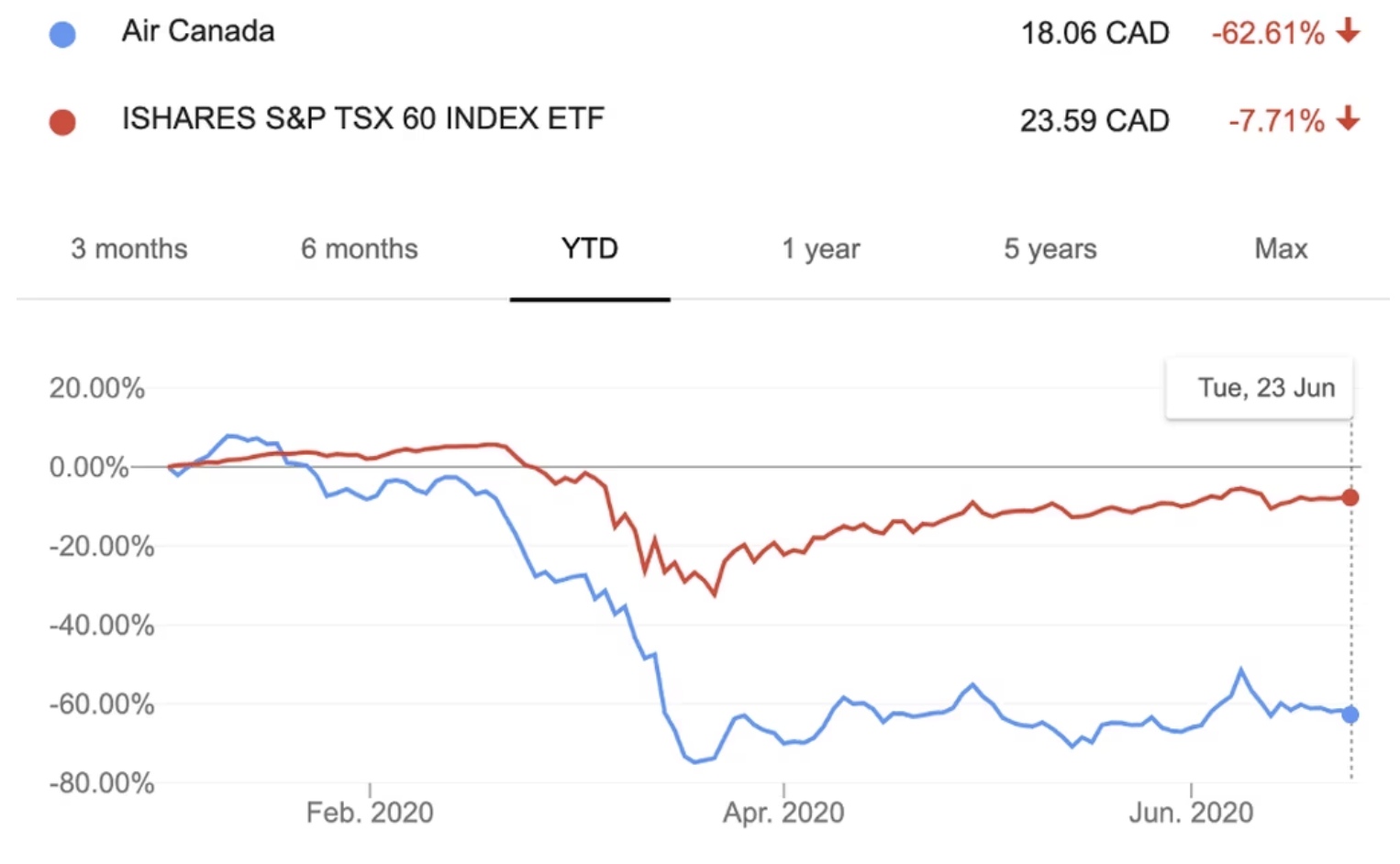 Since then, Air Canada has become one of the most widely traded stocks on the TSX and a favourite of day traders on commission-free platforms like Wealthsimple Trade account and Questrade. The resulting volatility saw Air Canada stock fluctuate between $12 and $23 per share over the last three months. Note it's still down 62% on the year.
Airline stocks have been hit just as hard south of the border with U.S. airlines plunging between 60% to 75% in value throughout the coronavirus crisis. Like Air Canada on the TSX, several airlines in the U.S. have become some of the most actively traded stocks on the market.
That list is led by American Airlines, United Airlines, and Delta Airlines – all of whose stock has seen incredible volatility in the past three months. Volatility should serve as a warning to long-term investors, but it also invites opportunities for short-term traders to profit.
Airline stocks and volatility
If airline stocks are so volatile, why would anyone buy into them? For starters, day traders are attracted to volatility like sharks are drawn to blood in the water. The daily gyrations of volatile stocks create ample opportunities for day traders to profit from a short-term surge in share prices. Volatility cuts both ways, though, and speculative investors can just as easily get burned when stock prices quickly fall.
American Airlines is easily the most actively traded airline stock in the U.S. with more than 146 million shares traded per day. In the seven trading days from May 29 – June 8, day traders had a hand in pushing American Airlines stock from $10.50 to $20.31 – an incredible 93% gain in a little more than a week. Three days later the stock had fallen by 30% – a testament to the volatile nature of individual airline stocks today.
How to invest in airline stock
The best way to invest in airlines is to own the stocks directly or to buy a single ETF that owns the stocks directly. DIY investors know that trading stocks can be expensive and that's why we recommend using one of the best online brokerages in Canada. One of our top choices is a Wealthsimple Trade account — a mobile-only app that allows clients to buy and sell stocks and ETFs for free. Coincidently, some of the most widely traded stocks on Wealthsimple Trade in March and April have been airline stocks.
We also like Questrade for the self-directed investing crowd. For over 20 years, Questrade has been the king of low-cost investing in Canada, offering free ETF purchases and stock trading for as little as $4.95.
Simply sign-up or log in to your account, and use the available stock screening tools to find the airline stocks or ETFs that you want to invest in. Later in this article, I'll share the top airline stocks, as well as some potential diamonds in the rough (sky?).
If you've never done DIY investing before, don't sweat it! Read our Comprehensive Guide on How to Buy Stock and you'll be a pro before you know it.
What is the best airline stock to buy now?
So, we know that airlines aren't the most lucrative businesses, and we've seen airline stocks fall by as much as 75% during the COVID-19 pandemic. The resulting volatility has lured investors looking to capitalize on a potential recovery or try to capture a quick profit on a short-term or daily surge.
Should you join the day trading crowd and start investing in airline stocks? And if so, what are some of the best airline stocks to buy right now? Let's take a closer look.
Company
Ticker
Share price (June 23)
Price change YTD
Air Canada
Here in Canada, the top airline and airline stock is Air Canada (TSE: AC). Before COVID-19, Air Canada had soared to new heights. In 2019, Air Canada re-acquired the Aeroplan loyalty program from Aimia, and bought Air Transat (subject to regulatory approval), sending its share price to a record high of $51.08.
As the nation's top airline, Air Canada has a bit of a "too big to fail" aura, as it's in the federal government's best interests to keep the company flying high. That gives Air Canada and its shareholders a backstop not enjoyed by other airlines or even other industries.
Cargojet
Off the beaten path is Cargojet Inc. (TSE: CJT), which engages in time-sensitive overnight air cargo services and has performed exceptionally well throughout the pandemic. Indeed, Cargojet stock is up a whopping 56% on the year.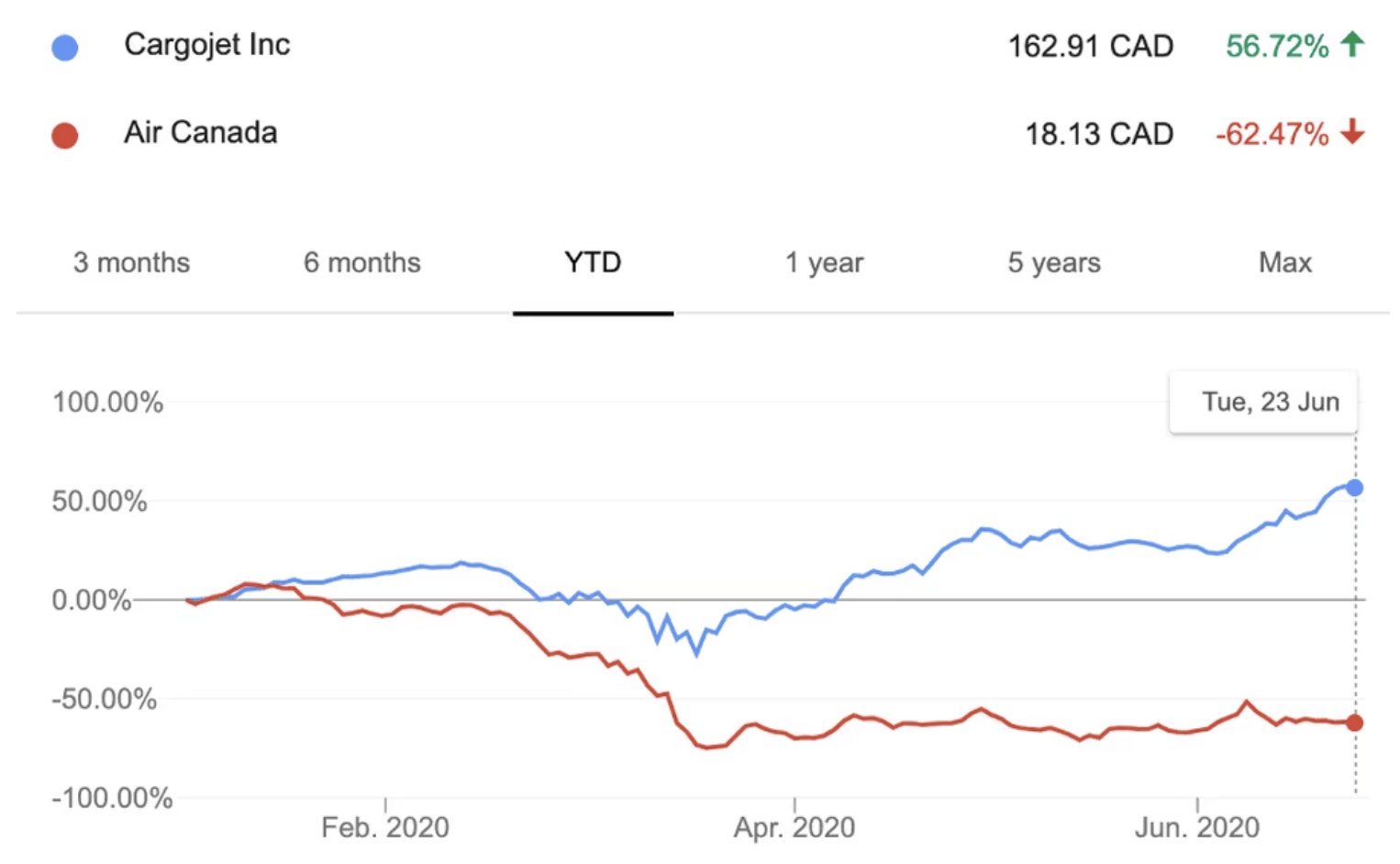 Southwest Airlines
In the U.S., while much attention is paid to the big three airlines, American, United, and Delta, the airline perhaps best equipped to weather the coronavirus storm and come out ahead is Southwest Airlines (NYSE: LUV).
Southwest had one of the strongest balance sheets coming into 2020, with more than $4 billion in cash, with comparatively little debt. Not surprisingly, Southwest stock has held up well compared to its peers – down "just" 36% on the year.
Allegiant Travel
Another airline stock off the beaten path is Las Vegas-based Allegiant Travel (NASDAQ: ALGT). It's the ninth-largest carrier in the U.S. and mainly services sunny destinations in California, Arizona, Nevada, and Florida. Allegiant's stock price has risen steadily since bottoming out at a 60% decline in March and by June 8th was down just 23% on the year.
Again, in the U.S., many airlines have the benefit of being considered "too big to fail" – or maybe more aptly deemed "too important to fail." Indeed, U.S. airlines have already received a $25 billion-dollar bailout package to help prop up the industry that has been primarily grounded thanks to the coronavirus crisis.
The best airline stock ETFs
Here's one thing to consider when trying to find the best airline stocks to buy right now: picking individual stocks is not only incredibly difficult, but it's also downright risky. Individual companies can go bankrupt for any number of reasons – including the loss of business resulting from a global pandemic.
We also know that airlines historically make terrible businesses. As a big proponent of investing through index funds and ETFs, one complaint I often hear about index investing is you're stuck with all of the bad businesses along with the good. But what if we could follow Warren Buffett's line of thinking and eliminate the bad companies – including airlines – from the index?
Enter XOUT, an ETF that explicitly seeks to remove the bottom 250 companies from the S&P 500 and only invest in the winners. XOUT will not only remove the balance-sheet-poor airlines from the ETF, but also the companies that don't meet its strict criteria for earnings, profitability, and revenue growth.
XOUT is issued by GraniteShares and comes with a management expense ratio (MER) of 0.60%.
Those of you still looking to invest in airlines but don't want to go to the trouble of selecting which airline(s) will outperform can look to an actual airline stock ETF. Fortunately, there's only one to choose from: JETS. This ETF gives investors access to the entire global airline industry, including airline operators and manufacturers from all over the world.
Is JETS ETF a good investment?
JETS is issued by U.S. Global ETFs and comes with an MER of 0.60%. It has 34 holdings, mostly in the United States, and 86% of which are individual airline stocks. The other 14% of its holdings fall into the category of transportation infrastructure, aerospace, and defence. Its top holdings include Southwest, American, Delta, and United.
A favourite of day traders, JETS has had a roller-coaster of a year in 2020 – crashing 61% by mid-March, then nearly doubling by June 8th, before falling again by 25% in just three trading days.
JETS is the exact opposite of an ETF like XOUT. It's a pure play on the recovery of our airline industry. The JETS fund fact sheet still claims that the number of air passengers is expected to double from 3.8 billion to 7.2 billion between now and 2035.
I'd bet that an investor would have better luck profiting from day trading airline stocks than they would be by holding the JETS ETF for the long term.
A better play, aside from a pure indexing approach, would be to exclude airlines altogether from your investing strategy in much the same way as XOUT tries to remove the worst stocks from its index: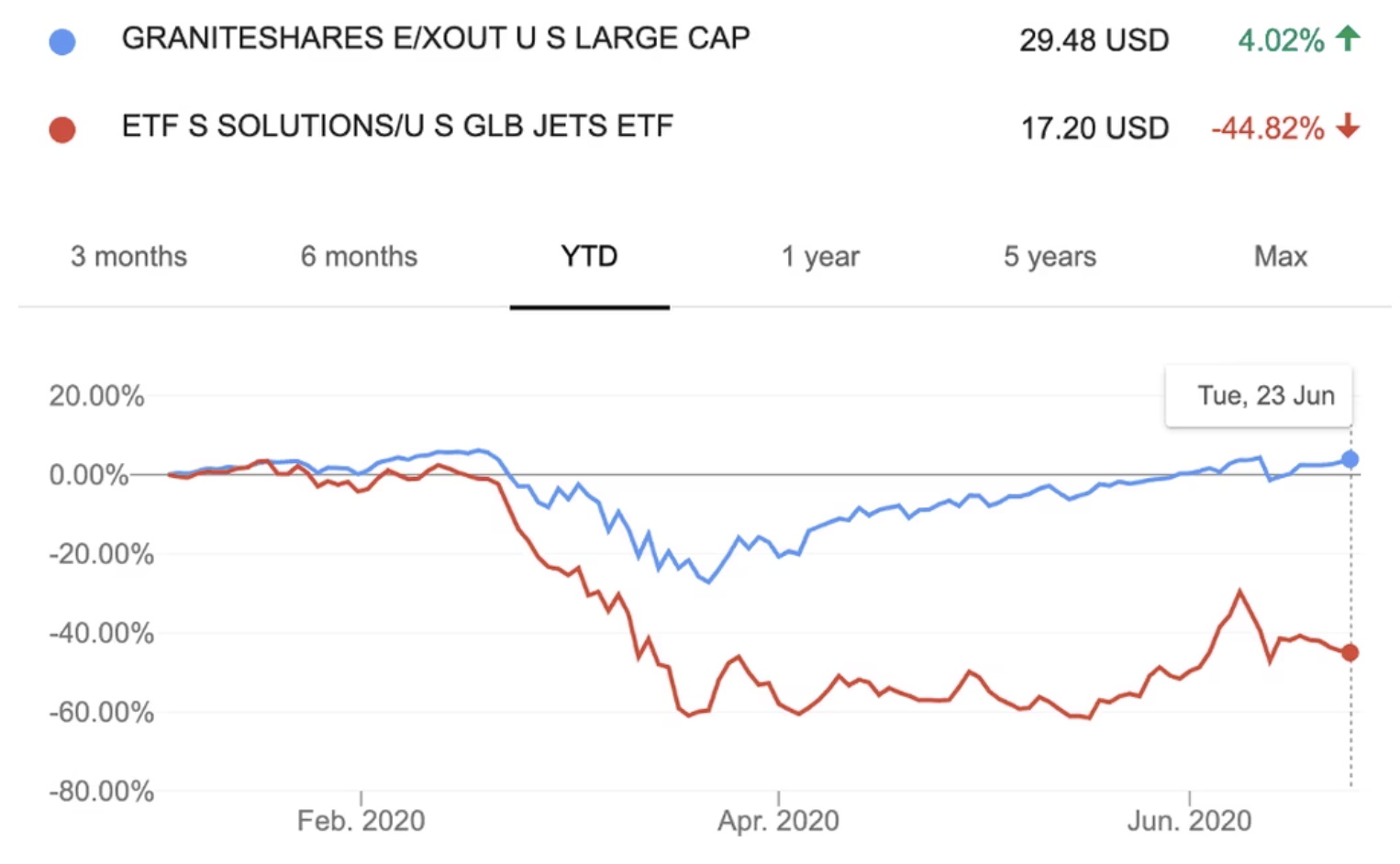 Final thoughts: Should you invest in airline stocks right now?
No doubt individual investors have been drawn to the airline industry and airline stocks in particular due to their volatile nature and massive decline. In a sense, investors see an opportunity to capitalize on an industry that governments around the world aren't going to let fail.
But as we've seen, just because there's an unspoken government backstop doesn't mean investing in airline stocks, or an airline ETF like JETS, is a good idea. In fact, it can be downright dangerous.
Should you try to profit from an eventual recovery in air travel? Only if it's money you can afford to lose. No doubt we'll see a return to some sort of new normal in the future, but I wouldn't bet on airlines or airline stocks soaring to new heights in a post-COVID world.
Not sure if airline stock is for you? There are plenty of investment options from cryptocurrency to cannabis to renewable energy. Also, check out The Best ETFs in Canada and The Best Investments in Canada. That'll help you build a balanced, diversified portfolio that suits your situation.