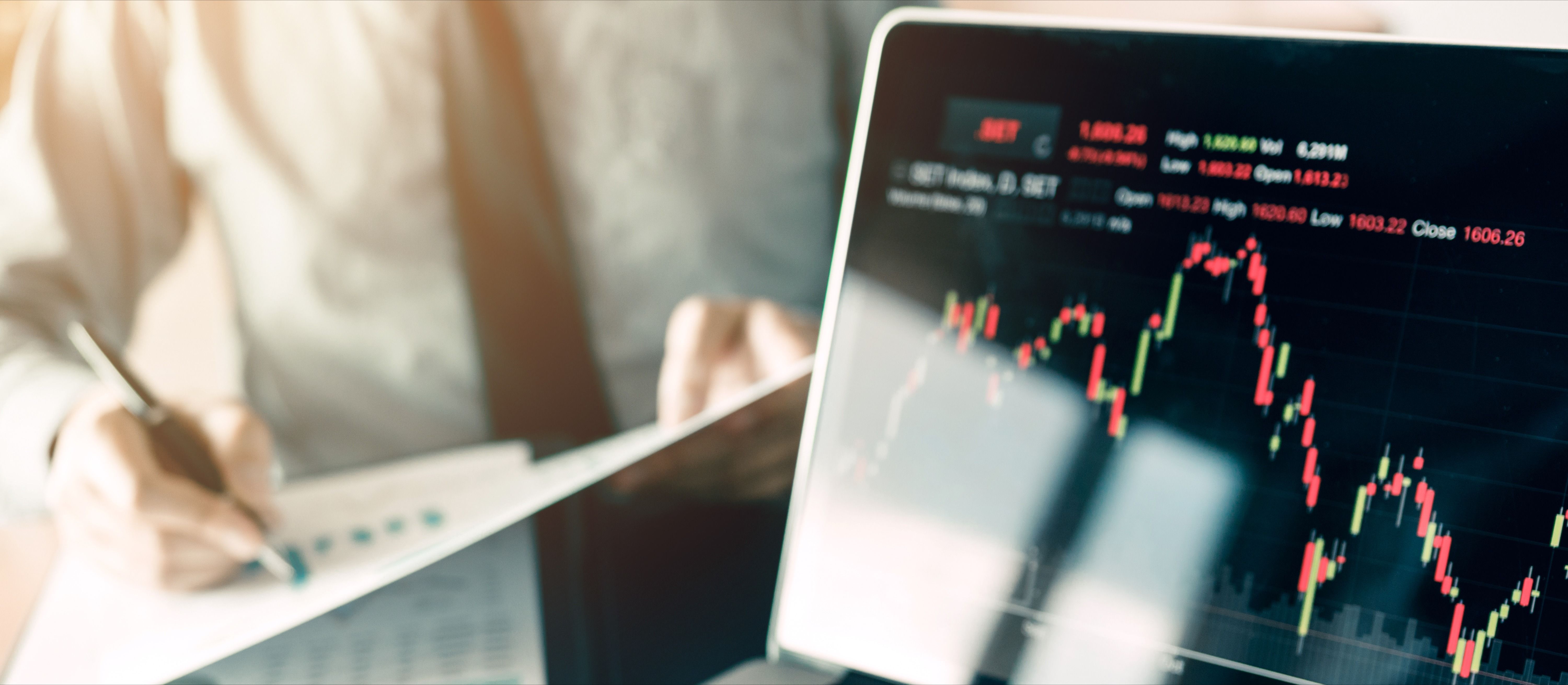 Planswell review - Canada's robo-advisor *plus
wutzkohphoto / Shutterstock
We adhere to strict standards of editorial integrity to help you make decisions with confidence. Please be aware that some (or all) products and services linked in this article are from our sponsors.
We adhere to strict standards of editorial integrity to help you make decisions with confidence. Please be aware this post may contain links to products from our partners. We may receive a commission for products or services you sign up for through partner links.
Planswell Review summary
If you're a regular reader, you've no doubt caught on to the fact that we're pretty big fans of Canada's robo-advisors. Basically, we're fans of whatever the easiest and most user-friendly ways there are to cut out the insane investing fees and escape the lie of mutual fund outperformance in Canada.
Frankly, we're also fans of the competition playing out right now on the Canadian robo scene. The more companies vying for our investment dollar, the better for us. This thriving market serves to not only keep costs down but also encourages companies to be innovative and cater to certain market niches. If you want to better understand exactly what a robo-advisor is and what it is they do, check out our feature article on robo-advisors.
Enter Planswell… who I've already angered by calling them a robo-advisor! Planswell doesn't like to be called a robo-advisor. Here's what they say about it on their site:
Are you a robo-advisor?
No, we're a financial planning company. Sure, we enable you to invest online like a robo-advisor through our relationship with Planswell Portfolios (see About Investing for details), but that's where the similarities end. The lifelong planning and guidance that we provide, along with the integration of investments, insurance and borrowing, allows you to realize infinitely more value.
Frankly, given the negative associations in most people's heads when it comes to "trusting a robot with their money" (definitely not what a robo-advisor is – but what many in the mutual fund industry are trying to label them) I don't blame Planswell from moving away from the moniker and calling themselves a "financial planning company".
So here's what Planswell is in a nutshell:
1) … a robo-advisor. The investment aspects of their business are handled by a division called "Planswell Portfolios". Technically, this is the operating name of Higgins Investment Group Inc. (a registered portfolio manager everywhere in Canada except Quebec and the territories). Planswell Portfolios takes your investment dollar and splits it up among a portfolio of low-fee ETFs that is based on index investing principles. In other words: exactly what Canada's robo-advisors do.
2) The ultimate insurance broker. I'm always of two minds when it comes to insurance. I often think Canadians don't have enough of it (or the right kind) to truly protect themselves. I also think that many Canadians have too much it (or not the right kind) to truly protect their wallets. Like mutual funds, selling insurance in Canada often comes with ridiculous incentives to recommend the right products for the seller instead of the client. So, I was a little leery when I saw Planswell state that they provided insurance services. Those fears were allayed when I looked at their online FAQ and the three areas of insurance coverage that they highlighted were disability, term-life, and critical illness. These are all areas that most Canadians need help in, and are solid recommendations in general. Comparing insurance offers from across Canada means you're going to get a great deal on this critically overlooked aspect of personal finance.
3) The ultimate mortgage broker. Most Canadians shop for their mortgage the following way:
"Hello bank that I've always been with – I'd like to buy a house."
"Hello customer number 245687, we'd love to help you buy as big a house as possible, here is this thing called a mortgage and our mortgage rate."
"Thank you bank that I will always do business with – I will take your offer."
5 years later…
"Hello customer number 245687, you need to renew your mortgage, just click/sign/call here to take advantage of our fantastic mortgage rate."
"Thanks for making it so easy for me BBFL (Best Bank For Life)."
What Planswell does is shop around and compare all of the best mortgage offers for you. They can explain the ins and outs of fixed vs variable rate mortgages, as well as answer any other mortgage-related questions that you might have. This will save the average Canadian homeowner a ton of money over the long haul.
You could find each of these three "verticals" (insurance, mortgages, and investing) in three separate places online currently – but as far as I'm aware, Planswell is currently the only place that offers to do all three.
Planswell review: The process
Planswell takes pride in producing a financial plan for their clients and not simply recommending an investment path. Consequently, you'll start by completing an in-depth 40-question interview that their algorithm uses to make some immediate recommendations. It's free to take this initial review – even if you never open an account with Planswell. Planswell will then follow up with a phone call and aims to get folks to review their plan every six months.
I personally went through the 40-question process a few times, and while there were a few small aspects of the recommendations that weren't ideal, I was impressed overall. The automated process never recommended that I invest if I had a high-interest debt to pay down. It was pretty good about TFSA vs RRSP questions, and generally, it got insurance right (although, it wasn't perfect in regards to understanding the coverage that I had as a teacher). I think these 40 questions would act as a great starting point for assessing your financial situation. It's much more complete than what a lot of financial advisors are passing off as a "financial plan" these days.
After going through this initial planning stage your plan will get subdivided into the verticals of "Planswell Portfolios", "Planswell Insurance Services", and "Planswell Mortgage Services". As one might expect, each of these three divisions will then handle the aspect of your finances that they are set up for. You'll be given a more in-depth investing questionnaire, and then put into an investing plan that fits your needs and resources. Your current insurance needs will be addressed with the cheapest plans possible for the coverage that you need. Finally, the Planswell mortgage team will take a look at your mortgage and crunch the numbers to see what sort of deal you're getting on that critical aspect of your finances. When you think about how much of the average Canadian's paycheque goes directly to their mortgage each month, negotiating a better deal can mean hundreds or even thousands of dollars difference each year.
The Planswell team
Planswell has: "a team of financial experts, engineers, and designers who believe financial planning should be available to everyone without the bias, jargon or fees of the traditional financial industry."
This is evident when you head to their website and interact with their 40-question introduction questionnaire. It works quickly and flawlessly – all on a superb-looking platform.
When you look at the credentials of the folks behind the scenes at Planswell, they appear to have the bases covered with credentials that include CFA, CA, CPA, PFP, CFP, CIM, LLQP, and degrees from places like UT, Western, Waterloo and Harvard in fields ranging from economics and finance to math, law, and computer science. I think it's safe to say that with decades of experience balancing out youthful energy, the team is well-positioned going forward.
How much does Planswell cost?
Planswell is unique in that it benefits from offering clients a "one-stop-shop" for most of their financial services needs. When they act as a mortgage and insurance broker for you, they will receive a small (relative to the industry average) commission on the products that you purchase.
When it comes to your investing fees, Planswell Portfolio charges the following fees (depending on the size of your account – the same setup as most robo-advisors). These fees do not include the MERs of the underlying ETFs (again, that's industry standard) and there are NO FEES for deposits, withdrawals, trades, or rebalancing, or added GST/HST.
$0 – $20,000 = FREE for one year when you click here to take advantage of our unique offer.
$0 – $99,999 (after first year) = .50%
$100,000+ = .40%
Planswell review: Types of accounts offered
Planswell offers the following types of accounts:
RRSP
Spousal RRSP
TFSA
RESP
LIRA
RRIF
Non-registered
As a portfolio manager, Planswell is subject to the same laws and protections that robo-advisors are. Read this robo article if you want a further explanation on why your money is safer with robo-advisors than with most people who label themselves "financial advisors".
You can transfer over your current accounts to Planswell with the help of their Client Success Team – and they'll even pay any penalties you incur from your current investment platform (subject to certain limits).
A peek inside Planswell: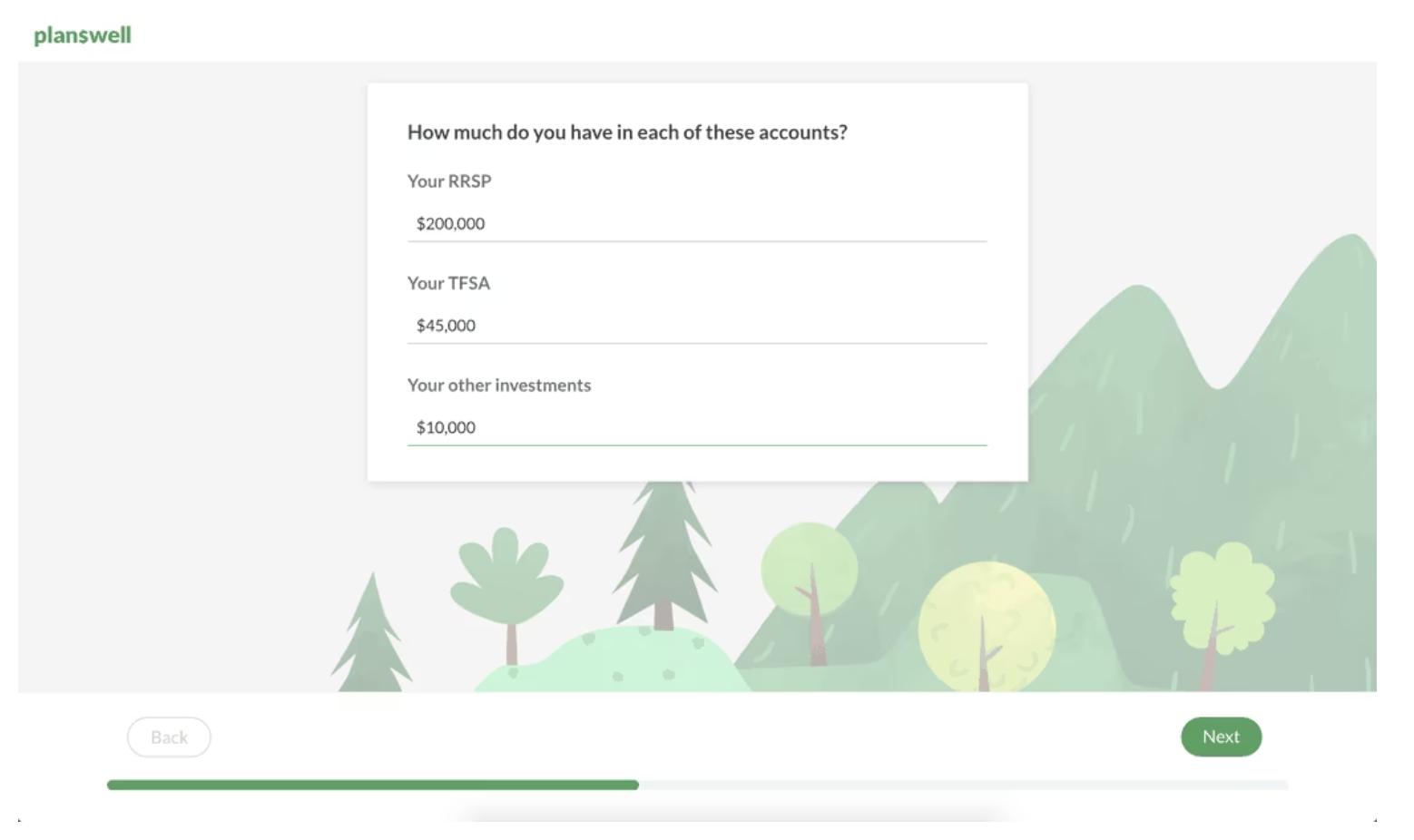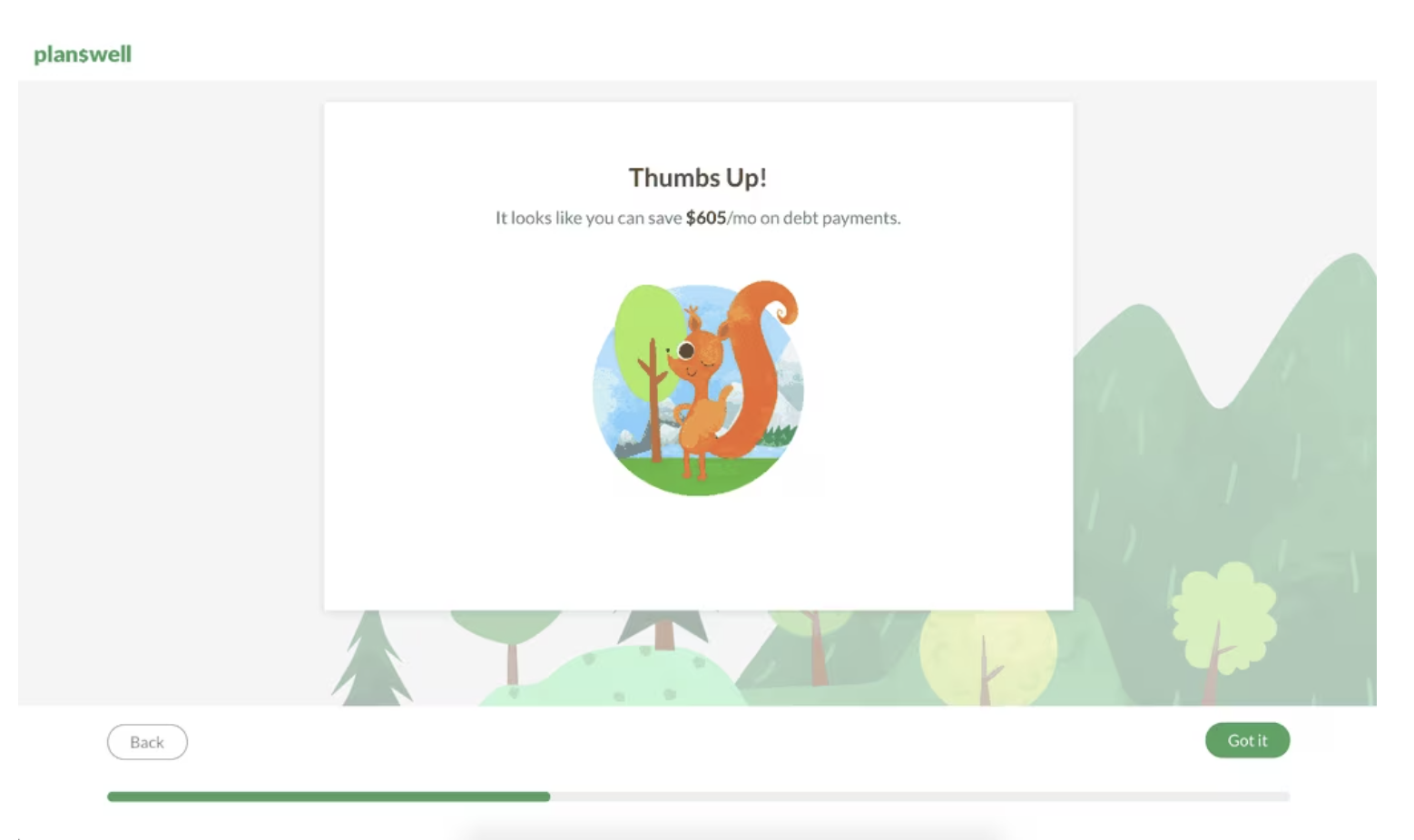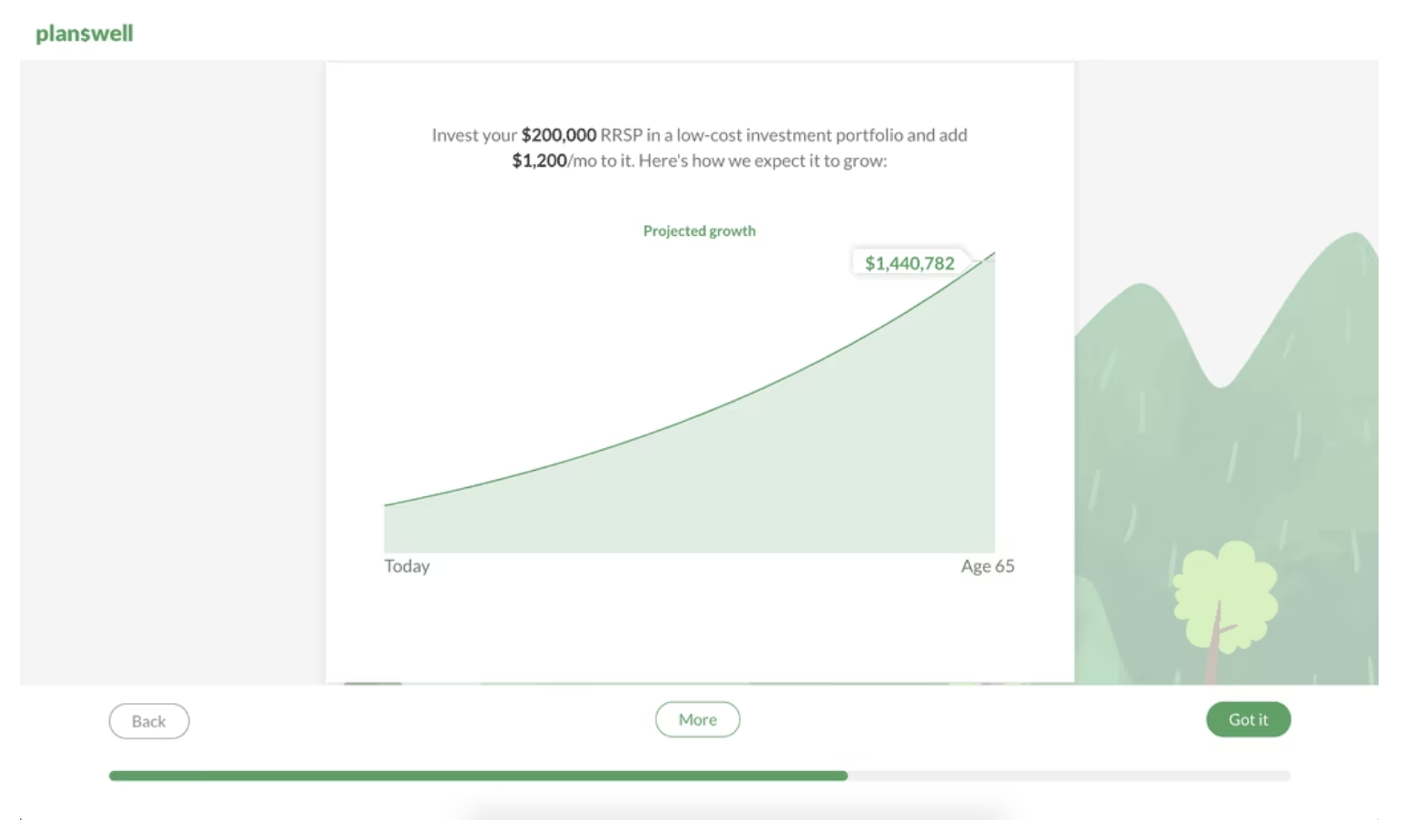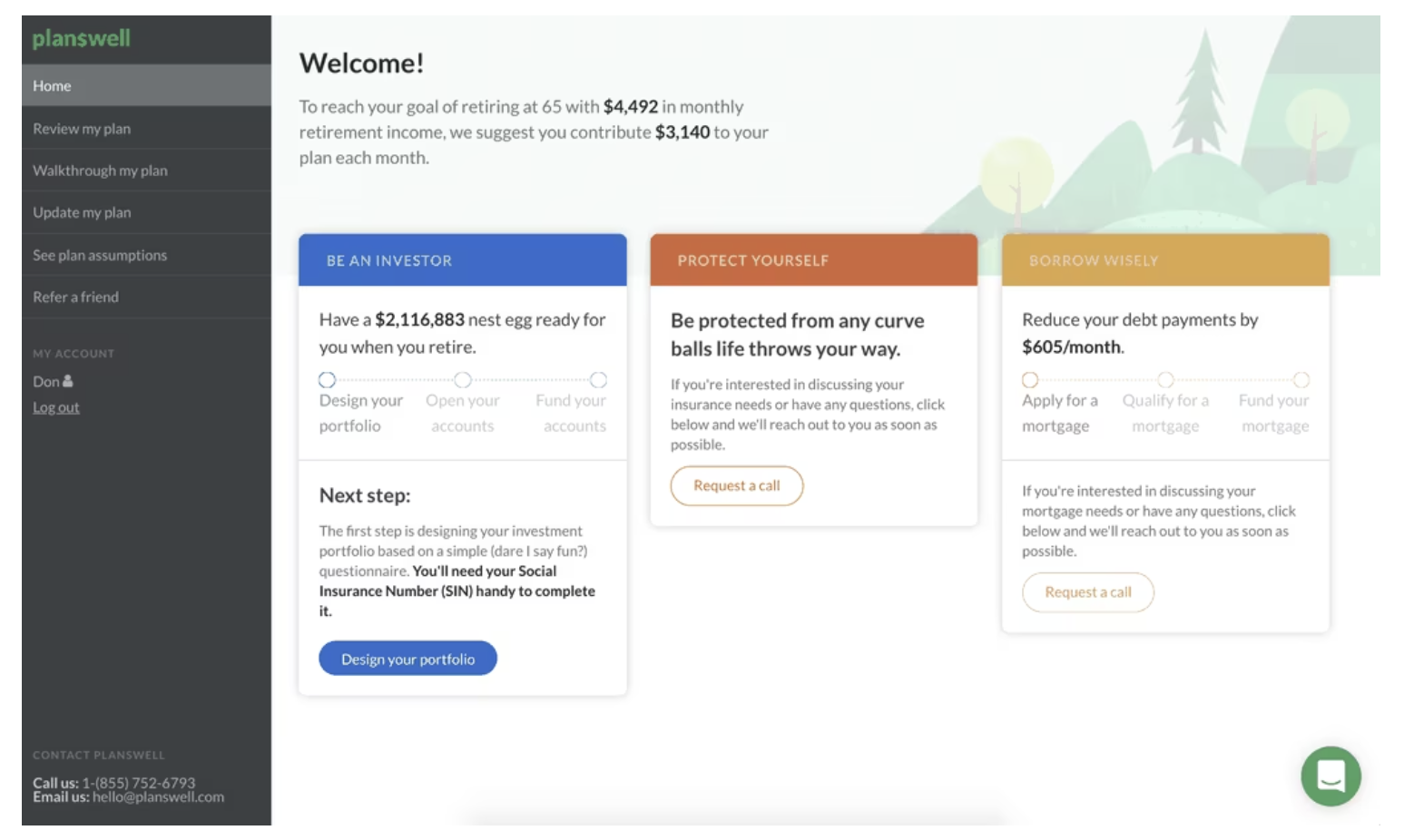 Planswell review: Recent news
Planswell was pleased to ring in 2018 with an announcement that after building more than 22,000 financial plans and securing $6.8 million in funding, they were ready to expand and help thousands more Canadians.
"We've seen that basically no one knows what they need to do on a monthly basis to maintain their lifestyle in retirement," stated Planswell CEO and co-founder Eric Arnold. "It's been amazing and we can't wait to ensure that everyone has the same opportunity to secure their financial future, regardless of their current status."
Planswell review: Final thoughts
If you want a quick plan that looks at not only your investment objectives, but also disaster-proofing your life through properly-targeted insurance, and the best possible mortgage rate, then Planswell might be the online wealth management/robo-advisor for you.
If you have any questions during the setup process, want to make changes at any point, or simply have a question that you need some help with, there are Planswell "PlanPros" ready to talk via phone or email seven days a week. If you live in Toronto and crave that face-to-face intimacy, you're welcome to check out Planswell in person (but I'm all about the quick and efficient online options myself).
Create a plan quickly, and easily check in every six months to keep yourself on track. Crossing "money stuff" off your to-do list was never so simple!