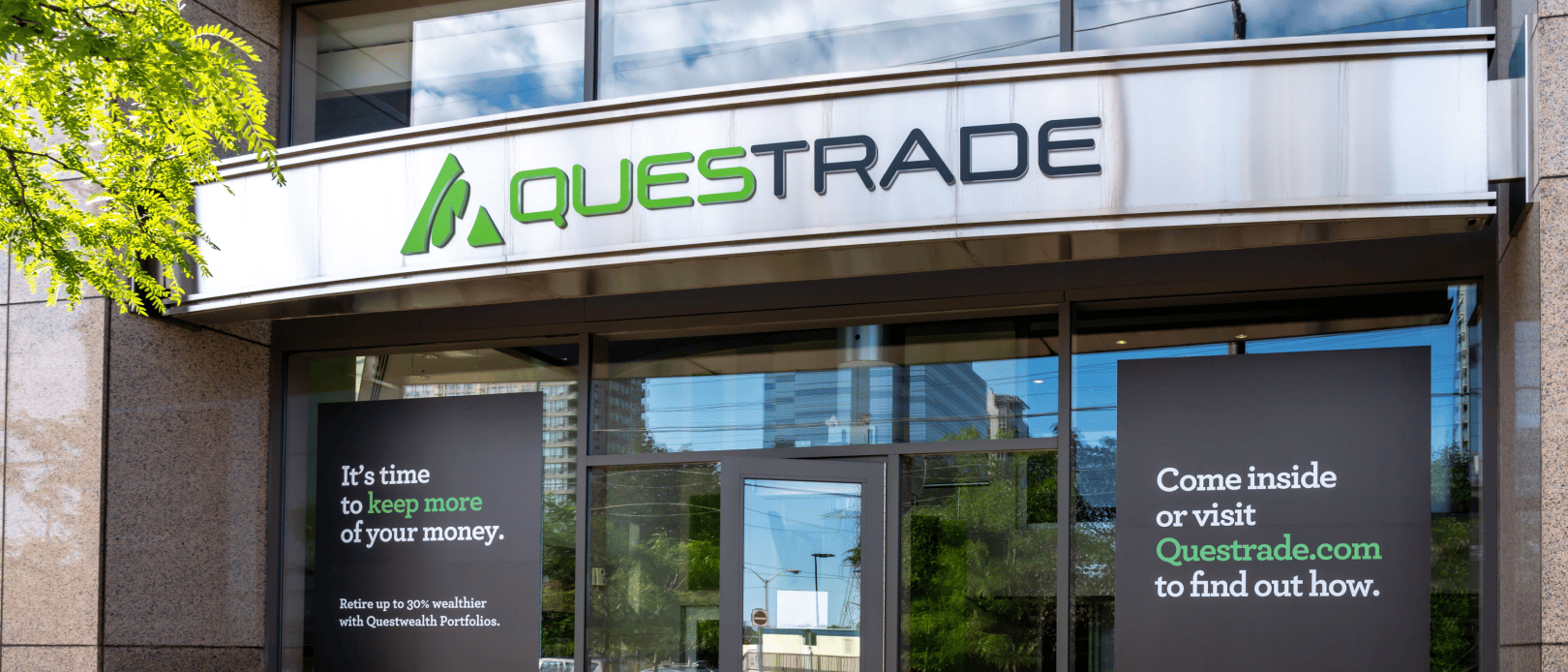 Questrade review: Canada's leading discount brokerage
JHVEPhoto / Shutterstock
🗓️
Updated: August 08, 2023
We adhere to strict standards of editorial integrity to help you make decisions with confidence. Please be aware that some (or all) products and services linked in this article are from our sponsors.
We adhere to strict standards of editorial integrity to help you make decisions with confidence. Please be aware this post may contain links to products from our partners. We may receive a commission for products or services you sign up for through partner links.
Best for:
Low trading fees
No annual fees
No Fees on ETF Purchases
Multiple trading platforms
Excellent customer service
Pays transfer fees
Solid reputation in Canada
For a discount broker that you can trust, Questrade is your best bet– Canada's largest independent online brokerage. Established in 1999 and headquartered in Toronto, Questrade has $9 billion in assets under management and has earned the title of Canada's fastest-growing online brokerage, partly thanks to its bare-bones fee structure and excellent trading platforms. Read our Questrade review for the full details on why it's the best trading platform.
You can use Questrade's investing platforms to build a portfolio from stocks, bonds, ETFs, mutual funds, even precious metals and GICs, and using these various options, build any type of portfolio.
With its low fees and ease of use, Questrade is our top pick for the best overall online brokerage in Canada.
Questrade fees
Questrade is the best way to save money on your DIY investing and the way they do that is by cutting fees. Questrade charges no annual fees, and when you start investing, you'll pay just $4.95 per trade up to a maximum of $9.95 to buy stocks, and $0 per trade to buy ETFs. This means that you can sign up for Questrade, transfer money into your account, and build an ETF portfolio all for $0.
If you're an active trader, you can also gain access to one of several market data plans that Questrade offers. For a monthly fee, you can get active trader pricing, live streaming data, and other data add-ons. This is perfect for active traders. Here are your options:
1.

Basic (Free with all accounts): This is great for novice traders, and you'll get free Canadian level 1 snap quotes, free U.S. level 1 snap quotes, and one-click real-time data.

2.

Enhanced ($19.95/month CAD): you'll get everything that comes with Basic, plus enhanced level 1 live streaming data, live streaming for Intraday Trader, and additional data add-ons. In addition, if you spend more than $48.95 in trading commissions you'll get an automatic $19.95 rebate.

3.

Advanced ($89.95/month CAD): This package is for the most active traders. You get active trader pricing unlocked, advanced Canadian level 1 and level 2 live streaming data, select U.S. level 1 live streaming data, and individual data add-ons are available. You can earn a partial rebate if you spend more than $48.95 in commissions — for this, you'll get an automatic rebate of $19.95. If you spend more than $399.95 in trading commissions, your monthly fee is automatically rebated.
If you sign up for the Advanced plan noted above, you will unlock active trader pricing. This gives you low fees on trading so you can trade as much as you want without having to worry about breaking the bank. There are two plans to choose from once you unlock this feature:
Fixed: "Great for high volume share and options trading at one low price."
Stocks: $4.95/trade
Options: $4.95 + $0.75 / contract
ETFs: Buy for free; Sell for $4.95/trade
Variable: "Great for buying a few shares of expensive companies."
Stocks: 1¢/ share (min $0.01 to max $6.95)
Options: $6.95 + $0.75 / contract
ETFs: Buy for free; Sell for 1¢/share (min $0.01 to max $6.95)
Stocks
$0.01 per share (min. $4.95 to max. $9.95 per trade)
ETFs
• No Fees on ETF Purchases • Lowest Per-Trade Costs (min. $4.95 to max $9.95)
Forex & CFDs
Spreads as low as 0.8 pips under normal market conditions
Bonds & GICS
Free with min. $5,000 purchase
Int'l equities
1% of trade value, min. $195.00 plus applicable exchange or stamp fees
IPOs & new issues
Free with min. $5,000 purchase
Pros and cons
Pros
No annual fees
Lowest trading fees in the market
No fees to purchase ETFs
Pays transfer fees
$0 inactivity fee— Questrade no longer charges a quarterly inactivity fee
Instant deposit
Cons
Need a minimum of $1,000 in your account to start investing
Questrade features
Whether you are a beginner or an experienced investor, Questrade offers a bunch of features that distinguish it from other online brokers. Getting started with Questrade is a breeze thanks to no annual fees and a minimum investment of just $1,000. Automatic deposits are easy to set up, and when you move an investment account from another brokerage, Questrade will reimburse transfer fees up to $150 per account.
RRSP, TFSA, RESP, margin accounts, LIRA, corporate, forex, CFDs
Automatic Portfolio Rebalancing
None! Questrade will reimburse transfer fees up to $150 per account
Website, app, online chat, phone
Basic "Democratic" pricing: $0.01 per share (min. $4.95 to max. $9.95 per trade); Advanced "Active Trader" pricing: A fixed-rate plan at $4.95 per trade + a variable plan at $0.01 per share, capped at $6.95 per trade.
No annual fees:
Some online brokerages charge a fee between $50-100 per year to "maintain" your RRSP or TFSA, especially for balances under $15,000. Questrade charges no annual fees and no inactivity fees. This is a perk for smaller investors since a $100 annual fee on a smaller account (say $10,000) is equal to a 1% fee – which essentially negates any savings you'd accrue by going the DIY route.
Commission-free ETFs purchases:
You can purchase ETFs for free! That means that you can transfer money into your Questrade account and build an ETF portfolio for $0. It does cost $0.01/share to sell your ETFs, with a minimum fee of $4.95 per trade to a maximum of $9.95, which you may need to do to rebalance your portfolio.
Low commission on stocks:
It's $0.01 per share, with a minimum of $4.95 and up to a maximum cap of $9.95 per trade to buy stocks. For example, if you were to purchase 100 shares, you'd pay the $4.95 base fee + $1.00, for a total cost of $5.95.
Commission free bonds and GICs:
Your portfolio will likely contain a mix of stocks along with less volatile assets like bonds and GICs. Questrade charges a spread that is built into the price of the bond and varies depending on the individual bond. There is a minimum purchase amount of $5,000 to buy bonds. Trading GICs at Questrade is commission-free, but the minimum order is $5,000 (some GICs may have higher minimums).
Excellent customer service:
Questrade offers support over the phone, through chat, or by email. The "Chat with Us" feature is especially handy, allowing clients to type and instant chat with a Questrade representative (Monday to Friday from 8:00 AM to 8:00 PM EST). They also have a searchable self-help function that provides information and support on a range of topics. Plus, Questrade recently received the 2019 DALBAR Seal for Service Excellence — a prestigious award that recognizes service leaders within the financial services industry.
Holding USD in Questrade's RRSP or TFSA:
A big bonus is you can hold USD in your registered accounts, which means you don't have to do the dreaded currency conversion if you have USD to invest. You can also convert your CAD into USD with their currency converter too to save money on foreign exchange fees. Avoiding needless currency conversion fees is another way to keep your money working for you!
Paid transfer fees:
When switching to Questrade, some financial institutions may charge you a transfer fee. Don't sweat it – Questrade will reimburse transfer fees up to $150 per account. This is a good deal considering transfer out fees can be hefty at most places.
IPO centre:
Questrade allows you to purchase Initial Public Offerings (IPOs) for FREE (no commissions) with a minimum purchase of $5,000. IPO occurs when a private company goes public (offers shares on a stock exchange) for the first time. Questrade has an IPO Centre where you can review the most recent IPOs, sign up for the IPO Bulletin, and buy IPOs by filling out an online form.
Mobile trading app:
The New Questrade Mobile App works flawlessly on smartphones and tablets and is available in the Apple App Store and Google Play stores. The app is targeted at investors who trade frequently, but it's handy to have regardless. The power to trade "on the go" means you'll never miss an investment opportunity.
Instant deposit:
You can instantly deposit up to $3500 into your Questrade account and start trading immediately. That means you'll never miss out on a trading opportunity!
Refer a friend program:
Tell your friends about Questrade and get $25 for every friend who opens an account. Get a $50 bonus for every third referral.
Other investing options:
Questwealth Portfolios: If DIY investing seems too daunting or you'd like to try Questrade's online platform without having to build your own portfolio from scratch, Questwealth Portfolios is a great way to ease into online investing. Questwealth Portfolios (previously known as Questrade Portfolio IQ) is Questrade's robo advisor. Like most robo advisors, you'll pay slightly higher fees, but you won't need to manually purchase stocks and your assets are re-balanced automatically. With Questwealth Portfolios, you'll pay fees that are a percentage of your portfolio value, ranging from 0.25% for portfolios up to $100,000 to 0.20% for larger portfolios. New customers also receive up to $10,000 managed free for a year. See our Wealthsimple review and BMO SmartFolio review for more information on Questwealth's competitors.
How do they compare?
When it comes to DIY online investing, Questrade offers very competitive pricing and beats out the competition in many areas. Compared to other discount brokerages, Questrade wins out as the lowest-cost option for DIY investors.
Broker
Cost per trade
Cost per ETF purchase
Options contract
Registered account fees
RBC
$100 per year on accounts < $15,000
Scotia iTrade
$100 per year on accounts < $25,000
TD Direct
$100 per year on accounts < $15,000
How much can you save if you go with Questrade versus the other brokerages? Let's look at an example if you are determined to buy and sell individual stocks rather than the preferred ETF investing strategy. Let's be conservative, calculating at one trade per month (and this only counts purchases, not selling):
Questrade: $4.95 x 12 = $59.40
Other brokerages: $9.95 x 12 = $119.40
$60 dollars may not seem like very much, but spread out over time and compounded, it certainly adds up.
For those using an ETF-based investing strategy, you are essentially paying zero dollars to invest with Questrade. For example, let's say you wanted to replicate the ETF-based "Assertive" Couch Potato Portfolio by holding three main ETFs in your portfolio. Every month you would add to your accounts by purchasing those three main ETFs. Since you pay $0 per trade, you are essentially paying nothing to hold those ETFs besides the MER of the ETFs themselves (about 0.15%). Alternately, choosing an actively managed mutual fund in Canada would cost you between 2-3% annually.
Why do these prices matter? Consider this: $100 minimum account fees and high trading fees will significantly eat into your overall returns, especially if you have a small account balance. So if you're a DIY investor, it's worth your while to get the cheapest option possible.
Another consideration: the most common reason to sell your ETFs is to rebalance your portfolio when one asset class becomes larger than its designated percentage. Fortunately, if your portfolio is smaller than $200,000, re-balancing is very easily done by adding funds to the ETFs that are underrepresented in your portfolio. By buying ETFs, you are taking advantage of the free ETF trades to bring your portfolio back into balance.
If you do need to sell your ETFs, you'll pay $0.01 per share, with a minimum fee of $4.95 and a maximum of $9.95.
If you're choosing between Questrade vs TD Direct, Scotia iTrade or RBC, Questrade beats the competition every time. We've looked at the best low-cost Canadian discount brokerages, by looking at Questrade's closest competitors in Questrade vs Qtrade and Questrade vs. Virtual Brokers in past years. The verdict? Questrade wins every time.
The latest challenger is Wealthsimple Trade, which is a stock-trading mobile app that offers commission-free ETFs and stocks (buy and sell). While that is certainly appealing for new investors looking to trade stocks and ETFs on the regular, when we looked at Wealthsimple Trade vs. Questrade the one major drawback we found is Wealthsimple Trade's lack of account availability – with only RRSPs, TFSAs, and non-registered accounts available at present time. Questrade is still, by far, the more robust trading platform.
A peek inside Questrade
Before you dive into Questrade yourself, here is an inside look at Questrade's platform. The screenshot below shows the watch list and the order entry to buy shares.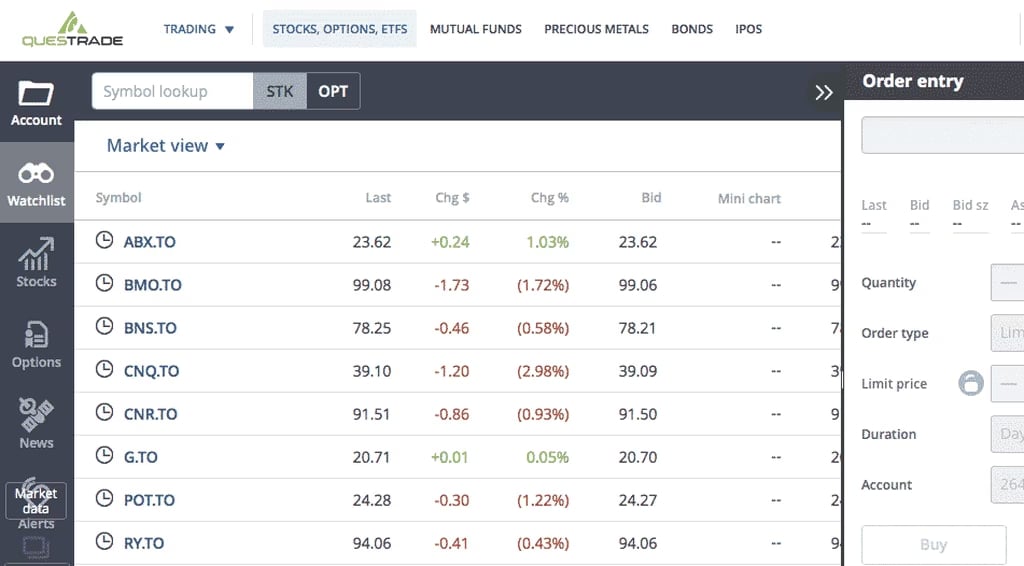 Here's another example of what a watch list might look like with the Questrade trading platform. I like the colours since the red and green help you discern/ visualize how the stocks that you are watching are doing more easily. If you're wondering what a watchlist is, the basic idea is that if you pick stocks, you might want to keep your eye on how your "targets" are doing at any specific time. This allows you to quickly pull up a screen and see if there have been any movements in the companies that you are interested in.
Here's what Questrade's investment return page looks like in the chart format, it's an easy way to analyze your portfolio's performance.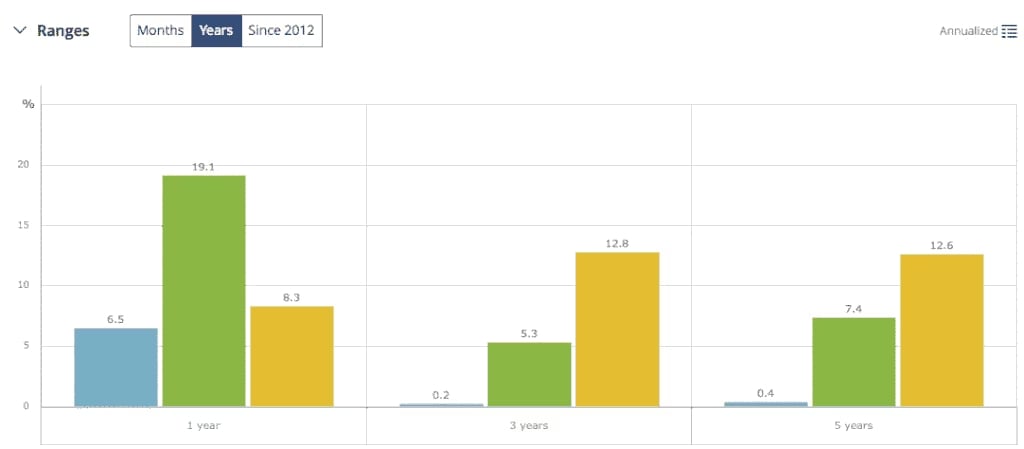 IQ Edge
Another platform that Questrade has is called IQ Edge. This platform is suitable for investors looking to trade in higher volumes (not couch potato investors) and has a darker, more intense layout. IQ Edge is much more customizable and lets you adjust the settings to accommodate your personal needs.
It also has a pre-installed option trading layout, and IQ Edge gives you the ability to make advanced trading orders, such as conditional orders and multi-leg options strategies. IQ Edge is highly customizable and created for advanced day traders (not my style).
Here's a screenshot of what IQ Edge looks like, as you can see it's much more detailed compared to the regular Questrade Platform and is complete with advanced trading tools: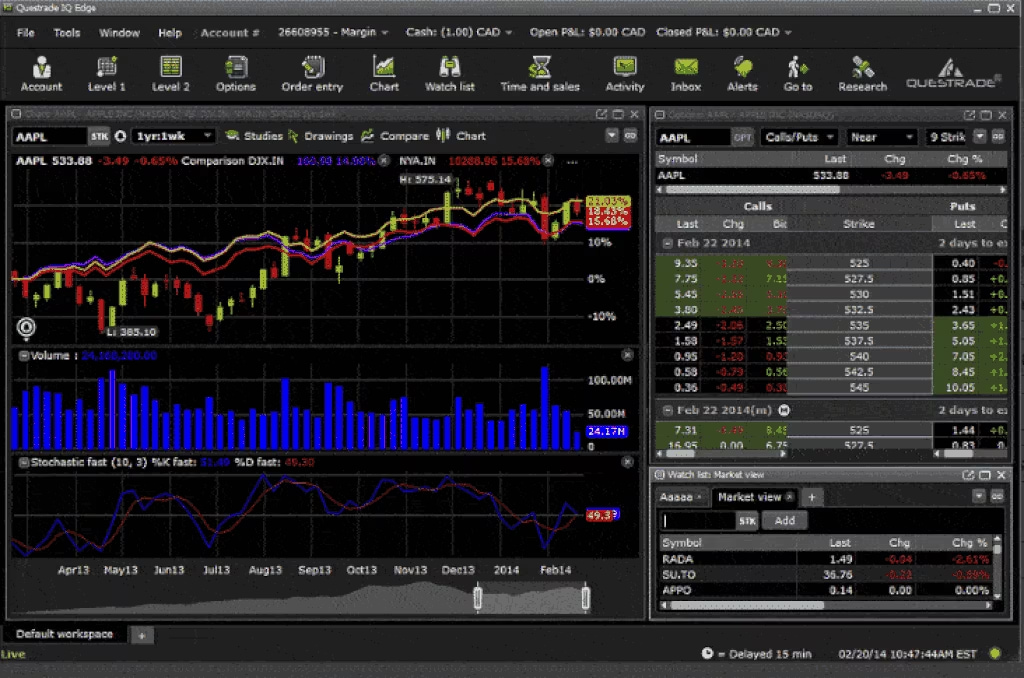 IQ Web Platform
Questrade also has a third platform to choose from called IQ Web Platform. This platform allows you to add customizable gadgets that are easily accessible when you log in. Here is a screenshot of a margin account on IQ Web.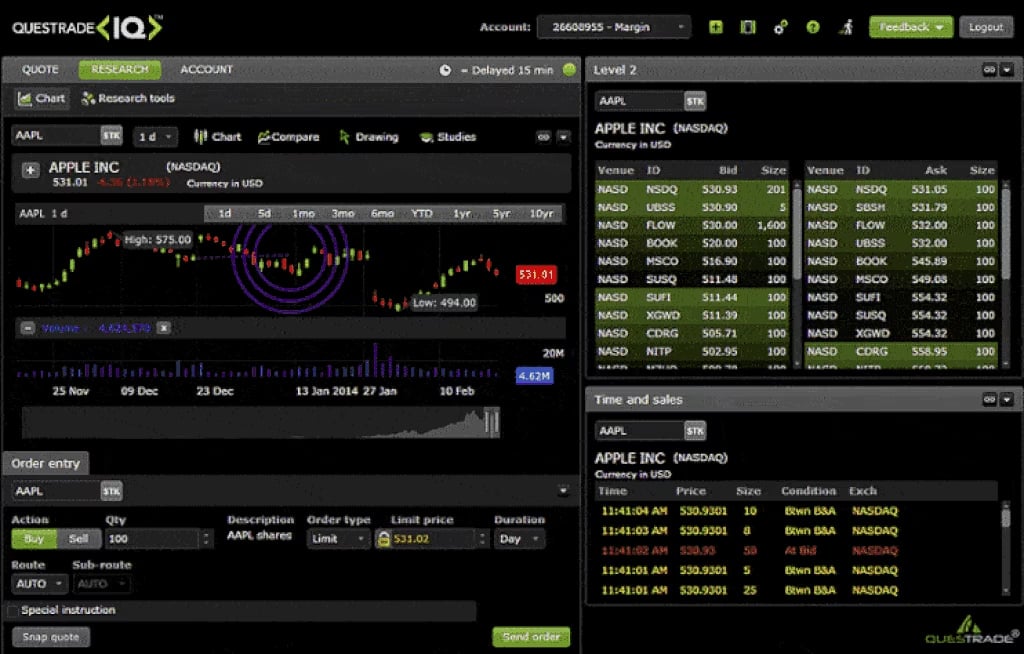 For the vast majority of DIY investors who are using ETFs to build passive investing portfolios, you won't need IQ Web or IQ Edge. Just stick to the basic trading platform, and you'll be just fine.
Questrade Forex
For the more sophisticated trader, Questrade offers a platform to trade currencies, commodities, and global stock CFDs (contracts for difference). With Questrade FX Global, investors can access global markets through more than 15 international exchanges and trade over 110 currency pairs. Questrade Global mobile is available for Apple and Android devices.
You may have never heard of a stock CFD, but it works much like an ETF that tracks an index. In this case, the stock CFD tracks the performance of a stock. The advantage of CFDs is they can give you exposure to international companies at a lower cost than owning international stocks directly.
It's important to understand that trading CFDs is extremely risky and investors can lose money quickly due to the use of leverage. An estimated two-thirds of retail accounts lose money trading CFDs.
Questrade is one of the only full-service brokers that allows investors to trade forex. It offers competitive pricing with target spreads as low as 0.8 pips. The "spread" is the difference between the bid price that someone is willing to pay and the ask price that someone is willing to sell at.
Why would you want to trade forex? It's the world's largest financial market with more than $4 trillion exchanged each day. Markets are open 24 hours and have a low barrier to entry, meaning even beginner investors can get into forex trading. Trading currency pairs seems highly intuitive – we've all at some point closely monitored exchange rates such as CAD-to-USD or USD-to-EUR. If you believe one currency will rise or fall versus its trading pair then you would place a trade making that bet.
Questrade Global is packed with research tools and insights designed to keep you on top of the securities that interest you the most. Best of all, the account is free – meaning there's no annual fee, and no opening or closing fees.
The best feature Questrade offers here is its 30-day risk-free practice account, where investors get $100,000 CAD in virtual cash to try their hand at trading forex and CFDs. When you're ready to move from a practice account to the real deal, simply open either an Individual Forex & CFD account or a Joint Forex & CFD account.
With an individual account, you'll get access to global markets and can trade 24 hours a day. A joint account gives you all the advantages of an individual account, plus allows you to pool investments with a group of two or three investors for a bigger stake in the market. There's also the potential for corporate, partnership, informal and formal trusts, investment clubs, and sole proprietorship accounts.
If you're the type of investor who wants to engage in forex trading – and we're not suggesting that you are – then you should ask yourself if Questrade is the right platform for this activity. The top competitor to Questrade in the forex broker space is Interactive Brokers.
Interactive Brokers offers a similar number of currency pairs (105) along with more than 7,400 CFDs across global markets. The biggest difference between Questrade and Interactive Brokers is that while Questrade offers competitive spreads as low as 0.8%, Interactive Brokers doesn't publish its average forex spread and instead charges a trading commission of between $16 to $40 per trade. Active traders may be entitled to lower pricing based on their trading volume.
Interactive Brokers is highly rated for advanced forex traders, but the downside is there's no practice account feature to test out the platform – you're immediately thrown to the wolves to fend for yourself.
Questrade's practice account sets it apart from Interactive Brokers and will give beginners an edge to get their heads wrapped around forex trading before putting their real money on the line.
Mobile app
Questrade also has a mobile app, and it has gone through a lot of changes recently to make it easier to manage and less clunky. Their mobile app is available for both iOS and Android. You can use the app to either check on your investments or even make trades on the go.
Security: Is Questrade safe?
Questrade is as safe as any other brokerage. The company is a registered investment dealer and a member of the Investment Industry Regulatory Organization of Canada (IIROC). They're also a member of the Canadian Investor Protection Fund (CIPF), a not-for-profit insurance program. These Canadian regulatory organizations oversee Questrade's operations and ensure that they adhere to strict investment industry standards.
The company also takes your security seriously: Questrade has numerous technology and infrastructure installed to protect your money. Your account is encrypted and securely stored, and you will receive an alert if there's suspicious activity in your account. With security measures such as PIN numbers and Touch/Face ID, you can feel assured that only you can access your account. They also care about your privacy: Questrade promises to never sell, trade or share your information with anyone.
Above all, Questrade promises 100% reimbursement for any unauthorized transactions in your Questrade account that result in direct losses to you, and your account is insured for up to $10 million in the event that Questrade becomes insolvent.
Sign-up process
Signing up for Questrade is a cinch. If you're ready to sign up with Questrade, a few documents are needed. The entire process of Questrade is done online, and you'll only need the following to get going:
Your email address
Your Questrade login and password
Your full name and home address
Your social insurance number
Employment information
Your phone number
Government-issued photo ID (and the ability to either take a picture of it or scan it)
Once you've opened an account, the last step is to transfer funds from your bank into your Questrade account.
The bottom line
Questrade excels at taking the hassle out of DIY investing plus saving big on fees. With competitive pricing (especially for ETFs), $0 account fees, simple account setup, ease of use, and innovative trading platforms, Questrade is an excellent choice for Canadian investors looking to save thousands on fees. It's no wonder that Questrade is Canada's most popular online brokerage.
The basic Questrade platform is a breeze to use and accessible online and via the mobile app. It's sleek and straightforward and makes adding to your portfolio a snap. As Canada's low-cost leader, we recommend Questrade to the vast majority of Canadian DIY investors. Whether you are an index investor making only a few trades per month, or an active trader looking to pick the next hot stock, Questrade has a platform that will suit your needs.