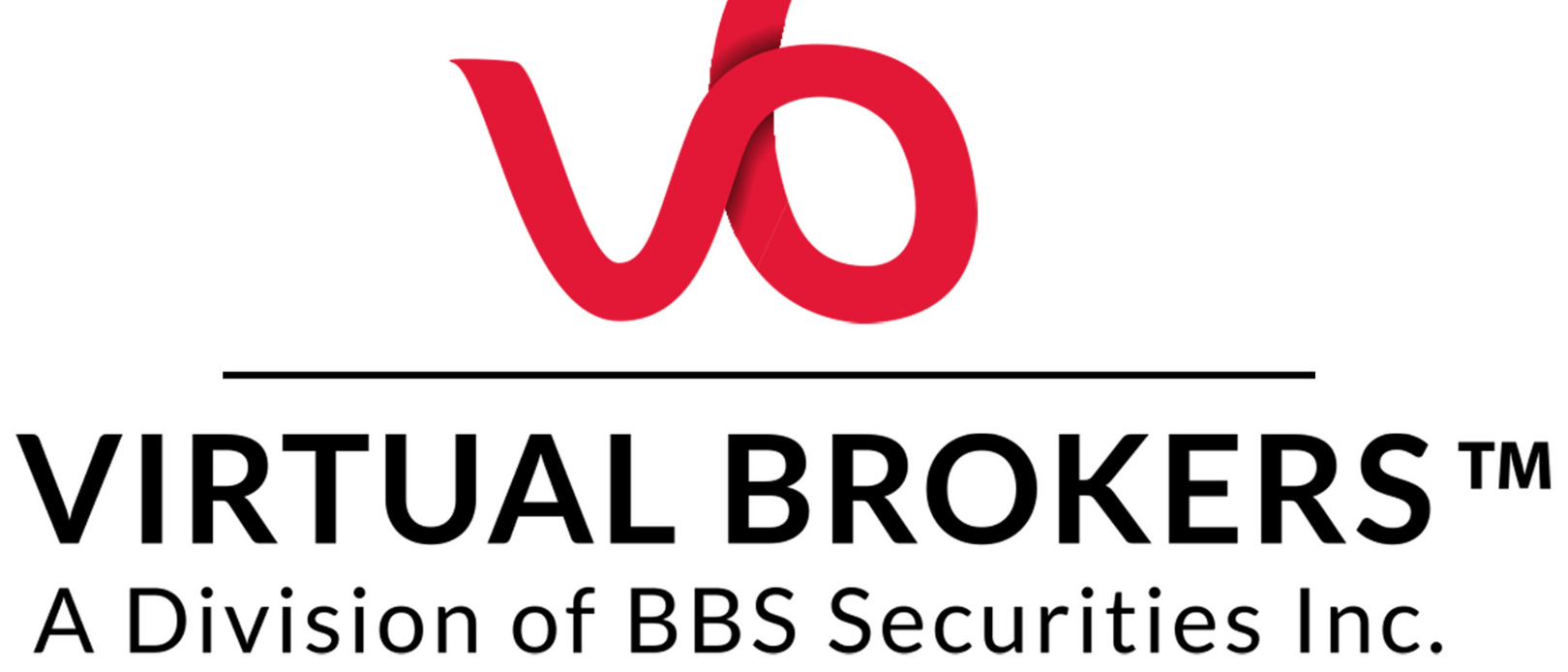 Virtual Brokers review – a leading Canadian DIY discount brokerage
Virtual Brokers / Virtual Brokers
We adhere to strict standards of editorial integrity to help you make decisions with confidence. Please be aware that some (or all) products and services linked in this article are from our sponsors.
We adhere to strict standards of editorial integrity to help you make decisions with confidence. Please be aware this post may contain links to products from our partners. We may receive a commission for products or services you sign up for through partner links.
*Virtual Brokers, now known as CI Direct Trading, has been acquired by CI Financial. The information in this review displays previous information and is not reflective of this change.
Back in 2012, a BMO InvestorLine survey showed that nearly 34% of Canadians used (or intended to use) an online discount brokerage, such as Virtual Brokers. While there were just a handful of online trading platforms available a few years ago, much has changed in the Canadian online brokerage landscape since then.
Of the 13 or so Canadian online trading and investing platforms available today, the vast majority are either directly or indirectly owned/operated by large Canadian banking institutions. In our effort to introduce our readers to the broader independently-owned non-bank affiliated Canadian discount brokerage landscape, we wrote the Ultimate Questrade Review (complete with promo offer code) on one of Canada's leading online investing and trading platforms.
Today's post takes a closer look at Virtual Brokers – another prominent Canadian online brokerage service.
Sneak peek
We'll save a more detailed discussion on what makes Virtual Brokers so compelling to Canadians for later in this post, but here's a preview of what we'll cover:
Solid foundation and a great pedigree
Multiple platforms to choose from, each with its own unique user experience to offer
Solid research tools targeting various levels of users, from novice investors and veteran traders to professional money managers and institutional investors
Competitive fees
History of value-added deals and money-saving offers
Great performance track record – recognized as best of the breed by independent industry watchers
Range of fee structures to choose from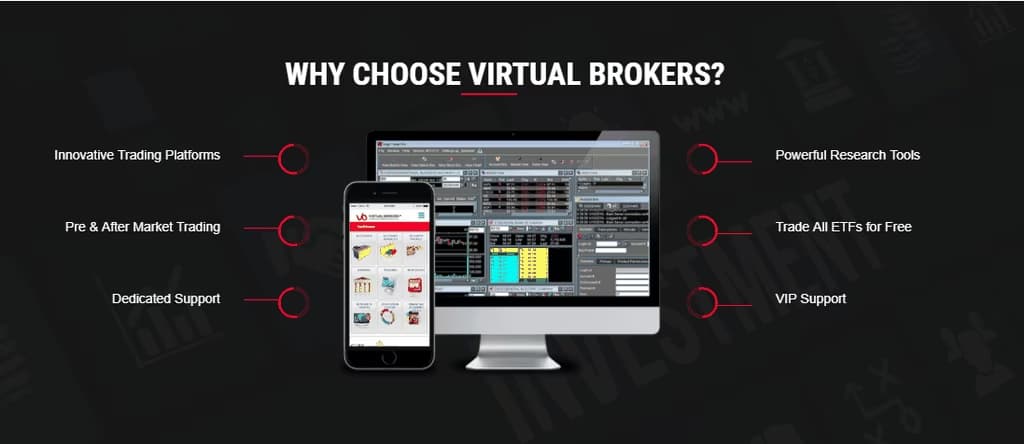 Canadians looking for a DIY way to take charge of their own finances may also find Virtual Brokers a great alternative to some of the online trading platforms offered by the Big Banks.
Solid foundations
Established in 2009, Virtual Brokers is a division of BBS Securities Inc., a wholly owned subsidiary of one of Canada's most prestigious global asset managers, CI Financial. With its ultimate parent company managing over $181 billion in global assets, no one can doubt Virtual Brokers' pedigree when it comes to investing and portfolio management.
Since its founding, the company has laid a solid foundation with many revolutionary features amongst its varied offerings, including:
"The Penny", where traders and online investors could trade stocks for just one penny a trade
The "Kick Start Investment Program" (KIP), which helped younger Canadians put their savings and investment plans on a no-fee autopilot automatic purchase program
A unique self-directed purchase plan (one of Canada's first) called the Self-Directed Dividend Purchase Plan where, unlike traditional DRIP programs, investors could choose to purchase other eligible ETFs and stocks using cash flows from dividend-paying investments
Through the years, Virtual Brokers has built a reputation as an innovative online brokerage that continues to invest in its products and technologies. While gone are the days when you could trade stocks for a penny, depending on the types of accounts held, the company still offers clients:
Commission-free equities
Buying ETFs commission-free
Free Mutual Fund trades
Clients investing and trading on the Virtual Brokers platform also enjoy peace of mind knowing that their investments are protected. As a member firm of the Canadian Investor Protection Fund (CIPF), Virtual Brokers clients have the usual maximum of $1 million in CIPF coverage applicable to their accounts. In addition, the company has acquired supplemental protection through Lloyd's of London to the tune of $10 million per account. This means that Virtual Brokers account holder is protected to the extent of $11 million.
Multiple platforms
What's great about Virtual Brokers is that it offers a wide range of trading platforms and tools that individual investors can opt for based on their requirements and level of expertise.
Clients have access to features that include live quotes, technical analysis and timely research data from trusted sources such as Morningstar, Recognia, Zack's, and 5i Research.
Your choice of a particular option may depend on whether you prefer an app (PowerTrader) or a web-based interface (VB WebTrader). If complexity is your forte, you may want to look at PowerTrader Pro to access complex options trading features. Professional traders may be more at ease with IRESS, ITS and RealTick.
Heavy on research tools
Whether you are a casual retail investor, a day trader or an institutional investor, research provides you with the best opportunity to ensure that you make informed buy, sell or hold decisions. The Virtual Brokers Research Centre offers clients at all levels some of the most extensive research at their fingertips, including:
Technical Analysis
Market Watch
Equity Research Centre
Mutual Fund Research Centre
Bond Research Centre
Preferred Share Analysis
Warranty Analysis
ETF/ETN Research Centre
Convertible Debenture Analysis
Screeners & Alerts
Financial Planning Tools
…and much more
Traders and investors needing more sophisticated research tools will find Virtual Brokers' "Advanced Portfolio Planner / Comparison" a very useful resource. Driven by research provided through Morningstar, this set of tools provides investors with a wide range of planning and portfolio tracking features.
For instance, you can track how well your existing portfolio is doing, and see how it stacks up against a range of indices or a select set of hypothetical portfolios. The tool also allows you to conduct an "X-Ray of your portfolio" against regions and geographical market sectors where your investments are concentrated.
Competitive fees
When Moneysense did its annual comparison of Canada's best online brokerages in early 2017, Virtual Brokers stacked up pretty well against some established players in the Canadian online brokerage space.
For starters, it was much easier and less costly for Canadians to maintain a Virtual Brokers account (minimum $5,000), than it is with rivals BMO, CIBC, HSBC, Scotia, National Bank and TD ($10,000 to $25,000). One can open a Virtual Brokers account with as little as $1,000, while a Commission-Free account can be opened with a minimum of $5,000.
It's true that Virtual Brokers abolished its popular "Penny-a-Trade" fee structure back in early 2016, but with basic online trading commissions costing $9.99 a trade, the company prices its trades fairly when matched against its Big-Bank rivals. At $6.95, only CIBC and Questrade rank better on a basic online commission basis. Virtual Brokers also comes out on top when compared to commissions charged under various circumstances, with active traders charged zero commissions.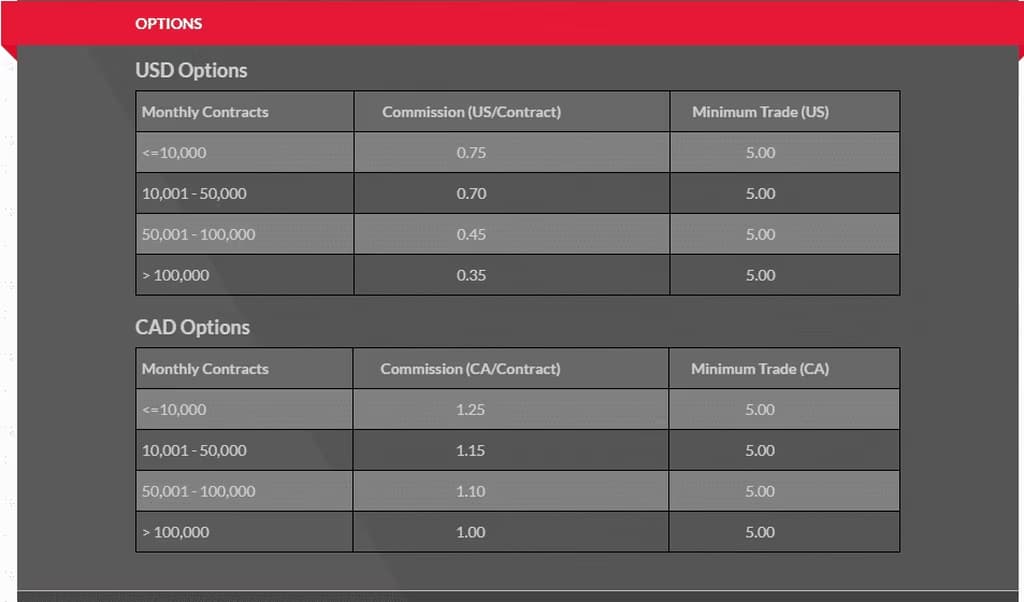 Virtual Brokers also offers reasonably-priced tiered monthly contract rate structures that could make using its platform more cost-effective for clients looking to use Options strategies (US and CAD) to power charge their trades. It is also lower priced than the new robo advisor products that have recently entered the Canadian fray, see our BMO Smartfolio review and RBC InvestEase review for more information on that comparison.
Virtual Brokers promotional offer code
Retail investing platforms usually come out with many promos throughout the year, so they can continue to attract new clients and convince existing account holders to stay. Virtual Brokers topped many of its peers with its 2017 promos:
Until recently (Sept 2017), opening a new account earned you up to 3 months of FREE trading on ETFs
Newly opened accounts receive $50 CAD cash-back every quarter in which they place 20 commissionable stock trades
New registered and non-registered accounts were eligible to receive up to $100 cash back
By signing up for their special membership offer, you would get access to 1 full year of exclusive investment research from one of Canada's most renowned independent research firms – 5i's Research
They offered a robust Cash Referral Program that earns you cashback if you refer a friend or family member to sign-up to the firm's trading platform
While most of these offers are no longer available, it goes to show the innovativeness and ingenuity of the platform provider to bring clients value-added offers.
Value for money
In early 2016, Virtual Brokers pivoted from its until-then "ultra-low-cost" image. From being a penny stock brokerage, the company implemented a $9.99 flat fee for online stock orders. According to Bardya Ziaian, the chief of the company:
I want to go beyond the notion that Virtual Brokers is a cheap way of trading…We want to add value.
While the new fee structure dropped Virtual Brokers down a notch on the cost-ranking scale, the platform still offers reasonably good value for money, depending on what investors are looking for.

As clients, you can opt from three different fee plans, which will allow you to trade a variety of products, including Equities, Options (US and Canadian), ETFs, Mutual Funds and Fixed Income products (including GICs). Depending on the fee plan you chose, and your Virtual Brokers trading platform of choice, you could tailor a very cost-effective package that gives you good value for money.
While the fees listed are general representations only, they could be impacted by the volume of your transactions as well as by ECN/Network Fees and Clearing Fees. Even then, for all of the bells and whistles that Virtual Brokers' platforms offer, it's definitely money well spent.
When the Globe and Mail awarded Virtual Brokers the top spot in its Online Brokers Survey back in 2012, they had these words to say about the then 3-year-old company:
These guys are nimble, fresh thinkers who don't play follow the leader. They aim to be the leader, and they're succeeding….
Nearly 5 years later, Virtual Brokers still holds top honours in almost every category that investors and traders value most in their online brokerage platforms. The company continues to invest heavily in its technology and platforms, and has consistently proved that it can deliver to the high expectations of its clients – even in the face of stiff competition from traditional (Banks and Insurance companies) and non-traditional (Robo Investors and Algorithmic trading tools) sources. We invite Money.ca readers to compare Virtual Brokers with Questrade in their efforts to find the best fit!
Pros and cons
Pros
No-Fee ETF purchases
Solid research tools targeting various levels of users, from novice investors and veteran traders, to professional money-managers and institutional investors
Competitive $4.95-9.95 per trade fees
Free Mutual Fund Trades
A very low minimum account balance of $1,000
Cons
Used to offer .01 trades – but has since raised its prices (still substantially lower than Big Bank fees)
$25 RESP annual fee
$15 per-quarter and per-account USD fees