What's an instalment plan and how do they work?
Instalment plans operate like a buy now, pay later (BNPL) model. This means that you earn the right to use an item before paying for it by agreeing to a fixed payment schedule, which may also include fees and interest. In Canada, instalment plans can be accessed through two different types of providers: third-party fintech companies and your credit card banking institution.
Third-party fintech companies partner with online retailers to offer their services to consumers. For example, Canadian clothing retailer Aritzia has partnered with popular BNPL company Afterpay to allow customers to pay with four payments, which are charged every two weeks at no extra cost. Afterpay benefits by earning a commission from Aritizia for every sale using their service. Other popular BNPL third-party companies include Paybright, Klarna, and Sezzle, which all have varying terms and conditions.
Credit card instalment plans work a little differently. Once an eligible purchase hits your account, your provider will offer you different payment schedules, which can range from three months to two years. Each provider will have a different cost breakdown.
The longer payment schedules typically charge more interest. Once agreed upon, the instalment plan details will be accessible via online banking and your scheduled monthly payments will be added to the minimum credit card balance due each month.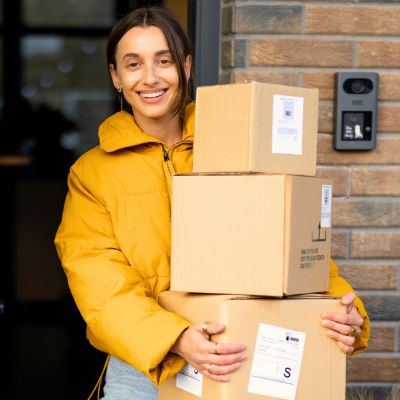 Shopping online? Let Capital One Shopping find and apply the best coupons for you. No hassle, just savings. Install now, save always.
Learn More
What Canadian banks offer instalment plans to their credit card holders?
The big five Canadian banks offer instalment plans to their credit card holders. Eligibility criteria are minimal as long as your credit card is in good standing, meaning that you have a history of paying it off on time, and you are the primary cardholder. However, some programs are currently not offering plans to Quebec residents, including TD Payment Plan.
Similarities among the different instalment plans offered by Canada's big five include a minimum purchase price of $100, flexible scheduling options, and the ability to pay off the plan in full at any time.
There are differences in the breakdown of costs, including varying fees and interest rates. For example, CIBC Pace It has a one-time installment fee of 1.5% of the purchase price for each new plan. Then there is a varying interest rate schedule of 5.99% for six months, 6.99% for 12 months, and 7.99% for 24 months.
Comparatively, TD Payment Plan offers zero interest on the initial purchase, but an increasing fee schedule of 4% for six months, 6% for 12 months, and 8% for 18 months.
What are the risks and benefits of signing up?
An instalment plan is best used for emergency expenses. In these cases, users can pay less interest on the purchase than they would with a credit card. While a credit card interest rate can be as low as 8.99%, the average is 19.99%. Instalment plans also won't affect your credit score, unless you miss a payment.
Despite these benefits, some financial experts argue that instalment plans encourage poor budgeting. Accredited financial counsellor Jessica Moorhouse sees instalment plans as a "Band-Aid fix." Although they can help consumers in a pinch, Moorhouse's view is that "they're not a solution and if you're using one of these (plans) it should be a wake-up call" that you need to take a deeper look at your budget and overall financial situation.
In a 2021 study conducted by the Financial Consumer Agency of Canada (FCAC), 39% of BNPL users said they used the service because they "couldn't afford the entire purchase right away." Instalment services should not be used to consume beyond your means or replace an emergency fund.
Moorhouse views credit cards as a tool to build your credit and earn you rewards. Any service beyond that is likely meant to profit off you instead. Although instalment plans may help fill a gap for consumers between paycheques, they shouldn't be used often and only out of necessity.
Sponsored
Automatically apply coupon codes for free - it's kinda genius
Capital One Shopping's browser add-on automatically applies coupon codes as you shop online. It also alerts you whenever there's a better deal available from another retailer. It's absolutely free – plus it takes only two clicks to install.
Add the Capital One Shopping browser extension today and start earning discounts of up to 50% on the things you already buy. Your bank account will thank you