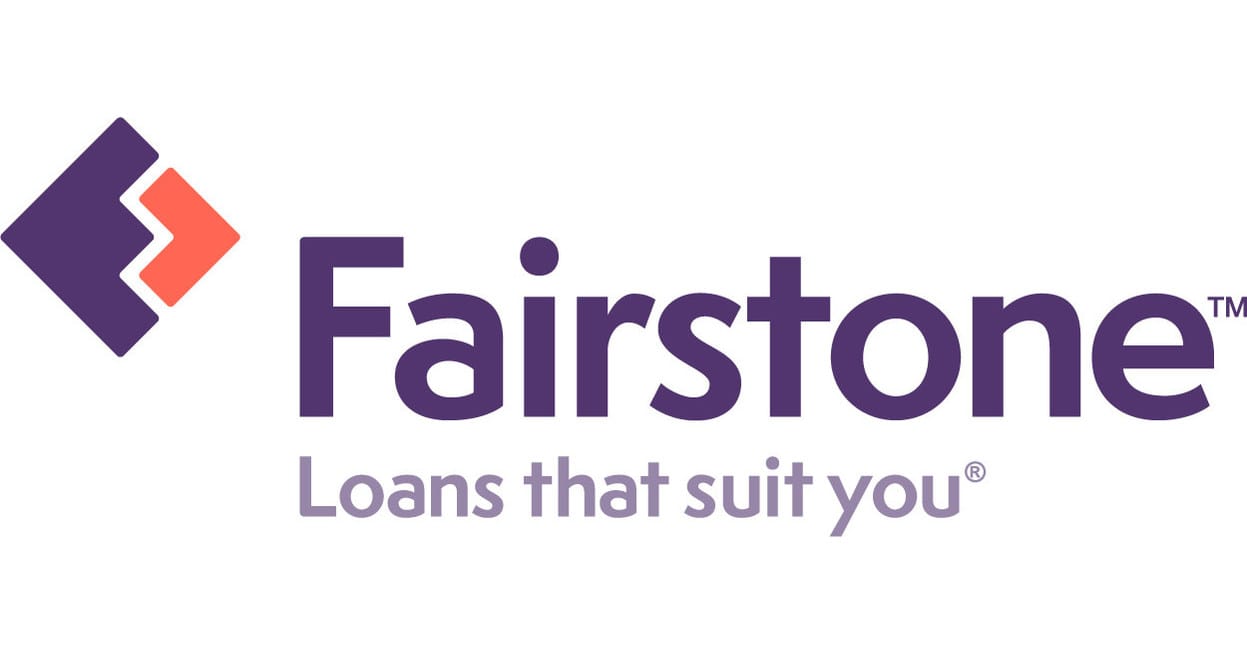 Fairstone Loans review: Get secured and unsecured personal loans
Fairstone / Fairstone
🗓️
Updated: December 01, 2023
We adhere to strict standards of editorial integrity to help you make decisions with confidence. Please be aware that some (or all) products and services linked in this article are from our sponsors.
We adhere to strict standards of editorial integrity to help you make decisions with confidence. Please be aware this post may contain links to products from our partners. We may receive a commission for products or services you sign up for through partner links.
Choosing to obtain a loan from an online lender can be a great way to access cash quickly and at an affordable interest rate. That said, if you stray too far from the biggest, most popular lenders in Canada, you may find yourself paying exorbitant fees and interest rates. To avoid landing yourself in a situation where your loan balance seems to only increase instead of decrease, it's essential to do your research and determine which lenders are right for you. To help you on this quest, here's our honest review of Fairstone, an alternative lender in Canada.
About Fairstone Loans
Fairstone calls itself an "alternative lender" and has been offering Canadians personal loans since 1923. When comparing its interest rates to both banks and payday lenders, Fairstone says that it lands somewhere in the middle of the spectrum. Fairstone is a non-bank lender and requires a fair to good credit rating to qualify for their loans. Fairstone has 235 locations across the country, or you can apply for a loan online.
Visit Fairstone Loans
Top features of Fairstone
Fairstone offers unsecured loans up to $25,000, secured loans up to $50,000, as well as two mortgage products. Personal loans are paid back over five years, and you can choose from several different payment frequencies. Fairstone lets you apply for your loan online, and offers you a loan amount and interest rate without requiring a hard credit check. You can pay your loan back early without any penalties or fees, and you can "secure" your loan with an asset to access lower interest rates.
Types of Fairstone loans
Fairstone offers three main categories of loans in Canada: personal loans, home equity loans and retail financing.
1.

Fairstone's personal loans category includes unsecured loans, secured loans and debt consolidation loans.

2.

Fairstone home equity loans use the equity in your home to secure a loan. These include simple home equity loans, second mortgages and mortgage refinancing.

3.

Fairstone's retail financing includes point-of-sale financing with partners such as Best Buy, Timber Mart, End of the Roll and several others. This type of financing from is available in store from the partner directly.
Comparing Fairstone Unsecured Loans vs Secured Loans
Unsecured loans
Secured loans
Collateral
Yes, usually a car or home
Interest rate (interest rates may vary by province)
Fees
Some (depends on your province of residence)
Fairstone unsecured loans
The first loan option offered by Fairstone is unsecured, which means Fairstone will use your credit score, income, and other details about your finances to determine whether you qualify.
Fairstone secured loans
The second option is a secured loan, which you use an asset, usually your car or your home, to secure your loan. Since an item of value backs the loan, it is less risky for Fairstone, and you'll have access to a lower interest rate.
I want to note that for all of these loans, the interest rate is high when compared with other lenders like Borrowell. The higher interest rate makes Fairstone appropriate only if you have a credit score that it too low to use more popular lenders.
Fairstone also offers mortgage refinances and second mortgage loans, but are focusing on their personal loan options.
Fairstone mortgage refinancing
Fairstone will look at your credit history, ability to pay and your home's value, along with some other features to get you access to available cash to help with home improvements or debt consolidation.
Fairstone second mortgage loans
Get a second mortgage with Fairstone and reset your finances to get closer to achieving your finance goals.
How to apply for a Fairstone loan
Applying for a Fairstone loan can be done in person at one of their 235 locations, or online. If you're choosing the online option, you'll be taken through a questionnaire that takes about 10 minutes to complete. There is no obligation to take out the loan, and it will not affect your credit score.
You'll be able to choose exactly the size of the loan you're looking for using a sliding scale.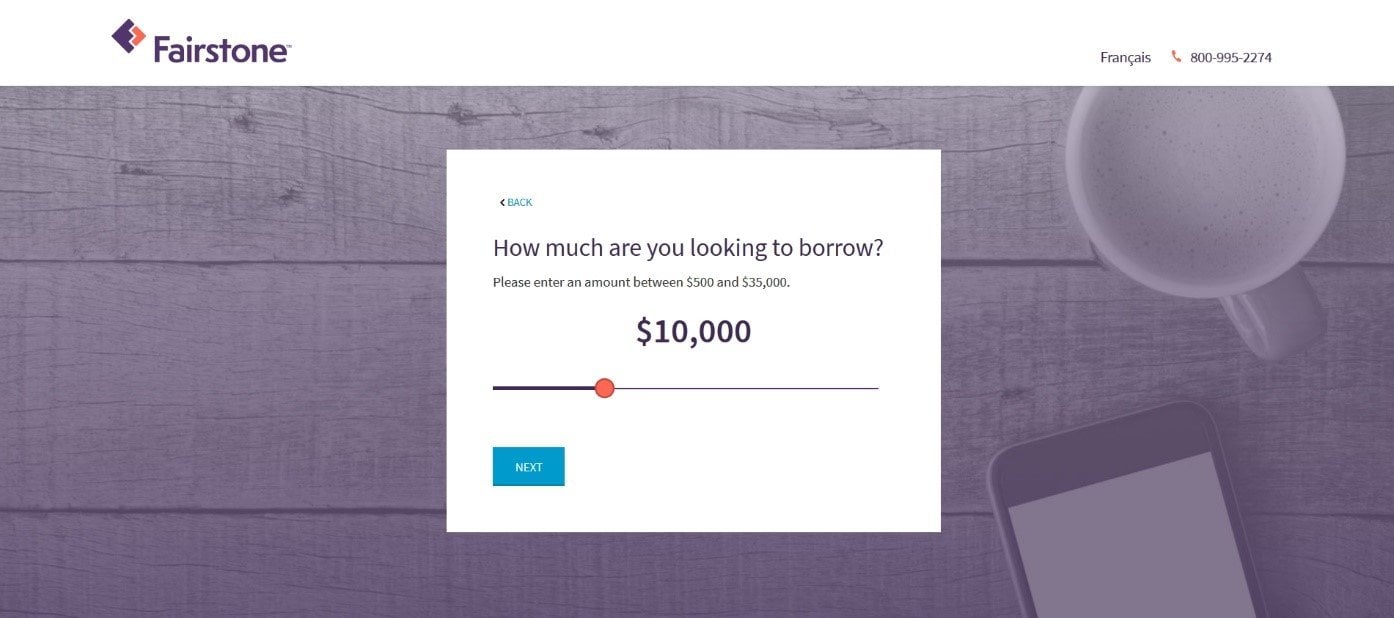 You'll also be asked for the purpose of the loan. Fairstone says they use this information to customize your loan offer.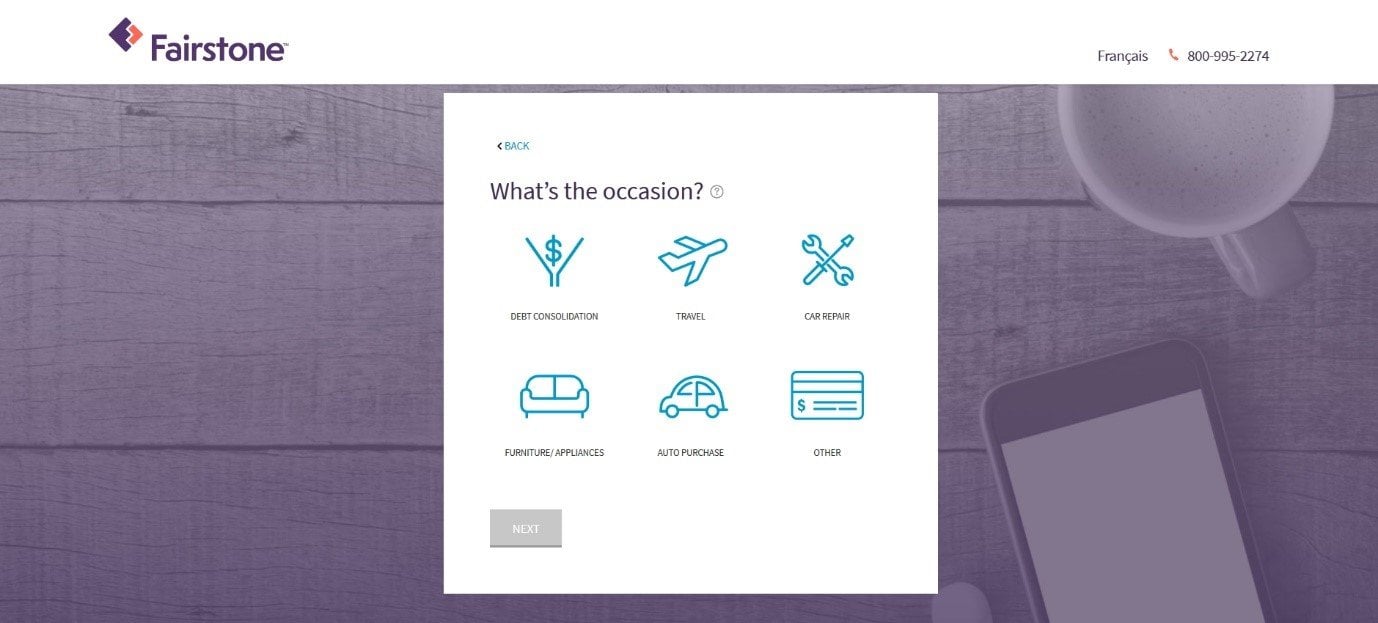 Fairstone will collect your details, including:
Your name
Your birthdate
Your address, including whether you rent or own
Your monthly housing costs
Your contact information including phone number and email
Your income
Once your application is complete, you'll review your information and submit it for approval. You'll need to permit Fairstone to check your credit score, but this is a soft check and will not lower your score.
It will take a few minutes to process your application, at which point you'll proceed to the approval page. Once you continue to the approval page, you'll see your loan offer with instructions on how to proceed if you wish to obtain a loan with Fairstone.
Personally, I applied for $10,000 but was pre-approved for $20,000. It's not uncommon for lenders to pre-approve you for a higher amount than you requested, but you shouldn't take on more debt than you need.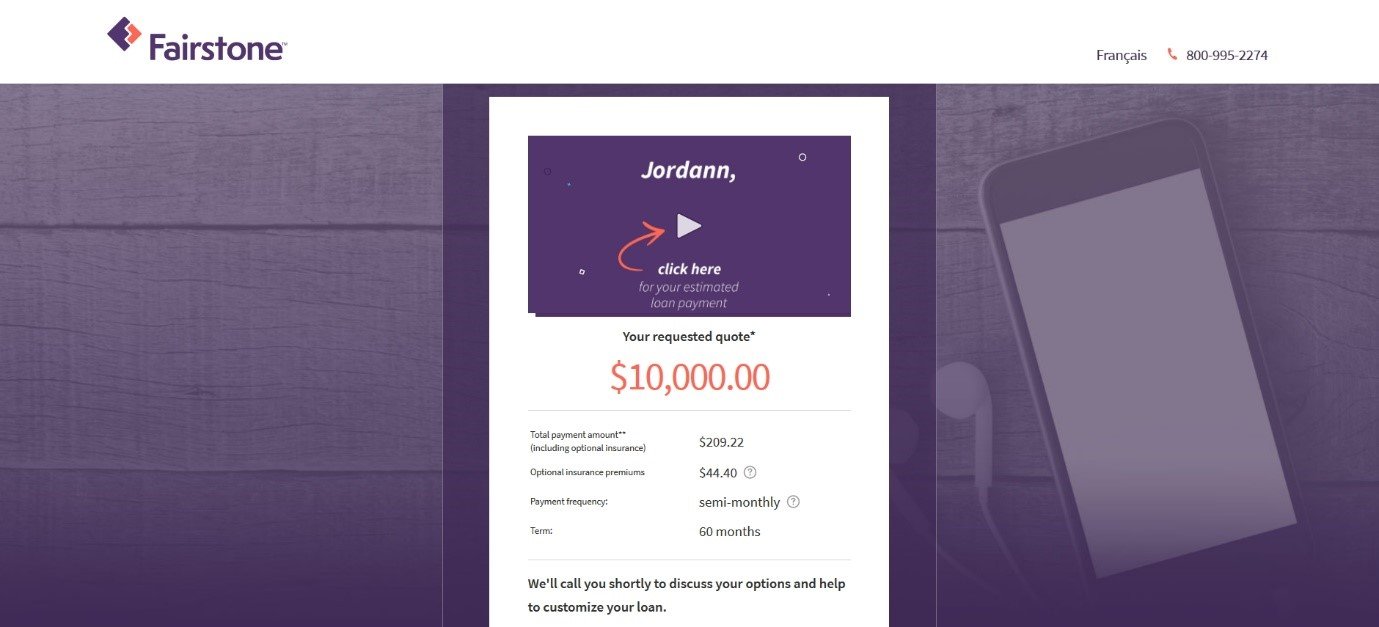 The loan I was approved for came with a bi-monthly payment of $209.22 and a loan term of 60 months, for a total monthly cost of $418.44.
It's worth noting that this quote includes the cost of optional creditor insurance products, which are indicated as $44.40 per payment. Optional creditor insurance can help customers pay off or pay down a loan in case of unforeseen job loss, disability or even death, but are not required to take out the loan.
The actual cost of borrowing would be the quoted payment less creditor insurance, which is $164.82 over a 60-month term.
Interest rates on an unsecured personal loan from Fairstone can be as high as 39.99%, but the exact interest rate you'll see varies depending on various factors, including your credit score and your province of residence. Keep in mind you can also include optional creditor insurance, which will change your monthly payment.
The table below illustrates how, according to the Fairstone personal loan calculator, your monthly payment for a 5-year, $5,000 loan can change depending on your location and credit score.
Province
Monthly payment for a fair credit score
Monthly payment for a good credit score
Monthly payment for an excellent credit score
Get started with Fairstone
What we like about Fairstone
Various loan amounts depending on your needs, including secured loans
An easy application process
Applying does not require a hard hit on your credit score
What we like less about Fairstone
A "loan quote" process that doesn't initially show the interest rate
A "1.17-star" rating with the better business bureau including 143 complaints lodged in the past 12 months
Numerous online reviews citing difficulty dealing with their customer service team
Who should get a loan with Fairstone?
If you are in dire need of cash and have been turned away by all traditional lenders, the next place you should turn is to your family for a personal loan. If this option is unavailable to you, the unused credit on your credit card is a good next step. If you still need casand you've liquidated all of your easy to access assets (investments, cash, and furniture), then perhaps Fairstone could bridge the gap until you get back on your feet.
Who should stay away?
Fairstone offers loans with higher interest rates than prime lenders like banks and credit unions and is, in their own words, somewhere between a prime lender and a payday loan. You should avoid Fairstone if:
You have good credit that gives you access to prime lenders or other online lenders
You can use low interest or balance transfer credit cards to solve your cash flow problem instead
You have friends or family from whom you can seek a personal loan
You have additional financial resources you could access like non-registered investments, RRSPs, or physical assets like furniture
The final takeaway is that, if you have exhausted your other borrowing options, Fairstone may be a good option for you. Just be sure you understand the math. We break down the numbers below.
How Fairstone compares to other lenders
We've compared Fairstone to two other lenders below to see how they stack up.
Unsecured loans (also offer lines of credit under different terms)
When it comes to personal loans in Canada, you have several strong options beyond traditional lender like banks and credit unions. Loans Canada is a popular choice, as the company has a good reputation and works with a variety of financial institutions to math you with the best lender for your situation.
If your credit score is not strong enough to qualify for a loan with a traditional lender, Mogo is another reasonable option for online personal loans. They can lend to borrowers with poor credit scores, and offer interest rates starting at a somewhat reasonable 9.9%-46.96% (via their partnership with another lender called Lendful). That said, keep in mind that interest rates at or around the lower end of this range will only be available to those with excellent credit scores; borrowers with low credit scores may be subject to Mogo's maximum interest rate. It's important to take these small fluctuations in interest rates seriously because an increase of even a few points can result in hundreds of dollars in added interest charges.
Comparing Fairstone loans
When it comes to borrowing any money, it's essential to understand the math, specifically how the interest rate and loan period affects your monthly payments and how much interest you'll pay over the life of the loan. Here are several examples of how much interest you'll pay for a $15,000 loan using the 31.99% interest rate available from Fairstone to residents of BC, with different time horizons to pay back the loan.
Loan term
1-year payback
5-year payback
10-year payback
Bottom line on Fairstone Loans
Of the many options for the best personal loans in Canada, you should only consider Fairstone as an option after exhausting all other resources. The main reason you should hesitate to choose Fairstone is that the interest rates offered by this company are very high.
Get started with Fairstone
FAQs
How do I contact Fairstone?

+

Fairstone operates 235 branches in Canada and you can call 888-995-2274 to contact the branch nearest to you or for any other customer service related inquiries. Other information can be found on their site.

How do I pay back a Fairstone loan?

+

When you obtain a loan through Fairstone, your payment will be automatically withdrawn from your account either biweekly, semi-monthly, or monthly. You can also pay back your unsecured loan ahead of schedule with no penalties or extra fees, though repaying secured loans ahead of schedule comes with a fee. To do this, you must mail a cheque or money order to Fairstone.

Does getting a Fairstone loan quote cost me anything?

+

Loan quotes at Fairstone are free and require no obligation from you, meaning, just because you got a quote does not mean you have to accept it.