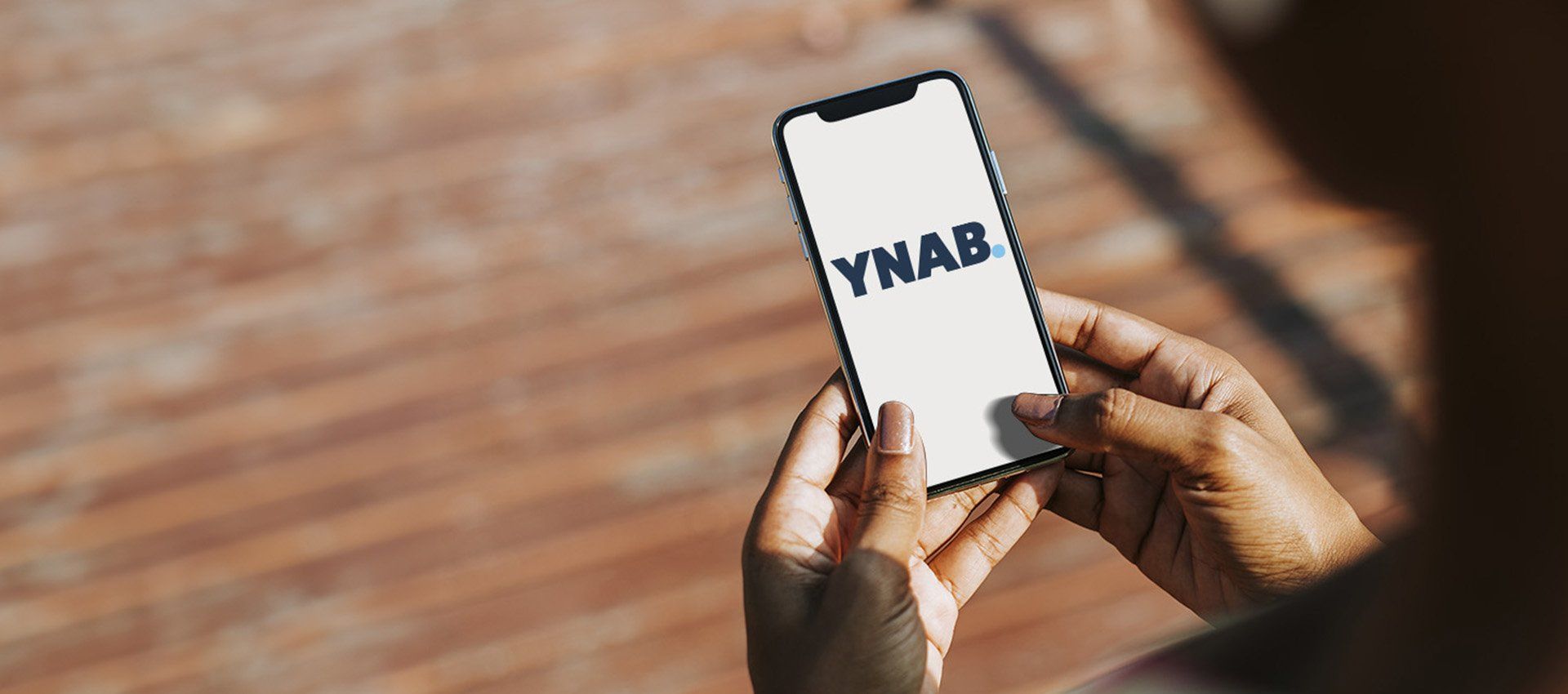 You Need a Budget (YNAB) review
🗓️
Updated: December 08, 2022
We adhere to strict standards of editorial integrity to help you make decisions with confidence. Please be aware that some (or all) products and services linked in this article are from our sponsors.
We adhere to strict standards of editorial integrity to help you make decisions with confidence. Please be aware this post may contain links to products from our partners. We may receive a commission for products or services you sign up for through partner links.
You Need A Budget, known as YNAB, is one of the most popular fee-based, money-tracking apps available for both Android and iOS.
Our review: ⭐️⭐️⭐️⭐️⭐️
Visit YNAB
YNAB monitors all your bank and investment accounts, helps you design and (more importantly) stick to a budget, tracks your spending and allows you to set financial goals like saving for a car. The overall layout of the site is unintimidating and user friendly, with easy-to-navigate budget, goal and spending sections. It can be accessed on a smartphone as well for smart personal finance on the go.
YNAB (like many budgeting apps) is centered on the principle that the easier it is to budget and know where your money's going, the easier it will be to spend and save responsibly. The app makes budgeting as automatic as possible and requires little from users aside from a bit of time and a sincere interest in improving their finances.
YNAB method
YNAB is big on getting users comfortable with money management, and positions itself as both an app and a personal finance philosophy. It accordingly refers to its product as "educational software" rather than just a financial app. The software is designed according to four rules:
Give every dollar a job: When we see money in our bank accounts, many of us tend to feel financially flush, and then we haphazardly rush out to spend in our excitement. This leads to living paycheck to paycheck, never knowing exactly where our money will go. The path to financial excellence is to have a defined plan and prioritize where you want to spend your money.
Embrace your true expenses: Budget and set money aside for expenses you know are coming (like insurance or car payments). If you plan ahead, you'll never be sent into a financial tailspin when a bill comes due.
Roll with the punches: No budget can foresee every life event and expense. Be flexible and don't be afraid to adjust your budget accordingly.
Age your money: When you begin budgeting and spending responsibly you'll start to grow your savings and you'll actually have money in the bank that's aging like a fine wine.
How it works
YNAB eases you slowly into the world of conscientious money management. A YNAB account is relatively straightforward to set up and the program provides clear instructions as it walks you through each step.
Synch (or manually import) your accounts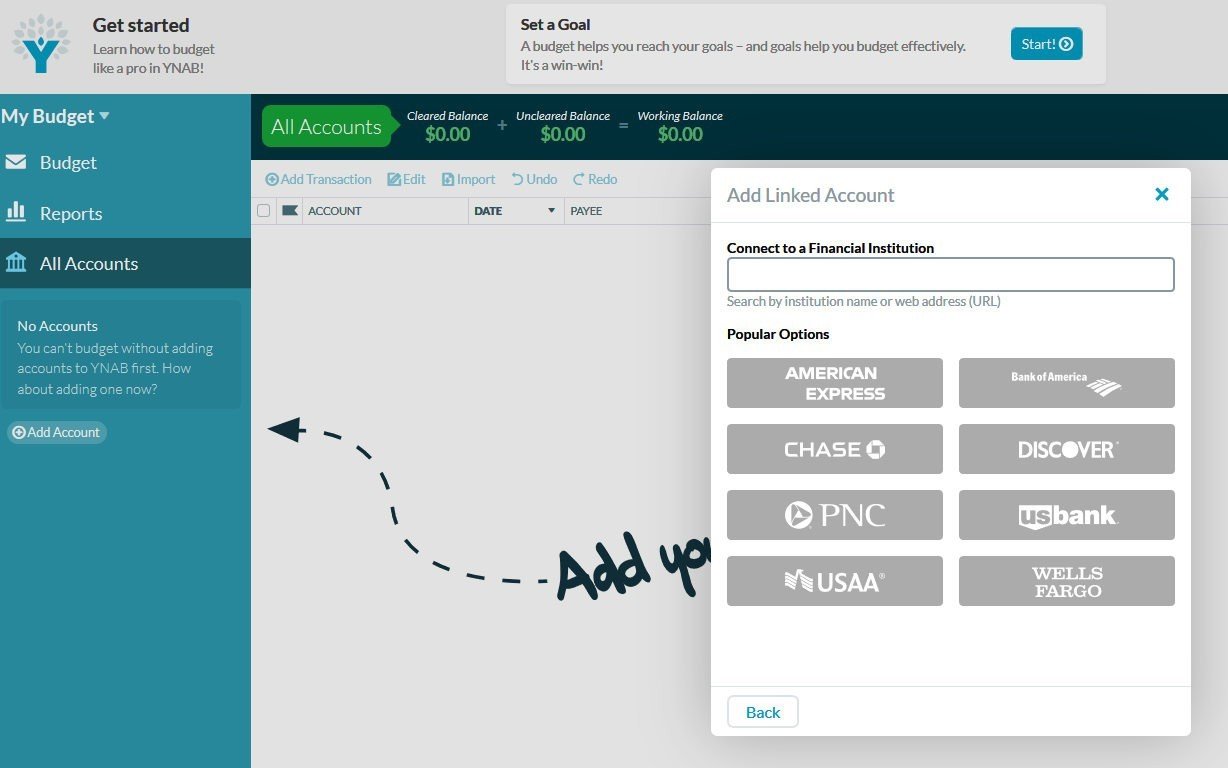 Once you download the app on your computer or smartphone, you'll immediately be asked whether you want to link your financial accounts or not. (*note that the option to have YNAB automatically synch your accounts is only available to subscribers in Canada and the US.)
If you don't feel comfortable giving an app access to all your banking and investment data and passwords, you can choose to manually upload the data yourself. While uploading the info on your own takes more time, it's the best way to proceed if you're concerned with someone hacking through YNAB's bank-level security into your accounts.
Obviously, allowing YNAB to access your accounts is the quickest way to organize your financial overview and will save you hours over the course of a year compared to those who manually input their info. Depending on how many credit cards, debit cards, bank and investment accounts you have, it can take upwards of an hour or two to enter all your initial information, but once that's done you won't have to do it again unless you open a new account.
*Caveat: YNAB can't continuously synch most investment and some TFSA accounts. It can only synch once to access your initial deposit but then you must import any future deposits/withdrawals you make. For example, I have a Wealthsimple account that when synched only showed my initial deposit from six months ago rather than my present-day investment earnings. Investment accounts don't typically have as much activity as regular bank accounts/credit cards, so this lack of functionality is not a deal breaker, at least for me.
Budget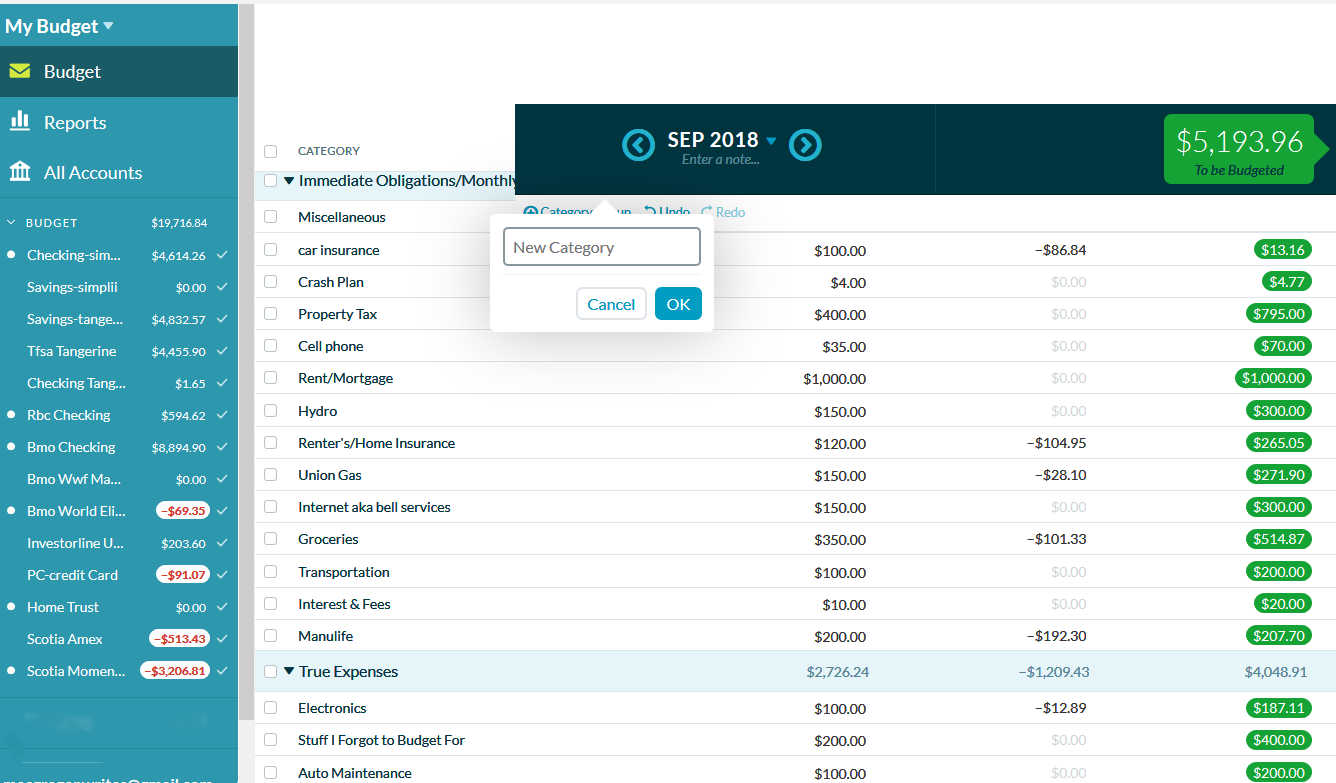 After you've linked your financial accounts, the next step is to create a budget. Like account synching, this is a long process initially as you designate budget categories and amounts, but afterwards you'll have to make very few changes to your categories.
To make things faster YNAB offers a "Quick Budget" setup where it lists the most commonly used budgeting categories. I especially like the "Forgot to Budget For" category, which gives you some flexibility when planning your monthly spending. Your income is treated like an account and it goes into a special "Inflow: To be Budgeted" category.
Track spending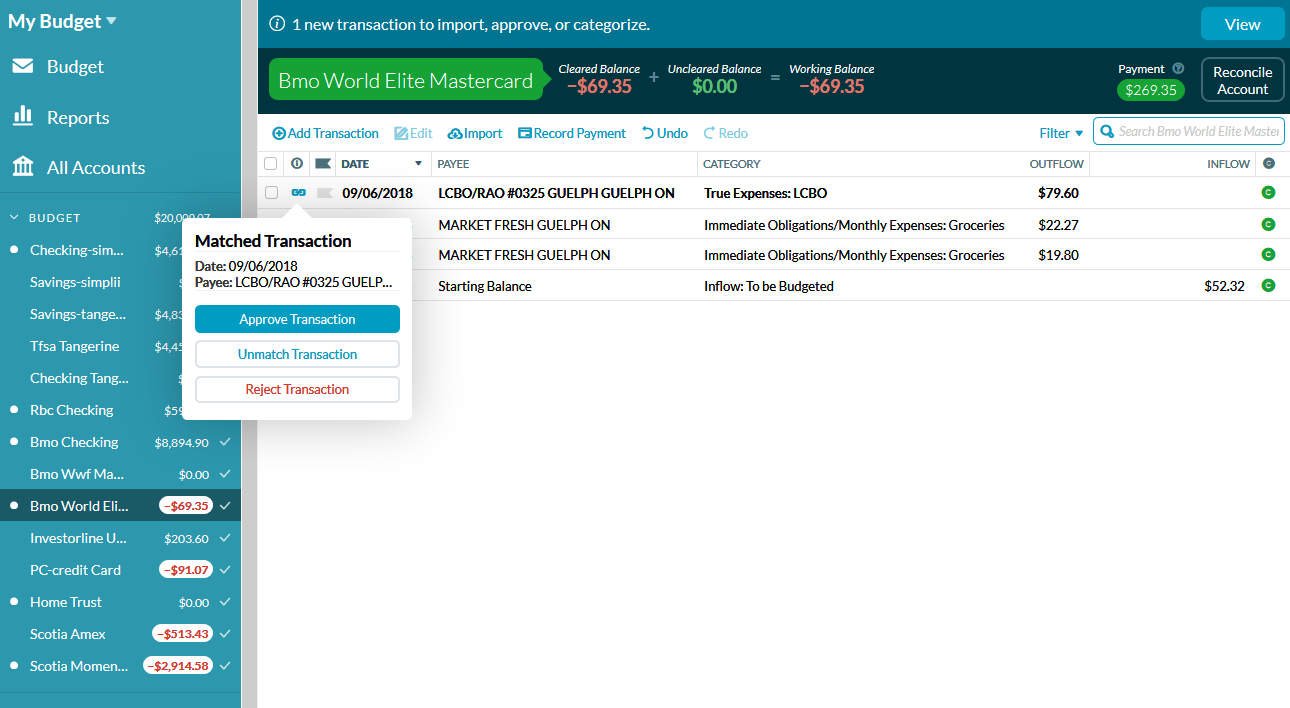 To track your spending in each category throughout the month, you'll either enter your purchases manually or YNAB will import them. If you have them imported, the app will alert you when a transaction is available for importing and all you then do is categorize it. The app then deducts your credit card purchases, cash withdrawals, and bill payment amounts from the correct budget categories that you've set.
To make things easier, YNAB lets you pre-schedule transactions (like rent) so you don't have to enter them yourself or import them every month. Reports are another nice tracking feature. Reports use charts and graphs to show your spending trends over a set period. You can also get reports of your net worth, as well as an overview of your income vs expenses.
Set goals and save
YNAB believes that setting goals is an integral part of budgeting. After all, we don't make budgets for our amusement—we make them because we have specific financial objectives. Whether your goal is to simply stop living paycheck to paycheck or to save to buy your first home, having clear intentions about why you're budgeting will help you stay on track.
To this end YNAB encourages users to set up goals for some of their budget categories. YNAB offers three types of targets for spending categories:
Target Category Balance Goal: you put money aside until you attain a desired amount with no specific timeline to reach the target.
Target Category Balance by Date Goal: the same as above but you set a deadline for saving the money.
Monthly Funding Goal: you set an amount to budget in a category each month.
And two types of targets for credit card repayment categories:
Pay Off Balance by Date Goal: you set a monthly amount to budget to pay off your credit card by a specific date.
Pay Specific Amount Each Month Goal: You put aside money each month toward your credit card debt without determining a specific date to clear the debt by.
Goals are easy to add to your financial overview. You simply click on a category and add an objective and, if desired, a date by which you want to accomplish your target. For example, for the category "Vacation" you can set a goal of saving $1,000 in six months. YNAB even puts a visual circle graph beside the category goal (in green if you're on the right track or orange if you're falling behind) so you can monitor your progress.
Support
YNAB consistently wins praise for its customer support. There's a question mark symbol (?) off to the right side of the application's user interface that users can click to search a database of helpful information. Questions can also be sent directly to YNAB representatives, who usually answer via email in less than 24 hours.
Education
Aside from using the app itself, YNAB subscribers are also granted access to tons of free videos, podcasts and live courses on a wide spectrum of personal finance topics (e.g. managing credit card spending, how to save on groceries, etc.).
Price
YNAB is one of the more expensive budget apps on the market. Its fee is advertised as US$14.99 a month (or $99 paid annually). While this may seem steep (especially when you convert the price to Canadian dollars) the website states that "On average, new budgeters save $600 by month two and more than $6,000 the first year." If that's an accurate savings estimate, then the fee seems very reasonable.
It's worth noting that YNAB offers a no-risk, 100% money-back guarantee so if you're not pleased with the app's performance you can cancel any time and get a full refund.
YNAB pros and cons
Pros
Free trial period of 34 days (no credit card required for trial)
Excellent educational resources and customer support
Automatic synch capabilities
Well-designed, user-friendly website
Nice extras like reports and goal setting
Cons
Unable to synch most investment accounts
The fee is relatively pricey
Money.ca's overall verdict
Given the level of support and educational resources subscribers are offered, I feel that the annual fee is a worthwhile investment. If you're willing to put in some time and effort, and are truly dedicated to the process of budgeting, YNAB is one of the best resources available to help you master your money.