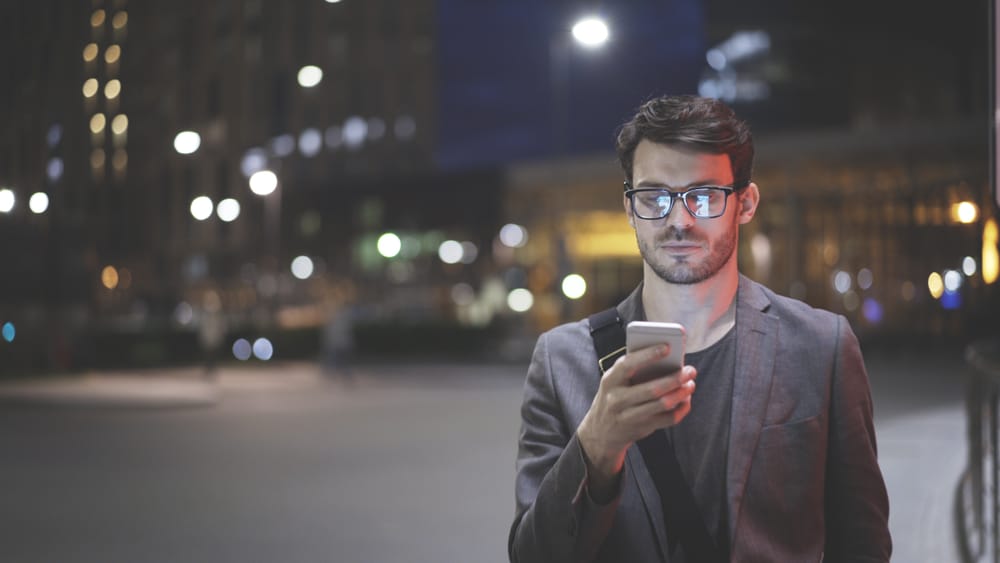 PocketSmith review - smart budgeting and personal finance software
DIProduction / Shutterstock
We adhere to strict standards of editorial integrity to help you make decisions with confidence. Please be aware that some (or all) products and services linked in this article are from our sponsors.
We adhere to strict standards of editorial integrity to help you make decisions with confidence. Please be aware this post may contain links to products from our partners. We may receive a commission for products or services you sign up for through partner links.
The FinTech community in Canada is crowded with newfangled software and apps designed to help do just about anything with your finances. Unfortunately, most of these apps only serve a single purpose (such as budgeting) and fail to consolidate all of your financial details in one place to help you plan for your future. After all, what good is staying on budget if you can't accurately forecast how quickly you'll reach your goals? Enter PocketSmith – a simple and convenient personal finance app that not only tracks your spending but also helps you plan for the financial future. It's ideal for those who want to manage their money in their own way or whose financial lives have outgrown basic budgeting apps. In this article, we put this new financial app to the test with our in-depth PocketSmith review.
About PocketSmith
Founded in 2008, PocketSmith started out as a calendar tool to help plan for upcoming income and expenses. Since its humble beginnings in New Zealand, PocketSmith has grown into a robust financial software that is now available in 191 countries.
Why is this financial app trending worldwide? The powerful forecasting features are the big draw: with its unique calendar-style interface, you can do it all with this budget forecasting app: from calculating your net worth and creating a profit/loss statement to running test financial scenarios to making financial projections. Are you planning to save for that dream trip or perhaps a new home? Or is retiring early your top priority? Find out how quickly you'll reach that goal with your current contributions and toggle your budget until you're happy with your forecast. You can schedule bills in the PocketSmith calendar view and see projected daily bank balances up to 30 years in the future!
How does PocketSmith work?
It's simple: after signing up, you connect all your financial accounts to PocketSmith. If you bank at one of the major financial institutions in Canada, odds are you're covered, as PocketSmith offers support for over 12,000 institutions worldwide. Once your accounts are linked, PocketSmith will import your historical data and real-time transactions to generate a clearer view of your financial picture. You can categorize, label, and annotate your spending any way you want, and then use PocketSmith's suite of tools to analyze and plan your financial future.
PocketSmith key features
PocketSmith is a flexible piece of software, and here are some of the stand-out features that make it such a unique product:
Forecasting: Easily the coolest feature is PocketSmith's ability to use your current financial information and trends to forecast up to 30 years in the future.
Budget Calendar: Using a Google Calendar-style view, PocketSmith lets you project future bills and plan for them appropriately.
Scenario Testing: Do you want to take a trip? Pay off your student loans? Both? PocketSmith has a scenario testing a feature that allows you to create different cash flow forecasts for various scenarios, enabling you to see how these decisions affect your finances.
Budgeting: Like any financial app worth its salt, you can use PocketSmith to manage your budget, with the ability to break it down into monthly, biweekly, or weekly views.
Net Worth: If you link all of your accounts, including your liabilities, PocketSmith will calculate your net worth and allow you to track it over time.
Income and Expenses Reports: Curious about how much you spent on Amazon.ca purchases last year? PocketSmith prepares profit and loss statements similar to business financial statements to show you where your money is going.
PocketSmith subscription cost
PocketSmith is similar to other personal budgeting apps like Mint.com and Personal Capital, but more robust. As a result, those extra features come at a cost. While other finance apps are free, PocketSmith requires a subscription to access its most useful features. There are three different subscription levels – one of which is free – which we've outlined in the table below:
Cost
$9.95/month ($7.50 when paid annually)
$19.95/month ($14.16 when paid annually)
Transaction Categorization
Best For
Casual Budgeters
Mid-Level Planners
Money Masters
You can choose to pay for your PocketSmith subscription either monthly or annually, though you do stand to save about 25% if you choose the annual option. There is no contract to sign, and you can cancel at any time.
PocketSmith pros and cons
PocketSmith is a useful tool for beginners to master budgeters who are looking for software that gives both a high-level overview of their finances and also lets them plan for monthly bills with detailed budgets. Here's what we like and don't like about the software:
✅ Flexible: add one-time expenses and income without skewing your normal budget
✅ Customizable categories in addition to standard categories
✅ Google-calendar style view lets you see upcoming bills and expenses at a glance
✅ Easy connection to 12,000 financial institutions including Mint.com
❌ Free version is limited: If you want all the features, there's a subscription cost
❌ Learning curve: It will take some time to master this app
Signing up process
Signing up for PocketSmith takes 30 seconds. First, enter your username and payment information. Once your account is created, you'll be taken to your dashboard.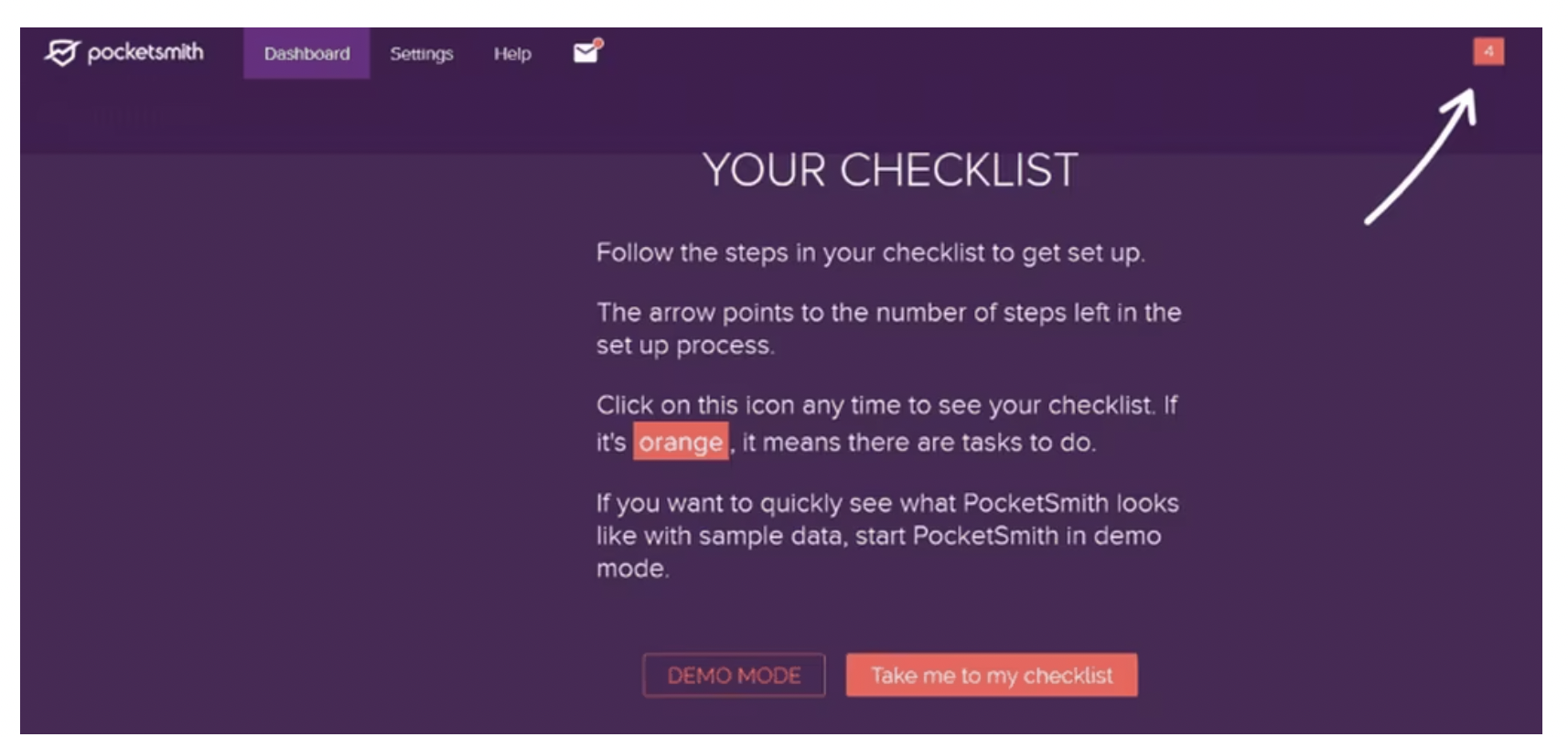 At the dashboard, you can either see a demo of the PocketSmith interface before entering your financial information or skip straight to the checklist to set up your account.
Note: Due to changes in bank feeds in Canada, users have reported that their automatic connections are unreliable and will frequently disconnect. This isn't an issue with any particular app but due to a security measure Canadian banks have put in place over the past few years. You can learn more about this here.
If you choose the demo option, you'll see the following screen: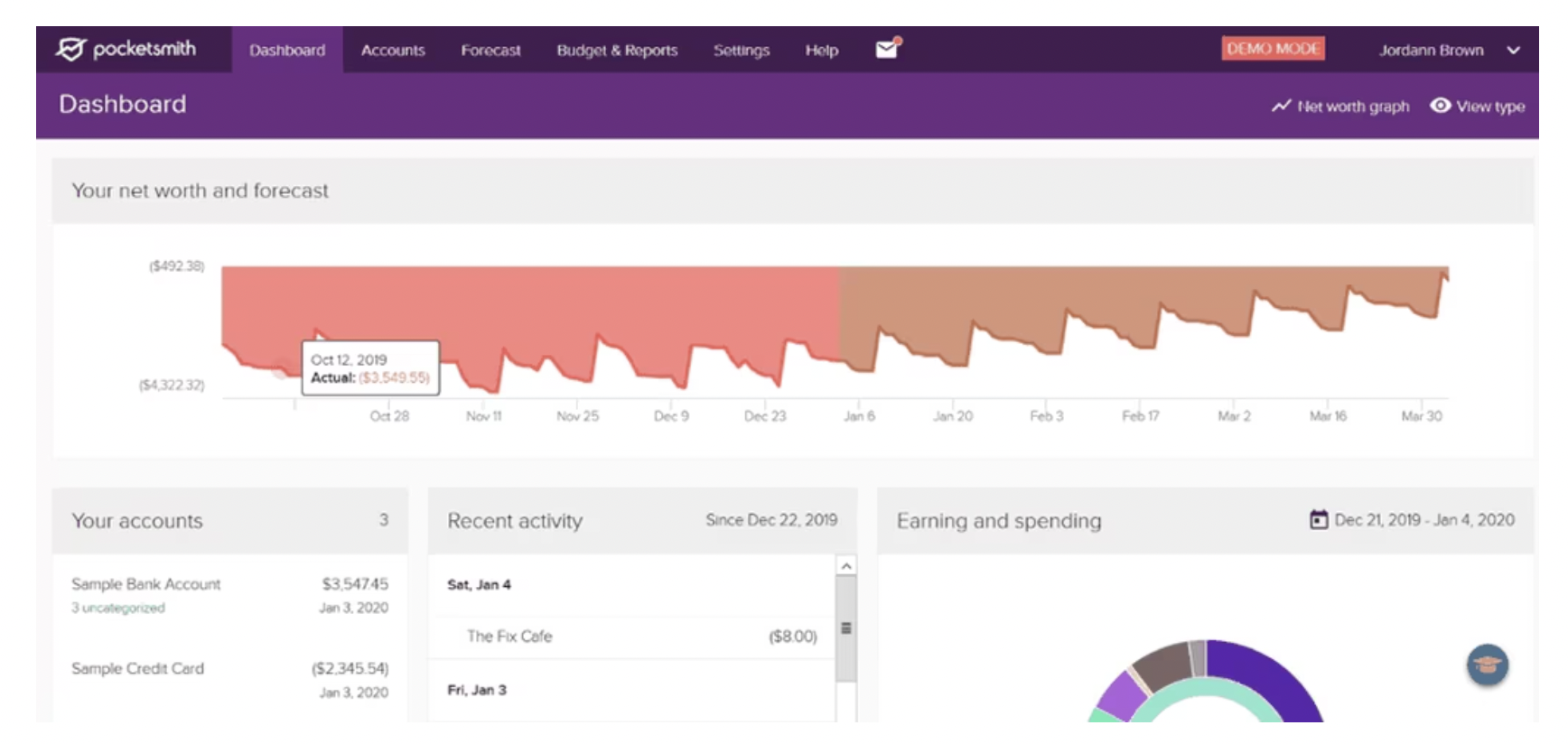 This demo screen shows your net worth both in the past, and a forecast of your net worth moving into the future.
Further down the dashboard, you'll see an overview of your current financial situation, including your current account balances, recent activity, and what you've earned and spent in the past month.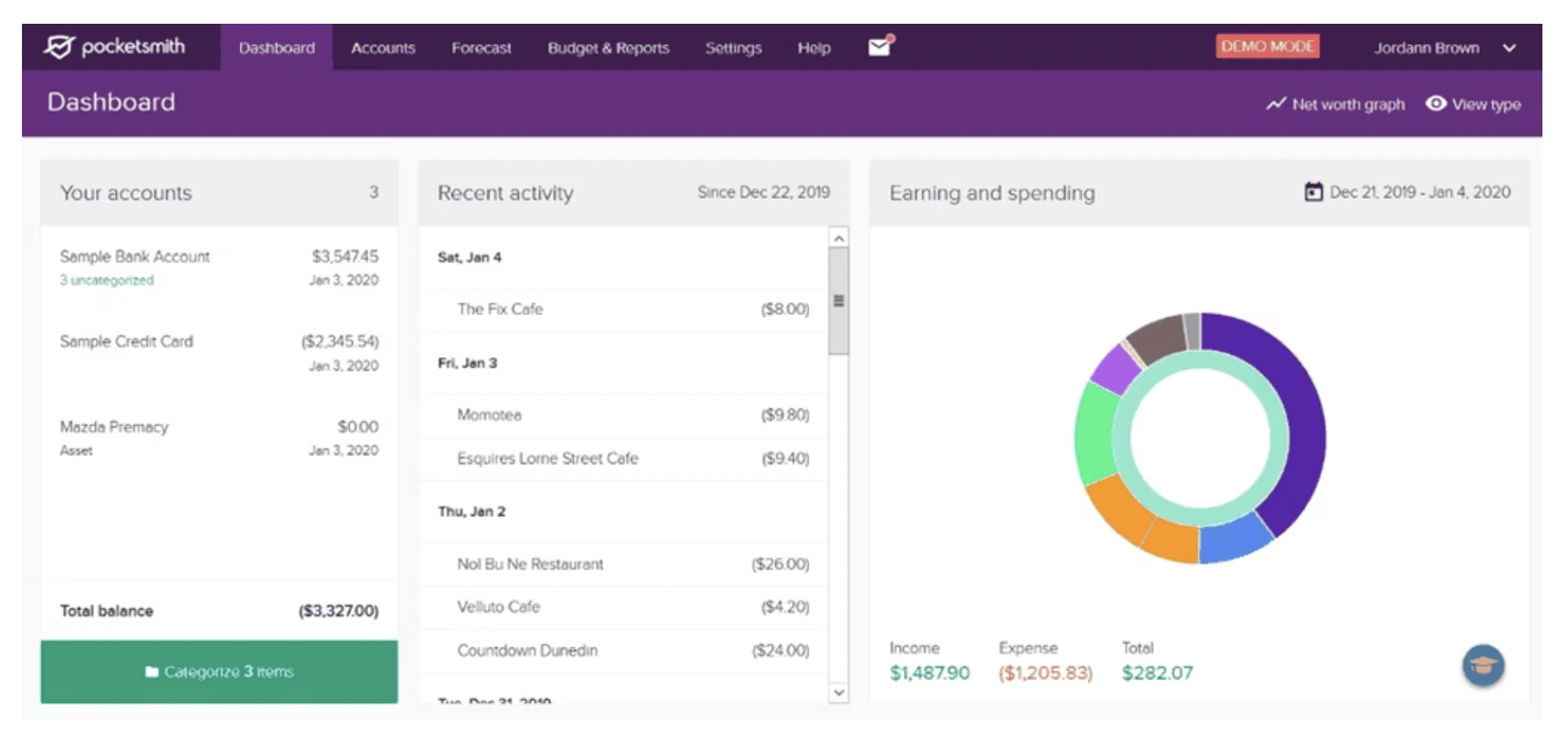 Finally, the bottom of the dashboard shows your active budgets, any upcoming bills you may have pending, and alerts and notifications.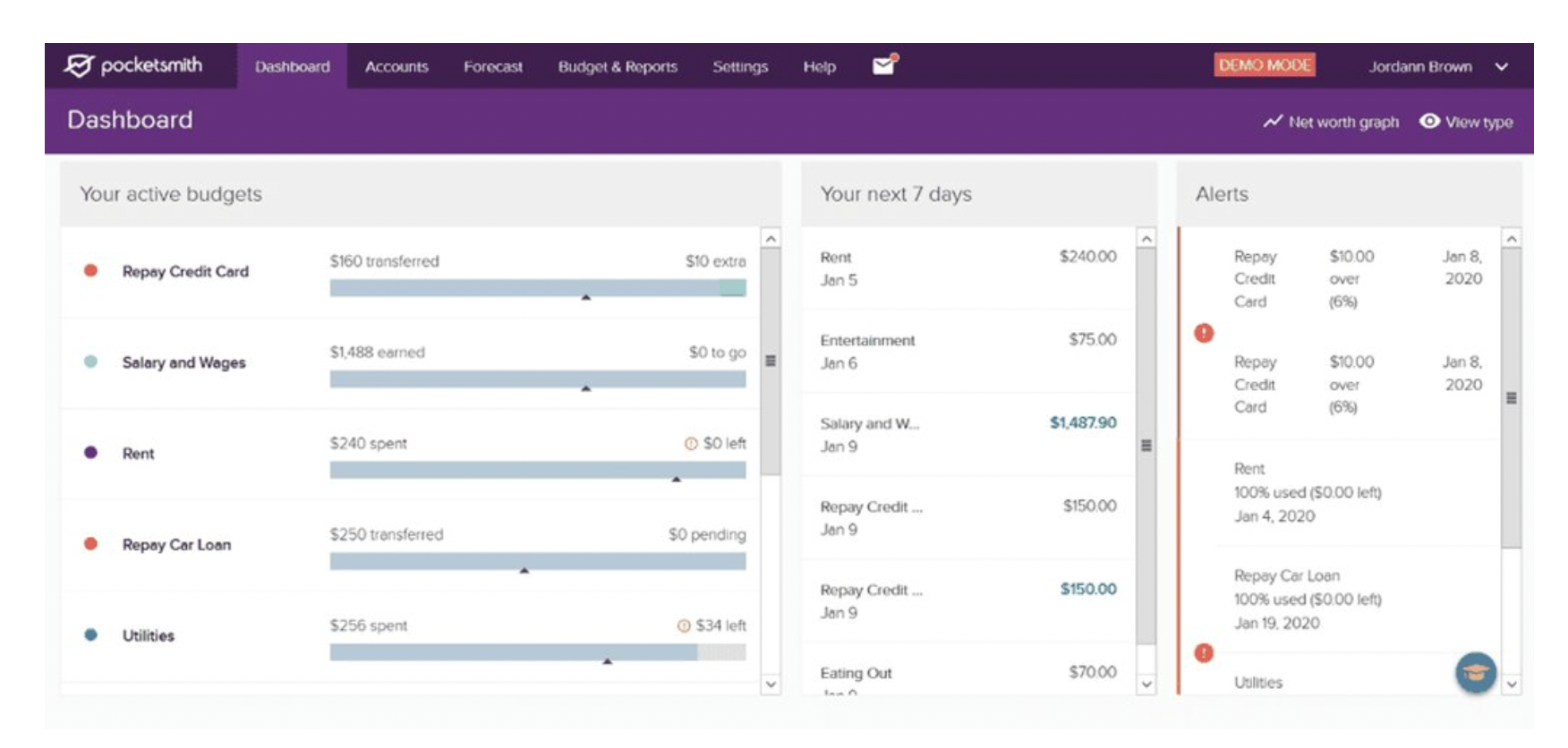 If you choose to avoid the demo mode and move straight to finishing the sign-up process, you'll be taken to a four-part checklist that walks you through the steps of connecting your bank accounts and categorizing your first transactions.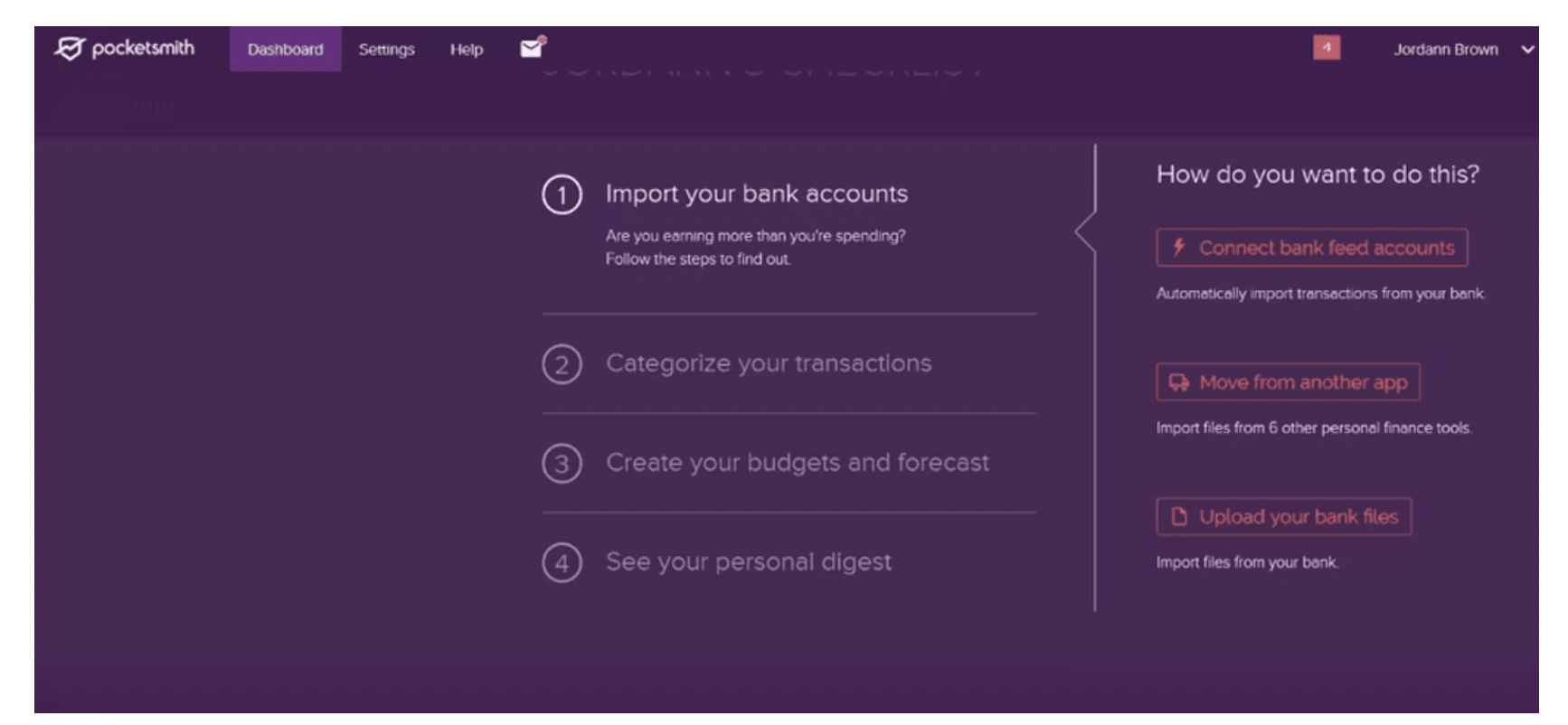 Overall the signup process is very straightforward, although the process of setting up bank accounts, categorizing transactions, and creating your first budgets will take some time.
The bottom line: is PocketSmith worth it?
If you're looking to upgrade from basic budgeting software and get a more in-depth financial analysis and forecasting, then sign up for PocketSmith. The robust tools you unlock by paying the monthly fee will help you not only budget and manage your day-to-day cash flow, but also allow you to forecast your finances for up to 30 years. The attractive, easy-to-use layout and interface are more visually pleasing than the traditional Excel spreadsheets or other basic apps, and the ability to automatically import your transactions makes this budgeting software a pleasure to use. It's easy to see why PocketSmith is the "go-to" app that many savvy savers use after graduating from Mint.com, YNAB or Quicken.
That being said, PocketSmith does require a subscription, which is a drawback if you're short on cash or paying down debt. If you need a financial app for the frugal, check out some of the best budgeting apps in Canada.