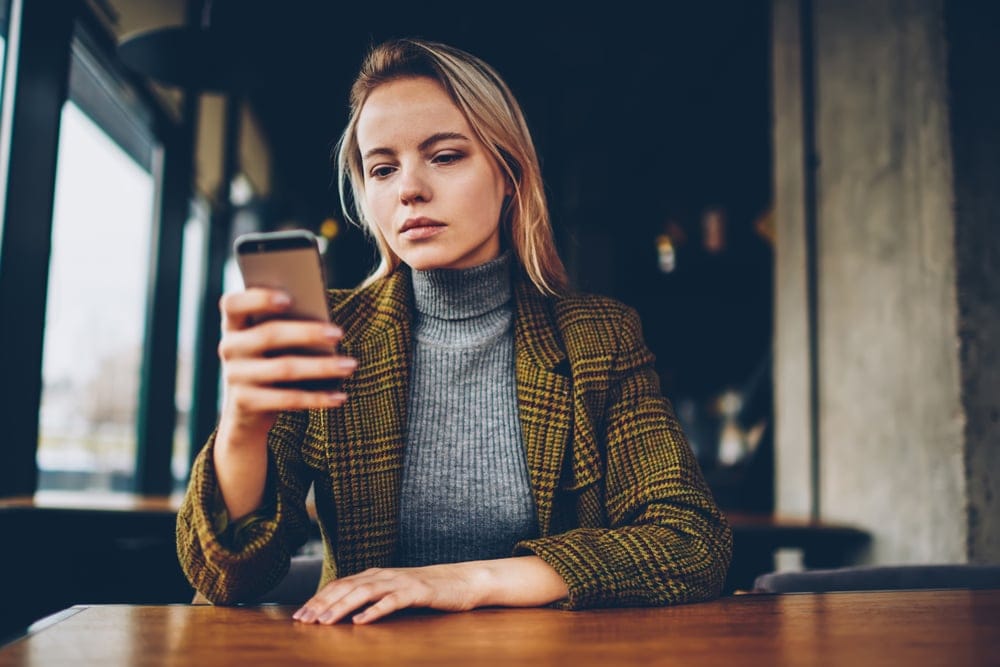 Borrowell review: Fast, friendly, and friendly loans + free credit scores
🗓️
Updated: August 10, 2023
We adhere to strict standards of editorial integrity to help you make decisions with confidence. Please be aware that some (or all) products and services linked in this article are from our sponsors.
We adhere to strict standards of editorial integrity to help you make decisions with confidence. Please be aware this post may contain links to products from our partners. We may receive a commission for products or services you sign up for through partner links.
After exhaustively researching this Borrowell review we have come to the conclusion that Borrowell is known as the best online lender in Canada for a reason. In addition, we recommend its Free Credit Score Check and Monthly Equifax Credit Report as an efficient, money-saving, way to keep track of your credit score and increase your credit education. The bottom line is that Borrowell is head and shoulders above other Canadian competition.
Best for:
Very User Friendly
Fast and Easy Loan Access
Free Credit Score and Full Credit Report Tool
"Make financial services fast, fair, and friendly."
Turns out that you don't need a large, expensively-maintained branch location in order to lend people money. You don't need lines, multiple appointments, and confusing jargon either!
With leading Canadian digital lender Borrowell – all you need is an internet connection and a not-terrible credit score.
What is Borrowell?
Borrowell is Canada's largest online lender, offering personal loans to Canadians with good credit since 2014. Their user base already counts more than 800,000 Canadians. For now, they are keeping their loan options very simple as they provide three- and five-year loans of between $1,000 and $35,000, with designs on diversifying these options going forward.
Borrowell's loans are relatively easy to understand: You receive a specific amount of cash – at a specified interest rate – and then you make the same monthly payment every month until the loan is paid off (at the end of 36 months or 60 months). These unsecured loans are labelled "fully amortizing" and are similar to how a mortgage is paid off. You can use the loan for whatever you want, including paying off credit card debt or getting quick funding for your growing business.
Borrowell interest rate review
The interest rates on Borrowell's loans range from 5.6% to 29.19% with a self-described "typical borrower" paying roughly 11%. For comparison's sake, this puts the company's average interest rates much lower than most credit cards, and higher than a loan that would be secured by collateral – such as a Home Equity Line of Credit (HELOC). Obviously, if you have excellent credit and own a substantial portion of your house, you can likely borrow money at a cheaper rate than what Borrowell is offering. However, many Canadians don't have excellent credit or hundreds of thousands of dollars worth of equity built up in their homes. Borrowell allows these Canadians to pursue a straightforward loan quickly and easily.
The online lending sector for unsecured loans in the USA is roughly $30 billion, with market leader Prosper handling over $7 billion in funded loans. It logically follows that there is substantial room for growth in Canada. Borrowell is at the forefront of this movement that is focused on providing Canadians with a user-friendly alternative to the somewhat laborious and time-consuming process that many traditional banks use to provide loans.
Borrowell is providing Canadian consumers with choice, transparency, and credit education – areas where traditional banking options in Canada have left much to be desired. Seeking to disrupt the massive corporate giants of the Canadian banking world is no simple task, but the company claims, "It's all part of an Uberization of legacy systems." If the "Uber" of Canadian banking can save folks as much money as the actual ride-sharing app – then it's certainly worth taking a look at!
Get your free credit score and monthly credit report through Borrowell and Equifax
Since Borrowell's big Equifax partnership news last year, they are increasingly becoming known as "the place for free credit scores".
Borrowell seeks to make getting your credit score: Simple. Secure. Free.
Back in the pre-Borrowell days, Canadians could order their credit report for free from either Equifax or Transunion (the largest credit bureaus in Canada), but to get their actual credit score, they had to pony up around $24. Thankfully those dark days are now behind us. Now you simply go to Borrowell's site, input your information, and *presto* you can see just how credit-worthy you are with minimal time and effort.
And don't worry – by submitting your information to Borrowell to take advantage of this offer, you are NOT in any way applying for a loan or signing on to anything that will cost you money in any way!
Now, Borrowell will likely take the opportunity to let you know what sort of loans you qualify for should you want to apply for one at a later time, but it's worth repeating that: Yes, it's true. You can get your credit score from Borrowell absolutely free – without applying for any loan or financial product!
It's important to note that you actually have more than one semi-official credit score. (We know, this stuff is sort of confusing, but bear with us.) Because there are multiple credit bureaus and more than one way of weighing the various factors that go into your credit score, the number you receive from Borrowell is 100% accurate – but it's only one such score that can be produced.
Borrowell states on its website that:
The Equifax credit score is based on Equifax's proprietary model and may not be the same score used by third parties to assess your creditworthiness. The provision of this score to you is intended for your own educational use. Third parties will take into consideration other information in addition to a credit score when evaluating your creditworthiness. The score provided to you is the Equifax Risk Score, which is also known as ERS 2.0.
While the credit score that you receive from Equifax through Borrowell might be slightly different from another one that could be attached to your name, it is quite likely that your credit scores will be very similar to one another across the board.
If you're like many Canadians, you might have heard the myth that any check on your credit score will somehow lower it. This is NOT true. To understand how this whole myth got perpetuated, you need to know that when a person checks their own score (or in this case, when Borrowell does it on your behalf) it is commonly referred to as a "soft check". This "soft check" is in relation to a "hard check" – when a business examines your creditworthiness as part of a purchasing or loan process. The idea is that credit bureaus try not to punish people for simply sneaking a peek at their own credit history, but still retain the ability to get a bit nervous if you're attempting to rack up a lot of debt (or access to credit) in a hurry.
On their website, Borrowell stresses that they take the security of your information very seriously (as befits a world where Equifax's American database was recently hacked into). Canada's digital lending leader "uses security measures that meet or exceed industry standard for financial institutions". They also promise to never share any of your personal information with a third party without your explicit consent and have an extensive privacy policy.
If you're like me and have an endless to-do list, checking in on your credit score might constantly get shifted to the back burner. While you may be able to get away with this for a while, it could really come back to bite you when you make a major purchase that requires a credit check. Several surveys over the last few years have concluded that roughly half of Canadians have never checked their credit score, while perhaps 1-in-10 check it yearly. It's worthwhile to learn what is a good credit score in Canada and find out what your credit score is to help prevent fraud and any nasty surprises when you apply for a loan for a major purchase, such as a house or car.
"In talking to consumers everyday, we came to realize that many Canadians don't know their current credit score, or how to improve it," said Andrew Graham, the CEO of Borrowell in a recent press release, "By providing Canadians with their scores and educational resources on how to improve them, Canadians will have better options when it comes to accessing credit."
As a bonus to this free credit score service, Borrowell will update your score automatically every month – again for free. The goal of this promotion is to quickly help Canadians better understand their credit and what their credit options are, as opposed to having them wait in endless lines that might discourage them from really digging into ways they might be able to save money and simplify their personal finances.
January 2018 Update: Borrowell recently announced that not only can you now receive your credit score for free – but that you can now get your full credit report emailed to you from Equifax every single month. With the ability to see exactly what is affecting your ability to borrow money at any time, this service is invaluable to Canadians.
Borrowell review: Credit card debt and Borrowell consolidation loans
While you can use Borrowell's collateral-free loans for anything you want, perhaps the folks that stand to benefit most are the ones looking for a solution to their credit card debt. Borrowell's loans are all fixed-rate, meaning that if the Bank of Canada raises their key lending rate, and banks raise their prime rate of interest, Borrowell loans will stay exactly where they are. Your payment is guaranteed to be exactly the same – and is "locked in" for the life of the loan.
The two reasons that Borrowell loans are tailor-made for folks looking to tackle credit card debt are 1) math and 2) psychology.
The psychology is easy to understand, but deceptively important. Basically, by taking several separate debts and combining them into a single, easy-to-track number, a person may find it significantly easier to focus on paying down that single Borrowell balance than it was to worry about so many different accounts. It can be quite motivating to see one number get whittled down – and have nothing else to distract you. (Assuming of course that you don't continue to spend more than you earn and accumulate more credit card debt after wiping it out.)
The math is a bit less intuitive but no less important. While the difference between a card with a 21% interest rate and an online loan at 7% might appear to be fairly negligible, it can really add up quickly!
Take for example our friend John. John currently has the following credit cards and associated balances:
Card A (21% interest) $4,600
Card B (19% interest) $3,300
"Special Store-Specific Card" C (30% Interest) $4,700
If he were to simply pay the minimum amounts on those three credit cards, it would take John over seventeen years to pay off all of his debt. The total amount of interest he would pay during that time is roughly $12,860 – more than he owed in the first place!
If John were to take out a Borrowell loan of $12,680, and make 36 monthly payments of $504, he would pay roughly $1,400 in total interest. By using a Borrowell loan to slay his credit debt dragon, John will be saving himself over $11,000 – and see his debt paid off 14 years earlier!
"There are just too many people paying too much interest and that's not good for them, it's not good for the economy or the financial services system," Borrowell CEO Andrew Graham said in a 2016 Financial Post interview.
Obviously, there is more to the world of consumer debt than credit cards. Equifax recently reported that in the fourth quarter of 2016, the average consumer debt per person was $22,113. The two principles of math and psychology can be applied equally well to store credit or car payments as well, although I recommend keeping track of interest rates to make sure you don't consolidate a loan with a relatively low-interest rate, into a loan where you have to pay a higher percentage.
Now, Borrowell isn't the only lender on the block when it comes to consolidation loans – it's not a new concept that they came up with. Most banks would offer our friend John a loan of some kind if he qualified for a Borrowell loan at 7%. However, with Borrowell, John can easily apply online, and he doesn't have to put up his
Banks also have a well-earned reputation for long lines, difficult-to-understand fine print, and being quite choosy in regard to who they lend money.
"There are a lot of Canadians with very good credit-card histories who end up carrying credit-card debt at high rates," says Graham, "The reason they do that is because it's often quite challenging to get a traditional bank loan."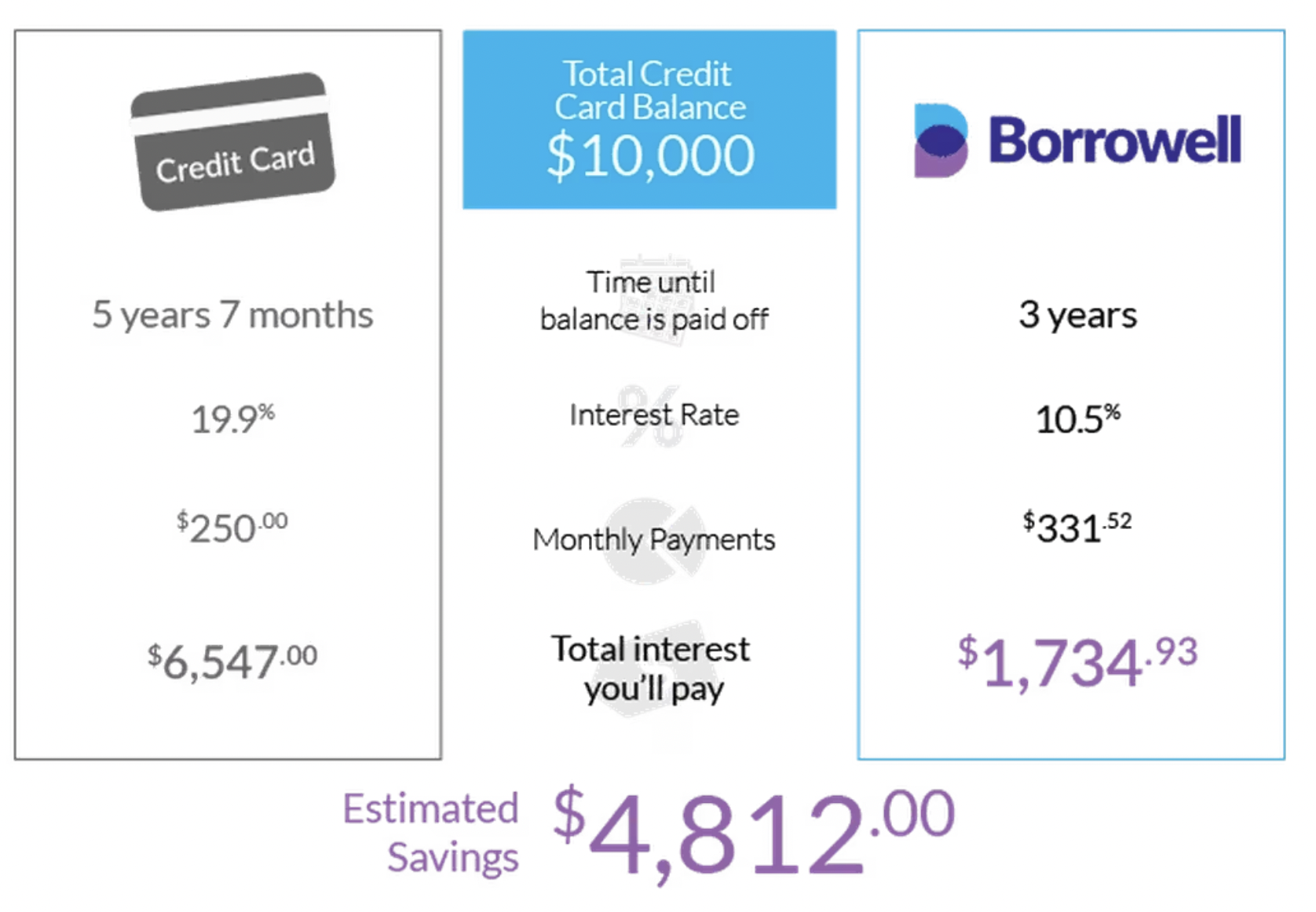 Can I get a Borrowell personal loan?
As of February 2019, Borrowell has a simple and effective product offering. The only choice that you really need to make, is if you want to pay your debt off over three years (36 months) or five years (60 months). Everything else will be taken care of by Borrowell.
In order to get a Borrowell loan, you must:
Be a Canadian citizen or resident
Have reached the age of majority in the province where you reside (varies by province)
Have a valid account with a Canadian bank or other financial institution (Borrowell will need an account to release the money to and get paid from)
Have a valid email address
Have a credit score above 660
No bankruptcy, consumer proposal, collections or current delinquencies on file
Have a minimum credit history of 12 months
A yearly income of at least $20,000 before taxes (as proven by tax stubs or tax returns).
Not live in Saskatchewan, Quebec, the Northwest Territories, Nunavut, or Yukon (Borrowell is hoping to expand, but at present is not able to offer loans in these provinces).
How to get a loan from Borrowell: step-by-step guide
1.

Click here to check your credit score for free, and Borrowell will quickly let you know what loan options you qualify for (estimated time: 1 minute).

2.

Decide on a three- or five-year term.

3.

Answer a few personal information questions.

4.

Upload or email your two most recent pay stubs, or Notice of Assessment from your last two tax returns. Borrowell will even let you take a photo of them if you don't have a digital copy conveniently stored.

5.

Verification of your bank account. In order to verify that your bank account is really your bank account, Borrowell uses a company called VersaPay. VersaPay will take your bank and branch number (the number at the bottom of your cheque – don't worry, they'll guide you through the details) and then in order to make sure everything is "hooked up" properly a small deposit will be deposited to your bank account. At this point, you'll get an email that your account is ready to be verified.

6.

Once verification is all done, Borrowell emails you a final review, and upon your acceptance of the loan, the funds will quickly be deposited into your bank account (which we know is the right one, because of that small deposit they made to check things out).

7.

The entire easy and efficient process can take as little as 1-3 days, with no wasted travel time or endless waits in lines.

8.

You will make an automatic monthly payment from the bank account that you "hooked up" to Borrowell during this process (the same one where your funds were deposited). They will send you a reminder email three days before the payment is removed. The loan can also be paid back in full at any time without any penalty or added fees whatsoever. (Scroll down to see the full report on fees and costs.)
Is Borrowell safe?
One of the biggest questions we've got about online lending in general and were asked when collecting information for this Borrowell review, in particular, is: Is it safe? I feel like there is no way to answer that question definitively that does not leave me open to some sort of thorny legal quandary I cannot foresee.
All I can say is that by every measure I could find, Borrowell does not appear to be unsafe. Their investors and management team (see below) inspire a lot of confidence for me personally.
Borrowell's website states:
"At Borrowell, the security of your information is of the utmost importance. In order to protect your personal information from unauthorized access and use, we use security measures that meet or exceed industry standards for financial institutions. We have implemented administrative, technical and physical measures to safeguard the personal information in our custody. We restrict access to any personal information on a need-to-know basis and limit access to employees who require access to fulfil their job requirements."
Considering how strict Canada's banking laws are for financial institutions, this eases my fears. I cannot see how using Borrowell is any less safe than one of Canada's big trusted familiar banks.
Borrowell review: management team and investors
While young Millennials might think that getting an online loan for a decent chunk of change is the most natural thing in the world, Canadians that grew up B.G. (Before Google) might be wondering about this digital lending marketplace. Borrowell complies with and exceeds very strong Canadian banking standards, but if those aren't enough to reassure you, perhaps looking at who's running the show behind the scenes will ease your worries.
Perhaps the most well-known investor, advisor, and believer in Borrowell is Dragon's Den star and Bestselling-author of the Wealthy Barber, David Chilton. Mr. Chilton's name long ago became synonymous with sound financial management principles, and now he has brought his trusted brand of financial wisdom and integrity to Canada's largest online lender.
The Globe and Mail recently asked Chilton how he got involved with Borrowell: "I followed the space out of my own interest in the industry – almost a hobby, really," said Mr. Chilton, and after looking at more than two dozen fintech companies he concluded, "I wanted to see if there were any waves coming down the pipelines in the personal-finance space that could help Canadians manage their money better."
When another publication asked the Dragon's Den star about his investment he was quoted as saying:
"They have to find the capital, and you know that anybody providing the capital, they have to be incredibly thorough in their due diligence to make sure the Borrowells of the world are well run, have the proper security in place, have a great management team and so on."
Such a ringing endorsement from Mr. Chilton is hard to come by. I should know – I once asked him for one in regard to the book I co-authored! While he was very gracious with his time and expertise, (such a huge motivation for a young author!) the bestselling king of Canadian personal finance kindly explained that because he was asked to support so many different causes, products, and services, he had to carefully choose specifically what to throw his considerable weight behind. The fact that he is so confident in Borrowell's team and process is a major indicator that they're really on the right path and in good hands.
The Wealthy Barber isn't alone in his support of the crew in purple and blue, however, Canadian fintech superstar Equitable Bank (EQ Bank), Hedgewood investments, and the gold standard of Canada's old school money: Power Financial Corp. got together in early 2016 to invest $6.4 million in Borrowell. Then in the summer of 2017, Power Corp, Equitable Bank, and White Star Capital combined to raise another $12 million in equity funding.
If you take a look at the qualifications and background of Borrowell's investors below, you'll notice some pretty extraordinary folks are betting on Borrowell.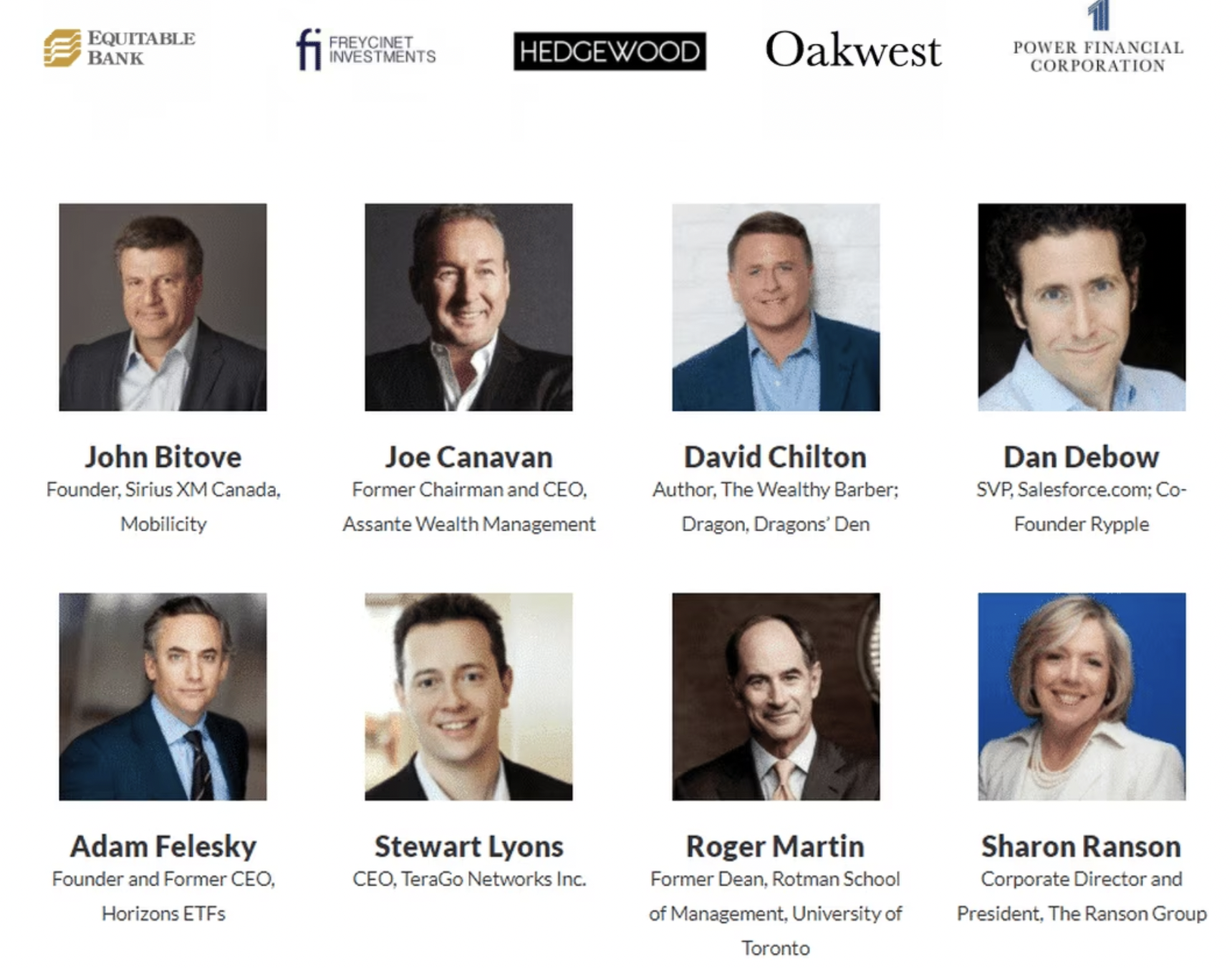 The man and woman at the head of the Borrowell table are co-founder & CEO Andrew Graham and co-founder & COO Eva Wong. This isn't Graham's first rodeo, as he previously worked at digital banking leader PC Financial, as well as cutting his teeth with stints at George Weston Ltd., and Nortel Networks. His MBA is from a little place you might have heard of called Harvard Business School.
Wong also boasts impressive credentials, graduating from Harvard University, John F. Kennedy School of Government. She worked in various management capacities for several Canadian companies before setting out to co-found Borrowell. These two lead a quickly growing fintech team that is being added to as they expand and reach more Canadian consumers.
Borrowell pros and cons
✅ Free Credit Score and Full Credit Report Tool
✅ Fast and Easy Loan Access
✅ Very User Friendly
✅ Perfect for Paying Off Credit Cards or Other High-Interest Debt
✅ Elite Safety Standards
❌ Somewhat limited loan options currently available (may change going forward).
❌ Interest rates are based on no-collateral status, and consequently are not quite as low as one could get through a Home Equity Line of Credit (HELOC).
Borrowell fees and expenses
Like most institutions that lend money, Borrowell charges an interest rate on the loans that it provides. Loans also include origination fees. The number that you're most interested in is the Annual Percentage Rate or APR. This percentage includes all fees and is expressed as the annual amount of interest that you'll pay overall per year in order to borrow from the digital lender.
The rate that you get charged will be based on several variables including your credit history, income levels, and the amount that you're looking to borrow. Below is a simple chart used to illustrate what you might expect from your Borrowell.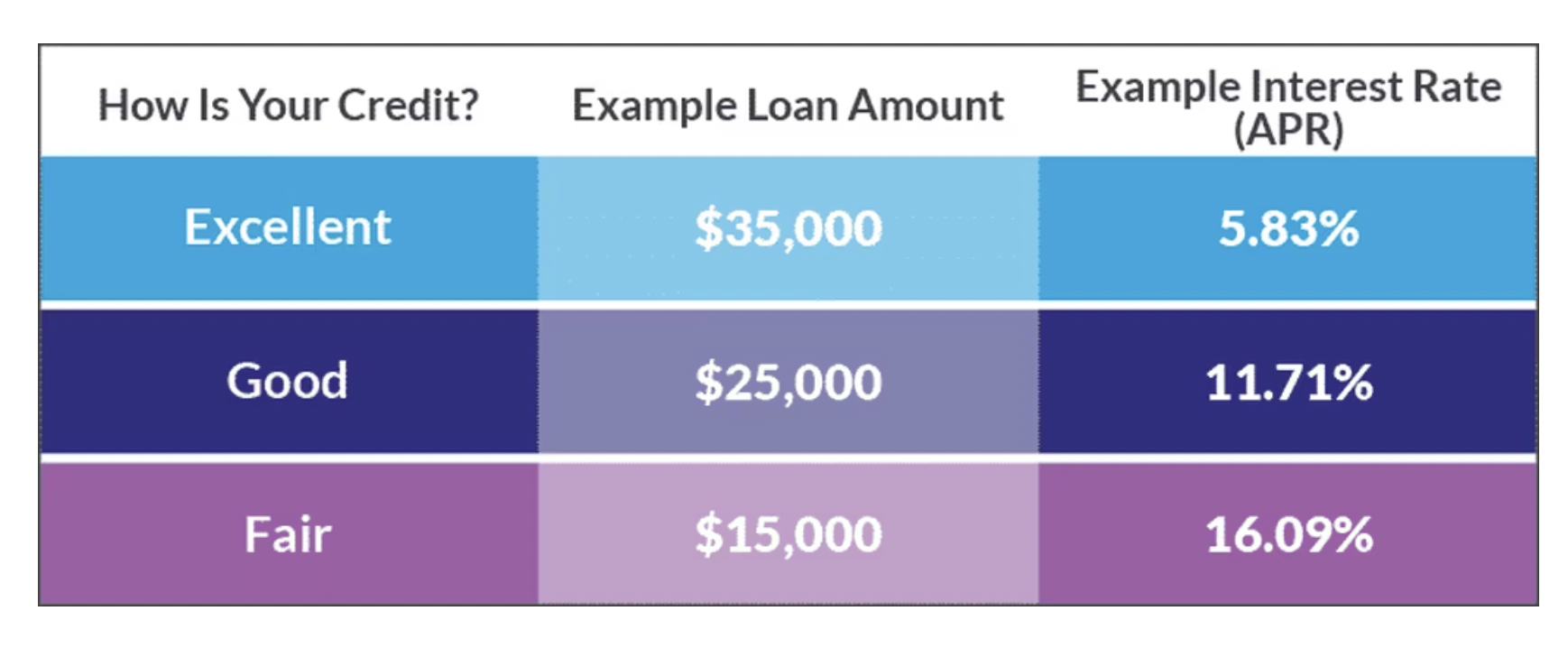 Borrowell is right up front in explaining that they charge customers a one-time "origination fee" that essentially covers their operating costs (reaching out to Canadians, evaluating loan applications, development, security, and customer service). This fee is 1-5% of your total loan amount and will be added to your overall loan (no money is needed upfront). The better your credit score the lower your origination fee.
It's important to note that there is definitely NO fee for getting your free credit score and/or receiving a quote. The origination fee only applies to finalized loans.
The only other fee that Borrowell may charge (and one that is fairly easy to avoid) is the Non-Sufficient Funds (NSF) fee. Basically, if your monthly payment to Borrowell rolls around, and you don't have enough money in your account to make the payment, you will be charged $25. Borrowell actually doesn't make any money off that $25 because it is an automatic fee administered by the original lender.
There are absolutely no fees or penalties for paying off your loan early! You can pay all or parts of your loan at any time without any penalties at all. If you want to "supercharge" your payback by making an extra payment here and there, that is totally cool and very easy to do.
Borrowell review: partners
Being a disruptive force in the disrupt-resistant world of Canadian banking can be a lonely mission. Thankfully Borrowell has teamed with fellow fintech darling Wealthsimple. Together the two financial upstarts have created an RRSP loan program. (For those not familiar with the concept, the basic idea is that you take out a loan today, put the money in an RRSP, get the tax refund, then pay off the loan when the refund comes in – or just enjoy a loan where the interest is tax deductible.)
Some traditional banking institutions have decided that instead of fighting the fintech surge, they might as well join the party. Concentra (the wholesale bank and trust company for many of Canada's credit unions) recently signed on to provide Borrowell with $45 million worth of credit capacity.
CIBC decided to get in on the action by teaming with Borrowell and Equifax to give their clients access to free credit scores, as well as "one-click loans" that run through the Borrowell platform.
"CIBC's partnership with Borrowell to deliver a digital borrowing experience to clients is a first from a major Canadian bank," said David Williamson, group head of retail and business banking at CIBC. "By leveraging innovative technology, we are taking a process that is often viewed as slow and cumbersome for clients and making it much faster and more convenient."
Borrowell CEO Graham has been committed to leveraging partnerships for long-term growth in the world of online lending saying:
"Canadians expect technology to make experiences faster and more customer-friendly, from booking travel to online shopping," and, "In the past few years, we've seen Canadians embrace our fast, fair and friendly approach to personal loans. We're excited to be partnering with CIBC to bring this experience to more Canadians."
Competitors of Borrowell: Mogo and Grow
The two main competitors to Borrowell within the Canadian digital lending marketplace are Grow (formerly known as Grouplend) and Mogo. Grow offers loans from $1,000 to $30,000 on various fixed-rate loans, with terms up to five years. Their average loan term is 51 months. Much like Borrowell the company's average APR is around 10-11%, and they also offer free credit scores and reporting via their RateTracker (a free service that sends you your updated details each month).
Mogo Loans is the oldest of the digital lenders and has more than a million members. They call themselves a full-spectrum lender and offer loans between 6 to 60 months (with rates ranging 9.9%-46.96%). The average Mogo borrower pays back their loan in three years. Much like the other two online lenders, Mogo customers get free customer updates.
All three of the companies state that generating a personal loan quote through their websites will not affect your credit score and that quotes are provided free of charge. If you've got some high-interest debt kicking around, or need money fast, why not take them up on their offer to snag a free quote to see what your options are?
What's next for Borrowell?
Being a fintech superstar isn't just about craft beer and modern office space (although I believe those may be prerequisites). Borrowell understands that in order to not only survive but thrive going forward, they need to stay on top of this rapidly growing online financial space.
Part of staying on that cutting edge is Borrowell's focus on Artificial Intelligence (AI) and data analytics (probably made most famous by the movie Moneyball). Graham has said that Borrowell seeks to predict future customer needs and has compared what the digital lender seeks to become to Netflix's algorithm used to show you what sort of shows might best fit your viewing habits.
Borrowell talks of growing its customer base from 800,000 into the millions. Before dismissing this rate of growth, consider that according to a 2016 Ernst & Young report, the use of fintech products nearly tripled that year alone.
When Graham looks to the future he says:
"We've hit that inflection point where more and more people understand that a whole variety of services can be found easily and cheaply online, whether it's transport, dating and so on. That has taken a little longer to come to pass in financial services, but we're finding there is a real critical mass of consumers who are willing to try a technology-driven option like us."
If you have tried Borrowell, please let us know in the comments below. There is no better Borrowell review than that of a first-hand customer!