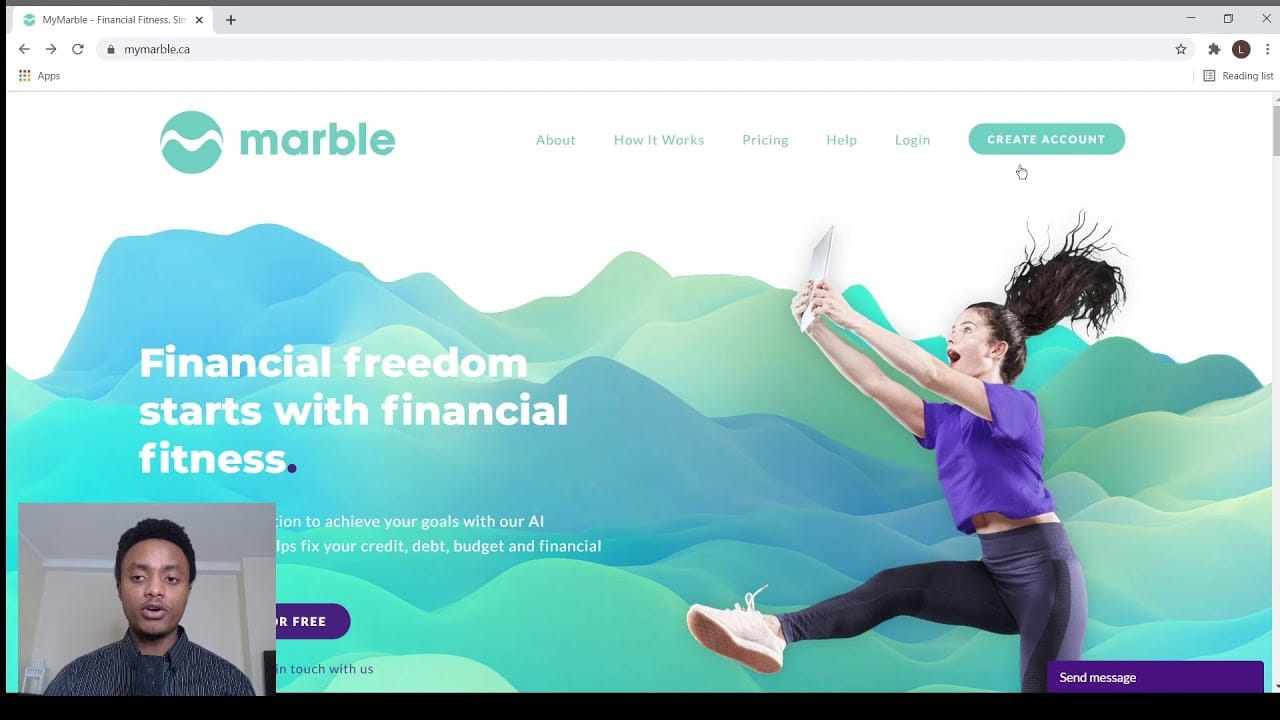 Marble Financial review: manage your money and improve your credit
We adhere to strict standards of editorial integrity to help you make decisions with confidence. Please be aware that some (or all) products and services linked in this article are from our sponsors.
We adhere to strict standards of editorial integrity to help you make decisions with confidence. Please be aware this post may contain links to products from our partners. We may receive a commission for products or services you sign up for through partner links.
Marble is a British Columbia based company founded in 2016 with the mission to empower Canadians to manage their money and improve their finances. Marble Financial achieves this goal with MyMarble, a financial dashboard that acts as your headquarters for improving your credit score. Their tools help Canadians build their credit and gain the knowledge they need to succeed in their financial lives.
What is MyMarble
MyMarble is a financial dashboard offered by Marble. This dashboard lets you create an account and link your financial institutions. After that happens, you'll receive customized insights on how to improve your credit along with a variety of other tools and features listed below:
Key features
Personalized recommendations: MyMarble analyzes your finances to give you data driven information on how to improve your finances and your credit score.
Maestro modules: Access to dozens of financial literacy modules through Maestro on savings, debt, budgeting, and credit.
Trends: See how your finances are trending over the past three to twelve months to find insights on how you can improve.
Credit score monitoring: Check your credit score monthly for free and watch it rise as you implement MyMarble's advice.
Premium tools: Extra tools like Score Up and Fast Track Loans are available for a fee and can further improve your credit score.
MyMarble plans
Freemium
A freemium account is just what it sounds like: free. It offers you a monthly look at your TransUnion credit score, a breakdown of your monthly income as well as insights on how much you spend, your debts and more. You'll also receive their 'beginner recommendations' that will help you understand the basics of your spending style as well as access to their educational protal: Maestro, to help you learn to better control your finances.
Basic
With the basic plan, you'll get everything in the 'Freemium' plan, but you'll also find out what is impacting your credit score as well as your debts, month over month, and get recommendations on specific ways to improve your credit rating and financial health. The recommendations in this plan offer steps you can take to improve your overall finances, pay off your debts faster and increase your credit score. You can also connect your bank account for a more in-depth look at your spending and expenses.
The Basic Plan costs $9.99 per month.
Pro
The Pro plan is for those who feel they have mastered their finances and want to take them a step further. The advanced recommendations provide you with personalized and target-driven steps to take to improve your credit score, pay off your debts and reach your financial goals. You'll have access to a budget simulator that will help you learn how to best allocate your funds to improve your credit score, and be able to track your credit score more precisely, gain insights from your debt health report and access the courses and information available on their Maestro platform.
The Pro Plan runs $19.99 per month
Premium
The MyMarble Premium plan is the most comprehensive and offers access to a bunch of tools and financial solutions that will help you increase your credit score within your budget.You'll be able to review your credit score for errors on the dashboard and receive top tier recommendations to help you budget and pay off debts in the fastest and most efficient possible way.
The Premium Plan costs $29.99 per month and offers access to premium tools:
Score Up
Score Up is a program designed to help Canadians build their credit score. Your credit score is a number that helps lenders determine your creditworthiness when it comes to renting an apartment, applying for a car loan, and landing a job. If you've made some credit mistakes in your past, you may have a lower-than-average credit score.
Score Up can help you by making real-time suggestions regarding which debts you should focus on, and what other actions you can take to raise your credit score quickly. Marble Financial claims you can increase your credit score 40-50% faster than trying to rebuild your credit on your own.
Score Up key features
Score up has the following features to help you achieve your goal credit score faster.
Access to your credit score: Check your credit score daily and see how your actions positively influence your score.
Point simulator: Using Point Deduction Technology, this tool takes the insights from your banking and credit history to provide you with insights to help you reach your target credit score.
Budget simulator: Let's say you have an extra $100 spare for the month, the budget simulator will tell you how to best allocate your funds in order to quickly reach your target credit score and pay off debts.
Credit monitoring: Score Up will monitor your credit and send you alerts if anything changes.
Personalization: Score Up uses your credit history to make personalized recommendations and help you to increase your credit score as quickly as possible.
Intelligent: Score Up analyzes your credit history and uses credit monitoring and budgeting tools to advise you on the best possible strategy to improve your credit score quickly.
Optimized: Score Up will even tell you which days to make purchases and which days to make payment to impact your credit score most positively.
Open a MyMarble Account and Improve Your Financial Fitness
Fast Track Loans
Fast Track Loans are designed for Canadians in consumer proposal. Fast Track Loans will pay out your consumer proposal loan and help you get back into mainstream banking sooner. Fast Track Loans are designed to help you establish that you are a trustworthy borrower by giving you the chance to faithfully make payments on a loan. Those prompt payments will be reported to the Canadian credit bureaus, which will raise your credit score.
It is easier to qualify for a Fast Track Loan than a loan with a traditional lender, because these loans are designed for Canadians with a low credit score. That said, the interest rate associated with these loans is often higher than average, at 18.99% to 24.99%.
Fast Track key features
Fast Track Loans have the following features and characteristics that might be different from loans from traditional lenders:
Credit score friendly: Have a low credit score? Used pay day loans? This loan is for you.
Non-payday loan interest rates: Interest rates are high at 18.99% to 24.99% but lower than payday or other alternative lender rates
Flexible terms: Loans can range from three to eight years in length.
Immediate credit score bump: When your consumer proposal is paid off, you'll see an immediately boost in your credit score.
Optional early payoff: Can afford to pay off your loan early? That's fine with Fast Track Loans.
Establish a payment history: Every payment you make on your loan will help your credit score rise as you establish a track record for repayment.
MyMarble costs
Freemium Plan
Basic Plan
Pro Plan
Premium Plan
Early subscription (Save 25%)
Depending on the plan you choose, you can be paying anywhere from $0-$29.99 per month for MyMarble's services. As noted in the table above, if you opt for a more lengthy subscription, you end up saving some money than if you pay monthly. It might be a good idea to see how MyMarble works for you and then decide how long you feel you should subscribe for.
How to open a MyMarble account
1.

Choose the plan that's right for you and sign up online through the Marble Financial website.

2.

Connect your accounts to the dashboard.

3.

Let MyMarble do the work at analyzing your spending and debts to make personalized recommendations on how to improve your credit score.
Eligibility requirements
To sign up you must be the age of majority and not reside in Quebec.
Who should use MyMarble?
If you have been in financial difficulty in the past and are serious about improving your money situation, the MyMarble dashboard could be the right path for you.
Pros and cons
Pros
Credit monitoring
Personalized solutions
Intelligent suggestions made by expert coaches
Extensive learning modules
Cons
This product requires users to be tech-savvy
The free version might not be as helpful, meaning you'll have to spend money
The bottom line
If your credit score could do with some extra love, and you're ready to take control of your bad spending habits, but you need help getting started, MyMarble has the proper tools just for that. Signing up is easy and the basic dashboard is free and many have seen results in 30-45 days.
Open a MyMarble Account and Improve Your Financial Fitness