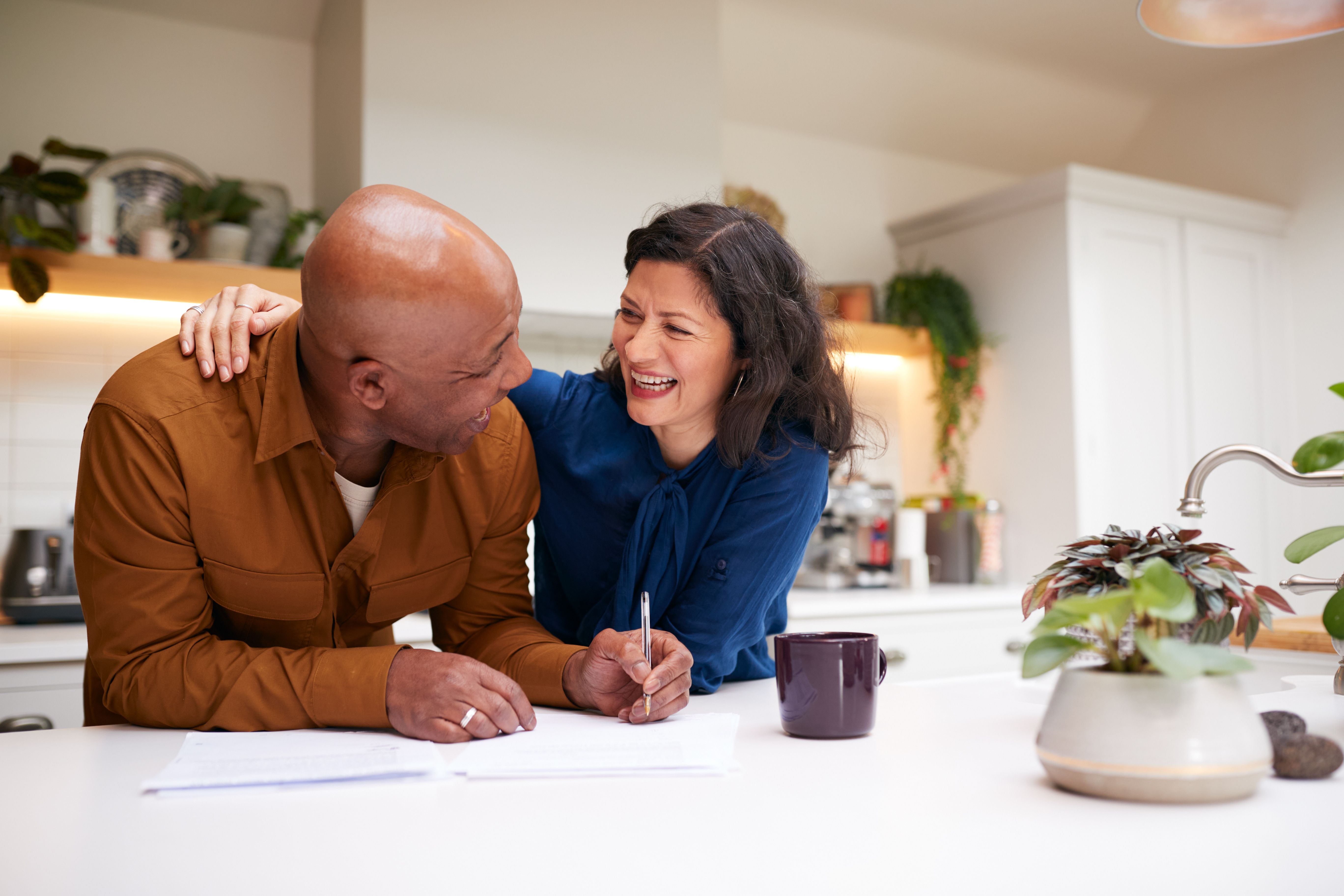 Shutterstock / Shutterstock
We adhere to strict standards of editorial integrity to help you make decisions with confidence. Please be aware that some (or all) products and services linked in this article are from our sponsors.
We adhere to strict standards of editorial integrity to help you make decisions with confidence. Please be aware this post may contain links to products from our partners. We may receive a commission for products or services you sign up for through partner links.
Best for:
Creating a first will
Standard estate planning
Affordability
About Willful
Willful is a digital platform where Canadians can create a legal will online without a lawyer. By answering an online questionnaire, the whole process can take just 20 minutes and cost as little as $99. That's a fraction of the cost of having a lawyer draw up one, and it doesn't require a face-to-face meeting in an office.
Willful's platform was developed in collaboration with leading estate lawyers. It has created more than 20,000 documents since launching in 2017. Willful currently operates in 8 provinces – Ontario, BC, Alberta, Saskatchewan, Manitoba, Nova Scotia, New Brunswick, and Quebec.
Here's a not-so-fun fact: nearly six in 10 Canadians do not have a legal will (including nearly nine in 10 Canadians between the ages of 27 and 34). Of those who do have one, many are out of date because life events like marriage, divorce, or the arrival of children haven't been taken into account.
No one likes to think about their own mortality, but having a will is a crucial part of your financial plan. It should be written when you are young and updated throughout your lifetime. The number one reason to get a will is so you can decide exactly how your estate will be distributed. If you die without a will, there is no guarantee your wishes will be carried out as desired. Luckily, if you don't have a legal will in place, you can rectify this in under an hour by making one with Willful.
Key Features
Here are the standout features of Willful:
100% online: Create a will online in less than 20 minutes from the comfort of your couch. It saves you from visiting a lawyer's office.
Affordable pricing: Pricing ranges between $99 (standard), $189 (premium), and best for householders $329 per plan for two adults (family, add up to 6 people to your plan). That's significant savings compared to the $850 or more you might pay for a lawyer.
Easy and intuitive: Just answer a questionnaire and the Willful technology customizes legal documents to best represent your wishes while avoiding common errors and contradictions.
Make your final wishes known: Choose whether to be buried, cremated, or have your body donated to science, along with selecting final wishes for a funeral, wake or memorial service.
Pet owners are covered: A new pet-friendly feature includes the ability to assign guardianship and leave money for the care of your animals.
Includes an option for philanthropic giving: A new charitable giving feature allows clients to allocate funds to a charity, plus the ability to leave a percentage of their residual estate to charity.
Unlimited changes: If you need to make changes, you can always edit and update any section, any time.
Learn more about Willful
How Willful works
Willful's intuitive platform guides its users every step of the way through the process of creating a will, with no notary or lawyer required. It comes with three different plans – the Essentials, Premium, and Family – each designed for clients with different needs.
One important consideration: Canadian law does not allow wills to be signed online. You still need to print the documents and sign them in the presence of two witnesses for them to be legally binding. Then, simply store your documents in a safe place. Make sure to follow the signing and storing process again should you make any changes or updates to your will in the future.
Willful pricing
There are three tiers of pricing for Willful, and all plans permit unlimited changes to your will: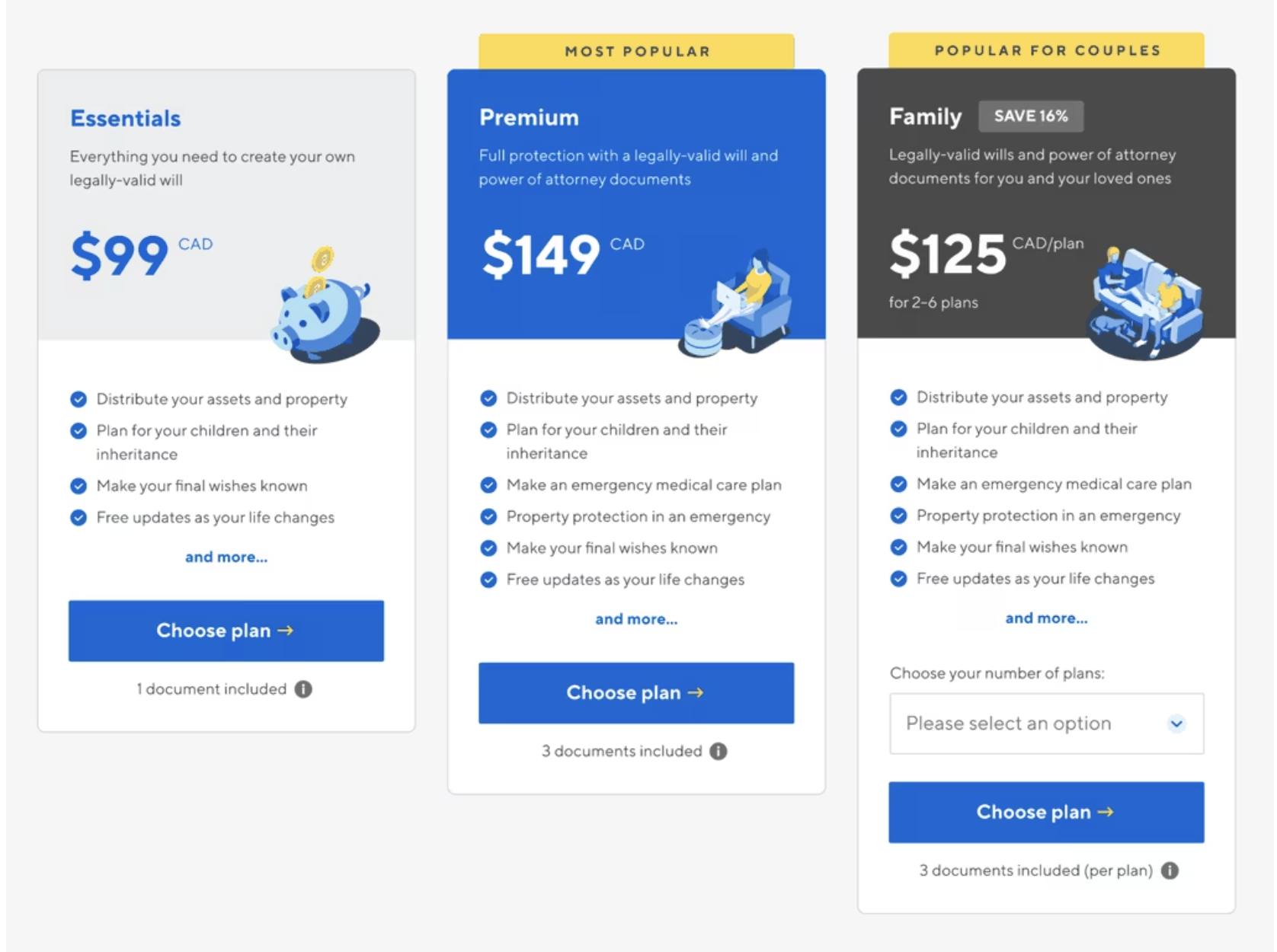 The Essentials Plan ($99)
The Essentials plan is the basic option and costs $99. This plan is best for single people who want to set up a will but don't want to set up a Power of Attorney to dictate what happens to them and their property. The Essentials includes one Last Will and Testament and allows clients to:
Take care of the estate and allocate property
Name personal representative and beneficiaries
Make final wishes known
Choose guardians for children and plan for their inheritance
The Premium Plan ($189)
The Premium plan includes everything in the Essentials package, plus a Power of Attorney for personal care and property. This option allows clients to:
Take care of the estate and allocate property
Name a personal representative and beneficiaries
Document your final wishes
Choose guardians for children and plan for their inheritance
Create an emergency financial and property plan
Plan for medical emergencies
*Choose this option if your beneficiaries differ from your spouse
The Family Plan ($329 for two adults)
Finally, the family plan includes everything offered in the Premium version, plus documents for you and your spouse. The Family plan option allows couples and families to purchase up to 6 Premium plans at once at a discounted price. This option helps couples, families (or even friends) finish their wills and save!
Take care of the estate and allocate property
Name personal representative and beneficiaries
Make final wishes known
Choose guardians for children and plan for their inheritance
Create an emergency financial and property plan
Plan for medical emergencies
Automatically mirrors wishes for a spouse for faster completion
Willful during COVID-19
Willful has gone above and beyond during the coronavirus crisis. It gave out more than 5000 plans to frontline healthcare workers during COVID and hopes to bring this initiative or a similar offer back again in the future.
And, while the law doesn't allow for digital signing, witnessing, or online storage of wills or Powers of Attorney, Ontario's new emergency order does allow for virtual witnessing. Willful has launched a partnership with Notary Pro to help its customers get their wills witnessed virtually. Willful is also watching legislation in other provinces hoping they follow suit.
Learn more about How to make a will.
Pros and cons
Pros
Affordable pricing — Create a basic will starting from $99
Accessible for all ages — Hassle-free way for anyone at any age to create an essential will without visiting a lawyer's office
User-friendly — Intuitive digital platform allows users to create a will in less than 20 minutes
Unlimited changes — Your estate planning needs will evolve throughout your life and Willful allows clients to make unlimited changes to keep their affairs up-to-date
Cons
Not yet available Canada-wide — Currently available in seven provinces, and working on expanding to Quebec, Prince Edward Island, Newfoundland and Labrador, Yukon, Nunavut and the Northwest Territories.
Not ideal for complex financial situations — Ideal for people with simple estates. Complex cases may require a lawyer for independent legal advice.
Not fully online — Because online signing and storage of wills is not yet legal, documents still need to be printed, signed, and witnessed to become legally binding.
How does Willful compare?
The most direct comparison for Willful is LegalWills.ca, which has offered a will service for more than 20 years and is available throughout Canada with the exception of Quebec. Its longevity is an advantage as many of its wills have gone through the probate process without any reported issues. LegalWills charges $39.95 for a basic last will and testament, compared to $99 for Willful.
A complete estate plan, including a power of attorney and living will, is $89.85, compared to $149 for Willful. A couple looking to prepare two wills would pay $64 and a complete estate plan for a couple is $144, compared to $249 for Willful.
With LegalWills.ca you can also list your belongings, digital assets and important contacts for $29.95 through a supporting feature called My Life Locker.
You can read an in-depth comparison in our article about The best online will kits in Canada.
The Verdict: LegalWills.ca has the advantage over Willful in terms of price point and longevity; however, Willful's platform is indeed more user-friendly and seamlessly designed with a millennial audience in mind.
Signing up for Willful
Creating a will is incredibly simple. Visit the Willful website and create an account with an email address and password. Enter basic information about yourself such as your name, city of residence, date of birth, and marital status. Willful then will recommend one of its three plans (Essentials, Premium, Family) based on your answers.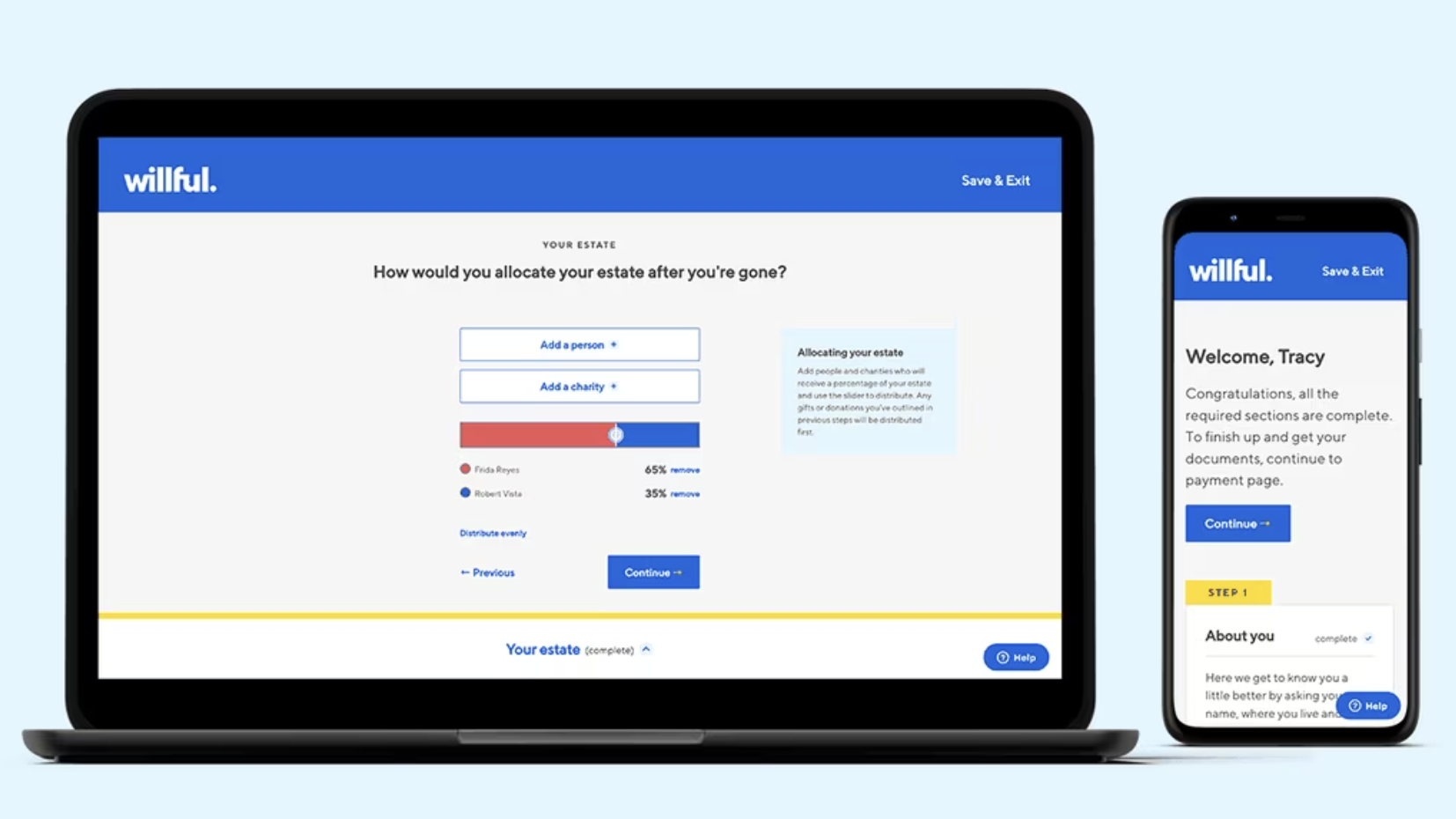 Once you've completed all the steps, you'll be prompted to pay for the plan and then can access your documents. Also, remember that these documents need to be printed, signed, and witnessed in order to become legally binding.
Learn more about Willful
The bottom line: Is Willful worth it?
The fact is, more Canadians should have a legal will in place. Willful offers an easy way to create one and a power of attorney online without visiting a lawyer. It does so at a fraction of the cost of using the services of a lawyer.
Willful's online platform is affordable, user-friendly, and makes end-of-life planning less intimidating. It's appropriate for most Canadians, whether it's your first attempt at creating a will, or if your situation has changed and you're shopping around for an affordable solution. If your estate planning needs are complicated, it's best to see a lawyer for independent advice.
FAQs
Are online wills legal in Canada?

+

Yes. An online will, when done correctly, is just as legal as one created by a lawyer (and considerably less expensive). The key point is to make sure your documents are printed, signed, and witnessed for them to become legally binding.

What happens if I die without a will?

+

If you die without a will, you're said to have died "intestate," meaning you did not leave instructions as to how your estate should be divided and distributed. Provincial law will govern how your property is distributed to your surviving relatives following their rules and not your wishes.

Why do I need to name a witness?

+

You need a witness to confirm that you (the "testator") has indeed signed your own documents. The witness will confirm this by signing the documents as well to make them a legal document.