Edmonton, Alta. Calgary may be the glitzier choice, but Edmonton is a little more dependable in terms of what it offers investors. Property prices don't tend to spike and collapse in Edmonton the same way they do in oil-dependent Cowtown.
A lot of that has to do with Edmonton's diversified economy. There is still a wealth of oil jobs, but Edmonton is also home to Alberta Health Services, the provincial government and the University of Alberta, all of which employ more than 15,000 workers each. The city's colleges and universities attract more than 60,000 students a year.
The Edmonton metropolitan area is already home to an impressive 1.5 million people, according to the Alberta government. The City of Edmonton has predicted that the population will hit two million by 2040.
Upside abounds, says Tom Shearer, broker/owner at Royal LePage Noralta Real Estate.
"Edmonton is at the start of a strong real estate cycle, and is one of the most affordable markets in Canada with some of the highest average wages," he says. "There is a good opportunity for price growth."
In December, the average price of a detached home in Edmonton was $472,000. Condos and duplex/townhouse properties averaged $202,000 and $368,000, respectively.
More: How to invest in real estate when you can't afford a huge down payment
Attractive alternatives: Grande Prairie, Calgary, Medicine Hat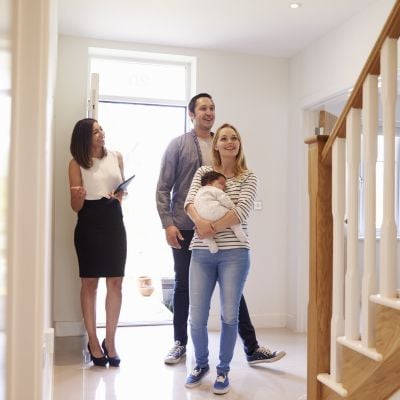 Whether you're hunting for a new home or looking to refinance your mortgage, knowing how much your new loan might cost you is critical. Use our handy mortgage calculator to help you understand what your payments could look like.
Get Started
Saskatoon, Sask. Investing in Saskatchewan is typically a toss-up between Saskatoon and Regina, the province's only two cities with more than 200,000 residents.
Saskatoon is slightly more expensive than Regina, but its overall metropolitan population is greater by about 70,000 people. It's also home to almost twice as many students, according to Universities Canada.
After several years of soft home values driven by the downturn in Saskatchewan's oil and mining industries, Saskatoon's market received a much-needed jolt in 2021. But an abundance of inventory helped keep prices under control. The average sale price in December, $366,132 was only 5.9% higher than it was a year ago, according to the Saskatchewan Realtors Association.
Low prices mean easier access to properties with more than one rental unit. Jordan Boyes of Boyes Real Estate says bungalows with rental suites can still be found in the $350,000 to $400,000 range. Fully tenanted, these homes should rent for $2,500 or more per month.
"All areas can work, but personally, l always like close to downtown and [the University of Saskatchewan]. You can get a newer house in the suburbs, but you will often pay quite a bit more for not that much more rent," he says.
In addition to affordability, Saskatoon offers two other attractive fundamentals: a diverse economy bolstered by outsized healthcare, manufacturing and transportation footprints, and a steadily growing population. In the 2011-2016 census period, Saskatoon was the third-fastest growing city in the country.
Attractive alternatives: Regina, White City, Lloydminster
Winnipeg, Man. Winnipeg arguably has Western Canada's most stable real estate market. Since 1965, the only years when the average MLS house price decreased were 1982, 1990 and 1995. Over that same period, annual double-digit price gains have been almost as rare.
Winnipeg may seem isolated, but its location makes the city an important North American shipping hub. The transportation and logistics sectors provide thousands of steady jobs, as do the city's manufacturing, financial services and communications industries.
Winnipeg's sheer size in relation to Manitoba's other cities means it attracts most of the province's new residents, new businesses and students. The Conference Board of Canada found that Winnipeg accounted for 65% of Manitoba's population growth from 1990 to 2015.
"Winnipeg sees positive net migration every year, and as a result has been a safe haven for investors," says Re/Max Professionals' Jennifer Queen.
The average price of detached homes sold in December was $382,317. Condos averaged $243,058 for the month. Those low prices mean investors in Winnipeg can still reasonably hope to achieve positive cash flow.
"The amounts can vary a lot based on the location and type of tenant you are getting, but generally positive cash flow is still very much achievable in Winnipeg. There are still deals to be had," Queen says.
Attractive Alternatives: Steinbach, Brandon, Portage la Prairie
Fredericton, N.B. With long overdue population growth in evidence across New Brunswick, the province's three biggest cities, Fredericton, Saint John and Moncton are all strong options.
At roughly 60,000 people, Fredericton is the smallest city on this list by far, but growth should be strong over the next two decades. The city is home to the provincial government, the University of New Brunswick and NB Power, one of New Brunswick's biggest employers.
The City of Fredericton projects that the population will expand by more than 50% by 2041. An additional 12,000 jobs are expected to be created by then as well.
"Growth is expanding both in the city core and outside city limits, so there are lots of opportunities," says Lincoln Thompson, broker/owner at Royal LePage Atlantic.
In Thompson's view, following the growth within the city should result in the best return on investment.
The benchmark price of both single-family homes and apartment-type properties in Fredericton rose more than 23% year over year in December. Yet they remain a fraction of what you'd pay for a 500-sq.-ft. condo in Vancouver or Toronto: $253,900 for a detached house, $215,800 for apartments.
Rents are rising, too. With two-bedroom apartments currently renting for around $1,400, many investors should be able to enjoy positive cash flow while their properties continue appreciating.
More: Should you invest in Toronto real estate?
Attractive Alternatives: Moncton, Saint John, Shediac
Sponsored
You're 5 minutes away from the best mortgage
Searching for your perfect mortgage shouldn't be hard. Homewise is an online brokerage that will negotiate on your behalf with more than 30 big banks and other lenders, completely free, and it only takes five minutes to apply.
If you're in the market for a new mortgage, or if you're looking to refinance before interest rates rise again, go to Homewise now and answer a few simple questions to get started.