Where did all that extra cash come from? Despite the seemingly endless financial disruption caused by the pandemic, many Canadian homeowners saw their savings grow in 2020.
By shutting down bars, restaurants, stores, stadiums, offices, theatres and resorts — did we miss anything? — the pandemic paused most of our normal spending habits: no more $80 Thursday nights at the pub, no more $100 trips to Cineplex with the kids, no more buying lunch at work five days a week.
The rate at which Canadians saved money soared. During the first three months of 2020, the average savings rate in Canada was 7.6%, according to Statistics Canada. In last year's second quarter, it shot up to 28.2%.
By the end of 2020, it had receded to 12.7%, but remained more than three times what the savings rate had been at the same point in 2019.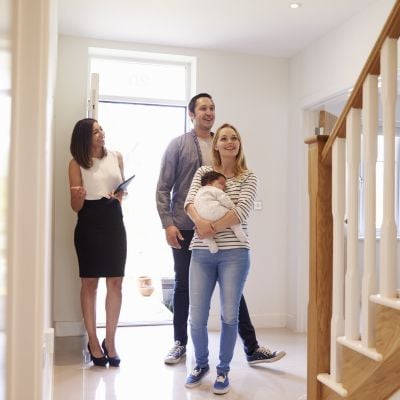 Whether you're hunting for a new home or looking to refinance your mortgage, knowing how much your new loan might cost you is critical. Use our handy mortgage calculator to help you understand what your payments could look like.
Get Started
Additional mortgage payments surge
A lot of that cash went to paying down home loans. Canadians made almost $34 billion in unscheduled mortgage payments last year, a 10.8% increase over 2019, data from the Canada Mortgage and Housing Corporation (CMHC) shows.
"We were actually expecting the amount of nonscheduled prepayments to decrease last year, given the context, and that's not what we saw," says CMHC research specialist Tania Bourassa-Ochoa. "Close to a third of all the mortgage payments done last year were nonscheduled payments."
While homeowners were saving big on discretionary spending, they also were getting assistance with their mortgages in the form of deferrals.
Canadian lenders offered their mortgage clients a six-month pause in payments as a means of helping them navigate income disruptions they may have suffered at the hands of COVID-19.
As of Feb. 28 of this year, member banks of the Canadian Bankers Association had granted deferrals to almost 800,000 homeowners over the course of the pandemic, 778,000 of whom have returned to making regular payments.
Strategies for prepaying your mortgage Paying your mortgage early, either through lump-sum payments or an accelerated payment schedule involving weekly or bi-weekly payments, is a proven way of reducing the overall cost of your home loan.
"If you're utilizing the higher capacities of your prepayment options, [the savings] can be significant," says Craig Spicer of Spicer Vo Mortgages in Halifax.
But be sure to check with your lender to find out about any prepayment penalties you might be subject to.
Spicer says his clients are increasingly curious about their prepayment possibilities, but it's not something they should rush into without considering the full implications.
Why you may not want to prepay
Taking out a mortgage with the intent of making the odd lump-sum payment is an admirable move — in theory — but those extra payments will require extra cash. By definition, "extra" money isn't something borrowers can guarantee they'll have access to.
"A lot of times, it's harder to create that discipline to do [lump-sum payments] than it is to do accelerated payments because people get accustomed to a certain budget," Spicer says.
Anthony Venuto of Vaughan, Ontario-based InTouch Mortgage Solutions says lump-sum payments carry a risk that accelerated payment schedules do not.
"A lot of clients want to pay down their mortgage as quickly as possible, but if you were to prepay your mortgage and then lose your job or get laid off, you would have to go back to the bank to ask for permission to get those funds out," Venuto says. "You may then be relying on credit facilities instead of capital to make a move."
When clients with extra funds available ask Venuto about prepaying, he says he often encourages them to put half their windfall toward a prepayment and set the other half aside as either a rainy day fund or seed money for other investments.
If prepaying isn't right for you, consider other options Refinancing your loan at a lower rate could help save thousands on your mortgage.
The investment angle is one Spicer discusses with his clients, too.
"With interest rates at their lowest point in history, you may want to take advantage of investing rather than utilizing those prepayment options — if you have a vehicle that can yield higher interest" than what you would save by making prepayments, Spicer says.
One prepayment strategy Venuto suggests is opting for a 30-year mortgage amortization period even if your lender says a 25-year amortization is possible.
That way, the income is there to make extra payments, but if your financial situation goes sideways, you won't be committed to the higher monthly payments associated with a 25-year amortization.
"Yes, you're taking the 30-year, but if something happens, you can always default back down to the original payment," he says.
Not currently a homeowner but want to be? Even though mortgage rates have risen this year, homeowners have not yet stepped back from the market. Spicer, Venuto and their peers are all extremely busy.
"I don't think [higher rates] have been a big deterrent for a lot of people," Venuto says. "They're still relatively low."
So if you're considering a foray into the housing market this year, start comparing lenders today. While you're at it, be sure to compare the prepayment options, as well as any other fees and penalties you may be charged.
It can all be a little daunting, so don't hesitate to reach out to a mortgage broker— or two or three — and find someone you can trust to help you through the process.
You may also want to check your credit score to make sure you're in a good position to start house shopping. Otherwise, you may need to pay down some debt and take other steps to lift your score.
Sponsored
You're 5 minutes away from the best mortgage
Searching for your perfect mortgage shouldn't be hard. Homewise is an online brokerage that will negotiate on your behalf with more than 30 big banks and other lenders, completely free, and it only takes five minutes to apply.
If you're in the market for a new mortgage, or if you're looking to refinance before interest rates rise again, go to Homewise now and answer a few simple questions to get started.