How do you print a house? If you're like most people, printing conjures images of what's spat out by your home or work computer setup.
3D printing a home is kind of like that, but instead of putting layers of ink on a sheet of paper, it puts down layers of cement to create a home's foundation and shell. Once that shell is complete, the finishing work — windows, roof, wiring, plumbing — is done by contractors.
A glimpse of the process can be found in this video from Calgary-based 3D Printed Homes Corporation.
While homes can be 3D printed from the ground up, doing so requires hauling the printer — a large, sophisticated piece of machinery — to a building site.
That's not always feasible, so some homes are constructed by printing their individual components, hauling them to the construction site and assembling them there.
"Creating a more automated process in this way will make prefab building and homes more accessible," reads a blog post from Prefab Housing Canada. "This can do much in the way of providing more options for affordable housing."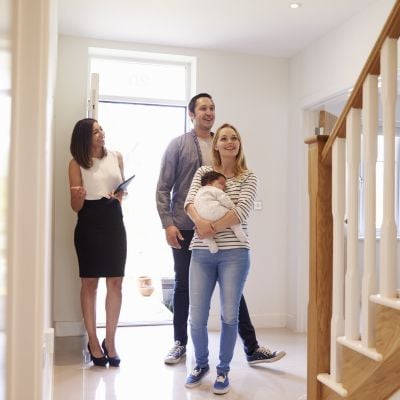 3D printed housing in North America Canada occupies a special place in 3DPH history. The first 3D-printed home listed on Airbnb is in Proctor Point, British Columbia.
The Fibonacci House, a two-bedroom, 377-square-foot home about 40 kilometres south of Nelson, B.C., was designed and built by TAM.
It consists of 20 separate components, which were printed in a factory and then assembled onsite.
The home is intended to be part of the first 3D-printed affordable housing project in Canada, a partnership between TAM and affordable housing provider World Housing. Income generated by the Fibonacci House will be put toward the project's completion.
So far, no 3D-printed homes are for sale in Canada, but they are making inroads into the U.S. market. One recently listed in Riverhead, NY for US$299,000.
Through its relationship with U.S.-based construction company ICON, World Housing has also been involved with 3DPH projects in Austin, Texas, and Tabasco, Mexico. The homes were given to formerly homeless families.
As a charitable endeavour, 3DPH makes a lot of sense. The homes are inexpensive to produce, repeatable and can be built in remote areas that have little access to new housing.
Whether those same qualities make them a fit for consumers who can't afford traditional homes at today's inflated prices remains to be seen.
Challenges facing 3DHP's commercial rollout Even one of 3DPH's most appealing aspects — affordability — has its limits.
Aside from the concrete work, Comishin says, "everything else, such as electrical, plumbing, windows, doors, roof ... costs the same no matter what the construction type is."
Anyone hoping to secure a modest 3D-printed home like the Fibonacci House, which Comishin estimates would sell for approximately $185,000, would also have to pay for the land — often the most expensive part of any real estate transaction.
The 3DHP industry must also reckon with the desires of Canadian consumers, who've come to expect certain things from the homes they buy, from traditional design touches to an ability to renovate and add space or boost resale value.
Comishin says consumers who are unmoved by the idea of incorporating curves and waves into their home designs can opt for a traditional-looking 3D-printed house. Renovations to add on to a property, he says, are "quite easy."
He adds he's confident that homes produced using the technology will one day be widely available to Canadian consumers. But for that to happen, communities and developers will need to buy in on a large scale.
"For it to be widespread, there needs to be a few 3D printers in every major city and at least one in every mid-size community," Comishin says. "They cost less than most of the excavators people see on construction sites, and significantly less than cranes."
Sponsored
You're 5 minutes away from the best mortgage
Searching for your perfect mortgage shouldn't be hard. Homewise is an online brokerage that will negotiate on your behalf with more than 30 big banks and other lenders, completely free, and it only takes five minutes to apply.
If you're in the market for a new mortgage, or if you're looking to refinance before interest rates rise again, go to Homewise now and answer a few simple questions to get started.