🗓️
Updated: August 09, 2023
We adhere to strict standards of editorial integrity to help you make decisions with confidence. Please be aware that some (or all) products and services linked in this article are from our sponsors.
We adhere to strict standards of editorial integrity to help you make decisions with confidence. Please be aware this post may contain links to products from our partners. We may receive a commission for products or services you sign up for through partner links.
Apply now
Are you looking for a home mortgage? Are you thinking about refinancing your current mortgage? Homewise claims that you can get the best mortgage in Canada within minutes. Homewise offers mortgages to Canadians at all levels of the home buying process. It doesn't matter if you're looking for a mortgage pre-approval to start shopping around for the perfect home, if you just purchased a home, or if you're looking to refinance your current mortgage. We're going to review Homewise so that you can determine if the services are worth using.
What is Homewise?
Homewise is a Canadian modern digital mortgage solution that allows you to apply for a mortgage in minutes without leaving your home. It has been operating since 2018 out of North York, Ontario.
Homewise is a free service that allows you to apply for a mortgage and explore mortgage options. You can also use the helpful calculators to see how much home you can afford and what expenses you should expect from your home purchase. Homewise also offers helpful guides that explain everything you could want to know about the home buying process.
With Homewise, you can compare mortgages from 30 different lenders and banks until you find the one that suits you and your budget.
It helps you save money since you can compare mortgage rates, and you can also customize what you're looking for so that you can find a mortgage that works for you.
How does Homewise work?
Homewise collects all your personal information (contact information, salary, and a few other details) and everything they need to know about the property to match you with a mortgage rate from 30 different possible lenders.
The good news is that everything can be done online when it comes to applying for your mortgage and browsing through mortgage options with Homewise. Once you input all your information, you'll be assigned an advisor who will work with you to get that human touch. You'll then be emailed various mortgage rates and options for all the multiple lenders they work with.
On the Homewise website, you can apply for a mortgage in five minutes. We went through the process to verify this, and we can confirm that the entire process was surprisingly simple.
What to expect when working with Homewise
Homewise will negotiate with 30 banks and mortgage lenders for you by showing you different mortgage options. You don't have to negotiate individually or go through the mortgage application process multiple times.
Homewise offers free support from advisors if you ever get stuck on anything during the home buying process so that you're not alone during the process.
You also don't have to worry about Homewise pulling your credit during the process. This means that your credit score won't be impacted by your search for a mortgage.
Homewise also offers helpful resources and tools. One of the tools offered is a variety of calculators to help you run the numbers for mortgages and affordability.
Buying a home is an expensive and stressful process. Homewise offers many tools that will make you feel more comfortable regardless of your stage.
Who does Homewise work with?
Since Homewise works with 30 banks and lenders, it's critical that we look at the actual partners to ensure they're reputable and trustworthy.
Which partners work with Homewise? Here are a few of the names that stood out on the list:
Scotiabank
Desjardins
TD Canada Trust
Manulife Bank
Equitable Bank
Meridian
Alterna Savings
Effort Trust
ICICI Bank
Home Trust
Marathon Mortgage
And many others
You can browse the entire list of lenders that Homewise negotiates with on the official website.
When you use Homewise, you don't have to apply individually with every single lender. You can apply once, and Homewise will do the rest of the work for you. This means you're going to save yourself a lot of time. Instead of popping into multiple different branches and offices, you can see what rates are available to you within five minutes since you're already busy enough.
Who is Homewise for?
Homewise is perfect for first-time home buyers who are intimidated about the process of obtaining a mortgage. Homewise offers many educational resources and tools to explain everything to you about mortgages and mortgage rates.
There are many different stages of the mortgage process. Homewise works with those looking for a pre-approval mortgage to begin shopping around, those who have already purchased a home, and anyone looking to refinance their current mortgage.
Homewise is so easy to use and filled with so many helpful resources that anyone shopping around for a mortgage could benefit from the tool.
How do you shop around for a mortgage with Homewise?
If this is your first time applying for a home mortgage, you'll have many questions about the mortgage shopping process. We decided to test the online application process to see if it's as simple as advertised.
Here's how you can shop around for a mortgage with Homewise.
Step 1: Click on "get your mortgage" on the homepage to get directed to the right page to begin. You'll go to another page that goes over the process of applying for a mortgage. Click the "Let's Get Started" button to continue.
Step 2: Inform Homewise about your stage in the home buying process (mortgage pre-approval if you want to go home shopping, mortgage if you already purchased a home, or mortgage refinancing if you're looking for a new mortgage).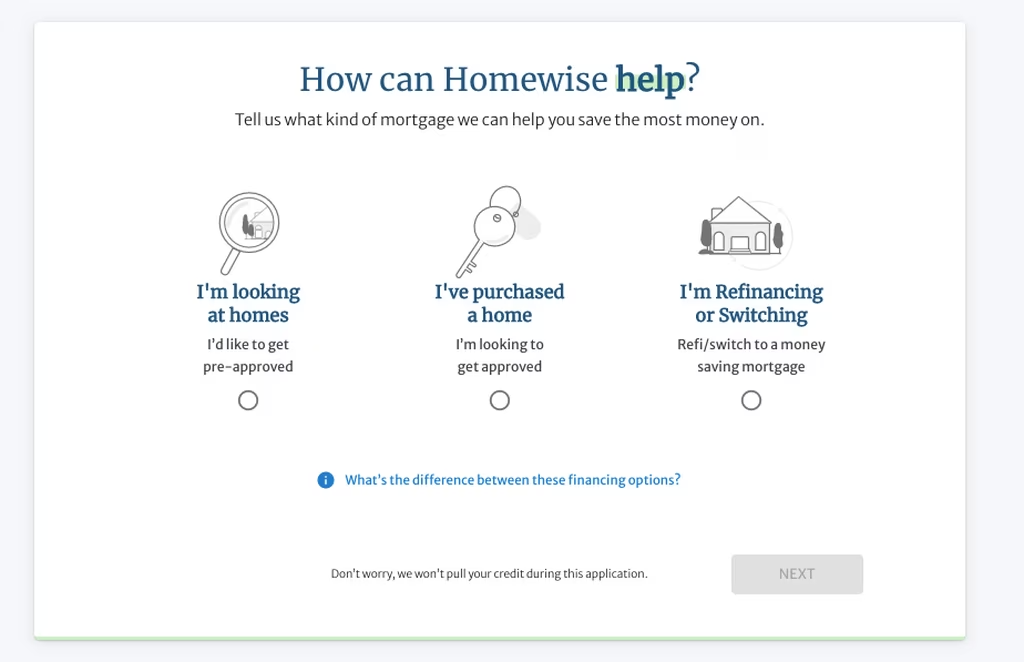 Step 3: Input details about the closing date or when you plan on shopping around. If you're just shopping around or curious about mortgage rates, you can give a rough time frame.
Step 4: Add information about the actual property. Homewise will ask for the address and if you purchased with any conditions. Then they'll also ask for the price of the home and other financial details about the property.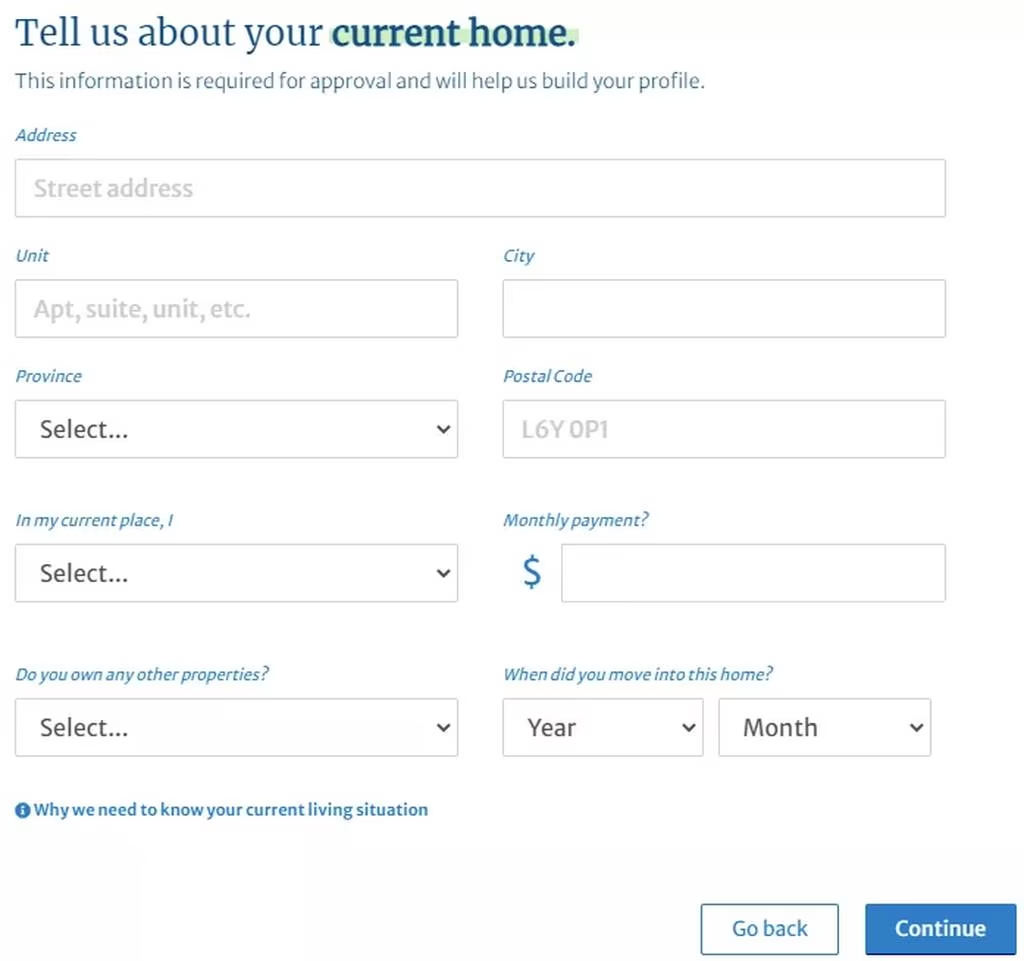 Step 5: You'll be asked about the purpose of your home. Is it a rental, your primary residence, or a second home? Your use of the home will determine your mortgage rate because lenders will look at the property differently if you plan on renting it out instead of treating it like your primary residence.
Step 6: Your personal information is required. This will include the following:
Contact information
Birthdate
Marital status
Citizenship status
Your current address and living situation
Your employment type
Your annual income
If you're applying with anyone else for the mortgage
Additional questions about your plans for the future (your expected future income and living plans)
Your assets and debts
Any additional comments that you may have
Then you wait about one to two business hours until an advisor reaches out to you. After inputting the original information, we were given three instant mortgage options to look over before the other offers came in.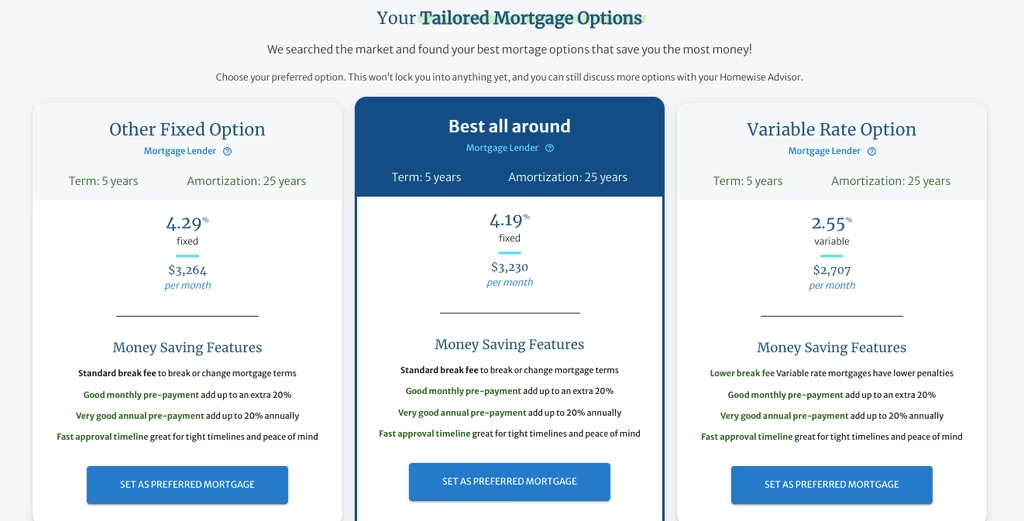 There's also a closing costs calculator on the bottom of the page based on your information so you can see how much money you should budget before you get the keys to your new place. This will include every possible expense that goes with buying a home.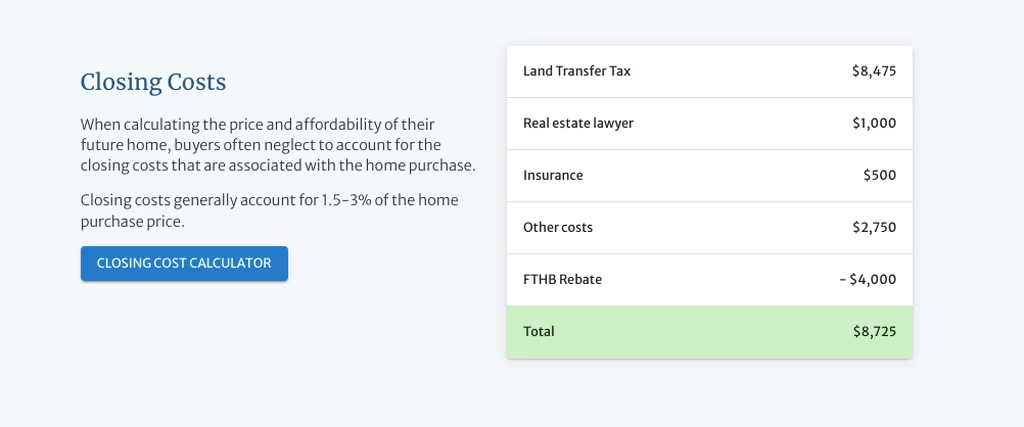 That same page also includes helpful guides about mortgage rates, the closing process, and the different types of mortgages. This will give you something to peruse for you to learn more about home ownership.
Please note that the steps may vary depending on your responses, as every property is different.
You can also save your progress at any stage of the process if you need additional time to find some information or if you get overwhelmed.
Pros and cons of Homewise
There are positives and negatives to every possible mortgage broker or mortgage service that you use. Here are the pros and cons of Homewise:
Pros
You can apply for your mortgage in five minutes.
You don't have to apply multiple times with different lenders.
Homewise assigns an advisor to work with you and to provide you with unbiased advice during the process.
Homewise is absolutely free to use.
Many free resources and tools on the website to explain the entire mortgage process and to help you calculate the expenses.
Cons
It's not available in Quebec.
Not all banks or lenders work with Homewise.
You don't get the mortgage rates until you submit all of your information.
How does it compare to others?
-Approval in 48-72 hours-Personal service and unbiased advice-Apply online from the comfort of home at any time-Referral gift-Multiple mortgage options-Free to use
-Approval 24/7-Flexible qualification criteria-Only one credit check needed-Impartial mortgage advice-Many different mortgage options-Free to use
-Approval in 24 hours-Other financial products like loans and crypto available-Up to $3,100 cashback in bitcoin on your funded mortgage-Get help from a qualified MogoMortgage specialist-Ideal for high-ratio mortgages-Free to use
All provinces and territories
Homewise and Breezeful are pretty comparable, as both are online mortgage solutions partnered with over 30 lenders. They're both online mortgage solutions that are partnered with over 30 lenders, and the application process for each is quite similar. Homewise seems to have more satisfied users than Breezeful, however. Carefully compare your options before making a decision.
Mogo provides a similar online mortgage application process. The online application form is simple and quick, and you can compare different lenders' charges. But, unlike Breezeful and Homewise, it offers other financial services such as loans, free credit checks, and monthly credit score monitoring.
FAQs
There are likely a few additional questions on your mind about using Homewise. Here are a few common questions that readers may have.
Applying for a mortgage can be stressful enough, so it helps to know that you'll have assistance along the way. You don't have to worry about Homewise just passing you off once they've collected your information.
The bottom line on Homewise
If you're looking to purchase your first home and are ready to begin the home-buying process, you'll want to explore all possible mortgage choices.
A home mortgage is a serious commitment, so it's important that you exhaust every option. Since Homewise gives you 30 different mortgage options, you will have plenty of room for negotiation. You won't have to accept the rate offered to you at the local bank.
Homewise will allow you to play around with the numbers on the website to help you decide if you're even in a position to buy that property at the moment with the affordability calculator.
You have nothing to lose from seeing what kind of rates are available to you. You don't have to commit to any lender either. Homewise is a helpful modern solution for any Canadian looking for a mortgage.