1. The urban exodus and the search for space COVID-19 triggered a tsunami of demand for larger properties among both experienced homeowners and first-time buyers. But finding adequate space at an affordable price has driven buyers into smaller exurban and rural communities where they can weather the next bout of planet-wide panic.
The flight from urban areas is likely to be the most significant trend affecting Canadian real estate in the first half of 2021. Buyers who envision a remote-work future and want more space will have little choice but to bid on properties in smaller communities where homes are generally more affordable than city centres.
After more than a year of intermittent COVID-19 lockdowns and frustration with city life, Canadians are expected to maintain a strong desire for less crowded areas. But some economists are already questioning the future of the new remote work paradigm.
CIBC's Benjamin Tal, the bank's deputy chief economist, was the first prominent expert to predict the eventual end of the urban exodus. He argues it will begin losing steam when businesses decide they want their workers back in a central location.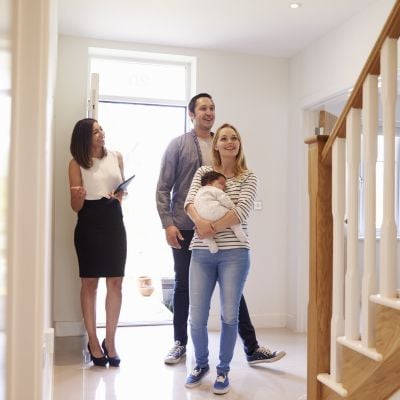 Whether you're hunting for a new home or looking to refinance your mortgage, knowing how much your new loan might cost you is critical. Use our handy mortgage calculator to help you understand what your payments could look like.
Get Started
2. The condo market will firm up — thanks to immigration A desire for more space has been bad news for condo sellers, eviscerating demand and flattening price growth for much of 2020.
Things have been even worse for condo investors. The three key demographics necessary for keeping their properties tenanted and profitable — immigrants, students, and travellers willing to pay high nightly rates — disappeared a year ago and have yet to return.
But the mass sell-off many feared would tank the condo markets in cities like Toronto and Vancouver has not materialized. Owners seem optimistic that a combination of COVID-19 vaccinations and the federal government's increased immigration targets for 2021 will boost condo demand back to pre-pandemic levels.
If you own a condo in Toronto, you can find out how much your property is worth with a free home valuation.
While the country's vaccine rollout has been the target of withering criticism, Canada already is ahead of schedule for hitting the Liberals' target of 401,000 new permanent residents in 2021.
Minister of Immigration Marco Mendicino told Bloomberg News that 26,600 permanent residents were admitted to the country in January, with another 27,332 welcomed in February.
3. Shrinking inventory, swelling prices When a housing boom takes place in the midst of a global recession, it's fair to wonder if traditional real estate fundamentals mean anything at all. Unemployment skyrockets and businesses close, but people are trampling each other so they can purchase million-dollar homes.
The result has been a lack of available properties for sale. These days, the typical Canadian city is as likely to have a painful lack of housing supply as it is a Tim Hortons.
And with the aforementioned urban exodus eroding inventory in once well-stocked and slow-moving rural markets, pressure will be put on prices everywhere, not just in the country's biggest cities.
In Bancroft, Ontario — population 4,000 — active listings fell 63.9% year-over-year in January to reach their lowest level in over 30 years. The average price was a "What!?"-inducing 80.9% higher than it was a year before.
4. Rates on the rise Driven as it's been over the past eight months by historically low interest rates, the strength of Canada's housing market would seem highly sensitive — in a "Superman is sensitive to kryptonite" kind of way — to any increase in interest rates.
We're about to find out if that's true.
In early March, multiple Canadian mortgage rate comparison sites reported that the lowest rate for a five-year fixed-rate mortgage rose one-quarter of 1 percentage point to 1.64%, the first such increase since January of last year. As the country's major banks raise their mortgage rates, you may want to move fast to secure a favourable rate.
The increase comes at an inopportune time for recent homebuyers. Many made their purchases under the assumption that the Bank of Canada's promise to leave interest rates low until 2023 would leave them free of any rate paranoia for the foreseeable future. Few, especially those who opted for variable-rate products, expected the cost of their mortgages to rise quite this soon.
Sponsored
You're 5 minutes away from the best mortgage
Searching for your perfect mortgage shouldn't be hard. Homewise is an online brokerage that will negotiate on your behalf with more than 30 big banks and other lenders, completely free, and it only takes five minutes to apply.
If you're in the market for a new mortgage, or if you're looking to refinance before interest rates rise again, go to Homewise now and answer a few simple questions to get started.