Wait, you need how long to save a down payment?
It takes the average Canadian household 63 months, or just over five years, to save the minimum down payment needed to buy a "representative dwelling," National Bank of Canada says.
NBC's data assumes the household puts 10% of its pretax income into a down payment fund and wants to buy a house that sells for something close to a city's median selling price.
Five years and change may not sound especially brutal considering we're talking about a potentially lifelong investment, but with prices rising so quickly in Canada — the Canadian Real Estate Association said the average sale price in March was up 31.6% from a year ago — the average price in your market could more than double by the time you've saved enough for a down payment at today's prices.
Even if price growth moderates, as some feel it will, five years of even 10% appreciation won't do much to help homebuyers already struggling to save.
The situation is already next to impossible if you're hoping to buy in one of Canada's biggest real estate markets.
In Toronto, where NBC says the price of a representative home is just shy of $1.1 million, it would take a household earning over $183,000 a whopping 297 months — more than 24 years — to save up the minimum down payment.
In Vancouver, where the median price is almost $1.4 million, a household earning $237,201 would need 389 months to pull together a minimum down payment. That's more than 32 years.
More: Estimate your monthly mortgage payment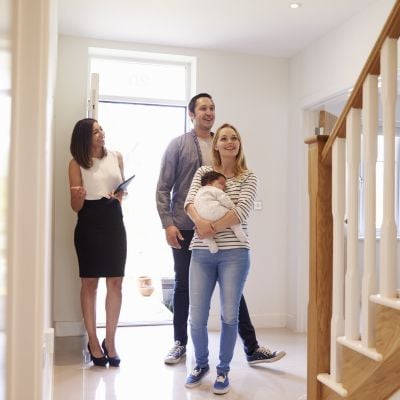 Whether you're hunting for a new home or looking to refinance your mortgage, knowing how much your new loan might cost you is critical. Use our handy mortgage calculator to help you understand what your payments could look like.
Get Started
Blame Canada's mortgage rules
One reason ity takes so long to save a down payment in Toronto and Vancouver is because of Canada's rules around mortgage lending, NBC says. When a home is priced at $1 million or higher, a down payment of 20% is required. That at least $200,000.
There are still properties in the two hottest cities selling for under a million, which would allow you to put down less than 20% — for now, anyway. But the day when even the average townhouse costs over $1 million in those places appears to be on its way.
Here's how National Bank's calculations break down for the other cities it studied. Most of them are much more approachable.
Victoria
Price of "representative" home, non-condo: $963,299
Household income required for purchase: $191,468
Months you'd need to save: 118
Calgary
Price of "representative" home, non-condo: $489,195
Household income required for purchase: $99,759
Months you'd need to save: 33
Edmonton
Price of "representative" home, non-condo: $422,555
Household income required for purchase: $86,169
Months you'd need to save: 29
Winnipeg
Price of "representative" home, non-condo: $352,034
Household income required for purchase: $71,788
Months you'd need to save: 27
Hamilton
Price of "representative" home, non-condo: $767,766
Household income required for purchase: $153,693
Months you'd need to save: 69
Ottawa/Gatineau
Price of "representative" home, non-condo: $567,313
Household income required for purchase: $114,967
Months you'd need to save: 45
Montreal
Price of "representative" home, non-condo: $464,684
Household income required for purchase: $94,760
Months you'd need to save: 40
Quebec City
Price of "representative" home, non-condo: $317,568
Household income required for purchase: $64,760
Months you'd need to save: 27
National Bank also looked at condo affordability. The time needed to save the minimum down payment on a condo in the cities studied ranges from 55 months for buyers in Vancouver to 15 months in Edmonton.
How can Canadians acheive homeownership sooner?
If your down payment savings aren't where you'd like them to be, there are more than a few things you can do to increase your odds of landing a home of your own sooner. Warning: The overriding theme here is "sacrifice".
1. Lower your expectations
To some homebuyers, especially first-time homebuyers, this might sound like a cop out, or even a defeat, but don't think of it that way.
It's not your fault Canada's home prices are rising at a maniacal pace. But trying to keep up with them when your budget won't allow it would be just as crazy. Rather than putting 5% down on a home that's move-in ready, consider aiming lower and looking for a house that needs some TLC.
Buying a home that needs work isn't for everybody, but it can be a game changer when it comes to affordability. A home that was updated in the last few years may cost $500,000, but a similar property that hasn't been updated or repaired since the 1980s might sell for only $400,000. A 5% down payment on the first house would be $25,000; on the second, it would be $20,000.
That's quite a difference when you're working with a limited budget.
The money you save could go toward renovations, which will help increase the value of your home, or you could just boost your down payment and take out a smaller mortgage.
2. Decide where you need to live
The numbers in the National Bank report are dispiriting, but the only cities in the study where the word "affordability" makes people laugh bitterly (then cry inside) are Vancouver, Toronto and Victoria — although people hunting for a home in Ottawa may tell you our nation's capital belongs on the list, too.
The lesson: There are hundreds of other communities in Canada where the average person can afford to save up for a house.
"Right," we hear you say, "but who wants to live in any of them?"
Look, we're not telling you to buy a home in some remote, unserviced area in the woods, or in an emptied-out oil town on the prairies. There are dozens of vibrant, affordable cities in Canada where you can earn good money, eat good food and make good friends.
Toronto and Vancouver don't have monopolies on any of those things. They do, however, have countless ways of devouring your savings while housing prices smash through the roof. Start looking at smaller, less expensive communities where you can become a homeowner and continue your career or even start a business.
3. Seek your parents' help
As prices continue increasing, more and more parents have been contributing to their children's down payments. At the turn of the century, about 23% of parents lent their kids at least part of their down payments, according to a study by Mortgage Professionals Canada. By the end of 2019, that figure had grown to 40%.
Turning to "the bank of Mom and Dad" is one of the most effective ways of boosting your down payment savings without having to incur any extra debt.
More: What is a mortgage gift letter?
If your folks are still paying off a rapidly appreciating home, they could save some money by refinancing their mortgage at a lower rate and send some of the cash they pull out your way. Just make sure that gifting or lending you what you need won't impinge on any of their future plans.
Note that if you're using gifted funds for your down payment, lenders may wonder if you're financially stable enough to handle a mortgage. You'll need to wow them with your income and your credit score, which you can check for free, and then get to work on improving.
If you're really dedicated to saving a larger down payment, you might have a potentially more difficult chat with your parents and ask about moving back in.
We know, we know. But think of the money you'll save on rent. What would an extra $15,000 in savings — minus whatever you'll need to spend on family counselling — do for your down payment?
4. Get serious about making and saving more money
Not to be too dramatic, but it might be helpful to think of yourself as being at war with the housing market. In this battle, the only ammunition that matters is money.
If your current income and budgeting efforts — you are sticking to a budget, right? — aren't enough to build up your down payment, it's time to look for additional ways to make money.
The gig economy is open to everyone. If you have a car or a bike and a few extra hours at the end of every day, you could do what thousands of other Canadians do to generate extra cash.
Do you have a unique skill or hobby that other people might be interested in? Turn it into a side hustle. You should be able to keep your overhead costs low, which will make your attempt to earn money by doing something you already enjoy relatively risk-free.
Maybe your skills are a little more conventional and in demand by businesses. If so, do some freelance work. There are platforms out there that can help you find your next client pretty easily.
5. Construct a plan with an expert
You can't assume your homebuying dreams have been vaporized without talking to the people who know the struggles of homebuying better than anybody: mortgage brokers.
You might be amazed to know what a mortgage broker can do for you, even if your down payment savings have stalled. In a phone call that lasted about two minutes, Fair Mortgage Solutions founder Graeme Moss shared these strategies:
Using their equity and home as collateral, your parents might borrow the money for a second home, and put all three of your names on the title. After a few years, you may be in a position to take on the entire mortgage yourself.
You could save using a GIC or RRSP.
You may consider tapping into provincial first-time buyer programs that can help you with your down payment.
By contacting a good mortgage broker and being honest about your financial situation, you're likely to receive a similar combination of tried-and-true solutions and outside-the-box alternatives that can be customized to your unique situation.
A quick exchange with a broker may be all the reminder you need that home ownership, even though it's going to require a few sacrifices along the way, is still within your grasp.
Sponsored
You're 5 minutes away from the best mortgage
Searching for your perfect mortgage shouldn't be hard. Homewise is an online brokerage that will negotiate on your behalf with more than 30 big banks and other lenders, completely free, and it only takes five minutes to apply.
If you're in the market for a new mortgage, or if you're looking to refinance before interest rates rise again, go to Homewise now and answer a few simple questions to get started.