The national housing picture in June National home sales were down 8.4% from May to June, with activity declining in about 80% of local markets, CREA reports.
Housing activity for the month was still 13.6% higher than it was a year before, despite historically low supply and the usual seasonal variation home sales encounter in the summer. Demand among buyers remains intense.
Indeed, the weak supply/strong demand situation resulted in another massive increase in Canadian home prices. The national average home price was just over $679,000 in June, 25.9% above what it was a year before.
Polish up your credit score and track down the best mortgage rate you can, because CREA doesn't see price pressures alleviating anytime soon.
"[F]or many housing markets the main issue is that supply shortages are as acute as ever," Shaun Cathcart, CREA's senior economist, said in a news release. "At the same time, the break we've had on the population growth side of things is likely now coming to an end. So while the frenzy and emotion of earlier in the pandemic seem to have dissipated for now, the key ingredients of a seller's market are all still in place."
Cathcart's not alone in his projection. Real estate giant Royal LePage expects the aggregate price of a home in Canada to reach $771,500 in the fourth quarter of 2021 — an increase of 16%.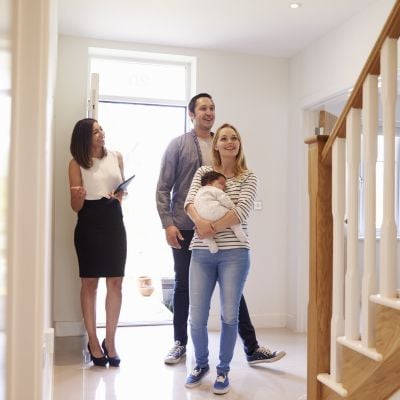 Regional housing activity in June
Ontario Canada's largest real estate market closed out its second-busiest June on record. Sales were 12.6% higher than a year before and 13.8% greater than the 10-year average for the month, according to the Ontario Real Estate Association.
The average sale price in Ontario in June was $857,754, a 26.1% year-over-year increase.
In a number of markets, home prices increased by considerably more than that. In Hamilton-Burlington, the benchmark price was up by 30%. In Peterborough, the average sale price rose by 32.6%. In Barrie, the average price rose an eye-watering 36.6%.
The reason behind the surging prices is low supply. Active listings in the province were 27.7% lower than in June 2020, and 42.5% below the five-year average.
British Columbia A similar story is playing out in B.C.'s housing market, where home buyers continue to find ways to pay astronomically high prices.
In June, which saw a 34.7% annual increase in sales, the average price of a home in B.C. rose 22.2% to reach $910,445, according to the British Columbia Real Estate Association.
Active residential listings were down 23.4% year-over-year in June, pouring gasoline on what are already blazing home prices. The average price in Powell River jumped by 35.7% year-over-year. In Kamloops, it was up by 28.8%. Greater Vancouver's average price even found room to grow another 14.3%, landing at $1.2 million at the end of the month.
"A lack of supply continues to be the single largest factor affecting the market," said Larry Anderson, president of the Fraser Valley Real Estate Board, which governs the territory directly to the east of the Vancouver sprawl. "Simply put, to meet current demand and get back to balance, we need about 3,500 more active listings in our region."
Good luck with that.
Quebec Housing activity in Quebec fell by 16% year-over-year in June, according to the Quebec Professional Association of Real Estate Brokers (QPAREB). The decline could be attributed to a severe lack of supply.
Active and new listings fell by 33% and 13%, respectively, last month. It's hard to keep up a raging pace of home sales when there's nothing on the MLS to buy.
For many years, Quebec had escaped the double-digit price increases seen in Ontario and B.C. Those days are long gone.
The median price of single-family homes in Quebec had increased by 32% by the end of June. With a rise of 25%, the median price of condos wasn't far behind.
QPAREB found that the median price of single-family homes increased by at least 25% in four of the province's six largest housing markets. It rose by 25% in Gatineau, 32% in Sherbrooke and 37% in Trois-Rivieres.
Quebec is still largely affordable, though. The median price in Montreal in June was $508,000. In Quebec City, it was only $310,000.
The Prairies Real estate activity in Alberta continues to roar back after years of sluggishness. In June, sales were up 44.1% year-over-year, with the residential average sale price rising a healthy 13.2% to reach $432,138, reports the Alberta Real Estate Association. Alberta also enjoyed a significant 16.2% rise in new listings.
Things weren't quite as hopping in Saskatchewan, but the province still saw sales rise by 12% compared to last June, says the province's real estate association. The composite price of homes in Saskatchewan was $288,500, 9.8% higher than at the same time last year.
Manitoba's Real Estate Association has yet to provide a publicly viewable monthly round-up for June, but sales in Winnipeg, where most of the province's real estate activity takes place, rose by 2.4% last month and were a solid 13.6% higher than the five-year average.
The average sale price of detached homes in the city was just shy of $396,000, according to the Winnipeg Regional Real Estate Board.
Eastern Canada Like Quebec, Canada's eastern provinces had, until recently, avoided much of the housing hysteria seen in major markets. But with buyers desperate to secure property, they've been flocking east in search of opportunities – and taking big-city price inflation with them.
New Brunswick just had its best June ever, with sales increasing by 7.7% year-over year, according to the New Brunswick Real Estate Association. June 2021 is now the province's third-most active month in history – right behind May and April of this year. The overall benchmark price in New Brunswick was $245,600, an increase of 30.9% compared to June 2020.
In Nova Scotia, sales were down slightly from a year ago, but still 15.3% higher than the 10-year average for June, says the Nova Scotia Association of Realtors. Real estate activity for the first six months of 2021 is 53.5% greater than the same period last year. The average price of homes sold in Nova Scotia in June was $366,683 – 27.6% higher than it was a year ago.
The remaining Atlantic provinces, Prince Edward Island and Newfoundland and Labrador, saw slightly different June performances. Sales were 5.4% lower than a year before in PEI, but the average sale price, $331,641, rose by 27%, found the Prince Edward Island Real Estate Association. Things were slightly more bananas in Newfoundland, where the Newfoundland and Labrador Association of Realtors described a sales increase of 107%. The province's benchmark price, up by only 11.6%, was sitting at $308,000 by month's end.
Sponsored
You're 5 minutes away from the best mortgage
Searching for your perfect mortgage shouldn't be hard. Homewise is an online brokerage that will negotiate on your behalf with more than 30 big banks and other lenders, completely free, and it only takes five minutes to apply.
If you're in the market for a new mortgage, or if you're looking to refinance before interest rates rise again, go to Homewise now and answer a few simple questions to get started.