The national picture Even though sales dropped compared to the same month a year ago, August 2021 was still the second-busiest August on record, with 52,000 homes — $33 billion worth of real estate — changing hands. And the national average sale price jumped 13.3% to $663,503.
CREA expects prices to keep surging. In its updated Resale Housing Market Forecast, also released Wednesday, the association says a return to pre-COVID-19 normalcy, and the increased immigration that results, will "ultimately act as tailwinds for housing demand."
It projects the average home price in Canada will reach $680,000 this year, a 19.9% annual increase, before rising to around $718,000 in 2022.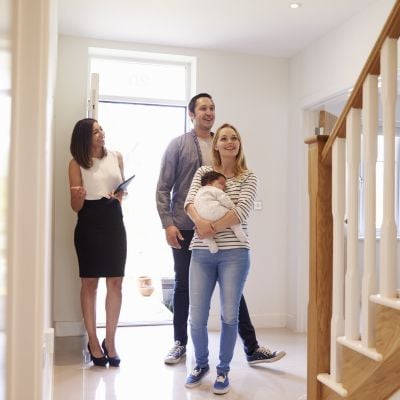 Whether you're hunting for a new home or looking to refinance your mortgage, knowing how much your new loan might cost you is critical. Use our handy mortgage calculator to help you understand what your payments could look like.
Get Started
Regional real estate activity Ontario
Canada's busiest real estate market capped off its third-strongest August on record, with sales increasing 19.9% compared to the same period last year. In the first eight months of 2021, home sales are up 37.1% annually.
The average August sale price in Ontario was $834,932, a 15.1% year-over-year gain. Sharp price increases are a direct result of evaporating supply. New listings for the month were 30.9% lower than they were a year ago; active listings for August haven't been this low in more than 30 years.
Notable activity:
The average price of detached homes sold in the Greater Toronto Area was $1.4 million. The number of new listings was down 43% year over year.
In the Windsor-Essex area, the average price rose 36.4% to hit $532,153.
Ottawa's average price increased by 18.5% and now sits at just over $653,000.
At least 17 of the real estate boards who report their results to CREA saw their benchmark sales prices rise by 30% or more. In Bancroft, the benchmark was 55.6% higher than it was last August.
British Columbia August sales fell 7.1% in B.C., with active residential listings 37.9% lower than in August 2020, according to the British Columbia Real Estate Association.
"Home sales around the province have essentially returned to normal after a record-setting spring," said BCREA Chief Economist Brendon Ogmundson. "However, we continue to see a drought in the total supply of listings as well as a downward trend in new listings activity."
The average sale price in B.C. lept 17.2 % to $901,712. Prices rose most in the Vancouver Island (29.5%), South Peace River (24.1%), Kamloops (21.9%) and Chilliwack (21.3%) regions.
Elsewhere Sales dropped dramatically across Quebec, as supply constraints throttled sales across the province's most active markets.
New supply was down 27.3% in Montreal, 23.1% in Quebec City and 12.1% in Gatineau. Sales in each city fell by at least 23% year over year, while average prices saw double-digit gains.
Further east, activity was all over the map. It fell 17.9% in Prince Edward Island, inched up 5.1% in Nova Scotia and rose significantly in New Brunswick (18.8%) and Newfoundland and Labrador (30.5%). Canada's sleepiest real estate markets are now the ones with the most room to grow.
Average prices in New Brunswick, Nova Scotia and PEI all rose between 16.9% and 18.4%. The average price in Newfoundland and Labrador, which increased 7.5% to $277,407, is the lowest provincial average in Canada.
Price swings on the Prairies have been more muted, as there are still plenty of homes for buyers to choose from. Calgary led in price growth with a year-over-year average increase of 10.8% ($505,447). It was joined in the top three by Winnipeg, where a 10.4% increase drove the average price to $346,843, and Edmonton, where August's average $398,191 was 8.9% higher than it was a year ago.
Sponsored
You're 5 minutes away from the best mortgage
Searching for your perfect mortgage shouldn't be hard. Homewise is an online brokerage that will negotiate on your behalf with more than 30 big banks and other lenders, completely free, and it only takes five minutes to apply.
If you're in the market for a new mortgage, or if you're looking to refinance before interest rates rise again, go to Homewise now and answer a few simple questions to get started.