What is negative amortization?
Typically when you pay your mortgage, your money is going toward the cost of the house itself, or the principal. Then there is also interest that the mortgage charges you.
Negative amoritization is when your monthly mortgage payments don't cover the principal or interest. Therefore, you're not really paying off the loan, and you're not getting closer to owning your home.
"For fixed payment variable-rate products, when interest rates increase and the payment doesn't change, the payment may no longer cover the interest owed and therefore the total amount owed starts to increase," said Olympia Baldrich, vice-president, retail products at TD bank.
Basically, there's also the risk you'll end up paying more than your home is actually worth because you're paying a disproportionate amount of interest.
To add to this, some lenders are allowed to increase your payments if you hit your trigger rate: a specific interest rate that allows your lender to charge you more. When the interest rate reaches the trigger rate, the lender will then be allowed to increase your mortgage payments.
It's estimated about 13% of all mortgages reached their trigger rate in November 2022, meaning that their fixed monthly payments increased.
If you have a variable-rate mortgage and are facing negative amortization — or fear you will be soon — here are some steps you can take to help protect yourself against it.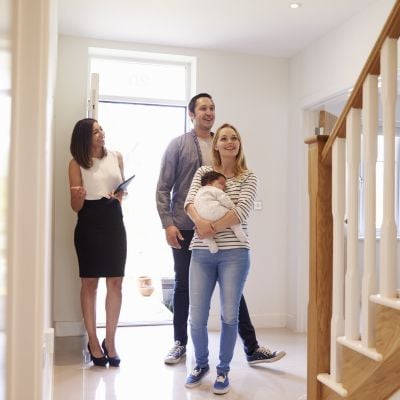 Whether you're hunting for a new home or looking to refinance your mortgage, knowing how much your new loan might cost you is critical. Use our handy mortgage calculator to help you understand what your payments could look like.
Get Started
Increase your payments
It may seem obvious, but it must be said: If your mortgage payments increase, putting down more money can help to offset the new monthly amount. Of course, you need to have the cash on hand to be able to do this.
With variable-rate mortgages, you can make higher payments at any time to offset the interest rate increase.
"If a customer feels they may be close to entering into a negative amortization," said Baldrich, "increasing payments proactively, through frequency or amount, as well as lump sum payments, can help keep amortization in line with the original contract."
Putting down a larger lump-sum can help decrease the amount of interest you'll pay, and reduce your overall principal. This method might be worth it if you're in the middle of a mortgage term and think rates will decrease in the near future.
If you have a closed variable-rate mortgage, you can still make a lump-sum prepayment, but you might have to pay additional interest. For example, a closed-rate interest mortgage from CIBC, will charge three months' interest on the amount that you prepay.
Convert to a fixed-rate mortgage
With a variable-rate mortgage, you have the option to convert to a fixed-rate mortgage at any time. This can be a great option if you're early in your mortgage, and worry about additional rate increases.
If you're considering switching from a variable to a fixed rate, you'll have to stick with your current mortgage provider. They probably won't charge you additional fees for locking in, but you won't be able to shop around for the best mortgage rate possible.
Refinance your mortgage
Refinancing is basically getting a new rate for your mortgage.
If your credit score has improved since you first took out your variable-rate mortgage, it's possible that you may be able to get a better rate.
Refinancing can also make your monthly payments easier by changing the overall amount that you owe on your mortgage. Since your principal will be less than when you originally took out your loan, your monthly payments may decrease despite higher interest rates.
If you made a downpayment of less than 20% on your home, you may be able to save some additional monthly cash by refinancing. If you paid less than 20% then you will need to pay mortgage insurance. So, if you were to then get a new mortgage term and start with over 20% of your home paid off, you can then eliminate the insurance fee.
The money you save can help offset the additional costs you're paying with a variable-rate mortgage.
Don't Miss
Will I ever be able to afford a house? Who should I trust with my money? Get answers to these questions and more by tuning into the new Half Banked podcast. Join our hosts weekly as they ask the big money questions that matter to young Canadians. Episode 1 is now available on all major podcast platforms including Spotify and Apple Podcasts
Change your mortgage term
If you're struggling to make your mortgage payments due to the interest rate hikes, extending the amortization period is one way to avoid negative amortization. For example, you could switch from a 25- to a 20-year mortgage term.
Some variable-rate mortgages will automatically extend your term if you fall into negative amortization, so it's also good to verify if your lender has that policy.
While a longer term means that you'll be spending more on interest, this can help minimize the impact on your monthly payments.
Be aware that if you are looking at an amortization period of over 30 years, you will need to have made a downpayment of over 20% on your home.
Sponsored
You're 5 minutes away from the best mortgage
Searching for your perfect mortgage shouldn't be hard. Homewise is an online brokerage that will negotiate on your behalf with more than 30 big banks and other lenders, completely free, and it only takes five minutes to apply.
If you're in the market for a new mortgage, or if you're looking to refinance before interest rates rise again, go to Homewise now and answer a few simple questions to get started.