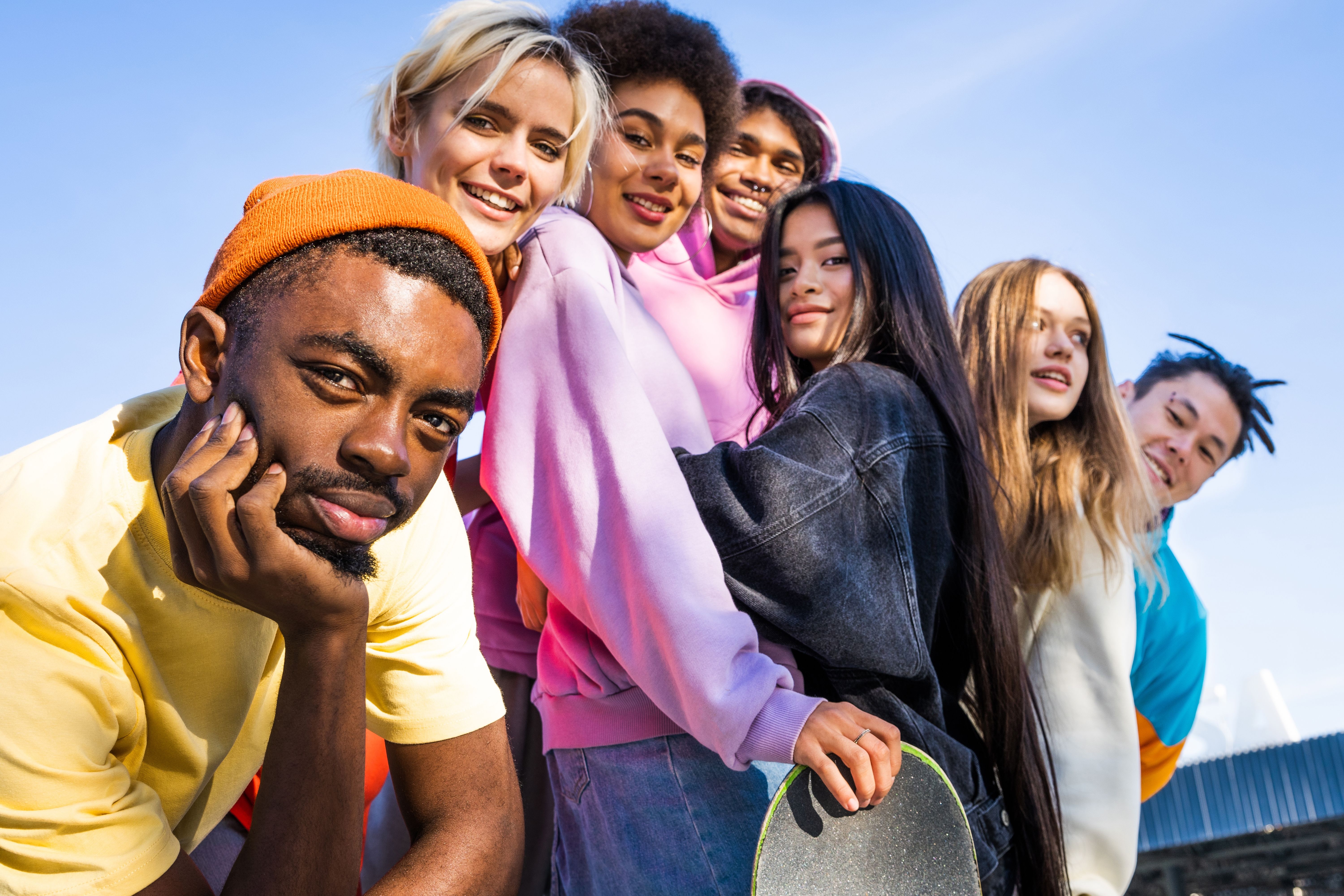 Did CERB save the day? How COVID-19 is impacting Canadian Millennial and Gen Z finances
oneinchpunch / Shutterstock
🗓️
Updated: January 21, 2021
We adhere to strict standards of editorial integrity to help you make decisions with confidence. Please be aware that some (or all) products and services linked in this article are from our sponsors.
We adhere to strict standards of editorial integrity to help you make decisions with confidence. Please be aware this post may contain links to products from our partners. We may receive a commission for products or services you sign up for through partner links.
In November, we surveyed over 1000 Canadians to learn how COVID-19 has impacted their jobs, income, and debt loads. Here's what we found out about Millennials (ages 30-44) and young Canadians (ages 18-29).
At Money.ca, we've been covering the COVID crisis since day one. But we also wanted to hear about what's happening with our readers, so we surveyed our readers to find out.
The results were surprising: while everyone is feeling the pinch, people seem to be doing, well, okay, under the circumstances.
Virtually everyone surveyed reduced their working hours, lost income, or stopped working, but most Millennials did not take on new debt during the pandemic –a shocker considering all the news reports about cash-strapped Canadians and the flailing economy. Even more puzzling, the majority described the pandemic as not super stressful on their wallets.
So, what's going on here? We took a closer at the findings and talk to a few experts to try to solve this money mystery.
Not that stressed out?
Despite all the talk of financially frazzled Canadians from the pandemic, most Millennials (30-44 years old) and Gen Z respondents (18-29 years old) aren't losing much sleep over COVID-19 money matters. In fact, more than half described the financial strain from COVID-19 as "a little stressful," "somewhat stressful," or "not at all stressful."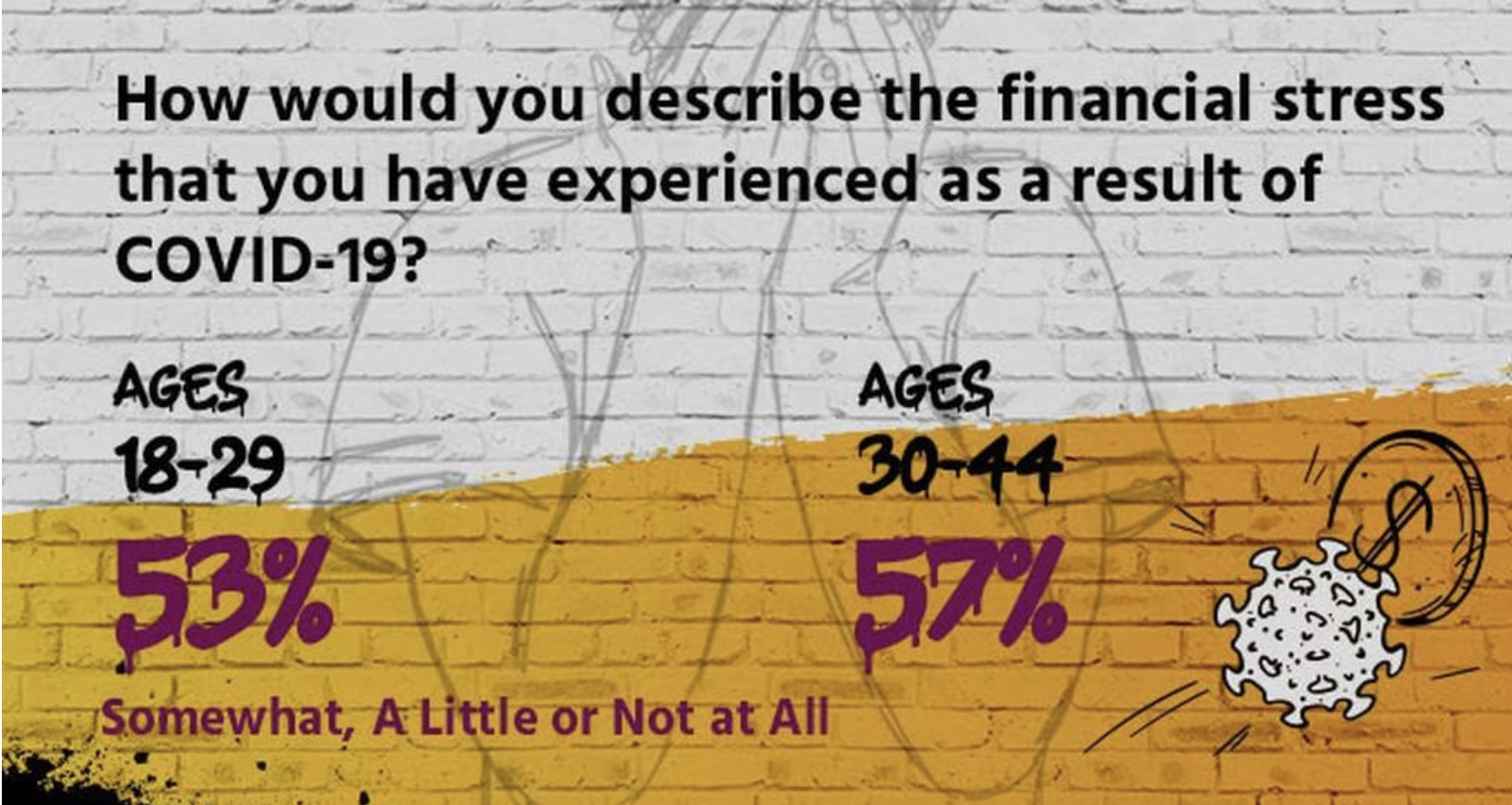 Debt load increased, but not "biggly"
Another shocker: the majority of respondents didn't sink into debt because of the pandemic. A whopping 65% of Gen Zers and 70% of Millennials said that they didn't take on any new debt as a result of COVID-19.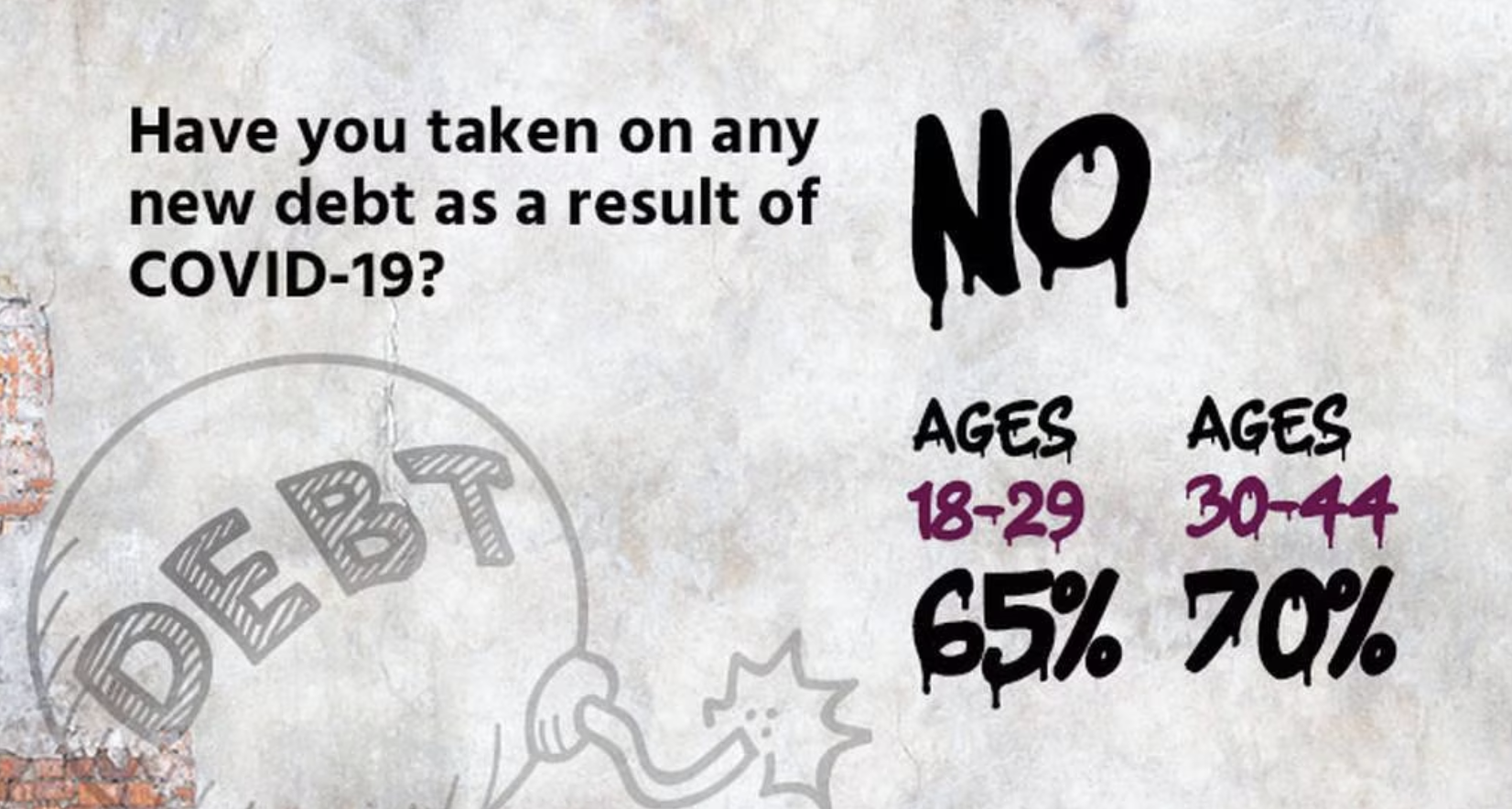 However, some Millennials and Gen Zers did turn to credit to stay afloat: from applying for a mortgage or credit card payment deferral to using a payday loan to applying for a personal loan. Many asked for financial help from family or friends. But while debt loads did go up after COVID hit, it was minuscule – only by a few percentage points, by our findings.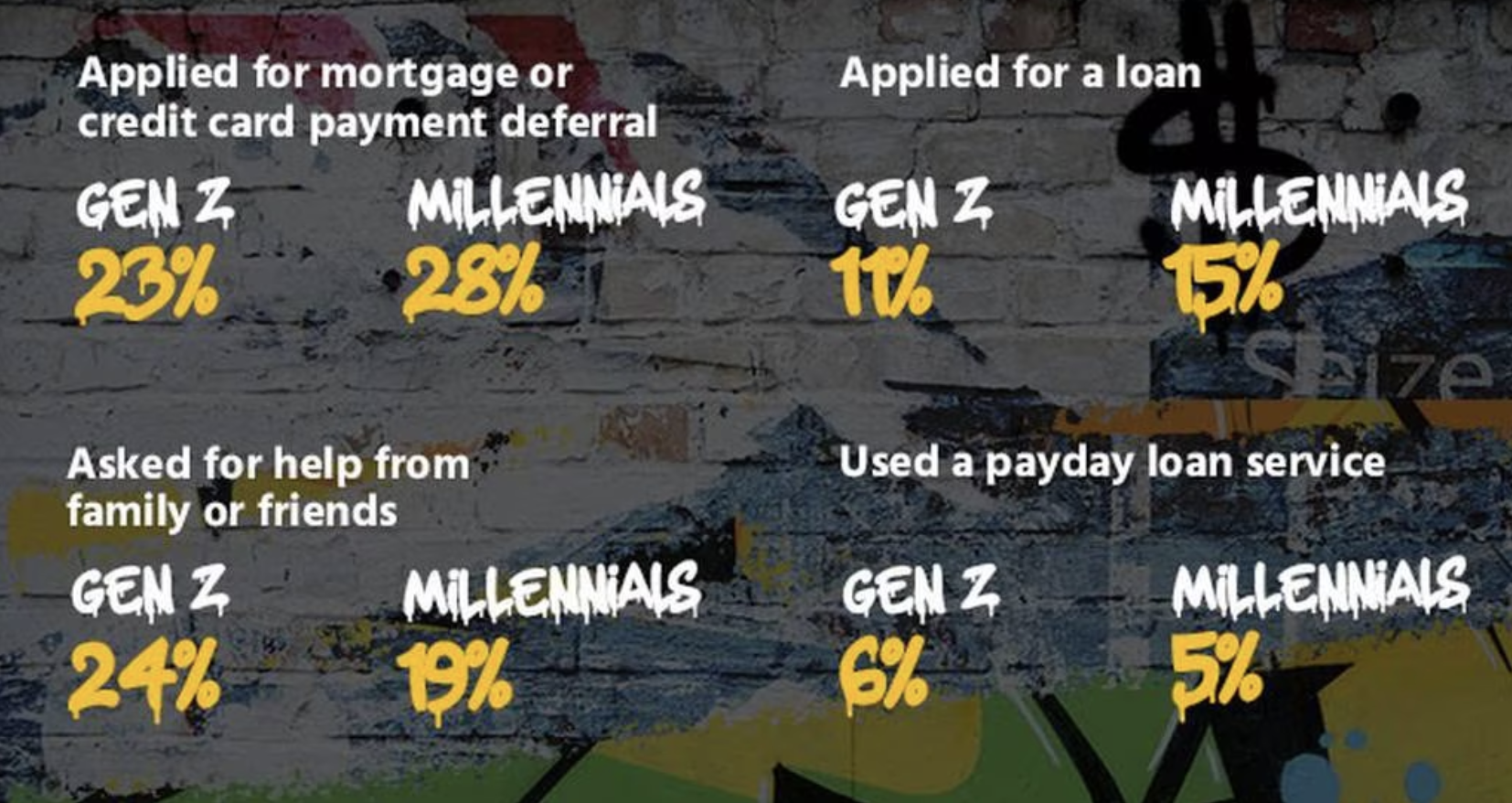 So what's the deal? Bridget Casey – financial expert and founder of the financial literacy website Money After Graduation – speculates that the pandemic lockdowns likely led Millennials and Gen Zers to save money in unexpected ways.
"Many suburbanites who commuted into big cities like Toronto and Vancouver pocketed hundreds of dollars in savings on what used to be spent on gasoline, highway tolls, and transit," says Casey.
Restaurant and retail closures also "curbed social and impulse spending" and gym and daycare closures meant a break from recurring monthly bills for many households, says Casey. Likewise, the federal and provincial governments paused student loan payments and interest for six months, allowing those with student loans to "redirect that cash elsewhere without increasing their debt loads."
"The reduction in daily spending and the pause on major monthly bills gave many some much-needed breathing room in their budgets," said Casey. "Even if they faced a reduction in income, Gen Z and Millennials were able to direct savings they realized on pre-pandemic costs to cover any shortfall, allowing them to avoid or minimize taking on any new debt."
Younger Canadians hardest hit
So, maybe people just didn't have much financial stress? Not so!
Looking at the results, it's bad times across the board but Gen Z was hit the hardest. Out of all the age groups, they were most likely to: (1) stop working or be laid off; (2) lose income; and (3) apply for government relief. The majority (56%) reported they needed financial support to stay afloat.
It was a bit different for Millennials, who were less likely to experience a change in job status. Although a large percentage reduced their working hours or lost income, most did not need financial support to stay afloat.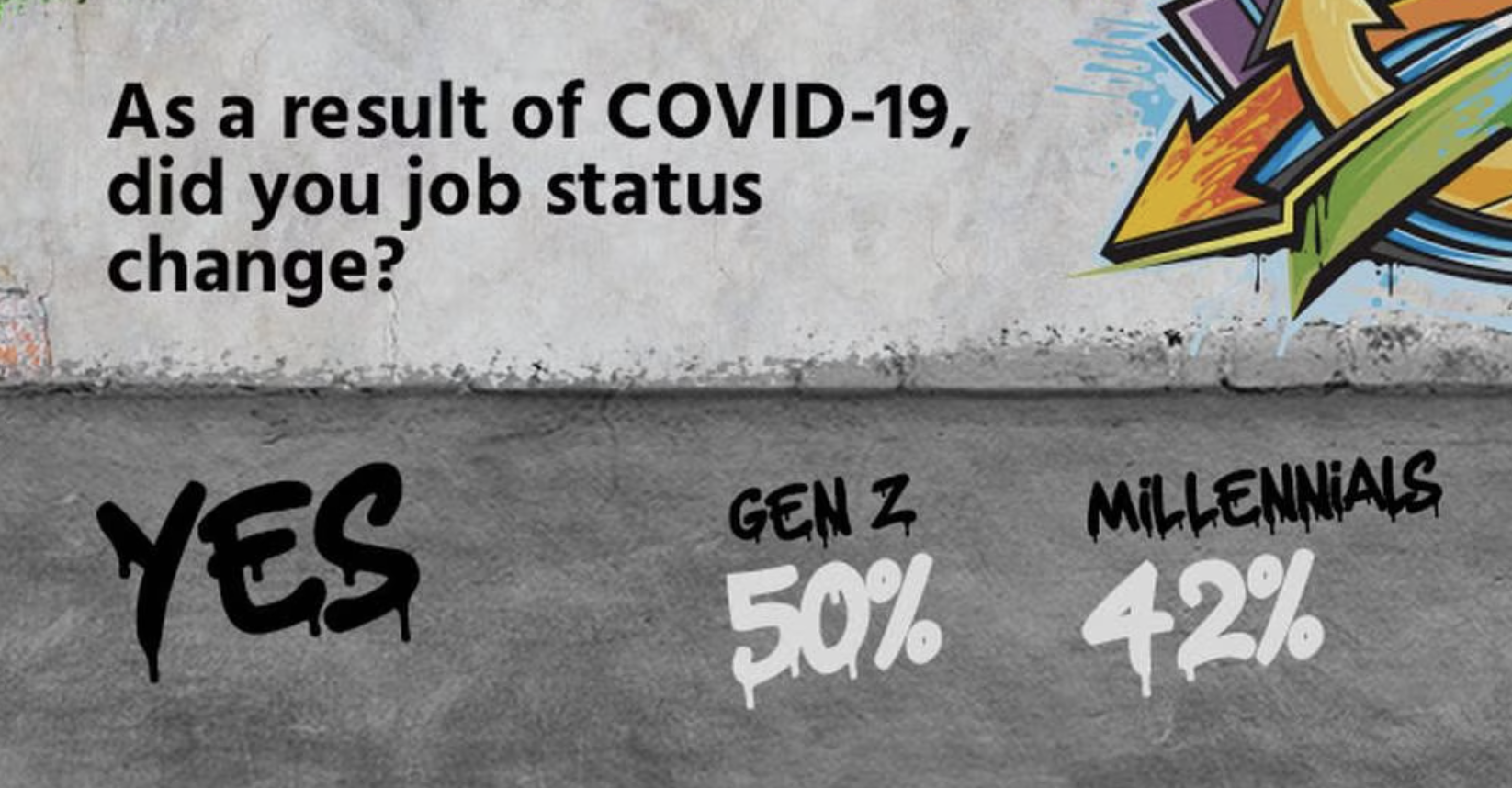 For Casey, this wasn't surprising.
As 30- and 40-somethings, Millennials are now established in their careers, which made them less vulnerable than Gen Z – who occupies lower-paid positions, internships, and part-time jobs," says Casey. "As a younger cohort, Gen Z hadn't yet had the chance to gain a solid foothold in the workplace, so when it came to a reduction in hours or layoffs, they were first to go."
Katherine Scott – Senior Economist at the Canadian Centre for Policy Alternatives – agrees with her assessment: "Young people were more likely to be hit in hard-hitting, front-facing industries like retail and food and accommodation, [as well as] part-time, temporary work."
Still, 44% of Millennials did need help, which is a sizeable number that can't be ignored.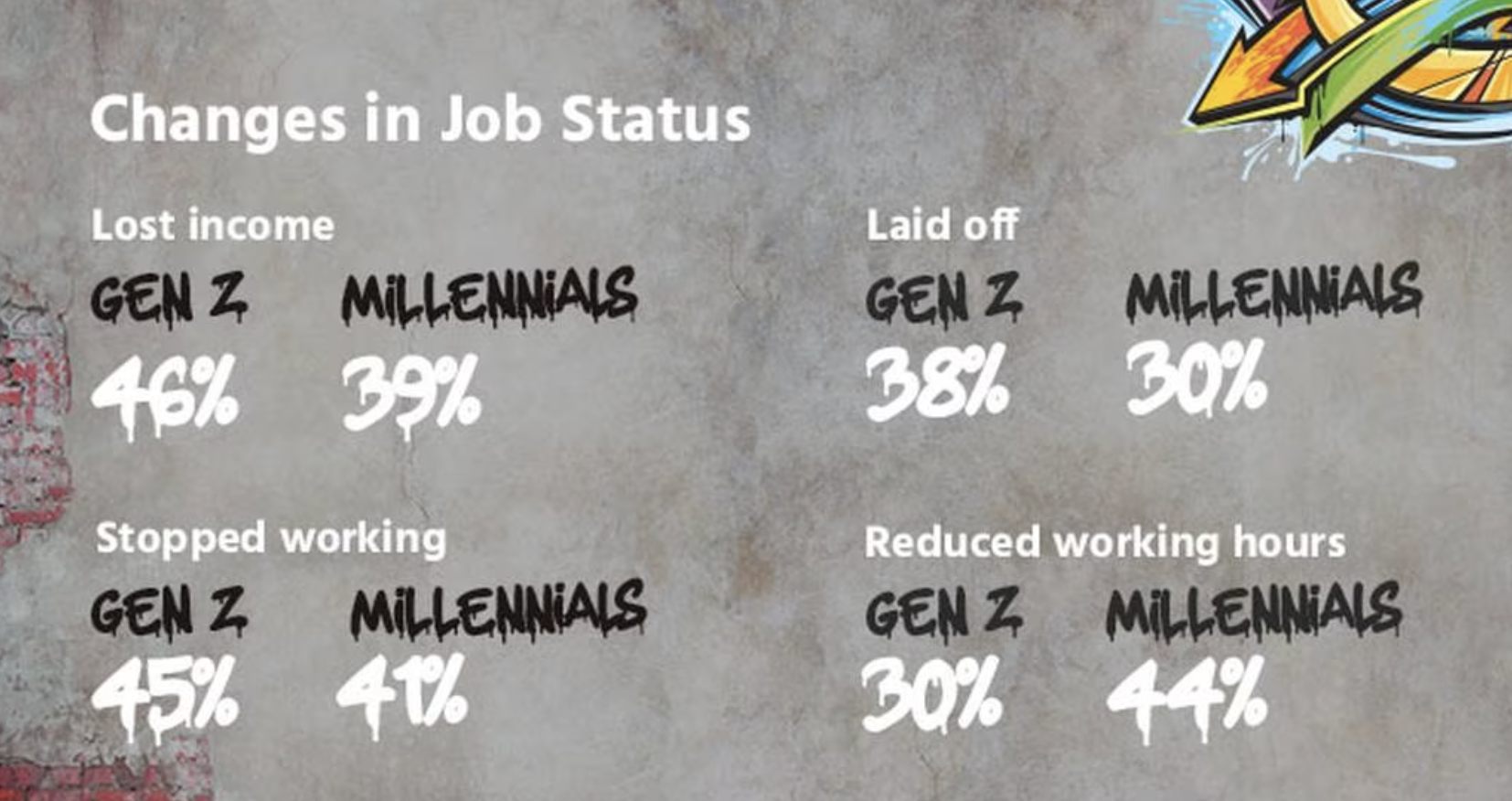 Did government aid save the day?
For Gen Z, the emergency benefits and financial relief provided by the Canadian government appeared to be a lifesaver. 55% received government aid, and 80% received the Canada Emergency Response Benefit (CERB). Meanwhile, only 27% received employment insurance benefits.
Most Millennial respondents didn't need help to stay afloat during COVID, but for those that did need government support, the majority (85%) received CERB. Only 25% indicated that they received employment insurance (EI) benefits.
"With less disruption in employment status and income, Millennials didn't face the same need for financial support as Gen Z did," says Casey. "However, both generations relied primarily on the CERB to replace lost income."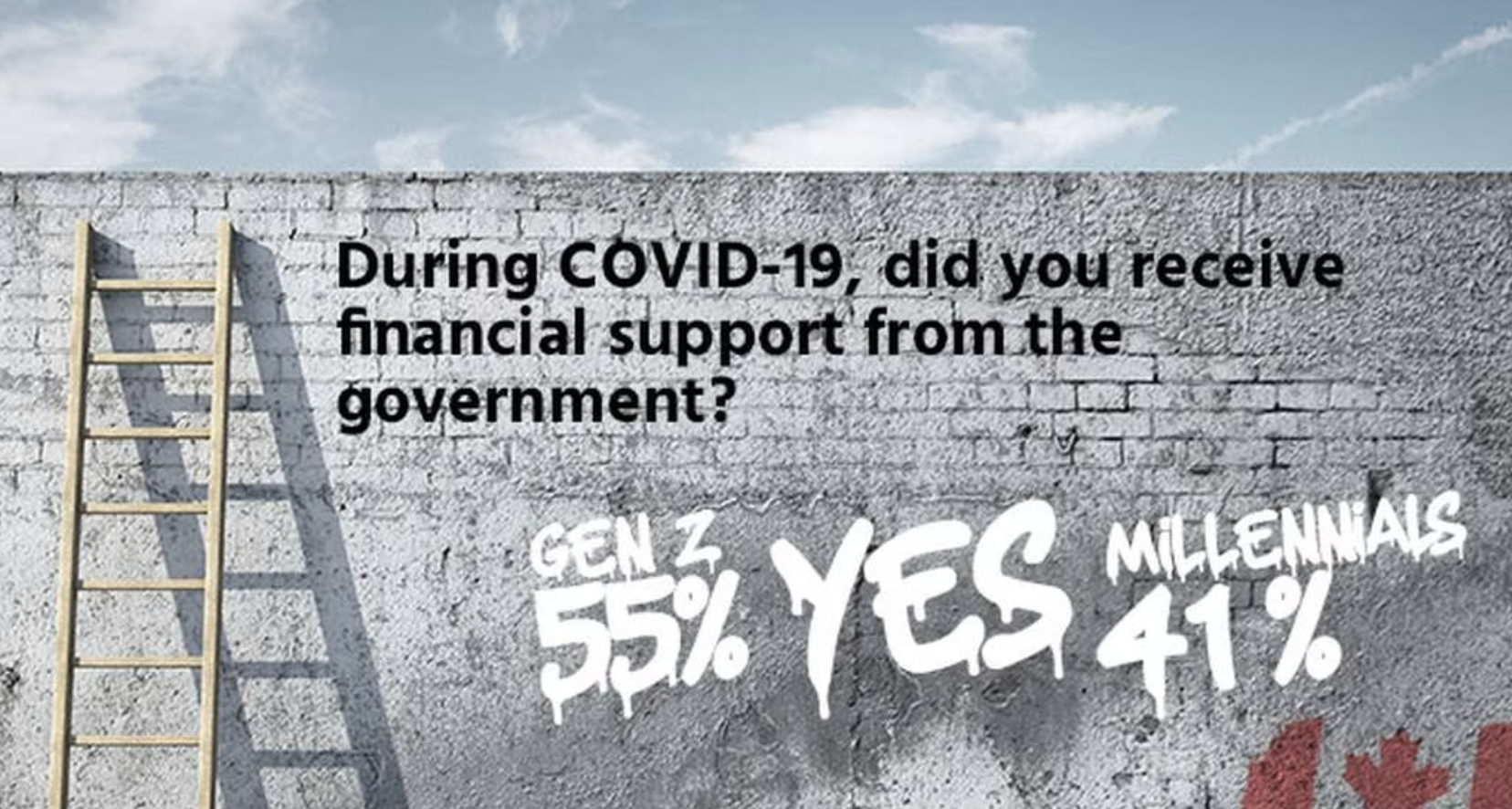 It begs the question: did CERB save the day for Canadians? Was the financial relief package part of the reason why our respondents were not deep in debt or super stressed?
"The CERB – as poorly designed in some respects as it was – did capture an enormous number of people who needed critical support," says Scott. "It did serve an important function in financially stabilizing households and stop them from spiralling into debt or creating a hole out of which it would have been almost impossible to escape."
But another head-scratcher: why are only a quarter of respondents tapping into employment insurance (EI) benefits? Both Casey and Scott point to gaps in the EI program, suggesting that it's not reflective of modern work realities.
"The CERB was especially beneficial to those who did not qualify for employment insurance benefits," says Casey. "Many younger workers – who are more likely to work part-time or seasonal jobs – would not have qualified for much (if any) EI."
"[EI] was [originally] designed around a full year, full-time worker – typically male industrial worker working in some factory," says Scott. "It's a clunky system and does actively discriminate against people in precarious or part-time employment situations. You can actually pay EI premiums and be in a position where you're not eligible to make a claim. CERB was really important as an alternative."
*Editor's note: figures do not add up to 100% because respondents were asked to "choose all that apply." It's possible to receive multiple types of financial assistance.
Emergency funds buffered the blow
For respondents who came up short because of the pandemic, the habit of socking away savings paid off during COVID-19. 43% of Millennials dipped into their savings or emergency fund during the pandemic. Likewise, one-third of Gen Zers dipped into their savings to get by.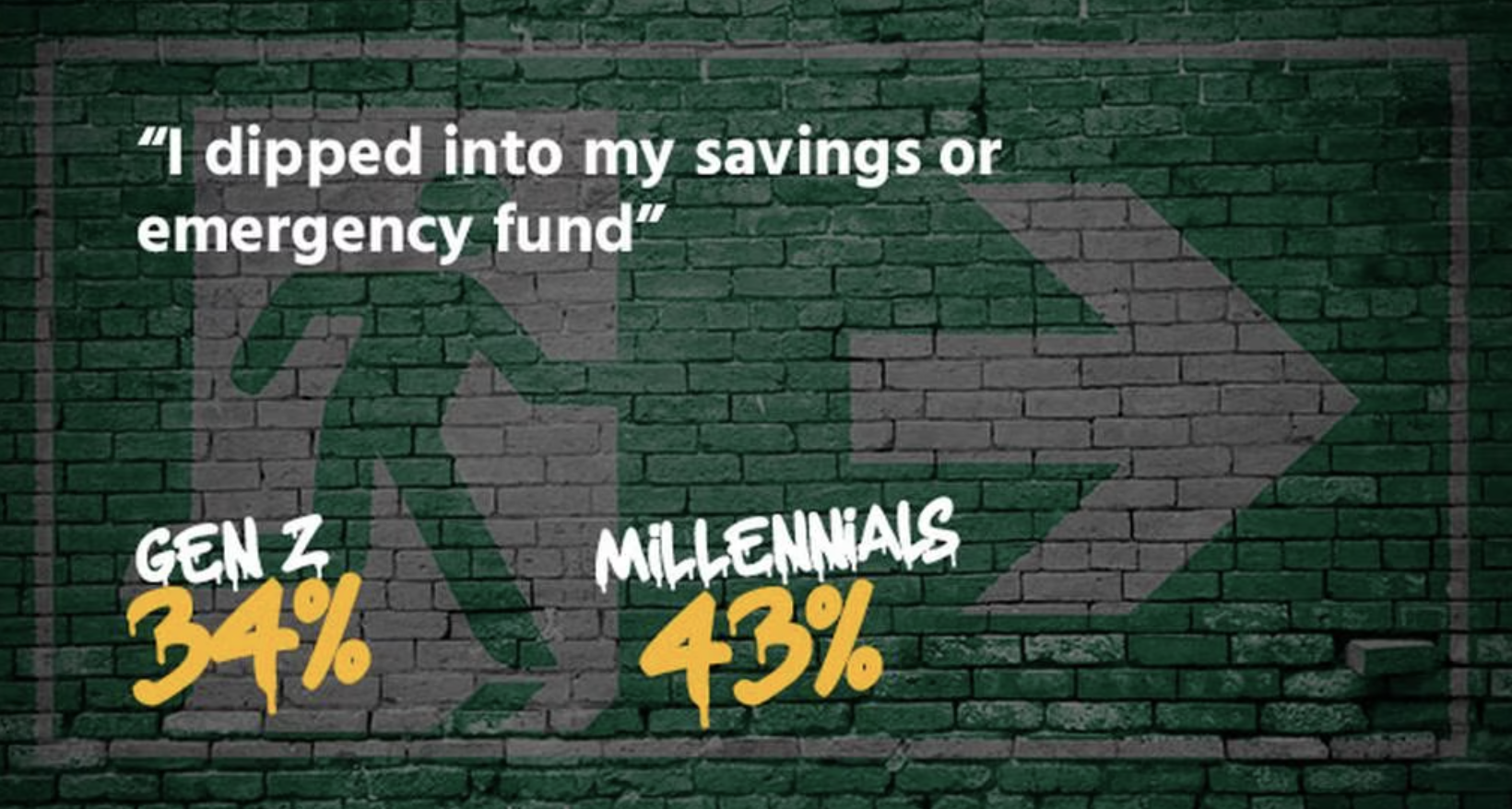 "Millennials had more years of savings to rely on than Gen Z and made use of the cash cushion they'd built over the past decade or so to soften the blow of any income loss during the pandemic," says Casey. "The COVID-19 pandemic was a financial emergency, and that's exactly what emergency funds are for. If any of us needed a reminder of the importance of emergency savings before anything else, this was it!"
A snapshot, not a complete picture
Let's be honest: we're not data scientists or professional statisticians. Take this survey for what it is: a snapshot of what's happening for a small sample of Canadians. There's a larger context to consider, and certainly, many Canadians did experience significant financial hardship as a result of COVID-19. Businesses closed down, people lost their livelihoods, and some went into deep debt or even bankruptcy.
We've got to give credit to the Canadian government for stepping up to the plate and helping its citizens. If it hadn't been for the emergency financial relief, we may be looking at a totally different picture.
"A lot of countries directed the large bulk of their support through businesses, in the form of wage subsidies, extended EI programs, work-sharing programs, that kind of stuff," says Scott. "But in Canada, the decision was made early on to transfer to individuals, which actually has had a demonstrable impact."
However, with possible CERB repayments for some ineligible recipients, the situation for respondents may look quite different at tax time if they can't pay their taxes.