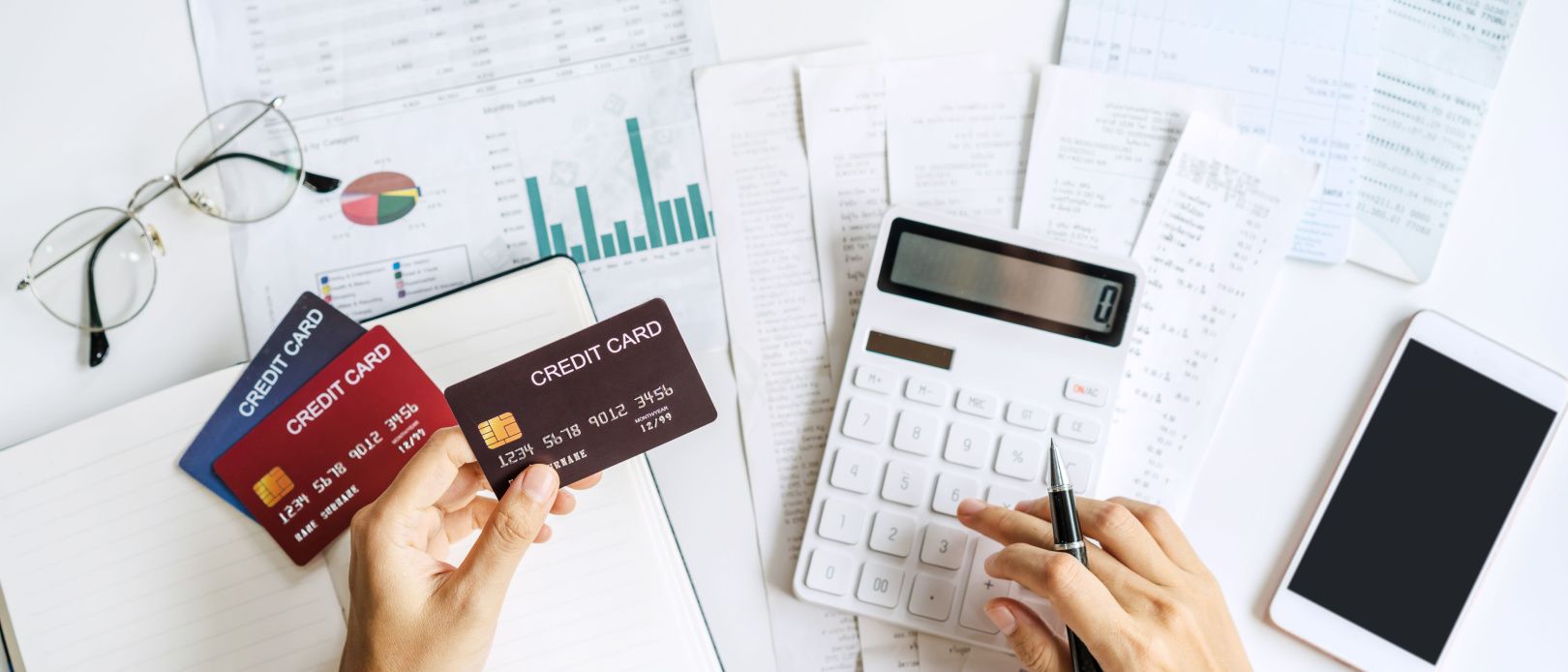 Credit card payoff calculator
kitzcorner / Shutterstock
🗓️
Updated: October 18, 2023
We adhere to strict standards of editorial integrity to help you make decisions with confidence. Please be aware that some (or all) products and services linked in this article are from our sponsors.
We adhere to strict standards of editorial integrity to help you make decisions with confidence. Please be aware this post may contain links to products from our partners. We may receive a commission for products or services you sign up for through partner links.
No one intentionally seeks to accumulate credit card debt. It is often a situation that arises without you even noticing, or may even seem beyond your control. Using a credit card debt calculator can help establish an economical repayment plan, empowering you to get control of your credit card debt.
How to use this calculator
If you're looking to become debt-free, our debt repayment calculator is a valuable tool to determine the time it may take. By inputting your debt amount and interest rate, this credit card repayment calculator can estimate the monthly payment required to pay off your debt. Additionally, it provides insight into the proportion of principal and interest you will pay over the duration of the debt.
How to pay off credit card debt
If you're looking to eliminate your debt, it's important to understand that there is no one-size-fits-all solution for paying off credit card debt. However, there are several strategies that can assist you in improving your financial situation and regaining control.
While making minimum payments can help you avoid penalties and late fees, it's advisable to pay more than the minimum amount if at all possible.
If your goal is to rapidly pay off credit card debt, negotiating lower interest rates with your credit card issuers is an effective approach.
Debt consolidation can be a viable strategy, especially if you carry high-interest debt from multiple credit cards. By consolidating your debts, you'll only need to make a single monthly payment instead of managing multiple credit card balances and due dates.
Remember, finding the most suitable method for your circumstances is crucial, so consider your options carefully and seek professional advice if needed.
Debt avalanche method
The debt avalanche method prioritizes the repayment of debt that carries the highest interest rate. By doing so, you minimize the overall amount of interest paid in the long run. However, the visible progress may be slower, particularly if your higher-interest-rate debt includes larger balances.
Debt snowball method
Using the debt snowball method, you begin by paying off your smallest debt balance while making minimum monthly payments on all other debts. Once the first debt is cleared, you allocate the money previously used for that payment towards the next smallest debt. By repeating this process, you'll gradually build momentum, similar to a snowball rolling downhill.
Paying off smaller debts quickly provides an added sense of accomplishment. However, it's important to note that prioritizing debt balance over the APR may result in paying more in interest charges.
Tips for staying debt free in the future
1.

Start building substantial savings: Building a significant savings account can be challenging, yet it's crucial for financial stability. Consider your savings as a buffer for unforeseen expenses, providing a sense of preparedness.

2.

Immediate payment of credit card transactions: Avoiding debt does not necessarily require using only cash. Some find it helpful to use physical currency to prevent impulsive purchases or accumulating a large credit card balance. If you understand your financial habits and know that managing a credit card will be challenging, it's advisable not to get one.


3.

Buy only what you need: While it may not appeal to impulse shoppers, there's a simple yet effective strategy for saving money: think before you buy. Take the time to research the best deals and learn to listen to that inner voice that questions whether you truly need the item in question.


4.

The power of budgeting: Creating a budget for your monthly expenses allows you to gain control over your finances and make informed decisions about your spending. By allocating specific amounts for savings and determining your available funds for necessities, you can effectively manage your money and achieve your financial goals.


5.

Consolidate your credit cards: Having multiple credit cards can lead to multiple payments and accumulating interest. If you struggle to use your cards responsibly, it may eventually require debt consolidation. By limiting the number of cards you have, you can better track your spending and ensure timely payments, avoiding potential financial pitfalls.

FAQs