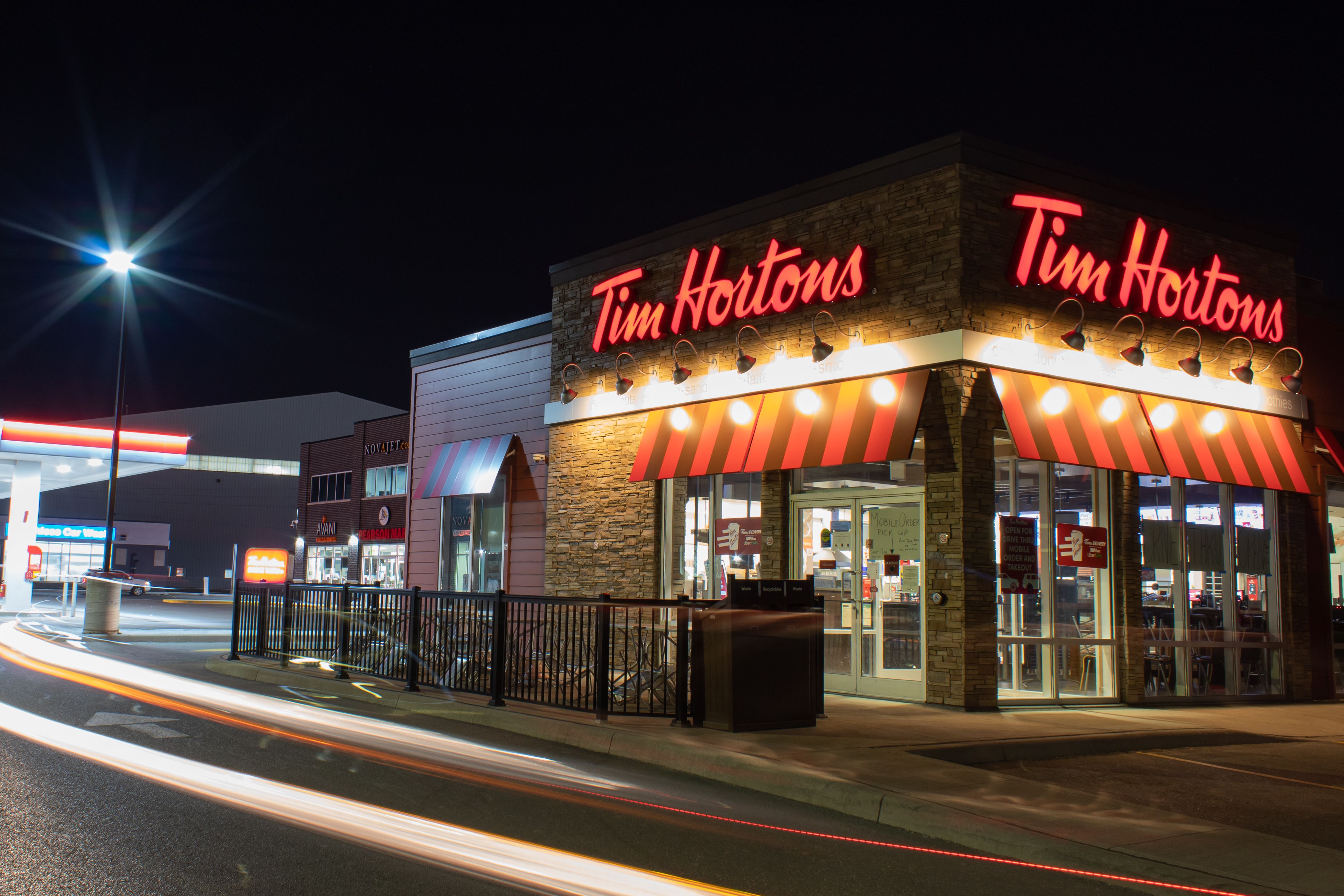 What do you need to know about the Tim Hortons Rewards Program?
The Bold Bureau / Shutterstock
🗓️
Updated: April 27, 2021
We adhere to strict standards of editorial integrity to help you make decisions with confidence. Please be aware that some (or all) products and services linked in this article are from our sponsors.
We adhere to strict standards of editorial integrity to help you make decisions with confidence. Please be aware this post may contain links to products from our partners. We may receive a commission for products or services you sign up for through partner links.
Tim Horton's is one of Canada's most beloved brands. From double-double coffees to donuts and Timbits and, of course, the annual Roll Up the Rim competition, Canadians love their Tim Hortons. So, it only makes sense that there's a Tim Horton's rewards program.
Unveiled in 2019, Tim Hortons Rewards got off to a bit of a rocky start but most of those bumps have been smoothed out with some recent updates. So, for any Tim Horton's lovers out there, this guide to Tim Horton's Rewards is for you.
What are Tim Horton's Rewards?
Tim Horton's Rewards is a rewards program for Tim Horton's customers. It's a free program that anyone can join. Points are earned on per a purchase basis and you can then redeem those points towards a variety of Tim Horton's products including coffee, donuts, bagels, soups, sandwiches, and more.
How much are Tim's Rewards worth?
There is no general value for Tim Horton's rewards points. The value depends on what you are redeeming them for. You can easily figure this out yourself by taking the cost of the item you are redeeming your points for in cents and then dividing that number by the number of points needed to get that item. Here are a few examples.
Item
Cost
Points Needed
Cents Per Point Value
How can you earn rewards?
Earning rewards is easy. All you need to do is download and register in the Tim Horton's app in order to earn and collect your rewards.
Then, when you visit your nearest Tim Horton's location, make sure to have the staff scan your digital Tim's Card (in the app) to collect points. Usually, they will ask if you are a member but if they forget, don't be shy to speak up and remind them so you get your points!
For every eligible purchase you make at Tim Hortons, you will earn 10 points when you scan your card. This is a flat earn rate, it doesn't matter how much you spend. So, whether you buy a single coffee for yourself or $250 on Tim Horton's treats for the entire office, you will earn the same 10 points per individual transaction.
There are a couple of restrictions to be aware of. Firstly, the pre-tax total must be over $0.50 to qualify. Additionally, you must wait at least 30 minutes between transactions. So, unfortunately, you can't buy 5 coffees for your co-workers back-to-back in an attempt to earn more points. Also, Tim Horton's Rewards members are allowed to have up to 20,000 points maximum at a time. Chances are you will use your points before you ever reach that stage but it's good to keep that in mind if you are a point-hoarder.
Note that at the start of the Tim Horton's Reward's program launch, they used physical Tim Horton's cards, however, as of October 28, 2020, the terms changed. While you can still use your card to collect points, it needs to be linked to Tim Horton's App if you want to use them. If it's not linked, you can collect but you can't actually redeem. If you already have a Tim Hortons Reward card, you can use it when you make your purchases and the points will be recorded on the app (assuming you have linked the accounts). If you don't have a Tim's Rewards card, don't worry. You can collect via having the staff scan the digital card on your app.
How to redeem rewards
Once you start collecting points you will have 13 different reward levels across 4 categories that you can redeem them for. They are as follows:
Beverages
Points Needed
Products to Redeem For
Hot chocolate, french vanilla, iced coffee
Classic Iced Capp, frozen beverages and espresso drinks
Baked goods
Points Needed
Products to Redeem For
Classic donut, specialty donut, cookies
Dream donuts, bagels, and baked goods
Breakfast
Points Needed
Products to Redeem For
BELT and Farmer's Breakfast Sandwiches
Lunch
Points Needed
Products to Redeem For
Lunch sandwiches or chili
Now, the tricky thing to be aware of is that your Tim's rewards will be automatically redeemed once you earn enough points to reach your chosen rewards level and make a purchase. So, say you hit 50 points and you chose 50-point level baked goods as a reward. The next time that you go into Tim Hortons and order a donut with your coffee. Your points will be automatically used towards that donut. If that works for you, great! If you would rather save up your points for later, you will have to choose the 'bank points' feature within the app to turn off the automatic redemption. Remember though, you can only save up to 20,000 points at a time.
How to join Tim Horton's Rewards?
Joining Tim Horton's Rewards is easy, free, and only takes about a minute of your time. The original program used a physical Tim Horton's Rewards card. This is no longer the case as of October 2020, it's now all done via the app. That being said, if you still have a physical card you can continue to use it- just make sure to link to the app.
Once you download the Tim Horton's app you will be asked to specify your language and country (Canada English/French or USA English). From there you will be asked for your email address and name. Once you enter that information- that's it! You are in.
On your screen, you will then see your digital Tim's Rewards card. This is what you will have the Tim Horton's staff scan when you make your purchases to collect your points. If you are new to the app, then just leave it as is and continue on. If you have a physical card already, you can link it here.
You can then choose which rewards level you would like. You can choose any of the 13 options listed above or choose 'bank points' to keep accumulating them without automatic redemption. You can change your rewards level at any time.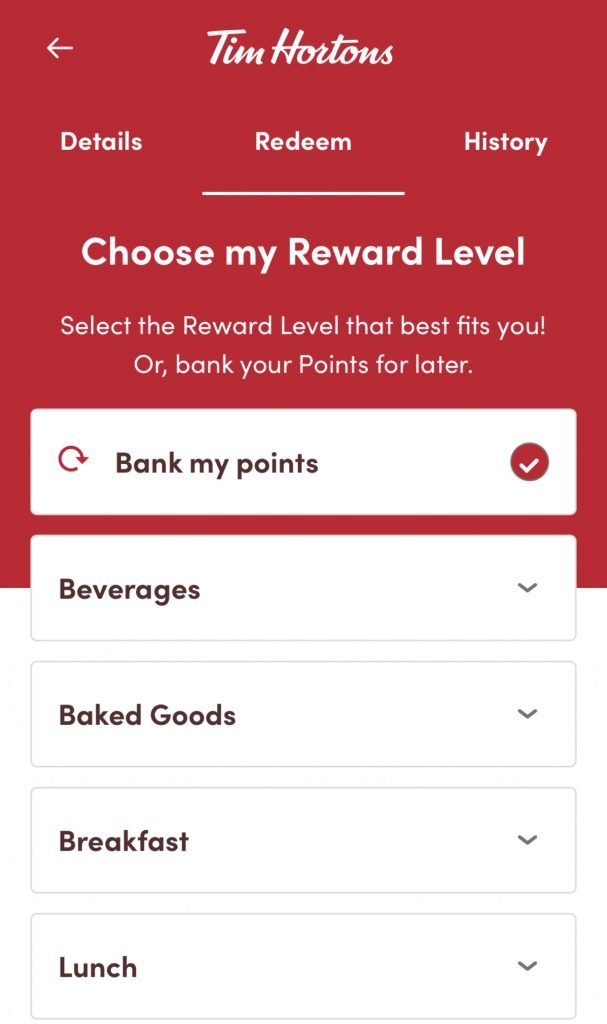 As a member, you will also benefit from special promotions and deals. For example, a box of 10 Timbits for $1 or $1 for any sized coffee. If you would like to activate any of these deals, you'll need to click the red 'activate' button. Remember, these deals are only valid for a certain amount of time so use them before they expire.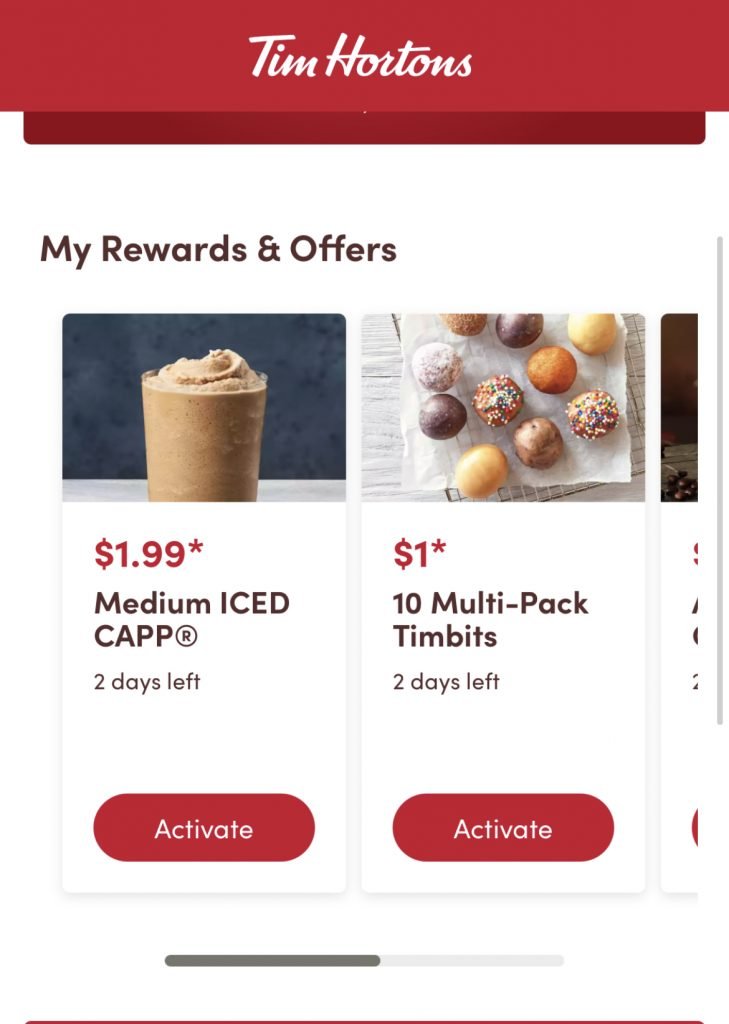 Pros and cons
No program is perfect. Here are the main pros and cons of the Tim Horton's Rewards program.
Pros
Tim Horton's Rewards is a free program
Low minimum purchase to earn points ($0.50 pre-tax)
Points earned per purchase, rather than per dollar spent, means it's easy to collect points without having to spend a lot of money
There are always extra discounts and offers for members
Birthday bonus for member
Cons
Points do expire in 12 months
Points earned per purchase means less value when you make bigger purchases
Automatic point redemption isn't ideal for everyone and you need to remember to change it yourself if that's not what you want
Rev-up your Tims Rewards
Overall, Tims Rewards appears to be a fast-earning, uncomplicated loyalty program that ensures Timmies fans will get lots of free fare. Savvy customers can bump up their Tims Rewards earning potential by paying with a credit card that maximizes restaurant spending. If you use a credit card that earns you rewards or cash back on dining out, on your next trip to Tim Horton's, you're playing the rewards game the right way.
Are Tim's Points worth it?
If you are an avid Tim Horton's lover, then absolutely. It's free, easy to use and the way it's set up for automatic redemption, you don't even have to put in any work to redeem if you don't want to. You may as well get the occasional free coffee, donut, or sandwich if you are planning on buying them anyway.
Related articles: