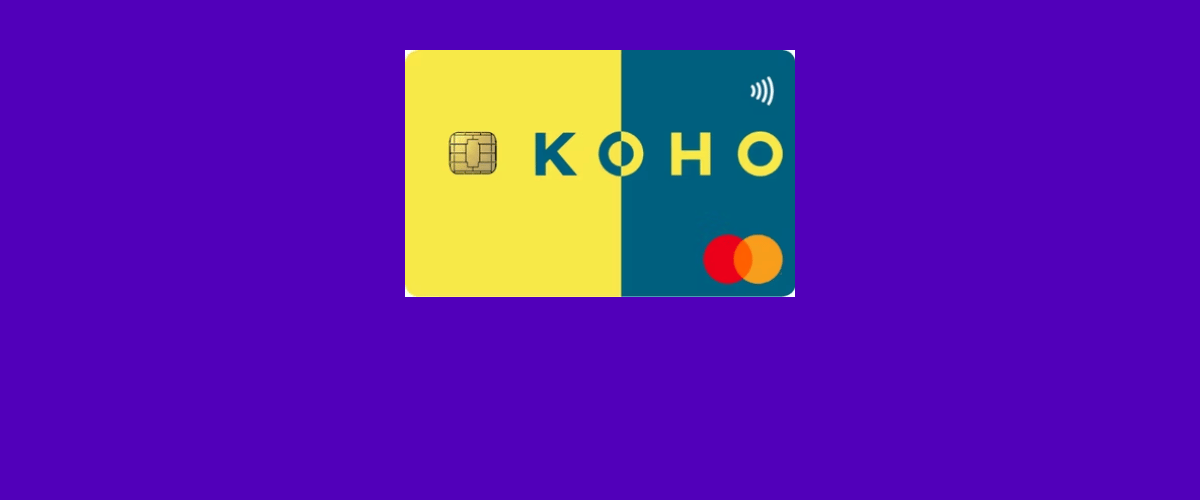 KOHO Mastercard / KOHO
We adhere to strict standards of editorial integrity to help you make decisions with confidence. Please be aware that some (or all) products and services linked in this article are from our sponsors.
We adhere to strict standards of editorial integrity to help you make decisions with confidence. Please be aware this post may contain links to products from our partners. We may receive a commission for products or services you sign up for through partner links.
Best for:
Saving money
Budgeting
Cash back rewards
In Canada, there is no shortage of "FinTech" apps that claim to help you control your spending. Some connect to your bank account to import your transactions and help you budget in real time, while others send a friendly text message when you are overspending. But most of these apps fail in one key way – they don't have any way to limit your spending. They can tell you when you've blown the budget, but they can't stop you. That's why tools like the KOHO – a free pre-paid, reloadable card and integrated app that lets you earn cash back – can be the perfect addition to your financial arsenal. Keep reading to learn more in this KOHO review.
What is KOHO?
Monthly account fees, overdraft fees, transaction fees – all of these charges add up to make Canada one of the most expensive places to bank in the world. In 2017, founder Daniel Eberhard sought to help Canadians save money on banking fees by creating KOHO – a free chequing account with a card and app.
It's a cross between a chequing account and a credit card. Much like a chequing account, you deposit money into your KOHO account and then spend that money whenever necessary. Like a credit card, you can use your KOHO card anywhere Mastercard® is accepted, and get cash back and other benefits on your purchases.
The big difference: unlike a credit card, it's your money – you're not using credit. So that means you'll likely be more careful with your spending and save more money. In fact, the average KOHO user saves roughly 7% of whatever money they load into their account.
How KOHO works
The card is a Prepaid Mastercard®, and you use it as such. It's easy: just create an account and add money to your KOHO account via Interac e-Transfer from your regular bank account or by setting up automatic payroll deposits.
Then, use your KOHO card to make purchases either in person or online. It works the same way as debit or credit. Use your KOHO card to pay for coffee, groceries, and your monthly bills – wherever Mastercard® is accepted.
Once you start spending, the KOHO app lets you analyze your spending, set savings goals, and check your balance.
Key features
Although KOHO isn't a credit card and won't help you build your credit score, it has excellent benefits for a preloaded debit card. Here are some of the top benefits of using a KOHO card:
Free: There is no annual fee to sign up for a KOHO card, which means it's cheaper than using a regular chequing account with a monthly fee. There are no account fees, no card replacement fees, and Interac e-Transfers and ATM withdrawals are free.
Up to 5% Cash Back: Earn 1% cash back on groceries and transportation. Earn up to 5% extra cash back when shop with partnered merchants.
Savings: KOHO isn't just about spending – it's also about saving. You can earn saving interests on your entire KOHO account balance, up to 2.00% depending on whether you have the free KOHO Easy version or one of the paid versions (Essential or Extra). You will even be able to set savings goals and automatic deposits to ensure your targets are met on time. And it's free!
Round-up: Supercharge your savings goals by having KOHO help you save every time you make a purchase. You can set this feature to round up every $1, $5, or $10 and saving the difference towards your savings goals.
Stellar app: Use the KOHO app to check your account balances, transfer money, reload your KOHO card, or set up automatic bills payments.
Apple Pay: If you forget your wallet or don't enjoy carrying cards, KOHO's Apple Pay functionality means you can link your KOHO card to your iPhone and pay for purchases in-store directly with your phone.
Financial coaching: If you sign up for Credit Building by KOHO ($7-$10 a month), KOHO gives you access to financial coaching. This access is included and provides you with coaching on a variety of topics, including debt repayment, saving, and budgeting.
Joint accounts: You can now open a joint account with KOHO so you and your partner or family members can earn rewards even faster and take advantage of all of the standard KOHO perks, including high-interest savings accounts and free Interac e-Transfers.
Credit Building by KOHO: Optional additional paid feature to take out a line of credit, repay it on time, and build your credit history.
Pros and cons
Pros
With KOHO, earn up to 5% extra cash back at partnered merchants
Earn interest; No fees
Apple Pay compatible
Round Up tool helps turbocharge savings
Cons
Can't be used to build a credit score
Daily limit of $3,000 on purchases, $600 at ATMs
No RRSP, TFSA, or RESP accounts
KOHO extra costs
KOHO also offers KOHO Essential and an Extra subscription service, KOHO Extra, that offers you additional benefits for an annual fee of $84 (or $9/month). Earn up to 6% extra cash back when shop with partnered merchants. Earn 2% cash back on the transportation, groceries and eating & drinking; 0.5% on everything else. On top of this, KOHO waives their foreign transaction fees, which can amount to up to 2.5% on purchases made in foreign currency.
Here's a run-down of the benefits of KOHO Extra:
$84 (or $9/month)
2% cash back on groceries, eating & drinking, and transportation
Waived foreign transaction fees
How does KOHO compare?
KOHO is not a credit card, so it doesn't have many direct competitors. In fact, there is only one other financial product in Canada that is like the KOHO card, and that's the STACK Mastercard. The STACK Mastercard is a prepaid Mastercard that you load with funds via Interac e-transfer – very similar to the KOHO card. Like the KOHO card, the STACK card has no foreign transaction fees. This card also has a $5 sign-up bonus.
A similar type of card to the KOHO card would be a secured credit card, which requires you to secure your credit limit with a cash deposit. These cards aren't exactly the same as the KOHO card, because the cash deposit is held in trust, and your purchases are considered debt that must be paid off every month. Because they are a debt tool, secured credit cards are a good option to establish or rebuild your credit, whereas the KOHO card cannot help you achieve this goal.
It's also different from the best budgeting apps, although it can be used to help stay in the black.
Signing up for KOHO
The process of signing up for KOHO takes about five minutes. The first step is to enter your email address and password to create your account. If you have a referral code, which can earn you bonus cash back, enter it on the first screen.
The second screen requires you to enter basic information about yourself, including your full name, occupation, and phone number. Pressing "submit" will take you to the third screen, where you can choose your KOHO card's colour scheme from three available options.
Finally, you'll need to confirm your home address as it appears on your photo ID to have your KOHO card mailed to you.
Once you've finished creating your account. KOHO will text you a link to their app in the App Store or Google Play Store. Once you log in via the app, your account setup will be complete.
APPLY NOW